"The McLarens are running a one-stop strategy while the Ferraris are on a two-stop plan. So we should see the McLarens in around Lap 24, while the Ferraris will come in for their first stop around lap 16, and their second sometime around lap 32. And nobody else matters. If everything goes according to plan, this race should be as organized as any in history, with no on-track passing whatsoever and no surprises. I'm lovin' it, aren't you?!"
No, not quite.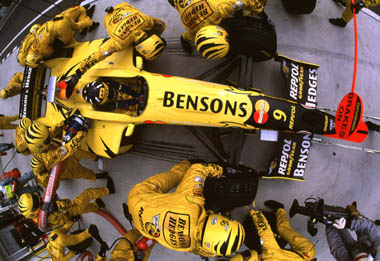 Frankly, I am quite bored by seeing all of these absolutely breathtaking marvels of modern engineering being limited to doing solitary laps around world-class circuits, with no actual racing except 1), checking the timing sheets during qualifying, 2), the first turn, 3), overlapping backmarkers, and 4), watching cars diving into and being spat out of the pit lane in the hopes that they will retain their position. Now, I know that just seeing these cars at all is enough to make me get up early or stay up late watching F1 races, and I know that if I want action I can watch NASCAR or CART. But come on, don't we want to see these 'best drivers in the world' dice for position in races that could never be described as processional? Of course.
Yes, maybe the races are less processional now than they were before. But wait a second, why would they be any less processional now than they were when pit stops were just a few seconds shorter? I say to purgatory with mid-race refueling. Bring me back the days when a driver who goes an entire race on a single set of tires could be a hero or a moron, unknowing until the very last lap. And bring me back the days when you could never be sure when saying, "He's due in this lap." But of course, these aren't the only benefits.
First of all, as we all know, the FIA has gone to great lengths over the past couple of years to place emphasis on driver and circuit safety. And the most significant changes seem to have come in the area of slowing the cars down. And who can say they haven't succeeded? The drivers, that's who. They know that safety hasn't been bettered. What has been bettered is the g-force of their impact when they hit the wall. And of course, that is a positive change and not a negative one, but I am sure the drivers would feel much safer with some better handling. But that ain't happening. And although we all know that none of us wants to see the cars get any slower, no matter what we want, the FIA has different desires. Exactly what they want to see is the cars getting slower. So we must take this for granted. The cars are going to get slower, and now the question is only, "How?"
And the answer is - the banishment of race refueling and the only marginal increase in fuel tank size. Quite an answer. Engine power numbers are beginning to approach what they were in the height of the turbo era. There was a reason turbochargers were banned. And there was a reason engines were brought down from 3.5 liters in size. We all can recognize that anything under 3.0 liters in size for the top racing formula in the world is a little silly. But the Ferrari and Mercedes claims of 820+ horsepower are astronomical. And although I know that this is Formula One and they are supposed to be astronomical, the idea of putting this power through tires with four lines cut into them can't sit well with Michael, Eddie, Mika or David. Then again, of course it will.
But it can't sit well with Olivier, Jarno, Pedro or the other Mika. Or for that matter, Alex, Ralf, Giancarlo, Alexander... the list goes on and on, because the looming threat of another two-horse race this year does not bode well for anybody outside of the Ferrari and McLaren pit garages. Banning mid-race refueling and at the same time only marginally increasing fuel tank size would bring the power numbers down substantially. Of course ample warning would have to be given to the teams, and the fuel tank size would be reduced gradually, but what was a 120 horsepower gap from the front to the rear of the pack could be as low as 70 or 80, depending on how much fuel those Mercedes and Ferrari engines really do burn, and how far the FIA decides to go with the tank size reductions. Cars who were sitting at the back of the pack could all of a sudden find themselves in mid-pack at a race like Hockenheim. Who knows? Maybe that Arrows engine has the fuel economy of a Mini while that Ferrari sucked it up like Barney Gumble guzzles beer.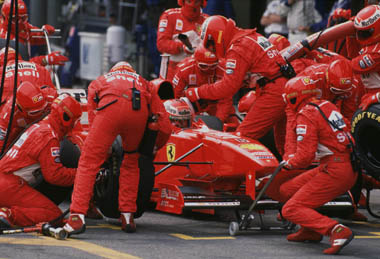 And who knows? Maybe Mika Salo is very nice to his tires while Mr. Schumacher goes through them like a lawn mower. No matter which way you slice it, competition should be helped. And what the FIA should do is introduce some quickly-wearing tires. We could see three-stop races on any tracks notorious for tire wear. Let's see how Schumi's famous 'in'-laps are on tires worn to their cords. Pit strategy would be as important and unpredictable as it could ever be. "Should I do one more lap on these dying tires, or should I suffer my pit stop now and reap the benefits when I come back out?" Some of you may recall a certain race at Donington in 1993 where I believe the leaders all had at least five pit stops trying to deal with the weather conditions, and the lead was swapped many times.
Some called this the best race in modern F1 history. Banning refueling and bringing the pit stops back to more unpredictable five-second dashes for tires would make things much more exciting for us and more nerve-wracking for the teams. I bet you'd see Jean Todt showing some sort of emotion more often.
So why does CART's system work, and F1's doesn't? Simple - fuel-consumption adjustments and yellow flags. In 1997 there was a CART race where two cars, those of Mauricio Gugelmin and Mark Blundell (any bells ringing?) were running one-two for PacWest Racing. Neither driver nor the team had ever scored a CART victory before. The race was filled with yellow flag periods, and due to the PacWest team's use of the fuel-consumption adjustment on their cars along with some guts to take a risk, they were in the position to score their very first victory. However, the tables turned when on the last lap first Mauricio's car, then Mark's, both ran out of fuel. Greg Moore went on to take the victory.
Mark and Mauricio could have further reduced their fuel-consumptions, but Greg Moore was already right on their gearboxes. The only reason he hadn't passed already was the lack of opportunities on the track. I found that race quite exciting. And who can forget Dario Franchitti's pass on Michael Andretti (remember him?) in the closing laps of the Molson Indy Vacncouver this year? Michael was in serious fuel-conservation mode, and Dario had full resources. They diced for a couple of laps before Dario went on to claim the victory and his $430,000 check. This is exciting stuff.
So what else is exciting? Cars skidding to a stop in their pit box, crews sprinting to get rid of the old tires and put on the new ones, and the cars burning out, all in a period of five seconds or less. No goofy fuel hose to complicate things, jeopardize safety, and worst of all, make everything nice and leisurely for the tire-changing crew. I know I would sure like this. And all this would happen with no real certainty of who or when!
All in all, there is a serious case for the removal of mid-race refueling procedures. The competition, the random element of pit stops, the importance of pit planning, and the ease of further reducing engine power (that one's for the FIA) are just a few reasons. And if the FIA takes some important steps like introducing more quickly-wearing tires or cockpit-adjustable fuel mapping, we could see lots of things happening.
We could see the Jordan cars move up in the field because their Honda engines happen to be a little more efficient than their German and Italian counterparts. We could see them then get passed by the Williams cars, who happen to be running a less fuel-conservative mode. We could see Schumi race out in front of everyone, only to be caught back up and passed by Eddie who is conserving his tires. We could see one Mika being passed by the other because one was on severely worn tires. We could see Mr. Zanardi in front of everyone towards the end of a race, only to discover he must slow because he doesn't have enough fuel, and then get passed by a certain French-Canadian who then discovers his tires have worn out their grooves.
We could, in short, see some good - real - racing.