Atlas F1 is proud to present a series of features on the all-time greatest drivers of Formula One, written by veteran journalist Barry Kalb.

This week's feature: Fangio and Moss

In almost any racing season, there are one or two drivers who possess that extra amount of drive, that extra bit of racing sense, and above all - that extra bit of innate physical ability, that put them a cut above the rest. Year in, year out, these men will give their all virtually any time they step into a racing car; they will dominate a season when they are in a good car, and produce wins nobody thought possible in a mediocre car; they will turn in performances that racing aficionados talk about for decades to come.

This is their story.




The Modern Formula One World Championship


Juan Manuel Fangio
| | |
| --- | --- |
| Championship starts | 51 |
| Wins | 24 |
| Podium finishes | 35 |
| Poles | 28 |
| Fastest laps | 23 |

No driver has come close to equalling Juan Fangio's overall performance in Formula One World Championship events. After 17 years of racing - going back to 1934 - mostly in his native Argentina, Fangio competed over the course of the first nine seasons of the modern world championship, 1950 through 1958. Of those nine seasons, two did not count: he sat out 1952 due to a serious pre-season racing injury, and he competed in only two races in 1958 before retiring from the sport. In the remaining seven seasons, he was world champion five times - 1951, 1954, 1955, 1956 and 1957 - and was a close second in 1950 and 1953. His record of 24 wins was untouched for ten years, until Jimmy Clark finally surpassed him in 1968.
Fangio made a mere 51 championship starts during those seven and a fraction seasons, while today's Formula One drivers routinely do between 100 and 200 Grands Prix. His individual tallies have all been beaten, but 40 years after his retirement, nobody can touch him statistically: he remains all-time number one in wins per start, poles per start, points per start, podium finishes per start, fastest laps per start. During those 40 years, only seven drivers have notched up more total wins than the Argentinian, and for the most part, their averages pale by comparison: Prost had 51 wins in 199 starts; Senna, 41 wins in 161 starts; Schumacher, 33 wins in 117 starts; Nigel Mansell, 30 in 181 starts; Stewart, 27 in 99 starts; Lauda, 25 in 171 starts. Only Jimmy Clark comes anywhere close to Fangio statistically, with 25 wins in 72 starts.
Men like Ferrari and Moss have remarked that Fangio, by the 1950s, rarely showed much enthusiasm for anything but single-seaters, but in single-seaters, he was supreme in his time. There had been bad blood between Ferrari and Fangio, who drove for Ferrari only during the 1956 season. Fangio later accused the Maranello team of sabotaging his cars (even though he won the championship that year). Ferrari, who rejected the accusation and who was not known to take criticism lightly, therefore had a motive for being less than enthusiastic about the Argentinian - and still he rated Fangio among the absolute best of all time in Grand Prix cars. Moss, who drove with and against Fangio, told the writer Ken Purdy he always felt he could beat Fangio in sports cars: "But in grand prix cars he was fantastic. His record speaks for itself." Moss summed it up by saying, "I never saw Tazio Nuvolari. I know Enzo Ferrari rates Nuvolari and me over Fangio. But for me, he (Fangio) must remain the best."

Stirling Moss
| | |
| --- | --- |
| Championship starts | 66 |
| Wins | 16 |
| Podium finishes | 24 |
| Poles | 16 |
| Fastest laps | 19 |

Moss was a warrior, a pure racing driver. He is the only one of the greats never to have won the world championship, but that was largely because, at least after Fangio retired and Moss seemed his sure successor, the Briton insisted on driving privately-owned, British-made cars whether or not they were truly competitive. Often they were not. He was second in the championship every year between 1955 and 1958, third every year during 1959-'61. In 1958, the year Fangio retired, Moss had four wins to Mike Hawthorne's solitary victory, yet Hawthorne won the championship by one point. Moss told the writer Ken Purdy that it was then that the championship lost meaning for him.
Nevertheless, Moss won 16 races and gave some of the most electrifying performances ever put in by a racing driver: his 1961 wins at the Nurburgring and at Monte Carlo, along with his record-breaking 1955 Mille Miglia victory in a Mercedes-Benz 300 SLR, stand among the great drives of all time. Between 1948 and 1962, he ran in over 460 races of all kinds, and he won 194 of them - a 43% victory rate. He finished in the top three over 65% of the time.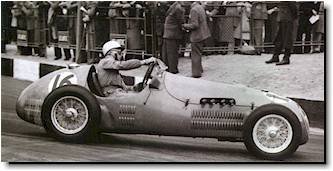 Few drivers have had so much written about them so eloquently as has Moss - notably by motoring journalist Denis Jenkinson, recalling that incredible '55 Mille Miglia in which he was Moss's navigator; and by Purdy in "All But My Life", the profile of Moss written after the near-fatal crash in 1962 that ended Moss's racing career. It is difficult to separate the real from the hero-worship in such writings, to gauge how accurate are descriptions of on-the-edge driving by men who have not been there themselves-although Jenkinson did ride as a side-car passenger to some of the greatest grand prix motorcycle drivers of all time, and he sat next to Moss during the '55 race as Moss took the Mercedes over blind brows on Italian country roads at 170 mph, so he knows something of what he's talking about.
Describing one section of the Mille Miglia drive, Jenkinson wrote: "Moss was driving right on the limit of adhesion all the time, sometimes over the limit, driving in that awe-inspiring narrow margin that you enter just before you have a crash, unless you have the Moss skill." Jenkinson the journalist rode alongside Moss in the Mercedes during practice for the 1955 Targa Florio to get a feel for the course. In his book, "The Racing Driver", Jenkinson told how Moss went into one corner in what looked to be a disastrously inappropriate manner. As it turned out, it was the right way to take the corner-but only for someone like Moss, who could control a hugely powerful car like the 300 SLR at high speed in that narrow region between the limit of adhesion and a spin. "As I realized what happened," Jenkinson wrote, "my only thought was, 'Oh dear, I could never hope to drive like that, he really is a genius.'"
Ferrari wrote: "My opinion of Moss is simple - he is the man who repeatedly approached Nuvolari. He had a rage to race. He went all-out in any car."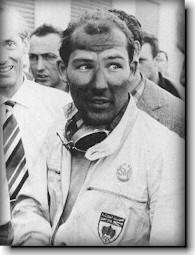 Moss was a prolific but perfunctory writer himself and can be glib in conversation, but he did once sum up what it meant to be a racing driver with an eloquence uncharacteristic of such men. Before his 1962 accident, he told Purdy: "Obviously the major satisfaction in my life is racing, and I enjoy it even when I'm frustrated, sometimes I think maybe most when I'm frustrated: I think, I can't damned well win, I've lost five laps in the pits, it's impossible to win now, mathematically impossible, but then I begin to think, well, my God, even if I can't win I'm going to damned well go, and then I can really enjoy fast motoring, for the exhilaration of it and because I'm trying to prove something to myself; they may have five laps on me, but I'm going to take one back, and the lap record is always there to be broken..."
On Easter Monday in 1962, during a non-championship race at Goodwood, Moss was in almost precisely that situation, driving as though he were fighting for the lead even though he was laps behind, when his car went straight off the road. He had survived a serious crash at Spa in 1960, and quickly came back as strong as ever, but this time the damage was too great. He had a practice run in a Lotus sports car on May 1, 1963, realized he had lost the edge of greatness, and announced his retirement from racing.

Next Week: Clark and Stewart