This week's Grapevine brings you
information fresh from the paddock on:

Comment on the Maestro's return
Herbert's head screwed back on
Picked from the Bunch
Comment on the Maestro's return
With Michael Schumacher's unexpected return to the fold, there is a substantial amount of rumours concerning the influences behind the decision.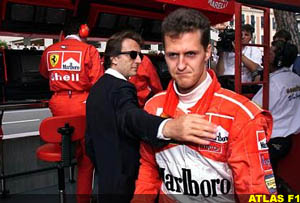 Some are attributing the move - particularly the timing - as part of a mind game with McLaren. These pundits are generally accusing the double World Champion of duping his fans and the world at large, believing he always expected to return this season, attempting to manage the impact to provide the greatest discomfort to McLaren, without compromising his health.
Sources closer to Ferrari have a different view - though, again, it's divided. Most believe Schumacher's return is prompted by a couple of fantastic test sessions. The developments coming through on the car show it to be in the best form ever, and Schumacher's lap times reflected it. They attribute his return to pressure from his fans, who can't understand how he tests all day, whilst considering himself unfit to race; the team, who see an unfit Schumacher as a better option than a fully fit Salo; and the media, who have relentlessly pursued a thread implying he hasn't the moral fibre to support Irvine in attaining the goal he so desperately wanted.
There are others, less charitable, who attribute the return to a thinly veiled warning from Luca de Montezemolo concerning the German's income - and whether he should be returning a large portion of it for taking time off when he's clearly sufficiently fit to produce record lap times.
The truth, as always, is known only to the parties themselves and is probably a mixture of all the above. However, it's seen that the Maestro's return can only be a good thing for Ferrari and their dreams in the Championship. His ability to provide the team with focus should help them be more competitive - and will certainly be providing McLaren with plenty to think about.
Herbert's head screwed back on
Many have doubted Johnny Herbert would win another Grand Prix - indeed, even some of his fans were being concerned over his incredible run of bad luck. However, with the combination of good strategy and better luck, his run at the Nurburgring saw him finish not only ahead of his teammate, but on the winning step of the podium.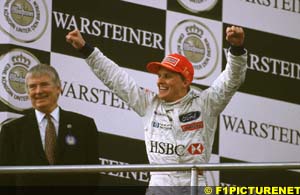 Since then, the team has been running on a high. Developments originally due on the 2000 car have been brought forward, in an attempt to fix what's seen as a slide this year: the team has failed to maintain the development pace of more established competitors, so they have slid behind Williams and Jordan in performance terms. Updated aerodynamics (including the front wing end plates and side pods) and a new suspension configuration are expected to be key in bringing their pace back up. As much to the point, work on the engine has resulted in a more driveable unit for the last two races - which will be particularly important at Malaysia, where the team expects to find low levels of grip.
Johnny Herbert in particular has taken on a new lease of life with the win. Although he maintained a confident fa ade, Barrichello's success at his expense, and particularly the way luck just fell against him, took a toll on his outlook and confidence on the track; with the sheet effectively wiped clean, he is expecting a positive end of season. Whether faced with Barrichello or Irvine as a teammate, Herbert's belief in himself is back, and that can only bode well for Stewart/Jaguar/Ford.
Picked from the Bunch
McLaren are taking test driver Nick Heidfeld with them to the far east, for the closing two races of the year. Officially, Heidfeld is there as a guest of McLaren, shortly before he departs from the English team to join Prost Grand Prix for next season.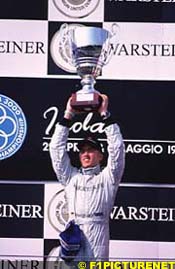 Unofficially, sources at McLaren indicate Heidfeld will be on standby in case one of the team's drivers happens to be unable to drive in one of the races, for whatever reason. One reason mentioned, was if a certain returning driver was to aid his teammate's championship battle by taking out a certain McLaren driver...
And likewise, Ferrari are also taking Mika Salo to Malaysia and Japan, should Michael Schumacher not be able to participate in either or both of the races. Schumacher has to undergo an FIA test to prove him fit to race, including getting out of the cockpit in five seconds and also jumping off a chair, landing on both feet with no pain or problem (a test done to Ricardo Zonta earlier this year). Interestingly enough, it now seems Ferrari, as well as any other team, could replace their #3 car's driver any time before qualifying, provided that whoever participated in qualifying is also the driver who starts the race.
Michael Schumacher's manager, Willi Weber, criticised his client's return to racing this year. In an interview to the German Die Welt, Weber said: "What will happen if he has another accident? He won't only be compromising his health, but also next season."
Sweden could host a Grand Prix by 2004, if plans by a multinational conglomerate to build a world class track at Kalar come to fruition. Reports of positive talks with the FIA and local government have fuelled the speculation, but protests from environmentalists could stymie the plans.
With Bridgestone taking "soft" and "extra soft" compounds to Malaysia, there were mutterings from the tail of the pack that the company was favouring the front runners. The rubber is known to suit the top cars better, as their better balance is highlighted by the tyre's wear rates. The forecasted wet weather is expected to make this matter immaterial, however.
Honda are expected to provide a major step forward for Jordan at the last two races. The engine originally destined for the Japanese Grand Prix should be available this weekend, whilst a new "super" engine, essentially the first incarnation of the 2000 unit, and 30bhp the better for it, is due for the Japanese Grand Prix.
Tyre wars could break out again if rumours of a return by Michelin and Dunlop (now a subsidiary of Goodyear) prove to be true. It's known that several teams have been in contact, particularly speculation on Prost linking up with Michelin has been rife.