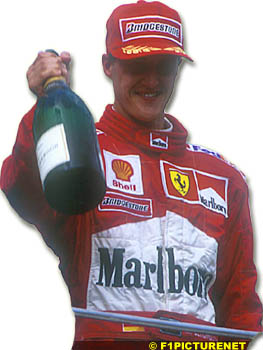 The past week has been one that will long be remembered as one of the most dramatic ever in Formula One history. It has the makings of a drama novel, with every ingredient to ensure a blockbuster. It's so complicated that the only way to report it, is as if it were a diary entry, so that's what we'll do. It makes for excellent reading - not every week can a race report act so well as a preview to one of the most keenly anticipated hearings in the sports history. And the best is still to come...

It all started with arguably one of the more significant F1 qualifying sessions this year.

Michael Schumacher, absent since his crash in Britain seven races ago, stormed back into the Grand Prix fold with a dominant performance that shook the establishment. "We expected to be strong, but to be a whole second ahead is clearly surprising," said Michael. "I'm Sure there are reasons for it, but the car is very good, so it isn't really a surprise to be in front."

Eddie Irvine underlined Ferrari's domination, completing a scarlet front row, rewarding the team's intensive program in the weeks leading up to the race. "We have shown Ferrari's potential - it's come at just the right time," Eddie admitted.

But the silver arrows were not far off the flying Ferraris, with Hakkinen's henchman also leading the way. Seventh was Alexander Wurz, the Benetton man sharing the fourth row with Williams' Ralf Schumacher.

Damon Hill and Jacques Villeneuve made it four F1 World Champions in the top ten, for Jordan and BAR, respectively ninth and tenth, Jacques slipping down the field after heading the pack on Saturday.
Then came Fisichella, Panis, Zonta and a disappointed title aspirant Heinz-Harald Frentzen, fourteenth in the Jordan. "The cockpit protection came loose and I spun off." He qualified in the Jordan mule.
Alesi, Zanardi, Diniz and Trulli followed Frentzen, with the usual suspects bringing up the rear.
The Race
When the lights went out in Malaysia on Sunday, Michael Schumacher shot off into the distance in what seemed to be the start of an all-dominant performance, streaking away from Irvine, ahead of the McLarens and the rest. But with Eddie under siege from David Coulthard, Michael soon slowed, let Eddie through and started disturbing Coulthard's progress in a perfect display of the ideal teammate's job description.
Coulthard was having none of it, forcing his way past the wide Ferrari in the complex at the end of the pit straight, setting off after Irvine. Schumacher then took care of Ferraris' most important threat, keeping Mika Hakkinen exactly where Ferrari wanted him - in fourth, as Irvine led, albeit under increasing pressure from his favourite sparring partner.
Nothing much changed, with the Stewarts of Barrichello and Herbert maintaining a watching brief. But on lap 14, Coulthard's McLaren coasted to a halt, its engine dead, leaving his title aspirant teammate to the Ferrari wolves.
Irvine pitted early, flashing back out after a quick stop. He was followed a few laps later by Hakkinen, who also appeared to take in a middle stint's worth of fuel. That left Schumacher out on his own, the comeback man responding with a few cracking laps to ensure that when he returned from his single stop, he would be able to rejoin ahead of that vital, remaining McLaren.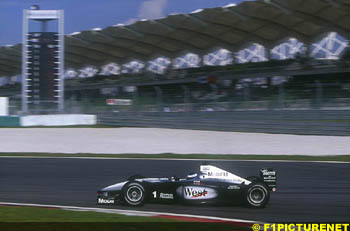 By the time he stopped, Michael had established a lap record not far off his stunning pole time on half-race old rubber. He rejoined ahead of Mika and started again to push him ever backward, allowing Eddie to steadily open the gap again.
When Eddie stopped a second time, Michael sped into the lead, tailed by Hakkinen, some way ahead of Irvine.
But the question everyone was asking, was whether Hakkinen had enough fuel to get to the finish. He had only taken on 7 seconds worth of fuel-flow, on its own not enough to go the distance, but had he started on tanks full enough to go the distance?
By the time Mika did stop, Schumacher had backed him up, not only to Irvine, but close enough to Johnny Herbert, to allow the European GP winner into third behind the Ferraris that quickly rearranged themselves into their championship order. Herbert fought off Hakkinen for those vital points for a long while, the ex-Lotus teammates sparred for several laps before the championship contender managed to pass.
By that stage, Rubens Barrichello was in a lonely fifth from Heinz-Harald Frentzen who had fought his way into the points. Alesi, Wurz, Gene, Zanardi and Fisichella followed the points scorers home, while Jarno Trulli's Peugeot exploded on the parade lap, Damon Hill retired on the first corner again, with a little help from Fisichella, Ralf Schumacher ended in the sandpit. Villeneuve hopped across the outfield before the BAR retired again, this time succumbing to transmission trouble, while his teammate Zonta spun out to continue BAR's perfect run of pointless finishes in 1999. Pedro Diniz also spun off late in the race, while Takagi, Coulthard, Badoer and de la Rosa exited due to a variety of technical maladies.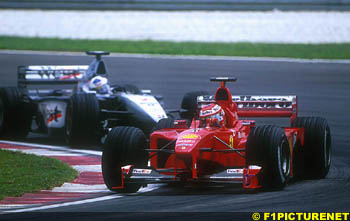 But up front, Ferrari painted Sepang red, leading all the way to finish line astern and steal both the drivers' and makers' title leads back.
The Post-Race
Mika Hakkinen was exhausted, hardly managing to stand on the podium after a race he described as "the hardest race of my life," before complementing the Ferrari men on their victory. "They had brilliant tactics. I don't blame them. I had to drive flat out all the way. I was never sure when Michael was going to brake. I had to be careful - it took maximum concentration to follow him for most of the race."
Michael Schumacher, on the other hand, appeared as if he'd just come in from a stroll along the beach. "Sure I would have liked to have won, but it wouldn't make sense with the Championship the way it is," said the German.
Eddie Irvine never had much to say, except that "not only is Michael the best Number One driver - he is also the best Number Two..."
But downstairs, another drama was starting to unfold in the scrutineering bay. Ferrari was wheeling their cars away after being given the all clear. Although, in effect, the cars should not have been called back after being cleared, FIA technical delegate, Jo Bauer. asked for the Ferrari's barge boards, or tuning vanes, those curved structures mounted on each side of an F1 car, to be checked.
The boards, which had been used in identical trim all weekend, as well as in the recent European GP, were suddenly found to be outside of the regulations. It has been alleged that Bauer was tipped off about the irregularities. Either way, Ferrari's Jean Todt was summoned to appear in front of the race stewards, starting off one of the most amazing processes in recent F1 history, and one that's set to fire arguments at every level in F1, from bickering fans to the highest court in motorsport...
By the time Todt had emerged from the hearing, it was becoming clear that Eddie Irvine and Michael Schumacher faced disqualification from their stunning first and second in the Malaysian Grand Prix. Delegate Bauer issued the following statement: "Following the race, cars number three and four were checked for bodywork conformity. When checking the bodywork facing the ground (article 3.12.1) it was noticed that the upper parts of the deflector panels do not lie on either the reference or step planes. In my opinion neither car does comply up to 10 millimetres with article 3.12.1 of the 1999 FIA Formula One technical regulations."
Then came the shock that Ferrari had been disqualified from first and second, handing the race, the world drivers championship and the constructors title to Mika Hakkinen and McLaren following the Race Director's hearing. "Having heard the explanation of the competitors' representative and the team's technical director and having heard the explanations of the FIA technical delegate and the team's acceptance that the bodywork did not conform, the stewards decided that neither car (Ferrari) complies with Article 3.12.1 of the 1999 FIA FI technical regulations and therefore exclude both cars from the event. The competitor's representative is reminded of his right to appeal."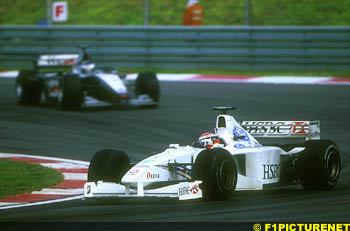 Ferrari indeed immediately filed an appeal against the decision, citing that its argument would be based on the claim that the barge-boards have previously passed FIA scrutiny, and were, in effect, used in the European Grand Prix.
The appeal voids the result of the race and championship, until the it is heard, and ruled on by the FIA's independent International Court of Appeal in Paris on at 09:30 on Friday 22 October.
But the action so far has by no means ended.
Ferrari reacted to the situation immediately, team manager, Jean Todt, said "The car was exactly the same as it was in the last Grand Prix in Nurburgring, and this car has been scrutinised every day here." Technical director, Ross Brawn added, "The parts were used at Nurburgring. There is no performance gain."
Brawn then held a press conference on the evening of the race, standing alongside one of the Ferraris deemed illegal. "The regulations state that the bottom of the barge-board has to be the lowest surface when looking from the bottom of the car," he explained. "Unfortunately, there is a piece missing, about one centimetre. We haven't established the reason why this has occurred. The piece is obviously checked. When the prototype is produced, everything is checked for legality. We have to establish what has gone wrong."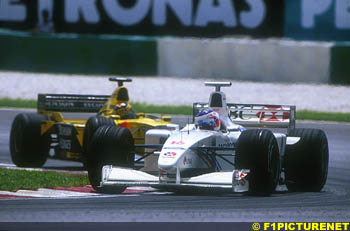 Brawn reiterated, "I emphasise that there is no performance gain. Obviously, we would never produce a piece which we knew to be illegal, because they are checked by the FIA. "There has been a mistake which has left a small piece of material absent."
Brawn's claim was backed by Jordan Aerodynamicist, Tim Edwards. "There is no way you would do something like that which would cost you first and second place. The advantage is so small it would not register. You can see it with the naked eye - it is not something you usually check." Edwards concluded, "that said, it is definitely illegal because it breaks the flat bottom rule."
Contrary to the downcast mood at Ferrari, scenes of joy erupted at the McLaren camp as the news broke. "It's an FIA decision, Mika could be world champion and that is certainly good news," said Mercedes Motorsport boss, Norbert Haug. Haug went on, "it's not our decision. Rules are rules and we did not influence anything. Motor racing is like that - we've also had bad races and bad luck."
But Ferrari's biggest critic, McLaren's Ron Dennis then said, "this is not the way to win a championship, it is bad for the sport."
Back in Italy on Monday, Jean Todt admitted "I have a great pain in my heart, but also the desire to react. I feel responsible because I am chief and I'm the one responsible, but clearly this is a technical problem. The difference in design does not justify the decision to disqualify the two cars. The punishment is disproportionate. We still don't know why the part didn't conform, but it didn't give us any advantage - we honestly can't understand what has happened."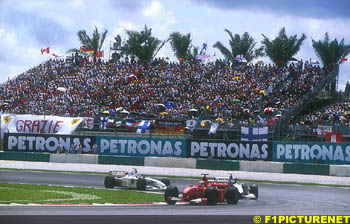 Todt went on to describe the team's disappointment. "There are no words to describe the sudden transition from great joy to profound disappointment. This is a tremendously difficult time for us - it all seems incredible."
Eddie Irvine was shattered. "I can't believe they are taking the points and the leadership of the world championship away from me for something like that. The punishment is too harsh compared to the crime. I'm relying on Ferrari's ability to defend itself. As a driver, I can't make any appeals. All I can do is drive and say that the car was exactly the same as the one at the Nurburgring.
"It seems impossible to lose a world championship over this. Everybody in Formula One knows that things like that gives you little or no advantage at all. It was an oversight. I hope the judges decide that the punishment was too heavy. I'm convinced that, aside from the facts of what happened, the final decision will take account of people's good faith."
Eddie's title rival - Mika Hakkinen - then rocked the boat, admitting "I don't really like it. It is not the way to win a title. It does not feel good to me. But the team does not want me to talk about this until after the hearing."
As the week drew on, Ferrari began receiving increasing support from ever more unlikely quarters. Patrick Head, technical director of Williams and another regular Ferrari critic went on record "You have to feel sympathy with them. If you ran a micrometer along every car in the pit lane, you would find some part that is out. You need rules but everything is not black and white. To throw Ferrari out of the race does not fit the crime because there is no suggestion that they were gaining an advantage." Stewart Ford's Gary Anderson, too, admitted "Those parts would not be a factor in Ferrari's performance in this race."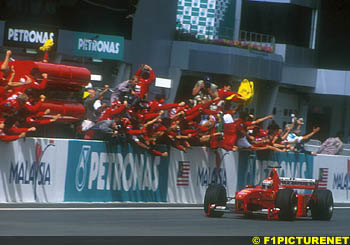 Then, on Tuesday evening, F1 Supremo, Bernie Ecclestone commented on the situation. "What happened in Malaysia is bad for the sport, I would like what the public want - to see a great finish in Japan. I have campaigned for years that the Formula One rules and regulations are too tight." Ecclestone then asked, "After Michael Schumacher got pole position for Ferrari on Saturday, why did the team not take the illegal parts off and put a legal part on if they were cheating, because that is always when the scrutineering is toughest? But scrutineers did not find anything wrong with the car. They missed the fact at the Nurburgring for three days and they missed it in Malaysia right up to the last minute. That seems odd."
But McLaren issued a rather ironic press release shortly after, clearly sensing that the world titles they expect to be given in Paris on Friday, could be slipping through their fingers. In contradiction to both Ron Dennis and Mika Hakkinen's earlier sentiments, it included the following:
"The World Championship is decided on the basis of the results of sixteen races. During the eight months over which the championship is contested, teams lose races that they might otherwise have won, for reasons such as mechanical failure, driver error, technical non-conformity and breach of the sporting code. These incidents can occur at any stage in the season and are statistically just as likely to occur at the end of a season as at the beginning.
"Logically, however, there is a higher media profile if the incident takes place at the end of the season. Whilst we understand the sympathy and requests for leniency that some people have expressed, the fact that the outcome of the Malaysian Grand Prix can decide this year's World Championship is irrelevant. The more important the outcome of a race, the more important it is that the rules are applied consistently and fairly in accordance with the procedures which have been strictly adhered to in the past.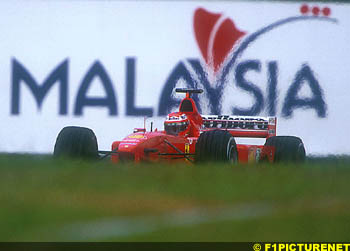 "We sympathise with Ferrari, but this matter has to be put into a wider context. It is not the first, nor will it be the last time, that a team and driver suffer exclusion from a race by reason of an infringement of the technical regulations. "The FIA has invited us to be present for the forthcoming Court of Appeal hearing on the 22nd October and we have notified them of our intention to attend."
Quite fittingly, Jody Scheckter, Ferrari's last Formula One world champion, said that neither the Ferrari nor McLaren deserved to win this season's championship. "I think both of them, McLaren and Ferrari, have made a hash of the season," said the South African 1979 World Champion. "They both, for my mind, don't deserve the championship - I would say Frentzen or Ralf Schumacher as drivers have done the best job," he added.
Ferrari's appeal is set for Paris at 09:30 on Friday. The appeal to the FIA's International Court of Appeal has been made by the Italian National Sporting Authority, the Automobil Club d'Italia - Commissione Sportiva Automobilistica Italiana (ACI - CSAI) on behalf of Scuderia Ferrari Marlboro.
The International Court of Appeal consists of experienced lawyers and judges who have a motorsport background, but are no longer involved in the sport. Any competing team directly and significantly affected by the Court of Appeal's decision may also request a hearing. The decision of the International Court of Appeal is notified to the parties and announced to the public, usually the following day.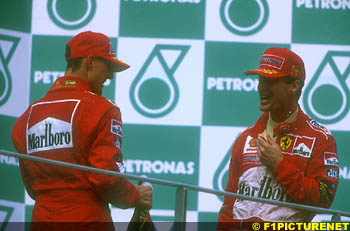 In the mean time, some interesting news arrives from the Continent, where it is believed that certain parties within the FIA are looking into the FIA itself joining Ferrari in their appeal in accordance with two significant articles in the FIA's constitution. Attorney at law Thomas O'Keefe has been in touch with legal experts which are involved in this matter, and are looking into article 162, which states that "A sentence of disqualification can be pronounced only by an ASN, and will be reserved for offences of exceptional gravity," and another more significant article - 184. A self-protecting intervention mechanism, article 184 allows the FIA itself to step in and join a competitor in their protest/appeal, when circumstances warrant, to prevent disgracing the sport and preventing unduly harsh punishment from being meted out against competitors.
As unlikely as it might appear, the FIA does actually have an interest in climbing down the very high tree its own Joe Bauer placed the sport and the entire organisation on. Somehow, be it by use of Article 184 or by back-door mitigation, the FIA - no less than Ferrari - would like to bring to an end the ugly state of affairs and seemingly vested interests, which came into effect when the dominant Ferraris were called back to the scruitineering bay at Sepang on Sunday afternoon.
Provisional Race Results

CLASSIFIED

Pos  Driver        Team                  Time          
 1.  Hakkinen      McLaren Mercedes      + 1h 36:48.237
 2.  Herbert       Stewart Ford          +        4.795
 3.  Barrichello   Stewart Ford          +       19.553
 4.  Frentzen      Jordan Mugen-Honda    +       22.141
 5.  Alesi         Sauber Petronas       +       41.665
 6.  Wurz          Benetton Supertec     +       48.191
 7.  Gene          Minardi Ford          +       1 Lap 
 8.  Zanardi       Williams Supertec     +       1 Lap 
 9.  Fisichella    Benetton Supertec     +       4 Laps

Fastest Lap: H.H. Frentzen, lap 53, 1.40:631 


NOT CLASSIFIED / RETIREMENTS

Driver        Team               On Lap   Reason     
Villeneuve   BAR Supertec          48     Gearbox     
Diniz        Sauber Petronas       44     Spun off    
De La Rosa   Arrows TWR            30     Engine      
Badoer       Minardi Ford          15     Engine      
Coulthard    McLaren Mercedes      14     Engine      
R.Schumacher Williams Supertec      7     Spun off    
Takagi       Arrows TWR             7     Broken driveshaft
Zonta        BAR Supertec           6     Spun off    
Panis        Prost Peugeot          5     Engine      
Hill         Jordan Mugen-Honda     0     Accident    
Trulli       Prost Peugeot          0     DNS         

Irvine        Ferrari               0     DQ
M.Schumacher  Ferrari               0     DQ


Top Ten Fastest Race Laps

Pos  Driver         Team               Lap  Time              
 1   Frentzen       Jordan-Mugen Honda  53   1:40.631         
 2   Barrichello    Stewart-Ford        55   1:40.810  + 0.179
 3   Fisichella     Benetton-Playlife   36   1:40.960  + 0.150
 4   Hakkinen       McLaren-Mercedes    49   1:41.103  + 0.143
 5   Irvine         Ferrari             38   1:41.254  + 0.151
 6   Alesi          Sauber-Petronas     56   1:41.328  + 0.074
 7   Herbert        Stewart-Ford        50   1:41.383  + 0.055
 8   Diniz          Sauber-Petronas     20   1:41.639  + 0.256
 9   Villeneuve     BAR-Supertec        35   1:41.769  + 0.130
10   Wurz           Benetton-Playlife   36   1:41.950  + 0.181

    (M.Schumacher   Ferrari             25   1:40.267  - 0.364)


Top Ten Pit Stop Times

Pos  Driver         Team                 Time   Lap 
 1.  Zanardi        Williams-Supertec    27.40  48  
 2.  Irvine         Ferrari              28.20  41  
 3.  Hakkinen       McLaren-Mercedes     28.30  47  
 4.  Wurz           Benetton-Playlife    28.70  38  
 5.  Irvine         Ferrari              28.80  25  
 6.  Diniz          Sauber-Petronas      28.90  39  
 7.  Zanardi        Williams-Ford        29.00   3  
 8.  Hakkinen       McLaren-Mercedes     29.10  27  
 9.  Fisichella     Benetton-Playlife    29.20  37  
10.  Alesi          Sauber-Petronas      29.30  41  


The Malaysian Grand Prix, Lap by Lap
It's 30 degrees and partly cloudy with a track temperature of 41 as the grid forms up without drama, the Prime Minister of Malaysia, Dr Mahathir, meeting the drivers on the grid. However, during the parade lap, Trulli stops on circuit with a second engine failure; the team was using the Evolution 5 engine which was more powerful than the Evo 4.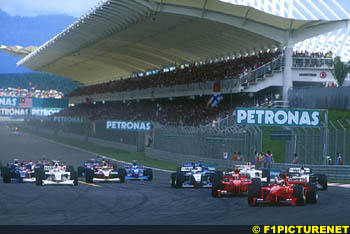 Start: Michael Schumacher makes a perfect start off the grid and into the lead from Irvine, then Coulthard, Hakkinen, Barrichello and the rest. But in the first corner, Hill is hit from behind by Fisichella who said he had nowhere to go. Hill is out on the spot but Fisichella gets back to the pits for rear suspension repairs but he loses two laps. Zonta also has a spin
Lap 1: Schumacher leads by 1.7s from Irvine in second place, pushed hard by Coulthard, then a second gap to Hakkinen pushed by Barrichello who has got ahead of Herbert, then Wurz, Ralf Schumacher, Villeneuve, Alesi, Frentzen and Gene
Lap 2: Schumacher already has a 3.1s lead over Irvine in second place, while Coulthard has been caught by team-mate Hakkinen who has brought Barrichello with him, leaving behind Herbert a little. Wurz is next, then a gap to Ralf Schumacher pushed by Villeneuve and Alesi
Lap 3: Schumacher's lead suddenly shrinks to 1.0s, while Barrichello is beginning to be left behind by the second placed trio. Zanardi pits on this lap as someone has hit him and damaged a wheel rim which is changed
Lap 4: Schumacher lets Irvine into the lead, the second Ferrari now dripping back to Coulthard and Hakkinen
Lap 5: Irvine has a 1.9s lead, but Coulthard is now second having got past Schumacher who is now third, ahead of Hakkinen and this has allowed Barrichello to close up. However, as Coulthard overtook, he slightly damaged Schumacher's front wing, part of which breaks up later. Badoer has a spin.
Lap 6: Alesi moves up ahead of both Ralf Schumacher and Villeneuve, who goes to the back of the bunch. Panis retires with an engine failure like his team-mate.
Lap 7: Zonta spins off after his engine fails due to a water leak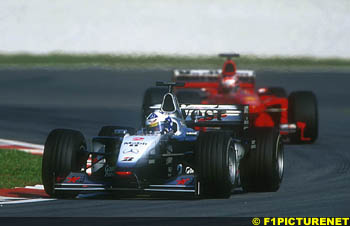 Lap 8: Coulthard is right up behind Irvine now, with a 2.6s gap back to Schumacher, beginning to pull away from Hakkinen. Then come the Stewarts, Wurz and Alesi. Ralf Schumacher spins off and out of ninth place. Takagi retires with a broken driveshaft
Lap 12: Coulthard is still pushing Irvine hard and the gap is at its greatest, 2.8s, back to Schumacher, who is just over a second ahead of Hakkinen. Further back, Alesi is now catching Wurz for seventh place. Badoer pits after an incident with Diniz
Lap 14: Coulthard is still pushing Irvine hard, but the gap back to Michael Schumacher is coming down, the second Ferrari leaving Hakkinen behind while he is being caught by Barrichello. Further back, Alesi is on Wurz's tail, battling over seventh place
Lap 15: Coulthard pulls off and out of second place when he suffers a loss of fuel pressure, leaving Irvine with a three second lead over Michael Schumacher
Lap 16: Irvine's lead goes up to 4.5s as Hakkinen catches Schumacher who slows and holds up Hakkinen, the pair being caught by Barrichello. Further back, Diniz has a spin but doesn't lose a place. Badoer, after his incident with Diniz, suffers overheating
Lap 18: Irvine's lead is up to 6.6s while further back, Schumacher is caught by Hakkinen and Barrichello in a bunch. Behind Herbert, Wurz runs wide which lets Alesi passed and into sixth place
Lap 19: Barrichello is the first front runner to pit from fourth place in 9.3s
Lap 20: Now Wurz comes in, team-mate Fisichella coming in when he completes 20 laps too
Lap 21: Michael Schumacher is doing such a brilliant job at holding up Hakkinen that Irvine's lead is now 11.6s. Alesi pits on this lap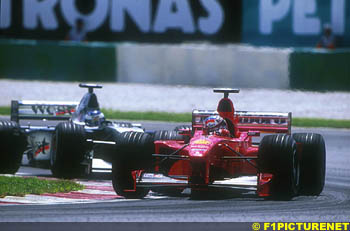 Lap 22: Now it's Villeneuve's turn to come in from what is fifth place. Diniz comes in too
Lap 23: Michael Schumacher suddenly speeds up again, reduces Irvine's lead to 9.3s and leaves Hakkinen 2.8s behind. Further back, Barrichello is just ahead of Frentzen, battling over fifth place
Lap 24: De la Rosa pits
Lap 25: Irvine's lead is down to eight seconds as he pits from the lead in 7.2s
Lap 27: Hakkinen comes in for 7.8s. Gene pits on this lap too
Lap 28: Michael Schumacher pits for a longer 10.9s, suggesting he will be on a one stop strategy, while Herbert comes in for 13.3s, relatively long and Zanardi pits on this lap too
Lap 29: Just after half distance, and Irvine is now 5.1s ahead of Schumacher in second place, with Hakkinen 1.8s behind the second Ferrari, and then a gap of 9.6s back to Barrichello, 1.7s to Herbert and then 2.2s back to Frentzen who has still to stop.
Lap 30: Frentzen comes in for 9.0s, his only stop of the race
Lap 31: Irvine's lead is up to 8.1s from Schumacher still holding off Hakkinen, but the gap to Barrichello is still coming down, while Herbert is dropping back and slowing being caught by Alesi. De la Rosa retires with engine failure
Lap 37: Fisichella, still well down, pits on this lap
Lap 38: Irvine's lead is now up to 17s from Schumacher and Hakkinen, while the gap to Barrichello is now down to 3.2s, although the Brazilian is soon to pit, explaining his speed. Wurz pits for 8.1s on this lap, while Villeneuve also pits, in 8.5s, after trying to overtake Wurz and then going off and having a wild, rocky ride over the run-off area
Lap 39: Barrichello comes in for 8.6s while Diniz comes in for 7.6s
Lap 41: Irvine pits for 6.3s but comes out behind team-mate Schumacher, still being pushed hard by Hakkinen. Herbert is now in fourth place, Barrichello in fifth and Frentzen in sixth. Alesi also pits on this lap
Lap 45: Diniz, having a drink, loses concentration and spins off and out of the race
Lap 46: Irvine is actually being left behind by Schumacher and Hakkinen, while further back, Barrichello in fifth place is being caught by Frentzen, and further back in seventh place, Alesi is being caught by Wurz
Lap 47: Any doubts that Ferrari had about Hakkinen are dispelled as he comes in for a 6.9s stop for fuel and tyres, and drops to fourth place behind Schumacher, Irvine and Herbert
Lap 48: Zanardi has been off and comes into the pits with overheating due to grass in the radiators, causing overheating, so he comes into the pits
Lap 49: Hakkinen is right behind Herbert. Villeneuve retires with a hydraulic failure which means he can't change gear
Lap 50: Wurz is right behind Alesi
Lap 51: Schumacher's lead has grown to 6.7s
Lap 52: Suddenly, Schumacher slows and his lead shrinks to 3.9s. Further back, Alesi has managed to pull away from Wurz again
Lap 53: Schumacher allows Irvine into the lead, the pair 10s ahead of Herbert still pushed by Irvine
Lap 54: Herbert makes a mistake in turn nine which allows Hakkinen to make a run at him three corners later and he overtakes going into the final corner, moving up to third. Further back Frentzen has closed to within 1.7s of Barrichello, but doesn't get any closer
Lap 56: Irvine takes the chequered flag 1.040s ahead of Schumacher, the pair 8.7s ahead of Hakkinen.
A provisional race result is issued, but at 17.30, the FIA's technical delegate, Jo Bauer, reports to the stewards that the barge boards (which lie on either side of the monocoque, forward of the cockpit) on the Ferraris do not comply, being higher and lower than the monocoque. At 18:45, the stewards announce that the cars are excluded. Exactly an hour later, the stewards say that Ferrari has given notice of intention to appeal, but they issue an official result, not including the Ferraris. However, the results are not made final, because of the notice of appeal.