This week's Grapevine brings you
information fresh from the paddock on:

Ferrari – Conspiracy Theorist's Paradise
Ferrari make headlines…
Picked from the Bunch
Malaysian Tidbits
Ferrari – Conspiracy Theorist's Paradise
With the announcement of Ferrari's disqualification from the Malaysian Grand Prix, the rumour mill really started to churn.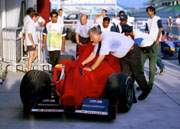 Conspiracy theorists – in and out of the Ferrari camp – are speculating that the team's management, particularly Jean Todt, resents the possibility of Eddie Irvine winning the World Championship that's "intended" for Michael Schumacher. With the lack of development shown by Ferrari since Schumacher's departure, then Irvine's farcical three-wheel pitstop when he had a chance to lead the Driver's Championship, the situation appears to lend credence to their mutterings: it is hard to imagine Ferrari with Schumacher present performing so badly, for four races in a row.
Having done all that, these same people are claiming the illegal barge board is just intended to be the nail in the coffin of Irvine's Championship: the performance gain is negligible, but for the sake of a technicality Irvine loses out and Schumacher's dream of taking the crown to Ferrari can be lived in 2000!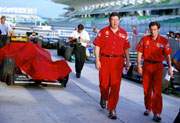 Of course, this speculation is nonsense. Jean Todt is not an Irvine fan, it has to be said. That does not mean he would pass over the best opportunity Ferrari have had to bring the Driver's title to the team in twenty years – even if it means Irvine takes the "number one" designation to Stewart next year. The odds on next year's car being as competitive are quite high, but McLaren are unlikely to make as many mistakes again either.
As for deliberately making the car fail inspection – that is ludicrous. At least Todt's job is on the line for that little item: the FIA's rules and regulations are clear. There is no discretion to fall outside them for aesthetic reasons, as they make no distinction between "performance enhancing" and "non-performance enhancing" components. So if the car's dimensions are incorrect, sooner or later, it will fail inspection. And that's a disqualification offence, if it's post race scrutiny...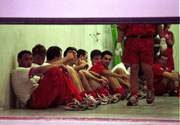 Todt runs the team, and has overall responsibility. After the fiasco at the Nurburgring, there is already pressure for heads to roll, and a negative reaction to Friday's appeal is going to make it imperative for someone to be seen taking a fall.
Having managed to ruin Irvine's race – and chance to lead the Championship – in Europe with the three wheel pitstop fiasco, getting both drivers disqualified in Malaysia has the Italian and German press baying for blood:
"Kick the guilty ones out, this stupidity can not be tolerated. Millions of Italians feel betrayed," said Italy's Gazzetta Dello Sport. "At the centre of the affair are Brawn, Todt and the other technicians who are responsible for this disgrace ... The financial damage is huge, but that is nothing compared to the moral insult, the catastrophe for the image of Ferrari."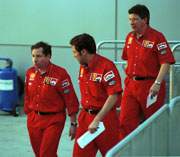 "The betrayed heroes" was run in the Naples' daily Il Resto del Carlino.
"What are these mechanics doing? First they forgot a tyre at the Nurburgring and now in Sepang a ruler to measure the chassis" said the Corriere della Sera.
"Mama Mia, Ferrari too stupid again, Schumacher robbed of super comeback, Irvine of world championship title!" headlined Germany's Bild newspaper.
"A cold shower on the hot hysteria" Germany's respected Sueddeutsche Zeitung stated, adding: "Schumacher's comeback ended in a way he did not deserve."
The Zeitung also pointed out that Schumacher may in fact be the only benefactor in the Ferrari camp: "Schumacher will quite naturally be the only man at Ferrari for whom the Malaysian incidents would not be inconvenient. Of course he can't wish that Irvine wins the title. And he has said this often enough."
However you look at it, with two dire performances in a row – one, an elementary team error in the pits, the other an even more basic error in the factory – media pressure for someone's head on the block is climbing. And in the political Ferrari environment, sooner or later, it usually means a head will roll.
Picked from the Bunch
Jordan's spare was not up to scratch in Malaysia, so for Japan the team are intending to ensure this car is also up to scratch. Honda are looking for a win at home, and no stones are to be left unturned in their attempt to find the speed to achieve it.
Stewart's excellent result has demonstrated the hard work put in after their motivating European Grand Prix was worthwhile. Accordingly, the team is looking to gain another result in Japan – aiming for a podium, though they realistically only expect to land in the points.
Prost's disappointing weekend finished with both cars experiencing engine failures. Sources indicate Peugeot have identified the issues and should have revised units available for the season finale, where they might be able to run a race distance.

Malaysian Tidbits
Amidst the turmoil of Ferrari's disqualification some interesting piece of news somehow managed to escape everyone's attention. On Friday, after normal scrutiny, the FIA's inspectors apparently passed a request to McLaren to remove something from their car. What it was, however, remains a mystery - as no one at McLaren or at the FIA were willing to elaborate!
Frank Williams was in Stewart Tartan at the Malaysian Grand Prix, having stated that if Stewart won a Grand Prix this year, he would wear Jackie Stewart's tartan trousers... but he wouldn't leave the Stewart motorhome with them on!
With Zanardi unable to pass Gene's Minardi in Sunday's race, paddock gossip has restarted the speculation on his early retirement from Formula One. This time, Olivier Panis' name was mentioned for the second Williams seat. It should be mentioned he had mechanical issues to slow his lap times.
Forget the fight for the world championship, forget Schumacher's return, the main talking point on Friday in Sepang was the on-track arrival of a wild animal. After much discussion and searching in reference books, it was generally agreed that it was a leopard cat. Main point of speculation revolved around whether or not it would eat a photographer before the end of the weekend.
Talking of predators, those friendly FOA folks have decided to spread their sphere of influence to the media centre. On Wednesday, the FOA paddock official wandered into the lounge area there and ordered all food and drink to be removed. "The journalists are here to work, not to have a picnic!" was his sympathetic attitude to our labours. And if stories in your favourite F1 magazine are a bit sparse then you can blame FOA for that as well: new rules say that team press officers are no longer allowed to distribute their press releases in the media centre. Instead they are only allowed to place them in racks in reception. If a press officer wants to talk to a journalist, he or she must give the journalist's name to a receptionist, who will then go and fetch them.