Mika Hakkinen's victory at Suzuka on Sunday earned him his second consecutive Formula One World Drivers' Championship. After the penultimate round of the 1999 season at Malaysia, it looked like Hakkinen might not achieve this goal. The 1999 season was in many ways a strange season and one of strangest events of the season was Hakkinen's loss of form and composure during the second half of the season. Many questions are left unanswered, including why this happened.
The 1998 season ended well for Hakkinen and for McLaren. Everybody knew that the four-grooved front tyres would make the 1999 Formula One cars more difficult to drive, but this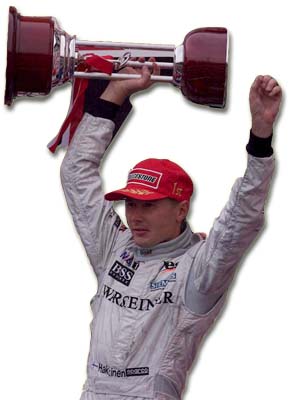 might actually play into Hakkinen's hands as his driving style suited these unstable cars. McLaren's Chief Designer, Adrian Newey, buoyed by his success with the MP4/13, set about designing the revolutionary MP4/14. Everyone expected this to be an outstanding racing car, but as the pre-season testing proceeded at Catalunya it was clear that McLaren were ill-prepared for the 1999 season. The MP4/14's maiden voyage on the February 8th, with David Coulthard at the wheel, ended with a suspected electrical failure.
During tests at Catalunya, the 1998 car was consistently faster than the 1999 model. Both MP4/14s failed during the February 19th test. Other problems were surfacing at McLaren. During the winter Coulthard stated, "I believe that Mika has had every opportunity, not just with the car but from the support within the team and from the team principal, to give him the best crack at the championship. He took it, he made the most of it and he won the championship. I'm asking for the same opportunity. I have invested in Mika and I have invested in the team beyond what would be a normal contractual situation."
Stewart Ford's Johnny Herbert commented, "David should have a great chance of going for the championship. The McLaren was the best car last year and it could well be again this year. But he has got to be stronger and assert himself from the first race and show everyone he means business."
Hakkinen appeared to be confident before the season-opening Grand Prix at Melbourne, "When I think of this time last year, it was totally different. I've gained confidence and experience and am more relaxed. With this title I no longer have to tell myself every morning I can win, to put pressure on myself. It's more a psychological change."
In reality, the McLaren team, including Hakkinen, dropped the ball several times at Melbourne. Hakkinen crashed an MP4/14 during practice, but he tried to shrug this off, "Naturally I am annoyed with myself for going off, but at least I now know the limit of the car!" He then drove out of the McLaren pit with an umbilical hose still attached to the MP4/14, pulling a boom down on an unfortunate mechanic. During qualifying Coulthard had set the fastest time but Hakkinen went one better in the dying seconds of the session to snatch pole position. This was to be the pattern of qualifying for much of the season.
During the race, both McLarens expired and Eddie Irvine was the surprise winner. At Interlagos, Hakkinen set his second pole position with Coulthard again second. After a glitch in the gearbox early in the race, Hakkinen went on to win while Coulthard's McLaren stalled on the grid and ultimately retired due to transmission troubles. At San Marino, Hakkinen again narrowly took pole position from Coulthard. During the race, McLaren went for a tortoise and hare strategy, with Hakkinen being the hare and Coulthard being the tortoise, which proved to be hare-brained.
Comfortably in the lead, Hakkinen lost control of his MP4/14 at the chicane before the start-finish line and smashed it into the barriers. Michael Schumacher won, Irvine retired, and Coulthard finished second after struggling to get around a mobile chicane owned by Alain Prost. Hakkinen had no excuses, "Not a very good day for me today. I made a good start and was leading the rest of the field when I made a mistake. It's as simple as that. It was a driver error and meant that I went out of the race on lap 17 without any points."
McLaren's team principal Ron Dennis summed up the next race at Monaco, "Not a particularly satisfying end to a difficult weekend. David suffered an oil leak on the gear box which led to his retirement. Mika had a front suspension problem from early on in the race causing inconsistency in the cars handling which made it impossible to exploit the true potential of the car. Despite this he did a very good job but the result and performance of the car bore no relationship to our real competitiveness." Hakkinen could not cash in on pole position number three, finishing third after spinning on oil on the track at the Mirabeau corner. The Ferraris of Schumacher and Irvine finished first and second. Schumacher now led the drivers' championship.
At Catalunya, Hakkinen took pole position while Coulthard qualified third. After qualifying, Hakkinen admitted, "David had been much quicker than I was this morning and that is one of the good things about having David as a team mate, we work together and because of this, we were able to find a set up which enabled me to take pole position today." The Spanish Grand Prix was vintage Hakkinen, Catalunya being a circuit where Hakkinen excels, while Coulthard got the better of Schumacher during the pit-stops and finished second.
At Canada, it was Michael Schumacher's turn to plow into a wall, leaving Hakkinen the surprise victor. Coulthard and Irvine got physical for the first time, with Irvine getting the better of the incident and the support of the race stewards. France was a washout, but David Coulthard, who was not famous for his wet-weather skills, was leading in the wet on a circuit that he didn't particularly like. After Coulthard's MP4/14 failed again, Hakkinen drove well to finish second. Hakkinen now had a commanding lead in the driver's championship.
Silverstone will be remembered for the Michael Schumacher's opening-lap accident. Surely, with Schumacher out of contention with a broken leg, back-to-back titles were now on the cards for Hakkinen. Hakkinen would retire after a disastrous pit stop and losing a wheel. Coulthard drove home to victory over Irvine in his home Grand Prix.
And so on to Austria. Prior to the race, Coulthard and Hakkinen were both offered contracts to drive for McLaren in 2000. For Coulthard, this seem like career suicide as Hakkinen was clearly Ron Dennis' favourite son. With seats available at Jordan and Stewart, why on earth was Coulthard staying with McLaren? There was no way that Ron Dennis would let David Coulthard beat Mika Hakkinen, was there?
Johnny Herbert's words must have been ringing in Coulthard's ears as he approached the Remus Kurve for the first time. Coulthard tried to out-brake Hakkinen, they touched and Hakkinen was sent spinning around. In an attempt at damage-control, Coulthard explained, "When I went off the line I thought there might be a chance to pass Mika into the first corner. When I realised that wouldn't be possible, I came back across on to my line, and I thought it might be possible to [try it again there] under braking, because all weekend I had been a little bit better [than Mika] under brakes into Turn 2. But clearly I misjudged that completely. It has always been a nightmare scenario to run into Mika when we got to the apex, but unfortunately he was turning in as I tried to stop -- and disaster happened."
This was not what David had planned but the message was the same. Coulthard was no longer willing to follow in Hakkinen's wheel-tracks. After the 1998 Austrian Grand Prix, Hakkinen described being relieved when he saw a McLaren in his mirrors - he would no longer breathe a sigh of relief at this sight in 1999.
Irvine won after overtaking Coulthard during the pit stops and Hakkinen clawed his way back up to third. Hakkinen made this cryptic comment, "Whatever happened in the second corner is not important at the moment, in this situation."
Hockenheim should have been a showpiece victory for McLaren-Mercedes but it all fell apart. Prior to the race, Yoshihiko Ichikawa, Technical Manager of Bridgestone Motorsport, stated "Hockenheim is unique because of the sustained high speeds which can be reached on the long straights. This does not present us with any concerns." Ichikawa would eat his words. Ominously, Coulthard's McLaren threw a tread during qualifying. Coulthard described the sensation, "That was quite an attention-grabbing moment because when the tread flies off it makes the car handle very strangely. First I just heard a sort of flapping noise, then the rear end started moving around, so I thought I had broken the suspension."
Hakkinen scored another pole position and was leading comfortably until his first pit-stop. The fuel rig failed during the stop and valuable seconds were lost. Hakkinen left the pits like a scalded cat in pursuit of the Ferraris of Irvine and Mika Salo. At the approach to the Agip Curve, the left rear tyre overheated and delaminated, sending Hakkinen into a spin at 300 km/h. Hakkinen's McLaren careened towards the tyre barriers and buried at itself in the tyres. Hakkinen emerged unhurt and quickly waved to the crowd. After Michael Schumacher's accident at Silverstone just three weeks earlier Formula One fans around the world breathed a collective sigh of relief.
Afterwards Hakkinen said, "I thought the car was never going to stop, when you are going backwards at that speed it is incredible. All you can do is wait for the impact. I was lucky to come out of the accident without injury because the car was destroyed. Negative things happen during a season but when you put all the things that have gone wrong together, like a tyre explosion, then it suddenly affects you psychologically."
Hakkinen had felt that sensation before, at Adelaide. The sensation of a left rear Goodyear deflating on his McLaren MP4/10B at the end of Rundle Road during qualifying for the 1995 Australian Grand Prix. The McLaren MP4/10 snapped sideways, clipped a kerb and was launched into a single row of tyres in front of a concrete wall. Ron Dennis estimated that the impact speed was 200 km/h. Professor Sid Watkins described the scene: "When I arrived at the accident, two minutes after the crash, he was unconscious and having difficulty breathing. We removed him from the car and had to perform a tracheotomy at the trackside. Fortunately, although he had a fractured skull, his brain injury was not severe. He regained consciousness on Saturday morning and when I told him that he had had a big accident, his first words were: 'Was it my fault?'" ( "Triumph and Tragedy in Formula One: The Inside Story of Professor Sid Watkins.")
After Hockenheim, Hakkinen went on vacation and took stock, "I am worried about the situation but I just have to stay cool. Eddie's points lead is enormous. At the start of the season I thought defending the title would be easy. What's happened is surprising but if the last two Grands Prix had gone to plan I would still be ahead."
Mika returned for the Hungarian Grand Prix, which he won comfortably. Coulthard, in his new role as an intimidator, forced Irvine to make an error. The next Grand Prix was at the legendary Spa-Francorchamps. Hakkinen was on pole once again. Hakkinen hesitated at the start and Coulthard out-dragged him into the La Source Hairpin. As Coulthard claimed the racing line, Hakkinen tried to nip inside him. After minor contact, Coulthard accelerated off into the lead and was never challenged.
Hakkinen was furious and refused to shake hands with Coulthard on the podium. This behaviour during the podium ceremony was also not what Mercedes want to see. Despite appeals to Ron Dennis and Mercedes Sporting Director, Norbert Haug, the team supported Coulthard as he was ahead at the first corner. Ron Dennis summed it up as follows, "If there's blame to be apportioned in that incident, then blame it on Mika and that's all there is to it. It wasn't an easy decision. But we're just not prepared to sacrifice our integrity. This isn't a sport for weak-minded people. If you're going to run a racing team, then you run a racing team. You've got to give the drivers equal equipment and there are many people who feel that when we say we allow them to race that it's no more than loose words, but the truth is just that - we let them race."
The "gentleman's agreement" set at Melbourne in 1998 that the first driver to the first corner would be allow to win the race had finally worked against Hakkinen. This incident was very significant. Ron Dennis had allowed David Coulthard to score a Grand Prix victory over Mika Hakkinen for the first time since Monza in 1997. Dennis knew the importance of Spa-Francorchamps in the history of Formula One and was not willing to change the course of Formula One history to satisfy Mika Hakkinen's immediate needs.
And so on to Monza. Hakkinen set his eleventh pole position of the year and was leading comfortably, but pushing very hard. On the approach to the Variante Goodyear, Hakkinen spun his McLaren off the track. Hakkinen threw off his gloves and stormed past track workers in search of some privacy. Obviously distraught, Hakkinen crouched in the bushes and cried.
After regaining his composure Hakkinen stated, "Naturally I am very disappointed to have made a mistake which ruined the chance for me to extend my lead in the championship. After the start I pulled out a pretty good lead and I was feeling very comfortable with the car when on lap 29 I went into the first chicane, which I have taken all weekend in second gear and I made a mistake and selected first. The rear wheels partially locked up and I spun off with a stalled engine. Of course I am upset with myself but I will make sure this is the last error I make this year."
How did Hakkinen get to this point?
Even his wife Erja was perplexed, "This isn't the Mika that I know." This was a set-back and an embarrassing mistake, but with three races to go the championship was not lost. Did the incidents at Imola, the A-1 Ring, Hockenheim, Spa or Monza in 1999 precipitate this very public overreaction? Perhaps that fateful day at Adelaide had came back to haunt him. Following an accident of this violence, there is inevitably post-traumatic stress which can appear in many different ways. Very little is known about the long-term emotional effects of violent car accidents as most clinical studies on this subject have looked only at the short-term effects. Hakkinen is a man of few words who generally reveals little of himself. Like the rest of the McLaren-Mercedes team, many of his public statements are carefully scripted and politically correct. If he indeed was feeling post-traumatic stress as a result of the accidents at Adelaide and Hockenheim, he was unlikely to broadcast this.
At the Nurburgring, Hakkinen was not his usual self, qualifying in third position behind Coulthard. During a rain-shower Hakkinen was called into the pits to change to rain tyres. The shower passed and Mika started slipping back to 15th place, caught on the wrong tyres and the wrong pit-stop strategy. During the next rain-shower, Coulthard went straight off while leading, ending his World Championship hopes. As more cars spun off, Hakkinen clawed back up to fifth. Ferrari had their worst race day in years, losing one of Irvine's wheels during a pit-stop and scoring no points. Hakkinen was back in the lead of the driver's championship.
At Sepang, Michael Schumacher was back and Ferrari were competitive again. Hakkinen's qualifying advantage had evaporated and he sat on the fourth spot behind Coulthard and the Ferrari's. During the race, Coulthard made a spirited charge against the Ferraris before his MP4/14 expired for the fifth time this season. Irvine and Schumacher drove a brilliant tactical victory and Hakkinen, again, was on the wrong tyres and the wrong pit-stop strategy. At the awards ceremony, Hakkinen was bent over on the podium and gasped through the post-race press conference.
During the conference, Mika was asked, "On the podium you looked absolutely exhausted. Are you feeling OK now?" Hakkinen responded: "Yes, I am feeling OK now. A couple of minutes ago it was different. This is the hardest race I have done in my life, a race where you had to go absolutely flat out. These guys played some brilliant tactics, I cannot blame them, they did a good job and they won the race, with Michael 2nd. Obviously for me it was [a matter] of pushing as hard as I could and trying to overtake Michael. His car was very slow, actually, in the high speed corners, and when we came on to the straight it was quite easy [for him] to accelerate at the exit from the corners, so it was impossible to overtake him."
Hakkinen looked defeated. Later that day, in response to the disqualification of both Ferrari's, due to a technical infringement, making him provisional World Champion, Hakkinen said, "I do not really like it. It is not the way I would like to win the title. It does not feel good to me."
After a week of legal manoeuvring, the initial Malaysian Grand Prix results were reinstated. Hakkinen was now trailing Irvine by four points. At the final race in Suzuka, Hakkinen missed pole position for the third consecutive race but when the red lines went off he simply left everyone behind and was never challenged. Hakkinen smiled for the first time in weeks, "Brilliant! What a great English word to express how I feel. It was one of my best races and I shall never forget it. Whilst I think I did a good job it wouldn't have been possible without all of the people back in the factory and the here in Japan. Just a big thank you to them and of course David my team mate, West, Mercedes, Mobil, Ilmor, Bridgestone all of our other sponsors, Erja, and my Mum and Dad! Thanks to everybody."

Regarding Ron:
What was the role of Ron Dennis in these events? If Mika Hakkinen is indeed Ron Dennis' favourite son, then what was Dennis trying to do during this season?
There are two issues to consider. First is Hakkinen himself. To give Ron Dennis the benefit of the doubt, he probably felt that Hakkinen could not develop and mature as a driver if he relied on gentleman's agreements and team orders to secure Grand Prix victories. Sometimes we have to take the safety net away from the favourite son for them to grow.
Second is Coulthard. David Coulthard did not come into Formula One to help someone else become World Champion. Dennis knew that Coulthard's performance would suffer if the team was not even-handed and that this would ultimately harm the team. McLaren also needs Coulthard because his driving skills complement Hakkinen's, generally succeeding when Hakkinen doesn't and vice-versa.
Formula One teams like McLaren monitor every possible variable on their cars to optimise their performance, but their drivers are not given the same attention, adjustment and maintenance. When asked whether he trained for this mental strength, Hakkinen said, "Not as such, but I do have a trainer - Mark - whom I work with a lot and out of our physical training comes the opportunity to talk and develop the techniques and skills with which to be focused and positive. It's a great help."
Sports psychology and the study of the effect of traumatic injuries are in their infancy. The effects of stress following violent car accidents are not well understood but they need to be taken very seriously. Motor Racing is a sport where admitting to having an emotional problem is regarded as a weakness. Let's hope this attitude changes soon. Mika Hakkinen appears to have weathered the storm of 1999 and may emerge next year as an even better and more mature driver.
But, on the other hand, it could have ended much differently. And that alone should present Ron Dennis and Hakkinen himself with something to ponder before the 2000 season begins.