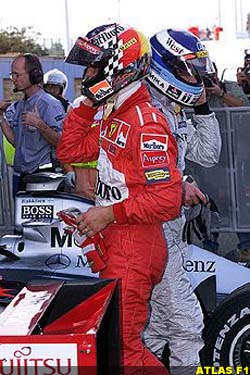 And so the curtain falls on the 50th season of Formula One Grand Prix racing with the final scene at Suzuka in Japan. It is fitting that this strange season ends with the thirteenth Japanese Grand Prix to be held at Suzuka and the first Grand Prix ever to be held on Halloween. The 1999 Japanese Grand Prix promises to be a treat for Formula One fans with lots of team-order tricks on and off the track.
In the week following the disqualification of both Ferraris after the Malaysian Grand Prix, Formula One shot itself in the foot. Everybody involved looked bad; Ferrari were either careless or pushing their luck with the barge-boards on the F399. By blowing the whistle on Ferrari, McLaren looked like bad losers clutching at straws to explain their loss at Malaysia; first suggesting that the tyres were illegally worn then questioning the legality of the Ferrari barge-boards. The inadequacies of the FIA rules and scrutineering were exposed.
Bernie Ecclestone, seeing Formula One's image circling the drain, called for less restrictive rules in Formula One. This was the right message from the wrong messenger. Ecclestone, as owner of Brabham, was famous for being creative with Formula One's technical rules. Stewart-Ford shot themselves in both feet. In an attempt to retain five bonus points in 1999, they supported the disqualification of Eddie Irvine (who will drive for them in 2000), a move that would stop him carrying the No. 1 plate to Jaguar! Only Jordan improved their image when their Chief Designer, Mike Gascoyne, criticised the disqualification even though it would have helped Heinz-Harald Frentzen. Sir Frank Williams didn't support the disqualification either, but his team stood to lose from the disqualification. Ron Dennis lamented that it was a "sad day for the sport;" he is right, but for the wrong reasons.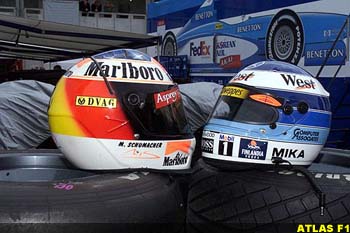 Ferrari, McLaren and Stewart were distracted by this affair but the question is which team was most affected by this distraction? With only 10 points left in the drivers' championship and only 16 points left in the manufacturers' championship, there is still a lot to be decided and to race for at Suzuka.
At 5.864 Km, Suzuka is the second longest circuit used in Formula One and it is the favourite circuit of many drivers. Although fast in sections, Suzuka is average in speed as there are a number of slow corners. Suzuka is unique in that it has a fly-over but it is best described as "funky," as it has a few idiosyncrasies and it is quite difficult to learn. The start is difficult as the grid is on a downhill slope, which means the drivers have to be careful not to accidentally jump the start or stall holding the car back.
The 6th gear 130R corner is considered to be one of the most challenging corner in Formula One. Accident black-spots on the circuit are the 3rd gear Spoon curve, the 2nd gear Degner curve and the 2nd gear Casio chicane, which Ferrari's Eddie Irvine calls the "Silly chicane." Overtaking on Suzuka is not easy, often the following driver has to force the leading driver to make an error. Pat Symonds, Technical Director of Benetton, noted, "It is one of the few circuits where local knowledge can have a large influence on a driver's lap time and gives an advantage to those who have raced in the Japanese series earlier in their career."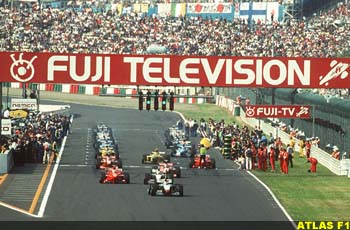 A spokesperson for BAR explains the challenges presented by Suzuka: "It requires fairly high levels of downforce. For drivers and their engineers, the main chassis balance issue at Suzuka is likely to be understeer. It is especially important to neutralise this characteristic on the exit from the Spoon Curve since it is critical to carry as much speed as possible onto the following straight and up to 130R and the chicane, in order to exploit any overtaking opportunities. Traction, as always, is important, particularly on the exit from slow corners, but a slight loss of traction might be accepted in order to keep understeer to a minimum."
Williams' Ralf Schumacher added a driver's perspective: "Setting the car up for Suzuka is difficult because you have to find the optimum compromise between aerodynamical downforce and mechanical grip. Suzuka places many demands on the cars and the drivers. Through the fast, sweeping 'S' curves mechanical grip is very important, then through the Degner and Spoon Curves the need shifts to aerodynamic grip from downforce. In the first Spoon, for example, you brake very late and deep into the corner, then in the second part the car always understeers, so you have to turn in a little early to balance things out. One of the most exciting corners is 130R, a very fast left hand corner, taken nearly flat in sixth gear."
Ferrari's Eddie Irvine added, "The high speed corners and flowing layout makes it a challenge to drive. Except for the chicane before the pit straight, which is too tight, it's a track which has some great corners and you get a lot of satisfaction out of a quick lap."
Pitstop and tyre strategies
Attrition can be quite high at Suzuka, only eleven cars were running at the end of the 1998 race, twelve finished in 1995, while a lucky thirteen finished in 1997, 1996 and 1994.
There is limited opportunity for overtaking so qualifying and pit-stop strategy are very important. In last year's race, most teams used a two-stop strategy while Eddie Irvine opted for a three-stop strategy. On tyre choice, Bridgestone Motorsport's Technical Manager, Yoshihiko Ichikawa, stated, "The important characteristics of Suzuka are its interesting and difficult combination of medium- and high-speed corners, together with an abrasive surface.
"These factors led us to offer the F1 teams a choice of our Soft and Medium compounds for Suzuka which, from our point of view, most closely resembles Barcelona and Silverstone. Not only has overtaking at Suzuka never been easy, but the layout includes some challenging ess-bends. On the Soft compound, although a lap will undoubtedly be quicker, we anticipate that the steering response will not be as good as on the Medium tyre. There is a tendency for the softer rubber in the tread to 'move'.
"Nevertheless, the difficulty in overtaking puts an even great premium than usual on qualifying well, and it is inevitable that many teams will therefore choose the Soft compound. They will have to bear in mind, though, that the Soft can be expected to suffer high degradation which will almost certainly require those who choose it to probably make two pit stops."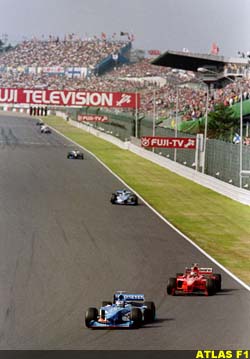 Weather is a major concern. Although the past three Japanese Grands Prix have been dry, it rained during the 1993, 1994 and 1995 races. Therefore, in the event of rain, Bridgestone will offer their latest Medium and Heavy Wet tyres. These new tyres have revised compounds and tread patterns to improve wet-weather grip and reduce aquaplaning.
The Teams
Ferrari now leads the constructors' championship by four points. Ferrari needs to finish firstst, or finish second and third, to secure the constructors' title for the first time since 1983. Ferrari has won twice at Suzuka, in 1987 and 1997, and have scored 50 points at Suzuka. Ferrari may attempt to repeat the team tactics they used at Sepang, but their Technical Director, Ross Brawn, may come up with a new variation of this strategy for Suzuka.
The World Championship leader, Eddie Irvine, has a four point lead over Mika Hakkinen. In his Formula One debut in 1993, he finished sixth for Jordan and was assaulted by Ayrton Senna after the race. Irvine finished fifth in 1994 and fourth in 1995 for Jordan. Irvine did not finish in 1996 but he finished third in 1997 and second in 1998 for Ferrari. His highest grid position was third in 1997. Irvine's thoughts prior to Sunday's race: "The car is good and we have the potential to win both titles, but anything can happen at a track like Suzuka. Having Michael back to support my chances is a big bonus. I have finished 6th, 5th, 4th, 3rd and 2nd in the past at Suzuka, so now I would like to fill the missing gap in the sequence."
Michael Schumacher has regained fifth position in the drivers' championship and seems to be relishing on his return to Formula One. Michael won the Japanese Grand Prix in 1995 for Benetton and in 1997 for Ferrari. He finished second in 1994 for Benetton and again in 1996 for Ferrari. Schumacher took pole position in 1994, 1995 and 1998 and set fastest lap in 1995 and 1998. "I'll do everything I can to ensure that we have the same success in Japan as we did in Malaysia," Schumacher said this week. "We can do it again in Suzuka.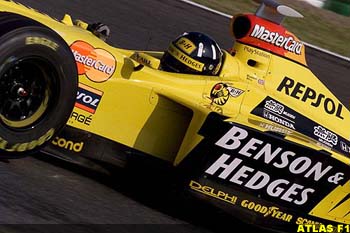 I will help Irvine and the team. Now the world championship will be decided on the track at Suzuka, as it should have been all along. And Ferrari has the chance to win both titles." Schumacher added, "Ever since I joined the team, they have worked hard for me, so it is only right for me to give them something back. If we can create the same result as we had in Malaysia it would be a great end to the season."
McLaren has slipped to second in the constructors' championship. The Woking team won four times at Suzuka, in 1988, 1991, 1993 and 1998, and have scored 91 points at Suzuka. Their horsepower and aerodynamic advantages are important at this circuit. The reliability of the MP4-14 is again in question after the fuel pressure problem on David Coulthard's car at Sepang. Last year, McLaren did enough to win both championships. McLaren need a first and 3rd finish to recapture the constructors' title. In McLaren's last one-two victory in 1991, Ayrton Senna allowed his team mate, Gerhard Berger, to win thus snatching third position in the championship from Ferrari's Alain Prost.
Mika Hakkinen has slipped to second position in the drivers' championship. Hakkinen won the Japanese Grand Prix in 1998 for McLaren. Hakkinen has been consistent at Suzuka, finished second in 1995, third in 1993 and 1996, and fourth in 1997. Hakkinen has yet to set pole position at this circuit, his highest grid position being second in 1998. Hakkinen normally excels on a medium-speed circuit like Suzuka but the big question is whether he can regain his form. Hakkinen needs to win on Sunday to secure the championship unless Irvine finishes lower than fifth. Hakkinen recently made this statement, "The events of the last week are now behind us and I am, as always, focusing on the next race. I am looking forward to the Japanese Grand Prix and I will do my best to win the race and the World Championship."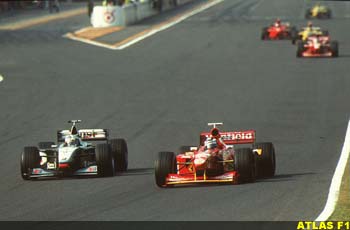 David Coulthard is still fourth in the drivers' championship after the Malaysian Grand Prix. Coulthard's mission is simple: to overtake Heinz-Harald Frentzen in the drivers' championship and to finish ahead of the Ferraris for the constructors' championship. Suzuka is not a circuit where Coulthard would be expected to do exceptionally well as he has only competed in four Japanese Grands Prix. Coulthard finished third in 1998 for McLaren and his highest grid position was third, also in 1998.
Jordan secured third position in the constructors' championship at Sepang. They have scored 10 points at Suzuka. Jordan's Managing Director, Trevor Foster, stated: "Both Damon and Heinz are competitive on this track; Heinz raced in Japanese Formula 3000 and has done a lot of testing there, so he knows the track extremely well. Damon won the 1996 World Championship and had some of the best drives of his career in Suzuka, such as the 1994 race when he beat Michael Schumacher against the clock after the race was interrupted by rain. We are aiming to be on the podium in Japan. Malaysia was a 'blip' for us as we did not do as well as we had predicted."
Heinz-Harald Frentzen consolidated his third position in the drivers' championship at Sepang. Frentzen holds the lap record for Suzuka, which he set in 1997. Frentzen finished second in 1997 and fifth in 1998 for Williams and sixth in 1996 and 1994 for Sauber. His highest grid position was third in 1994.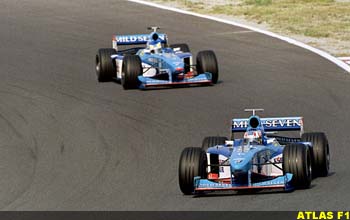 Damon Hill is now eleventh equal in the drivers' championship. Hill has won twice at Suzuka in 1994 and 1996 for Williams. Hill also finished fourth in 1993 for Williams and fourth in 1998 for Jordan. Hill set fastest lap in 1994 and his highest grid position was second in 1994 and 1996. This will be Damon Hill's last Grand Prix. "I am very much looking forward to it. I would love to end the season with a good result. The Suzuka circuit is one I enjoy driving on very much - it holds many happy memories for me, so let's hope I have more luck than in Malaysia and finish, like the team, on a high." Hill's record speaks for itself: A world championship, 22 victories, 20 pole positions, 19 fastest laps, and 360 points. Thanks Damon, and enjoy your retirement.
Stewart has moved up to fourth in the constructors' championship. Can the Stewart team keep their momentum going through the season finale? The Stewart team has yet to finish a Formula One race at Suzuka, but the superior traction of the Stewart-Ford SF3 out of slow corners may be a major advantage at Suzuka. Paul Stewart, Stewart-Ford's Chief Operating Officer, stated, "Having moved ahead of Williams in the Championship standings, we will be aiming to consolidate our fourth position. The most satisfying way of doing that would be to add to our points tally in Suzuka. It's Rubens' last race for the team and we hope to make it a good one for him. We are also confident that Johnny's recent upturn in performance will continue."
Rubens Barrichello consolidated his seventh position in the drivers' championship at Sepang. Barrichello finished fifth in 1993 for Jordan but he has not shone during qualifying at Suzuka, his highest grid position being 10th in 1995. Rubens had this to say about his last race with Stewart-Ford: "It's going to be very emotional when I step out of the car for the last time on Sunday. I am really keen to get a good result for the team in Suzuka. I desperately wanted to do well in Malaysia and I'm just as determined to go out on a high in Japan. My goal was to leave at the end of the season having helped the Stewart-Ford team to the top four in the championship. I'll be doing my utmost to make our fourth place secure this weekend. That will be my way of repaying everyone in the Stewart-Ford team for their terrific support during my time with them."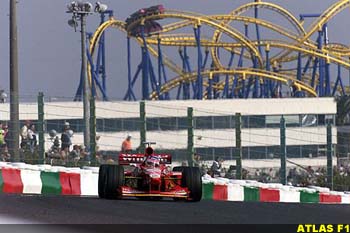 Johnny Herbert is now eighth in the drivers' championship. Herbert is probably the driver with the most experience at Suzuka. After a season in Japanese Formula 3000, Herbert has competed in nine Japanese Grands Prix, finished third in 1995 for Benetton and sixth in 1997 for Sauber, and his highest grid positions was fifth in 1994. Herbert is optimistic about the final race of the year. "In lots of ways Suzuka is similar to the Malaysian circuit," the Briton stated, "A challenging track with a variety of turns. We've proven that the car can adapt quite well to a flowing type of track layout so we should be able to qualify well again. My aim is to get close to the McLaren's again. The fact that both cars are going well has strengthened our hand."
Williams have slipped to fifth position in the constructors' championship. Williams have been a successful team in Japan, winning in 1992, 1994 and 1996 and have scored a total of 71 points at Suzuka.
Ralf Schumacher has slipped to sixth in the drivers' championship. Ralf has yet to score a point at Suzuka but he was the Formula Nippon Champion in 1996. His highest grid position was seventh in 1998. Ralf stated, "Suzuka is one of my favourite race tracks. I always have good memories going back there because I have raced and achieved good results there many times."
Alex Zanardi had another miserable race at Sepang. Zanardi has competed in two Japanese Grands Prix, his best finish was thirteenth in 1994 for Lotus. Alex's thoughts on Sunday's race: "The Suzuka circuit is an extremely interesting track, I would say it's a 'true' track. I hope that the FW21 will adapt to it the best way and - being a circuit very similar to Spa's from some points of view - I wish that our car will behave as good as it did in Belgium."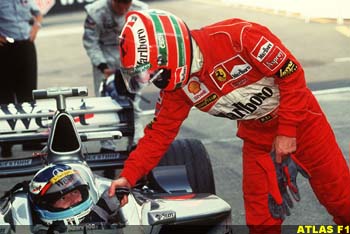 Benetton have slipped to sixth in the constructors' championship after a miserable weekend at Monza. Benetton won the Japanese Grand Prix in 1989, 1990 and 1995, and have scored 61 points at Suzuka. Technical Director, Pat Symonds stated, "While there maybe no new developments for this race, the team has been working hard to maximise the potential of the current package." Giancarlo Fisichella has slipped to eighth in the drivers' championship while Alexander Wurz is still eleventh equal in the drivers' championship. Neither Benetton driver have scored a point at Suzuka and both will be glad to finish the last race of the B199.
Prost is still seventh in the constructors' championship. Team owner, Alain Prost, never won at Suzuka and his team has yet to score a point at this circuit. This could be a lame-duck race for Prost as both drivers will be leaving after this race.
Jarno Trulli is eleventh equal in the drivers' championship. Trulli was classified twelfth but did not finish in last year's Japanese Grand Prix. Olivier Panis is fifteenth equal in the drivers' championship. Panis finished fifth in 1995 for Ligier. This will also be Panis' last Grand Prix for some time, as he just recently announced his retirement from Formula One at the end of this season.
Sauber is still eighth in the constructors' championship and they did not perform well at Petronas' home Grand Prix at Sepang. Sauber have scored three points at Suzuka, with sixth positions in 1994, 1996 and 1997. Both Saubers finished outside the points in last year's race.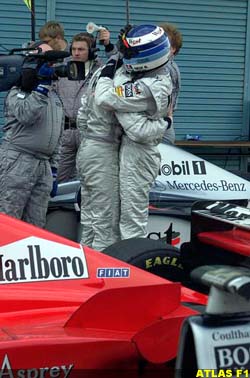 Jean Alesi has competed in nine Japanese Grands Prix. Alesi finished third in 1994 and fifth in 1992 for Ferrari and fifth in 1997 for Benetton. His highest grid position was second in 1995. Pedro Diniz is eleventh equal in the drivers' championship and has yet to score a point at Suzuka.
Minardi had another promising race at Sepang with Marc Gene finishing ninth. Minardi have not scored a point at Suzuka since Christian Fittipaldi's sixth place in 1992. In last year's race, neither Minardi finished while Luca Badoer finished ninth in his last outing for Minardi at Suzuka in 1995. They will be again hoping for both Marc Gene and Luca Badoer to qualify on the tenth row of the grid and to finish on Sunday.
Arrows, for once, will be in fashion with their Orange and Black Halloween colour scheme. Unfortunately they had been the "Smashing Pumpkins" over the past few races and had two more DNFs at Sepang due to mechanical failures. Arrows have not scored a point at Suzuka since Derek Warwick's sixth position in 1989. In last year's Japanese Grand Prix, neither Arrows finished while Tora Takagi was taken off by Estaban Tuero, creating the debris that shredded Michael Schumacher's rear tyre.
Shizuoka's Tora Takagi has a great deal of experience at Suzuka in Formula Nippon, Formula 3000 and Formula Three. A finish in the points for either Pedro de la Rosa or Tora Takagi is again unlikely on Sunday, and to be honest, after Sunday's race, Arrows can take the A19s to the nearest scrap yard. Let's hope the new A20 will be more competitive next year.
BAR's Chief Engineer, Steve Farrell, summed up their mission on Sunday: "Uppermost in the minds of everyone is that Japan is our last chance to score points this season. There's no doubt that the only approach we can take to the Japanese Grand Prix is an aggressive one. We have to aim to qualify both drivers just as well as we possibly can and make sure that everything is in place to give them the best possible chance of finishing in the points. Suzuka is a challenging circuit and we're now very familiar with our car and have a good idea about chassis set-up. This is also helped greatly by the fact that Jacques has a steel-trap mind when it comes to set-up detail from his previous experiences at race circuits. He and his race engineer, Jock Clear, are very clear about set-up, and I'm sure that will be the case at Suzuka."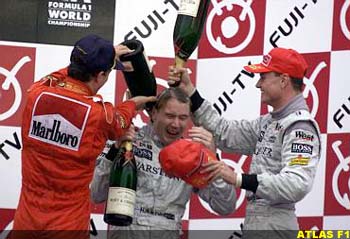 Jacques Villeneuve finished sixth in the 1998 Japanese Grand Prix. In 1997, Villeneuve set pole position and finished fifth under appeal - later withdrawn - and was disqualified for overtaking under a yellow flag during practice. In 1996, Villeneuve set pole position and fastest lap but retired after losing a wheel. Villeneuve commented, "Together with Spa in Belgium, Suzuka is one of my favourite tracks. It is a difficult and risky place. The circuit adopts the shape of the landscape and its high-speed corners are very spectacular. It's fun to drive because you are nearly always on the edge. You never get a chance to take a break, and therefore you have to be in top shape to get a good result. I think our car should suit Suzuka because it is well-balanced and that is exactly what the track requires. This year, I want to finish in the points. We have had such a difficult season, but I have some excellent memories of Japan and hope to re-live them when I am there."
Ricardo Zonta has had success at Suzuka in FIA GT1. "I like Suzuka very much," he commented. "From a driver's standpoint, it is a very technical track with some difficult corners. I finished second there last year in the FIA GT Championship race, and that was after we had a stop-and-go penalty imposed on us. I think we staged a very good comeback to achieve the result we did. My only concern about Suzuka is that I have never competed there in the wet and I know the circuit requires a very particular driving style in such conditions. The team will be trying its hardest, as will I."
My Predictions:
If it is dry, I'm going to pick Ferrari, McLaren and Jordan as the top three teams for qualifying with Stewart and Williams making up the top five.
Starting grid:
Michael Schumacher
Mika Hakkinen
David Coulthard
Eddie Irvine
Heinz-Harald Frentzen
Johnny Herbert
Damon Hill
Ralf Schumacher
Jacques Villeneuve
Rubens Barrichello
Alex Zanardi
Jean Alesi
Who will benefit if it rains on Sunday? Ferrari have not performed well in the two wet races of 1999, but Mika Hakkinen was not happy in the wet at the Nurburgring either. The Jordans and the Stewarts may be at an advantage if the heavens open.
Sunday's race is bound to be eventful. Qualifying is very important but attrition, team tactics and the weather are likely to determine the outcome of the race and the championships.
The 1999 Japanese Grand Prix Preview in a Nutshell:
The winner of the first Grand Prix of the season (Eddie Irvine) has always won the title in the 90's, except in 1997. The winner of the Brazilian Grand Prix (Mika Hakkinen) has won the title in every year since 1994. Which of these traditions will be broken?
Can Eddie Irvine pull it off? He finished 6th in 1993, 5th in 1994, 4th in 1995, 3rd in 1997 and 2nd in 1998 at Suzuka. Can he go one better and win in 1999?
Mika Hakkinen needs to win on Sunday to retain the drivers' championship unless Irvine finishes lower than fifth.
Ferrari needs to finish first, or finish 2nd and 3rd, to secure the manufacturers' title.
McLaren-Mercedes needs to finish in first and 3rd to capture the manufacturers' title.
Will David Coulthard or Heinz-Harald Frentzen take 3rd place in the drivers' championship? Coulthard must finish first or 2nd to capture 3rd place. If Irvine is out of the points, will Hakkinen let Coulthard win to secure 3rd place?
Jordan has won the Best of the Rest contest. Stewart-Ford are 3 points ahead of Williams in the battle for 4th.
The last chance drivers: Can Luca Badoer, Tora Takagi, Jacques Villeneuve, Alex Zanardi and Ricardo Zonta salvage a point from the season?
Always in the points at Suzuka: No one.
Goodbye to friends: Suzuka is set to be the last Formula One race for Damon Hill and Olivier Panis.