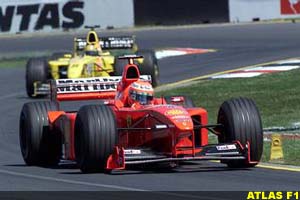 The 1999 World Formula One World Championship has been an epic affair. While in many people's eyes it should have long been wrapped up by the all-powerful McLaren-Mercedes silver arrows, the title has gone down to the wire, and the McLarens are not even in the lead of either championships. That, despite the fact that the team has scored more pole positions than many can ever remember a team doing in a single season, before leading most of the races from there.
So what's prevented McLaren from delivering on the promise of their cars' peerless performance?
In main, it has been Ferrari, despite being at half strength for most of the season, and the tenacious Eddie Irvine taking responsibility for the Scuderia's title charge after Michael Schumacher's disastrous British Grand Prix shunt.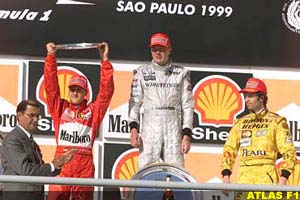 But the facts run deeper than simply a fast Ferrari, for on pace alone the red cars never stood a chance. McLaren have to take a long, hard look at themselves to understand just why they are sucking the F1 hind tit as the 1999 World Championship bears down on Suzuka in Japan on Sunday.
Its been a brilliant year, albeit comprising the occasional boring race, so let's look back at what's transpired so far in 1999:
The F1 circus headed off to Melbourne for the Australian Grand Prix fresh from intensive off-season testing after the withdrawal of Goodyear and the arrival of a fourth groove on the front tires. For all intents and purposes, it was set to be a close race in Australia after very close test times.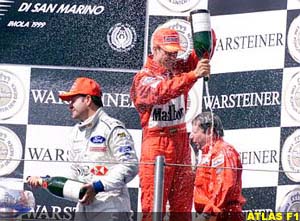 But the silver arrows nestled on the front row of the Melbourne grid, shattering hopes any others had of breaking the McLaren dominance of 1998. Hakkinen led away, but not after Michael Schumacher had stalled and was forced to restart from the back. Both Stewarts caught fire on the first start, resulting in Rubens Barrichello joining the Ferrari at the back and Johnny Herbert retiring.
But McLaren's luck was set to change, as first Coulthard's Mercedes expired before Mika dropped out after a series of woes. Michael Schumacher continued his carbon copy of 98's Japan finale when the rear tyre blew, dropping him from third after another spirited drive from the back.
But it was his Ferrari teammate, a delighted Eddie Irvine, who had weathered the safety-car infested race best, to win his long overdue first ever Grand Prix, from Heinz-Harald Frentzen's Jordan Mugen-Honda and an impressive Ralf Schumacher's Williams.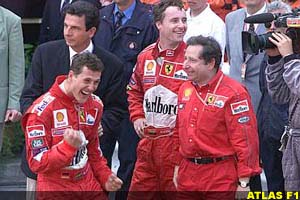 The experts raised the point that so many drivers who have won the first race of the year have gone on to win the title, but the sceptics pointed out that the top three was a flash in the pan. Eddie Irvine promptly put money on himself for the championship...
A five week break saw the circus arrive in Brazil next after the cancellation of the Argentine round.
The qualifying order was maintained in qualifying, with Brazil's hope pleasing local hearts with Barrichello third on the grid, ahead of Michael Schumacher. Local fans were thrilled by Rubinho's performance as he led for a good part of the race after David Coulthard's McLaren failed again. The Stewart ultimately failed too, leaving Hakkinen to score McLaren's first points of the year from Michael Schumacher, Heinz-Harald Frentzen (who stopped out of fuel on the final tour, but was a lap clear of third place man, Ralf Schumacher) and Irvine - all three scoring again.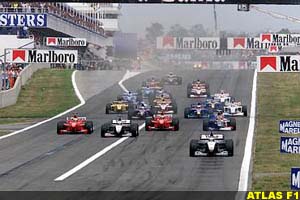 So, Irvine maintained his title lead as the circus arrived at Imola for the San Marino Grand Prix, though McLaren once again showed their cards in qualifying with the usual 1-2. But McLaren's world champion contributed to the team's woes when the Finn lost control entering the pit straight and slammed into the wall and out of the race. Things got worse for the McLarens when David Coulthard lost his inherited lead in the pits – to none other than Michael Schumacher who stormed on to an emphatic Ferrari home victory. Rubens Barrichello was a popular third, with Irvine suffering a rare Ferrari engine failure to retire, with the hapless Frentzen spinning out of what would have been second on Eddie's oil.
So Michael led the chase to Monaco, with Eddie second and Ferrari in a strong maker's lead. There, the Scuderia capitalised on the situation with a Schumacher and Irvine scoring a brilliant 1-2 from Hakkinen. Only a last gasp qualifying lap of brilliance by the Finn prevented the Ferraris from dominating the weekend completely, allowing Mika to maintain his stranglehold on 1999 pole positions.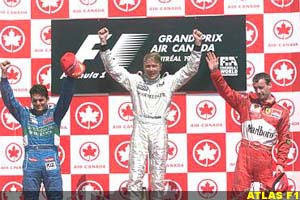 But the Spanish Grand Prix at Barcelona saw McLaren dominate at their default test circuit. Pole man Hakkinen and Coulthard overcame Irvine's second grid spot to lead a resurgent Jacques Villeneuve in the BAR, who made the McLaren's job easier in holding the poor-starting Ferraris at bay until the stops. It was too late, leaving Mika to lead his teammate home in a rather processional race from the Ferraris in team order. Villeneuve later retired, but Hakkinen had closed the title chase to within six points of Schumacher.
The Canadian Grand Prix saw Michael Schumacher break Mika's run of pole positions and lead away. But Schumacher had his turn at attending to the pit-straight wall to crash out of the lead. Mika Hakkinen took over to win a dramatic race interrupted by three safety car stints, from Giancarlo Fisichella's Benetton and the ever present Eddie Irvine. But Hakkinen had taken charge of the championship lead as the circus headed back across the pond to Magny Cours.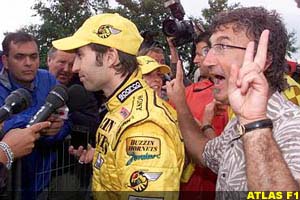 In a dramatic weather-influenced race, Rubens Barrichello led off pole in France, but in an amazing race, Heinz-Harald Frentzen made the best choices to lead Hakkinen home after a double climb through the field from 14th on the grid after a spin. Barrichello ended third from Ralf and the Ferraris in fifth and Sixth, Michael ahead of an obedient Eddie.
Across the channel for the British Grand Prix, Mika and Michael rejoined their battle at the front of the grid, but the first lap of the race saw Ferrari's challenge take a severe knock as Michael Schumacher slammed into a tyre wall breaking his left leg. Ironically, the race was red-flagged due to a start-line problem just seconds before Michael went off, but the German was out for several races. Hakkinen's British challenge also came to an end, a rear wheelbearing failure ending his day. But up front, David Coulthard led a charging Eddie Irvine home to draw even with his hapless teammate, eight points behind Hakkinen in the title chase.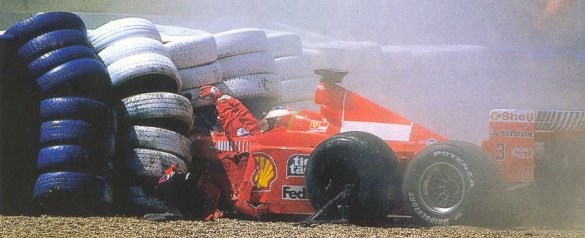 With Michael Schumacher out for the foreseeable future, Ferrari contracted Mika Salo as his replacement, while just about everyone sat back in wait for a McLaren whitewash as the circus headed into the second half of the season sans Michael.
That fate seemed set for Ferrari after qualifying in Austria, with the old silver 1-2 on the front row. But McLaren blundered on the first lap, when Coulthard nerfed his title favourite teammate off. To make things worse for McLaren, Ferrari were at their tactical best, as when the pitstops were over, somehow or another, Eddie Irvine led the race. And the canny Irishman went on to win – against all odds - closing down the title chase in what was turning into a nightmare for the apparently all-conquering McLaren-Mercedes winning machine. And despite his teammate leading the championship, Coulthard kept Hakkinen out of a vital second spot.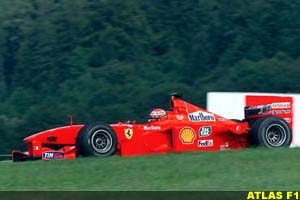 F1 listened to Michael Schumacher speaking to his fans before the German Grand Prix, their hero talking from his Swiss home. But Ferrari's prospects looked bleak – Salo was fourth ahead of Irvine, with Frentzen sharing the front row with yet-again pole man Mika. But the race unfolded into a thrilling affair, when Hakkinen firstly was held up by a long pitstop before exiting in a dramatic accident thanks to a never fully agreed problem. But Salo led from Irvine, before deferring to his teammate to give him the win and the title lead to go with Ferrari's lead in the constructors' championship. Frentzen's third kept him right in the title chase, the German having a splendid season, while Ralf Schumacher compounded Germany's joy, edging out the McLaren to tumultuous applause – something that must have been of some alarm to that team's engine supplier at its home race.
And suddenly, the F1 world was coming to terms with the very real possibility of Eddie Irvine taking Ferrari's first world drivers' crown in twenty years.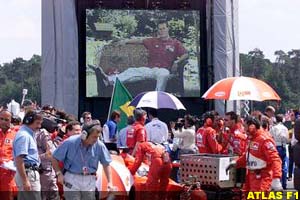 The Hungarian Grand Prix saw another brave Irvine effort, splitting the silver arrows on the grid and coming close to repeating the feat in the race, before making a slip under extreme pressure from Coulthard. The McLaren team must have breathed a sigh of relief when their cars headed the Ferraris home, Hakkinen scoring an important win. Frentzen again collected points with another steady drive to fourth. Irvine held a two-point lead on the way to Spa, Ferrari four points ahead of Mika and McLaren respectively.
Once again, McLaren dominated practice, while the world awaited McLaren's word on team tactics. That never came, in fact the exact opposite happened as a clearly dejected Hakkinen followed his on-form teammate home in Belgium. Heinz-Harald Frentzen was becoming an increasing factor for Jordan - coming home third and giving Mika a little reprieve in holding Irvine back in fourth. Ferrari made no bones of using team tactics though, Salo holding up the charging Williamses of Ralf Schumacher and Alex Zanardi to ensure Irvine rejoined in fourth.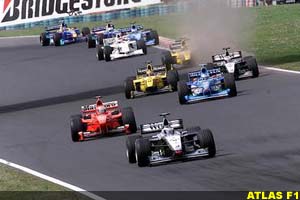 Patrick Head's derogatory comments on Ferrari team tactics seem rather silly now, considering his pals at McLaren had just let their title aspirant driver lose the four points he languishes behind his chief rival right now - to his teammate once again... While McLaren regained the makers' lead, Irvine was still just one point behind Hakkinen in the drivers' chase.
To Italy and a familiar pole man, Mika, sharing the front row with Frentzen. Ferrari's chase seemed lost at their home race, Irvine eighth and Salo sixth. The Tifosi came to support their heroes none the less, and they were set to be vindicated... In a strong lead, Hakkinen was under pressure to push from the McLaren box, when another rare driver error saw Mika select the wrong gear into the first chicane and spin into retirement and tears. Frentzen sailed past to score a popular win, but behind an impressive Ralf Schumacher in second, Salo was on the podium for Ferrari. Coulthard ended a lowly fifth behind Barrichello, while Irvine scored another vital point for himself and Ferrari in an otherwise dreadful weekend for Eddie to draw level with Hakkinen in the championship.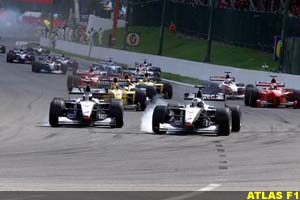 The European Grand Prix at Nurburgring was a stunning race, but the title fighters had a torrid weekend. Pole man Frentzen drove a brilliant race only to retire from the lead, handing it to Coulthard, who crashed out, before Ralf Schumacher took over, but suffered a blow-out. Then Giancarlo Fisichella led for Benetton, before crashing out too, to hand victory to a surprised Johnny Herbert, who led teammate Barrichello home in third, behind Jarno Trulli's Prost. But it was behind fourth placed Ralf Schumacher that the best Euro Grand Prix action happened.
Eddie Irvine was running seventh after that Ferrari 3-wheel pitstop disaster, while Mika Hakkinen, who had enjoyed an even more horrid race, was eighth. The Finn suddenly found his pace again and raced Irvine for a pointless position, eventually forcing his way past the evil-looking Ferrari. But Jacques Villeneuve retired, continuing BAR's perfect pointless run for '99 and, significantly, letting Mika into the points. A spirited effort saw him catch a 'delighted to be in the points' Marc Gene in the Minardi and pass it for another, vital point, something Irvine failed to do, the Ulsterman finishing in a points-free seventh. So Mika and McLaren led Eddie by two points and Ferrari by eight respectively as the circus took a 3-week break before the Malaysian Grand Prix.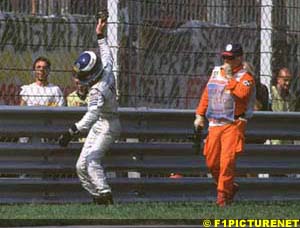 Ferrari worked flat out on their car, and despite Michael Schumacher setting a significant Ferrari lap record at its Fiorano track, the German said he would not race - as he wasn't yet fit enough. But in a sudden - and mysterious - turnaround, Michael reversed his decision, vowing to support Ferrari and Irvine wrap up the world championship.
That he did in incredible style, qualifying ahead of Irvine in a spectacular pole and Ferrari front row. Michael then played with the field, allowing Irvine to win, holding Hakkinen back in third, a place Mika eventually had to fight Herbert for.
But as the Ferrari duo celebrated their stunning victory, a scandal was unfolding...
FIA delegate, Jo Bauer, had signed the Ferraris out of the post race check, when, acting on a McLaren tip-off, called the red cars back, immediately inspecting the barge boards on them, before pronouncing the red cars illegal. After a hearing with the stewards, the Ferraris were chucked out, Hakkinen given the win, in so doing handing the title to the Finn on a hugely controversial plate. McLaren were also the constructors' winners, but Ferrari appealed, making the results provisional.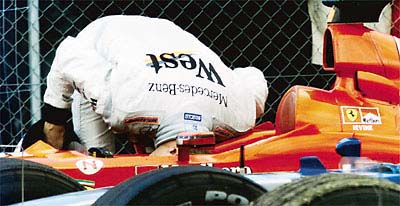 When the world headline-grabbing F1 hearing went down in Paris, The FIA's Court of Appeal accepted Ferrari's defence and reversed the ban. This meant that the world can now look forward to a thrilling climax to an exceptional World Championship in Suzuka, Japan on Sunday.
Irvine leads Hakkinen by four points, Ferrari leads McLaren by the same. Should Hakkinen win from Irvine, he will win the title, for despite having even points to Irvine in the death, Mika will have five wins to four. Alternatively, Hakkinen must score five more points than Irvine in order to steal the title away from the man no one generally gave a hope of winning it to.
Sunday's Grand Prix promises to be a thrilling, tactical epic, as the McLarens try to overcome Irvine and the greatest henchman F1 has ever seen. Interestingly, Ferrari test driver, Luca Badoer, broke Schumacher's lap record at Fiorano again last week, indicating that the Ferraris should, once again, be the cars to beat. And judging by their pace in Malaysia, and Ferrari's incredible reliability throughout the year, Mika and David have an uphill battle...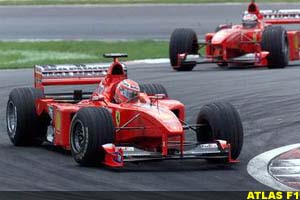 But it ain't over 'till the fat lady sings, they say, and McLaren will not let this one go without a fight. Will the dominant McLarens come back to win a race that will give them the title no one expected them to lose? Or will the Ferraris succeed, against all odds, to topple the almighty big Macs from their lofty throttle as they seem set to, finally breaking that 20-year championship drought?
Don't miss the Japanese Grand Prix on Sunday. No matter what time it is shown where you live, this is one race you have to stay up late or wake up early to watch...