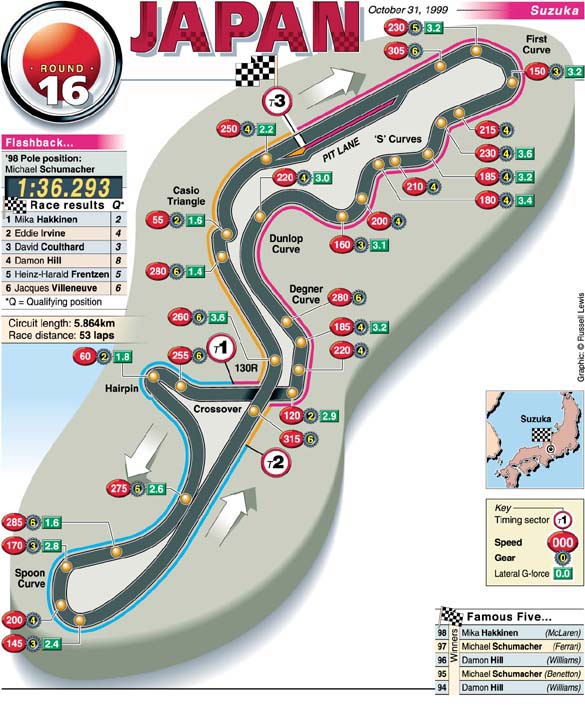 The Suzuka Circuit in Japan currently stands out as a high point in a world populated by bland and dreary Grand Prix tracks. Designed by the man responsible for the challenging Zandvoort circuit, Suzuka is unusual in that it crosses over itself in a figure-of-eight.
The track is twisty, but fast, and some sixty percent of the lap is spent at full throttle - more than Hockenheim. Expect to see the cars running medium levels of downforce as the teams cope with the need for high cornering speeds and extra oomph on the straights. With such a long lap, as well as the inclement weather at this time of year, rain can be expected - although the atrocious conditions that dominated the 1994 race should be unlikely.
High points of the lap are the many long and tightening corners: First Curve; Degner and Spoon. With the correct racing line being particularly critical around these, expect the time spent racing in Formula Nippon to be of particular value to Heinz-Harald Frentzen, Eddie Irvine and Mika Salo.
The only sore point on the circuit is the ridiculously tight Casio Chicane, as well as the lack of sufficient run-off at some of the faster corners. All said and done, though, Suzuka is one of the few remaining challenges in Formula One and well deserves it's place on the calendar.