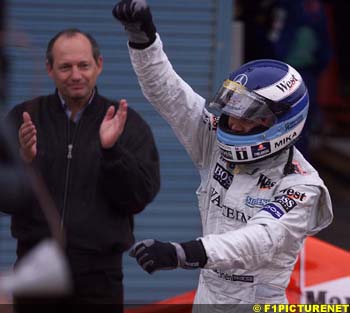 Sunday's Japanese Grand Prix threatened to deliver on the promise of a thrilling, controversial and engrossing Formula One World Championship. And while the race was monotonous in parts, it never failed in that promise.

Mika Hakkinen was in absolutely magnificent form on Sunday. To be assured to win his second World Championship on the trot, the SuperFinn had to win the race. Second for Eddie Irvine wouldn't do the trick, and to sit in a car worrying about where your title rival is in a race is indeed a nightmare in itself. But to go out and win as he did, Mika carried no ghosts in that McLaren with him.

Michael Schumacher also gave his all for Ferrari, his efforts clinching the Scuderia its first World Constructors title in seventeen years. There are those who cannot live without suspecting conspiracy, who believe the German let Hakkinen go, but in my view, Michael was trying harder than Mika all race, he kept the McLaren in sight. Until David Coulthard once again threw his name away when Michael came to lap the Scot that is, taking the acme off a great McLaren-Mercedes weekend.

Eddie Irvine's title chase came to a brave end in Japan, the Ulsterman wasn't up to it in the death, and Eddie was well beaten by a deserved winner.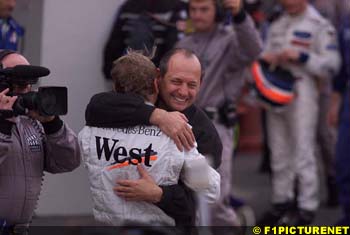 Mika Hakkinen is now, without doubt, one of Grand Prix Racing's all-time Greats, his performance under extreme pressure in Japan, like in Europe last year, is testament to that fact. We can be sure that in the coming season, we will be subjected once again to a duel between two great drivers, as Michael Schumacher and Mika Hakkinen fight on into the new millennium - something F1 racing richly deserves. But the Japanese Grand Prix will be remembered as the day that finally saw Mika Hakkinen confirm himself as one of F1's all-time greatest drivers.
Qualifying
Hakkinen started well, matching Michael Schumacher's provisional pole to the thousandth of a second, before edging into pole by a slender five-hundredths of a second in his second run. Then Michael went into a strong 3-tenths pole, but when Mika went to chase that time, he became entangled with Jean Alesi.
Jean was ending a fast lap, only to find a slow Hakkinen in the chicane. Alesi skipped the chicane to spin past Mika who avoided contacting the Sauber, but ended in the sand trap. "It was unfortunate, I don't think it was anybody's fault," Mika admitted in his usually straight manner afterward, although Jean wasn't so sure about Hakkinen only having half the blame.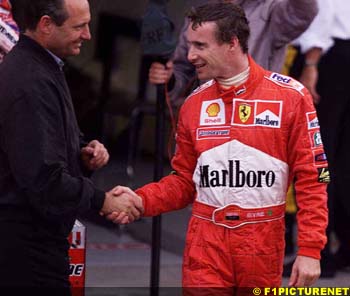 But Mika dusted himself off and headed off on what appeared a remarkably fast lap on dirty rubber behind Irvine, aborting the lap, likely at the news of Frentzen's stealing a late fourth from Irvine. "I am disappointed that I'm not on pole, especially as I think I could have gone quicker on my last lap," Mika said. "We have improved the car and I think it will be really good tomorrow."
Irvine, on the other hand, had a lacklustre run, getting into an early fourth. But despite a good-looking first sector in his third run, the Ulsterman crashed the Ferrari heavily. "We made a major improvement to the front ," Eddie admitted, "But it made the car more nervous and I crashed. My neck might be a bit stiff but it's not going to be a problem tomorrow."
He hitched a ride back to the pits to fetch his spare car, but was also a victim of Alesi's shambles, arriving at the chicane with incident in progress. He continued on a second lap, but could not improve, while Heinz-Harald Frentzen did, to drop Eddie to fifth and the third row.
Coulthard was third from Frentzen, while Olivier Panis slipped onto the third row for his last race from teammate Trulli, Herbert, Ralf Schumacher and Alesi in tenth. Then came Villeneuve, Hill, Barrichello, Fisichella, Wurz, Zanardi, Diniz, Zonta and local hero Takagi leading the usual suspects out back.
The Race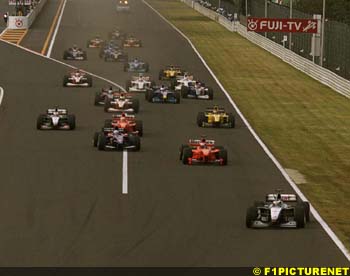 The World was agog with speculation about what would go down on Sunday at Suzuka, but when the lights went out, it was literally all over bar the shouting.
Mika Hakkinen came out of the starting blocks like a man possessed, streaking into an immediate strong lead. Behind, Schumacher swerved across the pack off an iffy start, which saw Panis emulating Hakkinen to snatch a surprise third, from Coulthard, Irvine, Frentzen and Ralf Schumacher.
Alex Zanardi ensured a pointless season with another early shower, but out front, Mika was on a mission, opening up a consistent half a second a lap lead. Michael replied on occasion, but Mika responded each time. Behind Michael, Coulthard wasn't up to the pace up front, and went about trying to edge Irvine into the clutches of Frentzen and Ralf, but Heinz-Harald sat behind the battle in front of him, keeping his promise of staying out of a title fight he has no concerns with.
By the time the first round of pit stops was initiated by the Prost duo, the race was pretty settled. Michael Schumacher stopped early, as did Frentzen, leaving Irvine in an ever-tightening David & Ralf sandwich and little option other than to take his stop.
At that stage, Coulthard attempted to put in a series of blistering laps, but suffered a major spin and lost his wing as well as a whack of time in the pits, putting him out of the picture for the mean while.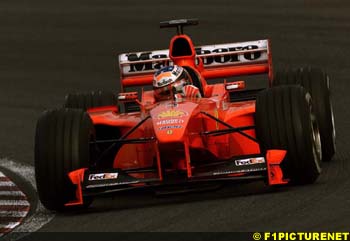 From there, the action went quiet, with the exception of Michael Schumacher who was piling on the pressure, edging ever so slowly up to the flying Hakkinen.
He had closed to within six seconds, with the likelihood of a true race to the flag, when Michael closed up on the to-be lapped Coulthard. In an act of total arrogance and extreme incompetence, Coulthard all but brake tested the Ferrari for the duration of two waved blue flags. Exploiting safety rules that deem that a driver has three waved blue flags' grace to allow a lapping car to pass, the Scot deliberately slowed the Ferrari.
Coulthard moved over before the mandatory third blue flag, allowing the much-slowed Schumacher to pass, before heading to voluntary retirement. Amid a barrage of post race comment, Coulthard admitted: "Anyway he was only delayed two and a half seconds which is borne out by the official results." That in itself, is proof that in a world where thousandths of a second count over an entire lap, his actions within 200m were completely out of bounds.
That left Mika Hakkinen an easy run home to win a brilliant, brilliant race and his second world drivers' championship. "Brilliant! What a great English word to express how I feel. It was one of my best races and I shall never forget it," commented the Finn. It wouldn't have been possible without all of the people back in the factory and here in Japan. Just a big thank you to them and of course David my team mate, West, Mercedes, Mobil, Ilmor, Bridgestone all of our other sponsors, Erja, and my Mum and Dad! Thanks to everybody."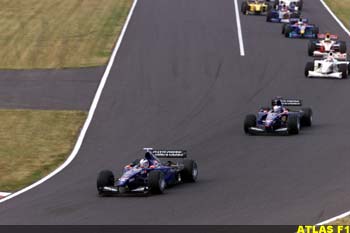 Mika was followed home by the Ferraris, which fittingly won the makers' title in a difficult year. "I think the two championships ended in a fair way today," said Michael Schumacher, "with Ferrari winning the Constructors' title and Mika the Drivers' crown after he drove a fantastic race." Michael went on to praise Mika: "He is a great champion. Ferrari can be proud because it is a great achievement as it is not easy to beat such a strong team as McLaren."
Teammate Irvine, too, was humble in losing a well-fought title. "I have to say, Mika did a fantastic job today. He deserved the title and he won it in style. Third place was good, given my qualifying problems, - my neck was beginning to hurt towards the end. At least Ferrari has a consolation prize in the Constructors' Championship, even if it is not the one I was really interested in."
Coulthard's absence at the finish not only ensured McLaren lost the constructors' championship without a fight, but gave a deserved Heinz-Harald Frentzen an unchallenged third in the drivers' championship to go with his fourth finish in the race and Jordan's third in the constructors. "It is great to finish the season achieving our target of third in the constructors' championship," Heinz concluded. "I think both drivers would have made worthy World Champions after such a strange season, but I'd like to congratulate Mika."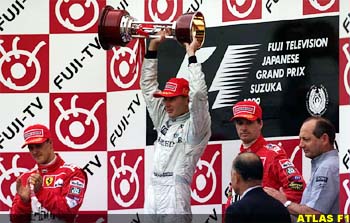 Ralf Schumacher's fifth was just not enough to steal fourth in the makers' title from Stewart, who were disappointedly just out of the points. Herbert was seventh, Barrichello eighth - Alesi in the Sauber stealing that vital point, and ending his Sauber career with a gem of a quote: "This is fantastic!" he said, "The car was strong today and my second pit stop was as beautiful as The Madonna..."
So, that riveting, controversial and hugely entertaining 1999 FIA Formula One World Championship is over. And the two champions crowned are the right ones. Mika Hakkinen fully deserves to be the driver's champion, Ferrari the constructor's. It's been a hell of a year, and 2000 promises to be just as good.
Race Results

CLASSIFIED

Pos  Driver        Team                  Time         
 1.  Hakkinen      McLaren Mercedes      1h 31:18.785 
 2.  M.Schumacher  Ferrari               +   0:05.015 
 3.  Irvine        Ferrari               +   1:35.688 
 4.  Frentzen      Jordan Mugen-Honda    +   1:38.635 
 5.  R.Schumacher  Williams Supertec     +   1:39.494 
 6.  Alesi         Sauber Petronas       +   1 Lap    
 7.  Herbert       Stewart Ford          +   1 Lap    
 8.  Barrichello   Stewart Ford          +   1 Lap    
 9.  Villeneuve    BAR Supertec          +   1 Lap    
10.  Wurz          Benetton Supertec     +   1 Lap    
11.  Diniz         Sauber Petronas       +   1 Lap    
12.  Zonta         BAR Supertec          +   1 Lap    
13.  De La Rosa    Arrows TWR            +   2 Laps   

Fastest Lap: M. Schumacher, Lap 31, 1:41.319 (208.355 km/h) 


NOT CLASSIFIED / RETIREMENTS

Driver        Team               On Lap   Reason     
Fisichella    Benetton Supertec    47     engine      
Takagi        Arrows TWR           43     gearbox     
Badoer        Minardi Ford         43     engine      
Coulthard     McLaren Mercedes     39     hydraulic/gearbox
Gene          Minardi Ford         31     gearbox     
Hill          Jordan Mugen-Honda   21     withdrew    
Panis         Prost Peugeot        19     gearbox     
Trulli        Prost Peugeot         3     electrics   
Zanardi       Williams Supertec     0     electrics   


Top Ten Fastest Race Laps

Pos  Driver         Team               Lap  Time              
 1   M.Schumacher   Ferrari             31   1:41.319         
 2   Hakkinen       McLaren-Mercedes    31   1:41.577  + 0.258
 3   Coulthard      McLaren-Mercedes    33   1:42.106  + 0.529
 4   R.Schumacher   Williams-Supertec   22   1:42.567  + 0.461
 5   Frentzen       Jordan-Mugen Honda  22   1:42.972  + 0.405
 6   Panis          Prost-Peugeot        4   1:43.188  + 0.216
 7   Irvine         Ferrari             26   1:43.297  + 0.109
 8   Barrichello    Stewart-Ford        22   1:43.496  + 0.199
 9   Alesi          Sauber-Petronas      3   1:43.669  + 0.173
10   Herbert        Stewart-Ford         5   1:43.706  + 0.037


Top Ten Pit Stop Times

Pos  Driver         Team                 Time   Lap 
 1.  M.Schumacher   Ferrari              29.70  22  
 2.  Irvine         Ferrari              29.70  32  
 3.  Frentzen       Jordan-Mugen Honda   30.30  31  
 4.  Irvine         Ferrari              30.50  23  
 5.  Frentzen       Jordan-Mugen Honda   30.70  19  
 6.  M.Schumacher   Ferrari              30.70  37  
 7.  Hakkinen       McLaren-Mercedes     30.90  38  
 8.  Panis          Prost-Peugeot        31.00  16  
 9.  R.Schumacher   Williams-Supertec    31.00  20  
10.  Coulthard      McLaren-Mercedes     31.00  22  


The Japanese Grand Prix, Lap by Lap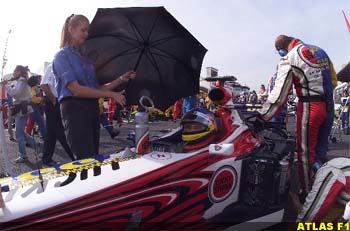 There's hazy sun with a temperature of 18 degrees and a track temperature of 21 as the cars form up on the grid for the last Grand Prix of the Millennium, to decide the 50th World Champion in Formula One.
Start: When the lights go off, Hakkinen makes an excellent start while Michael Schumacher doesn't, attempts to pull over on the Finn but the McLaren is straight into the lead from Schumacher with Irvine getting bottled up behind Coulthard and Frentzen and having to come around the outside of them, being overtaken by Panis as he does so. Zanardi retires after a good first half lap when an electrical problem shuts down his engine
Lap 1: Hakkinen leads, just ahead of Michael Schumacher, while (an already massive)2.3s behind is Panis being pushed by Irvine, Coulthard, then Frentzen and Ralf Schumacher before a gap to Alesi, then Trulli, Herbert, Villeneuve and then Wurz already ahead of Barrichello
Lap 2: Already the race is falling into a pattern: Hakkinen is now beginning to draw away, 1.3s ahead of Michael Schumacher who is 3.5s ahead of Panis. Then there is 1.2s to Irvine being pushed by Coulthard, a small gap to Frentzen and Ralf Schumacher ahead of Alesi, then Trulli just ahead of Herbert followed by Villeneuve and Wurz
Lap 4: Hakkinen's lead is now 2.6s but growing much faster is the gap to Panis in third, 5.2s behind. Then there is 1.9s back to Irvine just ahead of Coulthard still, then 1.8s back to Frentzen who is easing away from Coulthard, followed by Alesi. Trulli should be next, but pulls off when the engine stops. Fisichella has a big off track moment, damages a bargeboard, but continues
Lap 9: The lead gap is up to 5.5s while the gap from Schumacher to Panis is up to 10s. Three seconds behind Panis is the Irvine-Coulthard duo, still shadowed by Frentzen with a three second gap back now to Ralf Schumacher. Alesi is next, being caught by Herbert and then comes Villeneuve now being shadowed by Wurz. Barrichello is next from Hill
Lap 12: For the first time, the lead gap stabilises at 6.6s, Hakkinen back to Michael Schumacher. But the gap to Panis is now 18s. Further back, Alesi, having been caught by Herbert for eighth, begins to pull away again
Lap 15: Hakkinen is now 6.8s ahead of Michael Schumacher, while the gap back to Panis is now a massive 19s. Further back, Wurz is the first to pit while Hill goes off the circuit and comes into the pits for a new nose section
Lap 16: The lead gap is still going up but on this lap, Panis reveals why he has been so quick: he's on a three stop strategy and he comes in from third place. Gene also comes in, and so does Fisichella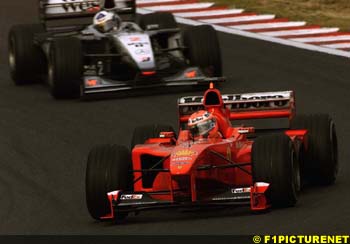 Lap 17: The lead reaches its maximum - 8.3s - but further back, Herbert and Villeneuve both pit as does de la Rosa
Lap 18: Badoer pits
Lap 19: Now the two stoppers start to come in: Hakkinen pitting early for 8.8s while Frentzen comes in as does Alesi, rejoining behind Herbert who had been ahead of him. Panis comes into the pits to retire with a broken alternator drive, while Zonta and Takagi are also pit visitors
Lap 20: Ralf Schumacher pits from fourth place and Barrichello comes in and rejoins just behind Villeneuve but ahead of Wurz. Diniz also pits
Lap 22: Michael Schumacher pits from the lead with a 6.3s stop while Coulthard also comes in for 7.1s. Hill retires from third last place feeling that there is no point in continuing
Lap 23: Hakkinen's lead is down to 7.5s after his stop, while Irvine pits from third place in 7.1s like Coulthard, but he rejoins behind the Scot
Lap 24: After the stops, Hakkinen leads Michael Schumacher by 7.2s while there is now a 30s gap back to third placed Coulthard, just 2.3s ahead of Irvine in fourth. Frentzen isn't far behind, now being tailed by Ralf Schumacher. Then comes a 12s gap to Herbert ahead of Alesi, then Villeneuve just ahead of Barrichello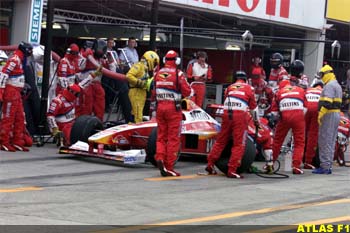 Lap 26: The lead gap is down to 6.4s but now it goes up again, but the leading pair are still much faster than Coulthard and Irvine. Irvine later says he's being held up by Coulthard but the pair are being caught by the two Germans behind them
Lap 29: The leading duo are now 43s ahead of Coulthard and Irvine. The former pair are lapping in the 1m 41s bracket, the latter are in the 1m 44s.
Lap 30: Coulthard and Irvine have been caught by Frentzen and Ralf Schumacher
Lap 31: Frentzen, however, comes in for a 7.7s stop on this lap. At the same time, Michael Schumacher cuts the lead gap to 6.0s. Gene also pits
Lap 32: Irvine comes in for 6.3s and so does Ralf Schumacher, the latter still rejoining behind Frentzen. Gene retires with gearbox failure while team-mate Badoer pits on this lap
Lap 33: The lead gap is still coming down, no 5.5s. Further back, Barrichello pits and so does Wurz, Zonta and Fisichella
Lap 34: It's now 5.3s but it won't drop any further. However, in third place, Coulthard puts a wheel on a white line, spins around, hits the barrier nose first and spins some more, eventually getting back to the pits for a new front nose section which is added in 15.7s, but he drops to ninth place - but just in front of Michael Schumacher. Villeneuve and de la Rosa come in for their second stops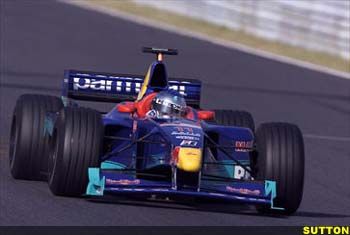 Lap 35: Takagi pits. Partially because of Coulthard, Hakkinen has extended his lead over Schumacher to 6.2s now, and on?
Lap 36: ?the gap is up to 9.9s, Michael Schumacher shaking his fist as he overtakes Coulthard. Herbert pits on this lap and so does Alesi, but this time, they rejoin in the opposite order after Herbert is held up by an Arrows and his team seems less than prepared. They rejoin less than a second apart
Lap 37: Now Michael Schumacher pits for 7.5s and further back, Diniz also comes in.
Lap 38: Hakkinen comes in for 7.4s while Coulthard drives straight into the garage and out of the race with a hydraulic problem affecting the gearchange
Lap 39: Hakkinen is now 11s ahead of Michael Schumacher. Then there is a massive 64s gap back to Irvine who is 5.6s ahead of Frentzen, just ahead of Ralf Schumacher. Sixth is Alesi, just ahead of Herbert, the pair being caught by Barrichello. Villeneuve is next from Wurz and Diniz
Lap 41: The lead gap is down to 9.6s, but then it starts to rise again. Irvine is still dropping back, but Frentzen is more pre-occupied by Ralf Schumacher at the moment. Alesi has drawn away from Herbert, and Barrichello has dropped back. Badoer pits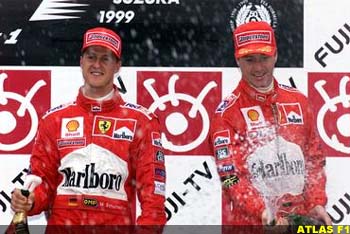 Lap 44: Badoer retires with a broken engine, while Takagi also retires with gearbox problems
Lap 47: The lead gap is back up to 12s, while the only other battle is that between Frentzen and Ralf Schumacher, but that's beginning to break up too
Lap 48: Fisichella retires with an engine failure due to a lubrication problem. The car's extinguisher later goes off as the marshals are recovering the car
Lap 49: The fourth place battle is reforming
Lap 51: The lead gap is down to 9.2s
Lap 52: Now it's down to 7.0s but the chequered flag is looming
Lap 53: Chequered flag, making Mika Hakkinen World Champion and Ferrari Constructors champions