For those who did not follow Formula One until 1997, the 1999 season may have brought across a driver whose average racing position was around 13 and hardly got mentioned. A few might have also wondered why the commentators on TV used to suddenly mention his whereabouts for no apparent reason.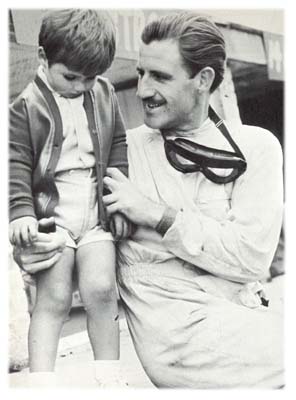 The obscure driver was a certain Damon Hill - the 1996 World Champion - and arguably the most underrated.
Coming into Formula One at an age when most of the current drivers will be well considering retirement, Hill has had to go the hard way. Right from the start of his career he has been compared with his champion father, the late Graham Hill. Damon failed to live up to the legacy of his father in the eyes of the media. Every mistake he made was magnified by the extensive and detailed coverage a Formula One event gets.
Hill did not begin his career with Karts, which is the usual way, but surprisingly with motorbikes. He started racing cars, thanks to his mother, who believed them to be safer than bikes. His entry into Formula One was as a test driver to the Williams team, an illustrious position considering his lacklustre pre-F1 career. But having got into F1, Hill took long strides and was instrumental in the development of the car which made Alain Prost the World Champion. Hill's efforts were rewarded when he was signed as the regular driver for the 1993 season to partner (and in reality play second fiddle) to Prost. He was denied a victory on two occasions, once when he faced a tyre puncture and then an engine failure on the last lap of both races. On the third occasion, the fiddle was so weak that he was given team orders to make way for Prost in order to keep the latter's championship hopes alive. Still, he won his first ever F1 victory in Hungary.
In 1994 Hill had to lead his team out of the mourning surrounding the death of his teammate Ayrton Senna. Having just being ushered onto the F1 scene, Hill at 34 suddenly became the No.1 driver for the Williams team. The championship went down to the wire with Hill just one point behind Michael Schumacher with one race to go. Schumacher collided with Hill, ensuring that neither of them finished the race and was crowned World Champion. Cruelly, Hill again lost out in the final stages, due to faults not of his own.
1995 was a disappointing year for Hill - a season which was remembered for the peak of animosity between Hill and Schumacher. But with Schumacher racing for Ferrari for 1996, Hill knew that was the year he had to prove himself.
In 1996 Hill was at his best - performance and commitment wise. After a gruelling season, he finally became the World Champion. It was a day his critics kept quiet, mainly because there was nothing left to say. However it wouldn't have quite been the "Damon Hill Way" if all things would have gone right. He was unceremoniously sacked by his team, a decision which was declared so late that he did not have the time to negotiate a decent drive for 97.
For a while it looked as if the World Champion would not have a car to drive next season till he signed for the lowly placed Arrows team. It was an emotional moment for his supporters and undoubtedly for him when he almost failed to qualify for the 1997 season opener in Australia. I still remember the famous commentator Murray Walker forgetting his role and cheering for Damon in order to help him qualify. Hill did exactly that in the final seconds of the qualifying session. The true spirit of Hill was still running high and his fight was visible to all.
In Hungary 1997 he put on an unbelievable performance in his ailing car. He led the race right till the end by almost half a lap from the distinguished Williams, Ferraris and McLarens. But the 'Last Lap Blues' caught on and the engine gave up with a few agonising metres to go. His lead managed to give him second spot but once again Hill was left devoid of the prize he deserved - something which was becoming the story of his career.
Maybe Hill did not have the genius of Senna, the control of Schumacher or the style of other champions. But the fact that he became World Champion despite these deficiencies makes him a great sportsman. He had perseverance, which saw him through the hardest of times. Whenever Schumacher won a race it was always "What a flawless driver" and when Hill won it used to be "What a flawless car." What attracted his fans was that he never whined for the way he was treated. Hill would make sure it did not affect him and continued to race, learn and win. Very few drivers can boast the list of teammates they had in their careers like Hill can - Senna, Prost, Mansell, Coulthard, Villeneuve, and even the younger Schumacher - and he kept up with all.
Hill retired last Sunday at Japan. It was not exactly a day to pass black armbands around but Formula One will be losing a 'survivor' if not anything else. Hats off to a fighter to the letter, sportsman to the core and a champion in his own right.