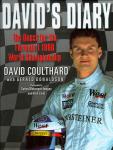 If there is one thing other than their heritage that unites the current crop of British Formula One drivers, it is a low self-esteem. Michael Schumacher, Mika Hakkinen, even Jacques Villeneuve and Jean Alesi - all these guys have a fundamental belief in themselves and their ability, and it is from this self-belief that they draw much of their confidence.

Damon Hill used to use the 'I really am an awfully good driver and I'm very confident that I will be able to wipe the floor with [insert name of whoever you want] in tomorrow's race' line as often as anybody, but he always sounded about as convincing as Michael Schumacher saying 'sorry'. He wasn't a bad driver - bad drivers don't win Championships, no matter how dominant their car is - but at times he was just too... well, human. Eddie Irvine, meanwhile, talks the talk better than anybody else on the track, but an awful lot of his spiel has focused on how his teammate is the best driver in the world. Eddie thinks he's good, but he doesn't think he's the best. Realistically, he's right. But the passive acceptance of the situation meant that Schumacher virtually always had him beaten before they even arrived at the circuit.

Ironically, the British driver who probably has the most to be upset about probably has the best approach to his racing of the lot of them. Johnny Herbert must have walked under a ladder while smashing a mirror over a black cat and screaming 'Macbeth' at the top of his voice, because he has become the high-speed poster boy for bad luck. From being touted as the next British World Champion all those years ago, to suffering a horrific crash that nearly prevented him from walking again, never mind driving an F1 car, to the endless succession of gearbox failures, engine explosions, mechanics leaving bits and pieces in the cockpit... yet he always remains positive and keeps his head down. OK. Things went badly this time. Again. Let's find out why it went wrong, try to prevent it from happening again, and focus on the next race.

Now to David Coulthard. Of the three drivers mentioned above, Coulthard is probably most similar to Hill. Seems to be a genuinely nice bloke. Very conscientious, thoughtful and concerned with protecting his integrity as both a driver and a person. He is obviously quick and talented, and quite capable of producing flashes of brilliance. All are very admirable qualities. And yet he rarely seems able to get it all together for an entire weekend.

Having read his account of the 1998 season, I now have some idea of why. Consider this excerpt from the introduction:
"...I've never been a dreamer - in racing, or in life. I have always believed in setting realistic targets and working towards them. If you start with really high expectations you set yourself up for big disappointments, especially in my profession. There is an old saying that in racing the highs are higher and the lows are lower than in any other sport. I try to avoid the peaks and valleys and keep everything on an even keel." (p.7)
How many 'even keel' drivers have won World Championships in recent years? 1999 is a perfect example. Compare the image of Hakkinen punching the air as he flew past the chequered flag in Suzuka last weekend with the infamous shot of him crouching in the bushes at Monza. Peaks and valleys - the stuff that most championship campaigns are made of. History would seem to suggest that moderate drivers tend to bring home moderate results, whereas drivers that are prepared to risk a valley if there is a chance of finding a peak stand a better chance of striking the jackpot.
So is all this actually relevant to the book? Well, it comes as a surprise, (even to me), but yes it is. Carroll Smith, who wrote a book called 'Drive to Win', remarked that books by drivers can be valuable sources of information, not for the trivial details of Johnny Wonderful's day-to-day breakfast preferences, but for the stuff that can be gleaned by reading carefully between the lines.
Approaching the right sort of book in this way can reveal an awful lot about the psychology of the drivers. Damon Hill's books have always been particularly good for this, and it seems that Coulthard is following suit. It's a difficult thing to put a finger on, but I finished this book feeling that I had some sense of who David Coulthard is as a person. Once you are armed with that kind of knowledge, it becomes a lot easier to put what the driver is doing (or not doing) on the track into some kind of context.
Like most books of this kind, it's likely that the book was 'written' through a series of interviews between Coulthard and Gerald Donaldson. The interviews would then have been transcribed, edited, chopped around a bit, and presto, there's your book. The style is very chatty - the phrasing and language sounds very much as it would if Coulthard was sitting there talking to you (for added authenticity, try reading it with a Scottish accent), and this results in a book that flows really well and is easy to read without being too simple.
What is very unusual is that Coulthard is often so self conscious on the book - you can almost hear him hesitating during some sections. This is particularly true when he is talking about issues that concern the team. The controversial 'fixed finish' in Melbourne, for example, is pure party-line stuff. He does relax a bit when talking about himself though, and even though I'll confess to not being a paid-up member of any David Coulthard supporters clubs; I did find much of the book really enjoyable and interesting.
One of the most fascinating sections of the book concerns the Belgian Grand Prix. Coulthard was at the epicentre of one of the most incredible pile-ups in Formula One history, and it was rather unnerving to read his account of the mother of all accidents. Even more interesting was his description of his shunt with Schumacher later in the race; when the German, who was leading, ran into the back of the McLaren while attempting to lap it in torrential rain. Given that the whole episode has just become topical again, courtesy of Schumacher's remarks in the post-race press conference at Suzuka on Sunday, you might be interested in hearing some of David's thoughts on the event.
Coulthard actually devotes quite a bit of space to this issue, so I'll give you the special Atlas F1 abridged version:
"After the race was over the stewards investigating our coming-together called it a racing incident and said that neither Michael nor I was to blame. Though Michael modified his remarks, he refused to change his position that I was responsible for what happened. What bothered me most was the personal attack on my integrity. That is something I place great value on and I could not accept it being questioned. In our sport we might all have an inflated opinion of ourselves, because you need a lot of confidence to do what we do. But I know right from wrong. I was brought up that way. I did not believe I had done anything wrong; nor did most of those who saw what happened. I could handle Michael being frustrated and angry in the heat of the moment. I could forgive him for coming into the garage and wanting to out his arm around me to have a little chat. But having calmed down, and with the chance to sort it all out in his mind, to not change his position was very disturbing. You can't deny his driving ability and his achievements, but I came away from Spa having lost a great deal of respect for Michael Schumacher." (p.233)
All up, this is not such a bad book. Obviously, its impact is diminished by the fact that it is now a season old, but the overall integrity of the book is still reasonably strong. The actual day-to-day events that Coulthard recounts were reasonably engaging, but it was the extra material - the description of the 'kiss-and-make-up' meeting between Coulthard and Schumacher in Italy, for example; or the more subtle information that is lurking just below the surface - that made it a worthwhile read.
As is typical of these kinds of books, there are a lot of photos, but most of them are fairly good, and they are not there at the expense of the text. Indeed, the amount of actual text contained between the covers of 'David's Diary' surprised me. This is a book that will keep you busy for at least a few days, if only because it is too big to comfortably carry around with you. It is also a nice chunky, heavy volume - you just know that if you whacked a spider with it, the spider would stay down.
Coulthard's performances over the past couple of seasons will probably not have won him too many new fans, and I'd presume that most of his devotees would have already read this book. Even if you don't care for the Scot one way or the other, I wouldn't be too quick to disregard 'David's Diary'. It's not the greatest motor racing book ever written, and it won't change your life, but it certainly does have its moments. If you are just in the mood to read something, anything, about F1, then maybe this could be worth checking out.