An early retirement from the 1955 West African Rally was not exactly an auspicious start to Sid Watkins' racing career. Forty years on however, the man now simply referred to as 'Prof Watkins' is one of Formula One's best- known personalities.
Sid's one and only competitive drive - behind the wheel of a Ford Zephyr Zodiac for the Metal Box Company of Apapa came to an abrupt end when his co-driver wrote the car off shortly after the first stage handover.
Perhaps it was a sign that things were not meant to be, but for whatever reason, Sid decided that, if he was to further his career in racing, it was likely to be off the track and not on it.
Sid was in Africa with the Army at the time, researching the effects of heat on the human physiology. He left in 1958, to train in orthopaedic and general accident techniques, followed by three years studying neurosurgery at Oxford.
It wasn't until 1961 that he renewed his association with motor racing, becoming chief medical officer for karting and other specialist events at Brands Hatch and Silverstone - on the invitation of his close friend, Dean Delamont, the RAC's head of motorsport.
"I'd been a keen spectator in the interim," confirmed Sid, who was a regular at Silverstone and his home town circuit in Aintree, Liverpool.
A year later he was on the move again, this time to America, to take up an appointment as professor of neurosurgery at the Upstate Medical Centre. Dean subsequently introduced Sid to the organisers at the famous Watkins Glen circuit, where, for the next eight years, he and his Upstate team provided medical cover for Formula One, Can-Am and the Sportscar Club of America events.
The start of the seventies saw him back in the UK as professor of neurology in London. He also renewed his links with the RAC, joining their medical panel and controlling a team of specialists at British Grands Prix - a similar role to that he fulfilled in America.
"Things stayed that way until 1978," said Sid, taking up the story, "when Bernie Ecclestone asked me to join the Formula One 'circus' as their official surgeon. Then, when FISA formed their medical commission I was appointed as their Great Britain representative and became the first president, a position I still hold today."
By this time, Sid had been travelling with Formula One for three years and had already established new standards for the sport's trackside medical centres.
And coming right up-to-date, at Max Mosley's instigation he was recently made chairman of an FIA expert advisory group set up after the fatal accidents at Imola that claimed the lives of Ayrton Senna and Roland Ratzenberger.
A close friend of Ayrton's, Sid described his death as "like losing a member of my own family. "We had been close since his early days as a driver and kept in touch on a regular basis as his career developed," he reminisced, describing Ayrton's fatal crash as one of the lowest points of his 25 years in Formula One.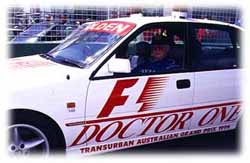 Happily there have been many more 'highs' from which to draw consolation. Not surprisingly, Ayrton features prominently again, with his spectacular win in Japan, after being left on the grid at the start, receiving Sid's vote as the most outstanding example.
"I actually drew up alongside him as we followed the first lap," said Sid. "For Ayrton to win from a position of such unbelievable disadvantage was incredible."
Along with an anaesthetist, Sid spends most of his time during an actual Grand Prix itself, sat in a car in the pit lane, with a race driver at the wheel, ready to speed to any emergency.
"Details of any incident requiring our attention are notified to us by radio," he explained, "except in the case of a red flag, when we set-off immediately." But that's just the sharp end of Sid's Grand Prix routine, which begins the day before the first practise session when he meets the chief medical officer to finalise plans for the event. Visits are also made to the relevant local hospitals.
From there it's back to the track to inspect the medical centre. "We have specialist surgeons for chest, abdominal, orthopaedic and specialist injuries," outlined Sid, "in addition to anaesthetists and a resuscitation expert."
A team of doctors are provided with fast intervention cars while others are positioned at strategic points around the circuit, along with a fleet of ambulances. A rapid evacuation system using a helicopter has also to be arranged.
"The next day, before any car is allowed to move onto the track, we check everything again," said Sid, "and that can be quite a task at places like Monaco where there can be up to 100 doctors around the circuit - compared to approximately 35 at the British Grand Prix.
"In terms of overall efficiency, I would rate Germany highest," he added, "with Monza potentially the most problematic due to some of the 'personalities' that one can encounter there."
Surprisingly, if all goes well, the race is perhaps the quietest time Sid experiences throughout the whole weekend. After trailing the cars for the initial lap, his spends the rest of the race, engine running, in the pit lane, ready to respond to any call at a moment's notice.
Sometimes though, he can find himself 'on duty' before he's even got that far - as happened at Melbourne. "I was about 100 yards behind the pack when Martin Brundle did a barrel roll on turn three," he elaborated. "Luckily, he picked a good place for it as doctors and marshalls were stationed virtually where he came to rest. By the time Martin tried to find me in the pits for a final 'OK' that he was fit to resume, I was at the back of the grid for the restart."
"I count myself
extremely lucky
to have had Sid
looking after me
and will never be
able to thank him
enough for what
he did for me."
Mika Hakkinen
If his services aren't called upon during a race, Sid usually returns home the next day. "I can stay longer if necessary though," he went on." For example, when Mika (Hakkinen) had his accident in Adelaide, I stayed until the Tuesday, when I was satisfied that he was on his way to recovery."

Not that serious injuries are all Sid has to contend with. "I get involved with just about everything," he stated. "Formula One contains more than its share of hypochondriacs..."

Asked what sort of qualities the sport demanded from someone in his position, he had no hesitation in opting for a broad sense of humour as the main pre-requisite. "It's essential for dealing with some of the drivers and officials," he laughed. "You also have to be something of a speed freak - if you weren't, you wouldn't last that first lap.

"On a more serious note, you do need a finely-tuned sense of judgement. The ability to make correct decisions, either at the track, or later at a hospital, is vital."

Of all the Formula One teams, Sid admits to having something of a special relationship with McLaren. "It began back in 1978, when James Hunt and Patrick Tambay were driving for them," he says. "People like 'Hoagy' (vice president of Philip Morris, John Hogan) and Teddy Mayer were very kind to me and McLaren helped to store and transport my medical equipment. Later, Ron Dennis and I became very good friends and it has just developed from there."

Exclusive though it may be, the bond between prof Watkins and McLaren frequently benefits the sport as a whole.

"When we began examining the advantages of raising the cockpit sides back in August, we used a McLaren chassis for the tests and I got a great deal of support and assistance from reserach & development manager, Peter Hodgman and the FIA's Charlie Whiting," he recounted appreciatively. "McLaren have also given me access to data from a new device used at Estoril to analyse accidents, which from July, when combined with information from the FIA's new data-logger on g-forces and accident timing, should help us raise safety levels even higher."

Now 68, prof Watkins is undoubtedly one of the great characters in Formula One today - and you can read his full story in his book: 'Life at the limit'.