On the 22nd of January 1959, some forty years ago, John Michael (Mike) Hawthorn, Britain's first World Champion Driver, was killed after losing control of his Jaguar whilst driving along the A3 Guildford by-pass in southern England.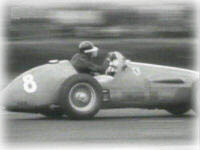 To this day controversy surrounds the cause of his crash. The hand throttle he had fitted to the car stuck open - the car was fitted with experimental Dunlop tyres that were unsuitable for the wet conditions. Maybe in the end he was just going too fast and lost it.
By chance he had come across an acquaintance just prior to the crash, the famous entrant of that time Rob Walker. Walker was driving a Mercedes-Benz 300SL, which must have been like a red rag to a bull for Mike, in those perhaps more patriotic times. Hawthorn had spent much of his racing life driving his beloved Jaguars against all types of foreign cars on the race tracks of the world. As he saw the car up ahead and recognized its driver, no doubt it was just another opportunity for his specially modified Jaguar to uphold British "honour" one more time.
Hawthorn accelerated past the Mercedes and gave its driver a cheery wave. They were now doing over 100 MPH going slightly down-hill on what was a wet and narrow road. As the Jaguar entered a right hand bend, the rear end broke away and clipped the kerb spinning it through 180 degrees. It continued backwards for an instant before clipping a traffic island and then ended its journey sideways against a tree.
Mike Hawthorn was found in the Jaguar's back seat, alive but dying.
In the days that followed, thousands came to drive quietly past the spot where Hawthorn had died, hundreds of wreaths were laid to mark the spot where a racing legend's luck had finally run out.

It was the battle between Mike Hawthorn and Stirling Moss for the 1958 Driver's title that first stirred my interest in Formula One. Britain was divided, my school was divided, it was impossible to be neutral. The great Fangio who always won had retired and that guaranteed a new Champion. I was firmly in the Moss camp. Head back, his straight armed driving style looked "cool", and he was, after all, driving our great British hope the Vanwall; the very first British F1 car to beat those "continentals" at their own game on a regular basis. The enemy cars were either red or silver, our cars were green. Life was so simple back then.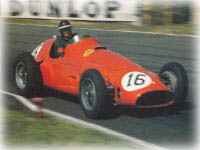 The five week wait until the title deciding race in Casablanca served only to heighten the tension that the two camps felt. In the end Moss did everything he could have done, he won the race with the fastest lap (worth a point in those days) but Hawthorn finished in second place and clinched the Championship. The first ever to be won by a British driver.
Mike Hawthorn never raced again and in less than four years' time Stirling Moss' career would end when his Lotus slammed into a bank during a pre-season race in April 1962. Ironically his car was entered by the same Rob Walker who had witnessed Mike Hawthorn's last moments.
In retrospect I have always believed that Hawthorn set a good example of how to retire - at the top with nothing left to prove, summed up in his off the cuff answer to a question concerning his retirement: "The question why did you retire is a much nicer one than why don't you retire". The latter question being all too often asked of sportsmen who have outstayed their welcome.
The 1958 season had seen the closest title duel in F1 history up until that time, the final issue being decided by just one point. Yet it had also been a tragic one. The Ferrari team consisted of Luigi Musso, Peter Collins and Mike Hawthorn and none would survive to the next racing year. Hawthorn would win his last Formula One race in the French Grand Prix at Reims, but the race would take the life of Luigi Musso. Desperate for a win to clear his mounting debts, he over drove and lost control, dying of his injuries.
For Hawthorn, worse was to come. Much worse. For much of his time at Ferrari he had been inseparable from Peter Collins, who he always referred to as "Mon Ami Mate". They lived the lives of Grand Prix drivers of the 50's to the full. Not for them the Spartan lives of our current Grand Prix stars. No race meeting was complete without a party and the spoils that fell to the winner didn't always end with just a silver cup! Collins was to win a brilliant victory at the British Grand Prix at Silverstone only to die at the following race held on the unforgiving 14 mile Nurburgring.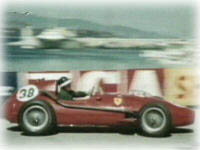 Collins was in second place and chasing the Vanwall of Tony Brooks. Just after the Pflanzgarten his Ferrari went wide on a right hand turn and flipped over. He was airlifted to a hospital in Bonn but died on the way.
Even in Casablanca, where Hawthorn would seal his title, tragedy would be close at hand. As the new World Champion celebrated his victory through the night, the Vanwall team flew back to England in a chartered Viscount with their grievously burned third driver Stuart Lewis-Evans. His Vanwall's engine had seized and after the resulting crash his car had caught fire. He would die some days later and amongst the mourners would be his close friend and adviser, a certain Bernie Ecclestone.
In the end it can be argued that the manner of Mike Hawthorn's death on that wet and windy day outside Guildford may have been for the better - he had for some time been suffering from an incurable Kidney disease and had, at most, eighteen months to live anyway. It would have been an unpleasant and painful death.
So Mike Hawthorn died the way he had lived - on the limit, driving fast and having fun.
Mike Hawthorn's racing records