McLaren and Mercedes have created a Driver Support Programme to help young drivers' dreams come true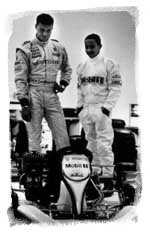 Mika Hakkinen is used to dealing with fans. Usually, they just ask for an autograph, although some stop for a chat. On this occasion, Mika was only too happy to talk when probed by two youngsters about what it was like to drive a Formula One car. The Finn looked down and smiled: "It's quite easy, actually."
After seven seasons of F1, that may be the case for Hakkinen. But for his youthful inquisitors, karting champions Lewis Hamilton and Wesley Graves, the world of Grand Prix racing is still a distant dream.
Now, however, that dream has moved a step closer to reality, thanks to the help of McLaren and Mercedes, which have created a Driver Support Programme to bring on future generations of GP drivers. The programme will provide financial and technical backing, as well as sound professional advice, to six up-and-coming racers in karting, Formula Three and Formula 3000. It's a bold step. This has never been done this way before, but for McLaren boss Ron Dennis the reasons are obvious.
"The Driver Support Programme, which we have put together with Mercedes, has been designed to create genuine support for drivers who, without the commercial horsepower that we can bring, may not have made it on their own," he says. "To be in the programme, above all else, you have got to be exceptionally talented, focused and capable of winning races." Apart from karters Hamilton and Graves, the programme is committed to helping four others. In German F3, there is Norman Simon. In the International F3000 Championship, regular driver Nick Heidfeld will be supported for a full season's racing, with Nicolas Minassian and Ricardo Zonta sharing part-programmes.
All will be expected to repay the faith in them shown by McLaren and Mercedes with commitment and discipline - the karters, who are both 12, must also demonstrate that they are as dedicated to their schoolwork as their racing.
Dennis says: "Our programme of support will vary from driver to driver and we will take into consideration the circumstances of each one, giving them what support we feel appropriate for 1998. We will then decide how big or small it should be on a year by year basis."
McLaren's current F1 stars did not enjoy the benefits of anything similar (although David Coulthard did win the McLaren/Autosport Young Driver of the Year Award in 1989), but both are full of praise that someone is finally helping struggling young drivers with talent and commitment.
"This support will not turn anyone into a great driver," explains Coulthard. "They are all talented in their own way already, with strengths and weaknesses, but the support programme will certainly help them achieve a higher goal."
The programme will come under the day-to-day operational eye of David Brown, who is also charged with running the new F3000 team. "I'm very much looking forward to running this programme," he says, "and will take every possible opportunity to go to the kart and F3 races, as well as the F3000 outings. I'm keen to see how things progress."
Making their first steps on this unique motor racing ladder, Hamilton and Graves will race karts painted in the colours of McLaren Mercedes. For both, the opportunity offered by the Driver Support Programme is something that no amount of money could buy.
That much was evident on the night of our photo shoot, when Wesley was left speechless after being told he was part of the programme. With his proud parents watching, he says, "I've been following McLaren closely since Ayrton Senna drove for the team; it's hard to believe I'm now a part of that."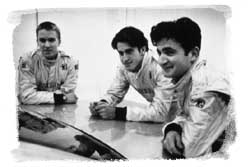 "Poor Wesley is a little starry-eyed at the moment," says Dennis. "He didn't know anything about it until today and he is a bit shell shocked. But I think it's nice - it gives you a feel-good factor."
Wesley has come a long way since first being put behind the wheel of an electric kart by his father, who had grown tired of his then five-year-old continually making car noises. The youngster got hooked and ever since has demanded faster machinery - a desire that is likely to be fulfilled by the programme.
Lewis knew before the launch that he would be on the receiving end of support from McLaren, but he is equally indebted to Dennis. "I will do anything to repay him," he declares. "It is a great feeling working with Ron and things couldn't be much better."
But what about the pressure of racing the F1-liveried kart? "I don't feel that at all. I will just try my hardest and if it's too much, I will say," comments the cool-headed Lewis.
Out of all the drivers, Dennis is likely to be keeping a much closer eye on the two karters - and may be making a few phone calls to their schools. He makes it clear that success in education takes equal precedence to racing.
"If you look at the great drivers who have come through karting, you can sometimes see that it is to the detriment of their education. So I think it is important that we not only guide and support them financially, but make sure that they maintain their schooling," explains Dennis. "I will see their reports from school to be quite sure they are keeping up academically, because you have to be a completely rounded individual to succeed in motorsport."
That is the kind of attention to detail that the programme needs to become a success. Apart from running in the McLaren paint scheme and being provided with financial backing, both karters will receive top-line equipment from ZIP Kart, Bridgestone and even specially-equipped Mercedes Sprinter vans to be used as transporters for the karts and team members.
"It is a wonderful scheme and the youngsters could not ask for anything better," says an onlooking Martin Hines, an influential, mature karter who has played a key role in the McLaren Champions of the Future karting series.
"Ron is fully aware, as are other team bosses, that almost all the top drivers in F1 have come from karting. It is great that he is helping the youngsters and wanting to get involved - it shows that McLaren is willing to put something back into the sport. A lot of people take out of the sport, but not many want to put something back in." But the programme is not just a case of looking after drivers as they start on the motorsport ladder. For more experienced men, like Simon, Minassian, Zonta and Heidfeld, the support during their final steps before F1 is just as invaluable as it is for those 10 years their junior.
"It is a fantastic opportunity for me, and being so close to an F1 team is very good," says Minassian, who will race in selected events with the McLaren F3000 West Competition team.
Heidfeld has enjoyed close links with McLaren Mercedes for more than a year now, after being backed by West McLaren Mercedes on his way to last season's German F3 Championship. He has also been testing McLaren's GP car extensively and is well placed to appreciate what benefits such support can bring.
"I've gained a lot of knowledge with the F1 car," reveals the 20-year-old. "I completed 5000 kilometres last season, and I have a really good chance of getting into GP racing soon.
"But this is not just a good scheme for me, it is a good scheme for everyone - especially the very young drivers. Nowadays, it is so difficult to see who are the quick kids in karting, so a scheme like this is bound to help."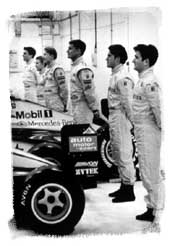 But what about the pressure? It is one thing having the support of F1's team of the moment, but when you race in the colours of West McLaren Mercedes, the downside is that heavy expectations are placed on your shoulders.
"I don't think the pressure is any more than last year," responds Heidfeld. "Before last season, people were thinking I was already the champion, so I am used to that. In F3000 this year, things are going to be harder, but I want to win the title."
That same desire to be champion is also true of Simon and Zonta. The former steps into the German F3 seat at Team BSR vacated by Heidfeld, while the latter is McLaren's test driver. In addition to F3000, Zonta will also be racing for Mercedes in the FIA International GT Championship.
"I am looking to win, but first I have to learn many things," says Zonta. "I can learn about set-ups and race strategy in longer events, and while in F3000 I can learn some more F1 tracks - especially Monaco."
Simon adds: "This is something special. It will make life easier for all the drivers involved, because we can now concentrate on just racing rather than worrying about finding money through sponsorship."
To supply all this backing, as well as providing winning machinery for Hakkinen and Coulthard at the top, is no easy task. In effect, McLaren will be involved in an F1 team, an F3000 team, an F3 team and two karting outfits.
While it may not have to worry about running all the cars, this has led to greater workloads in certain areas of the organisation. There are more paint schemes to design, more team outfits to make and more media requests to field. The strain on McLaren's infrastructure is obvious, but one the team is ready for.
"This is quite an expensive programme and it requires real commitment," says Dennis. "Just the logistics of getting all the cars and designing the paint schemes, putting aside finding the money and the sponsors, is in itself quite demanding.
"But we never lose sight of the fact that we are a Grand Prix team. We exist to compete in F1 and we attempt to win each and every race we enter. People will inevitably say we are going to be distracted, but this whole thing has been constructed in such a way that we are not. "This has to be seen for what it is; a support programme, and support will vary from category to category, driver to driver, even country to country. The only consistent element will be the colour of the car or kart, the whole team's brand. That will always remain the same." In the long term, Dennis believes that the Driver Support Programme will succeed in its aim and provide McLaren and Mercedes with a future F1 star, maybe more than one.
"I certainly hope so," says Dennis. "But I would also like to feel that the perception of the programme is correct and that McLaren and Mercedes, as well as sponsors Warsteiner, West and Mobil, are seen in the correct light. There should be a feeling of commercial gratitude because all the categories are now very expensive to participate in, but the most important thing is for all the participants, both now and in the future, to extract the maximum out of the opportunity." McLaren and Mercedes are ready to adapt the programme should circumstances dictate, both in terms of size and discipline diversity, and they will be keeping a close eye on rival teams which may decide to copy the idea in the future.
As the photo shoot for the Driver Support Programme came to an end, Dennis already had one interested driver wanting to sign up for the future - although perhaps he was a little too old. "I think it is a wonderful thing," smiles Coulthard. "I would like to be on the bottom rung of the ladder because it means that, when I get booted off the top rung, I will automatically get back into the programme again!"