Need help with buying tickets to a Grand Prix? Always wondered where are the best racing schools? Have a question about F1 statistics or history? Well you're not the only one. And it's about time someone came up with the answers to Formula One's most Frequently Asked Questions. Send us your questions, to comments@atlasf1.com - we may not know everything, but we will sure make the effort to find out
"Is there any chances that we could see the six-wheel Tyrrell? I'm sure that many readers would be interested in seeing this 6 wheel Formula One.
Thank You, Mario B. Canada"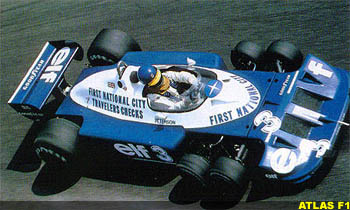 Well, Mario, the coffers of Atlas F1 provide! Here be the Tyrrell 034 which enjoyed two years in Formula One in 1976 and 1977 and was one of three six-wheelers built for F1. Unlike the Williams and Brabham six-wheelers, the Tyrrell did make the track, raced and won races. Again, unlike the Williams and Brabham, the Tyrrell had 4 front wheels, the theory being that a smaller front wheel would create less drag. Jody Scheckter and Patrick Dapailler gave the car its finest hour at Anderstorp, Sweden, where the completed a remarkable 1-2 finish.
The car fell from favour when tyre development on the small front tyres fell behind the more conventional front tyre. The car was always dependant on Goodyear being able to develop and keep up to date those small front wheels. When Goodyear couldn't do that, the advantage of a smaller frontal area was offset by a comparative lack of grip.
"I am an A-Level student and for a piece of coursework I am studying F1 and some of its history. As part of this coursework it would be very useful if I could find out who won each race over the last 5 years and some pictures and info on the tracks would also be of great help.
Thanks Daniel"
As far as results go, I can thoroughly recommend FORIX, a gargantuan site that contains just about all the results you could ever think of.
If you need those results on the printed page, then I'd recommend "Bloomsbury Grand Prix", a comprehensive if dry account of every Formula One World Championship race ever held. A third edition has recently been released updated to the end of the 1997 season.
For information on the circuits, Formula One journalist Joe Saward produced "The World Atlas of Motorsport" which has descriptions and pictures of circuits from all over the planet - not just Formula One's - and has quotes from the likes of Gerhard Berger, Denny Hulme and Jackie Stewart. While the book itself is fairly old (1989), it is a thoroughly entertaining read, told in Saward's evocative style and has some excellent aerial view artwork's of the major circuits. It will tell you more about tracks than the dry accounts included in most history of Formula One large format books.
"Can you please help me - how can I obtain tickets for the Monaco GP in 1999? Thanks for your help"
Generally speaking, the FIA Homepage has a link with information about the ticketing offices of all season events, including links to the websites of some of those venues. Having said all that, there is no information whatsoever on the FIA's page on the Monaco Grand Prix and there doesn't seem to be any official site where you could buy Monaco tickets on-line. Best would be, then, to contact the organisers of the event directly:
Automobile Club de Monaco
23, Bd. Albert 1er
MC98012 Monaco
Phone - 377 93 15 26 00
Fax - 377 93 25 80 08

"My name is Mr P, and I am a HGV driver with great experience. I have been told that driving articulated vehicles for F1 teams is an extremely good job and am very interested in applying. If it is at all possible could you send me a list of the haulage companies which deal with the British teams. I would be very grateful if you could even point me in the direction of a place where I can find these address"
Well you know how paranoid those Formula One teams are, constantly spying and photographing each other. They don't seem to want to trust haulage companies that much and for all the European legs of the Grand Prix circus do all their own haulage using all their own trucks.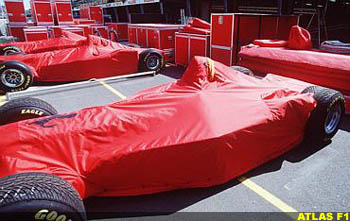 Like all motor racing teams from Formula One to Formula Vee, every bit of budget is saved and everyone within the F1 teams is as multi-skilled as possible. A recent account in "F1 Racing" Magazine described how Stewart Grand Prix 3 HGV's (1 rigid, 2 articulated) travelled from home base in Milton Keynes, UK, to the European Grand Prix at Jerez, Spain. The 5 drivers doubled up as electricians and interior decorators in the process of setting out the pits and on race day, as tyre changers and fuel rig handlers out in the pit lane with the mechanics in the fire proof suits.
So the teams don't outsource their hauling, I'm afraid. All I can suggest is to contact the teams directly, but you'd be unlikely to get a job unless you could bring another important skill to the team. But as with any job I suppose you keep knocking on doors and asking until someone says yes.
"Rumours say that Zanardi made some comments about CART and kindergarten. Do you know the source of this?"
While most believe the new Williams driver was commenting generally that CART makes an excellent feeder formula for Formula One, we can actually reveal here at Atlas F1 that sources not in the least bit close at all to Zanardi or the Chip Ganassi CART team have said that Zanardi was actually talking about the driving antics of Michael Andretti and Paul Tracy at the Surfers Paradise CART round. C'mon guys, just because you don't like each other doesn't mean you have to behave like spoiled kids on the track, huh? Paul, it's time for your afternoon nap now.
"Hi My name is Chris. I live in Roanake, Virginia USA and will be turning 18 in January. I am interested in attending a racing school during the summer of next year. My dream is to make it to F1 some day. Here's my question, What racing school would be focused more on recruiting drivers into F3000 or F1? What steps should I take to start my racing career?"
By the age of 18, I guess you've already put in a couple seasons in Karts. That will stand you in a very good stead. The first thing to ask is, do you have a Brazilian Supermarket chain willing to back you at the rate of say $10,000,000 a season? That's a sure fire way to open doors.
Failing that, the most famous of the driving schools as far as Formula One is concerned is the Winfield School, based at Magny-Cours, the site of the French Grand Prix. This school of course produced Alain Prost amongst others. The problem for you of course is that it's in France. Another French school is the La Filiere school, which holds a year long course and is very expensive.
Also of high repute is the Jim Russell School, based at Silverstone, along with the Silverstone Racing School, in England. If a few weeks in Europe is a bit of a financial stretch then there are some local solutions.
The best way to get to Formula One is to come up through the open wheeler formulae in Europe. To answer your question specifically, no school (with the possible exception of the Winfield School) is directed towards Formula One - just open wheelers in general.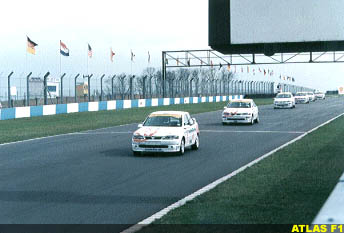 As far as schools in North America go, the one with the highest reputation is again the Jim Russell School - based at Mont Tremblant in Canada. There is also a branch of the Jim Russell franchise in California, but the Californian school doesn't have as good a reputation.
The Jim Russell school can help you get into Formula Vauxhall. The Skip Barber school is also recommended - there are four of them based at Laguna Seca, California; Elkhart Lake, Wisconsin; Lime Rock Park, Connecticut and the closest for you at Sebring, Florida. Each of the Barber schools also run a Formula Ford series with excellent prizemoney that feeds into the Barber Dodge Championship. Kenny Brack and Juan Pablo Montoya came through Barber Dodge before heading to Europe. Skip Barber also runs smaller schools at another 16 tracks, the closest to you being Summit Point in West Virginia. Further South - at Road Atlanta and Roebling Road in Georgia, and to the West in Mid-Ohio, Ohio, and Indy Raceway Park and Putnam Park in Indiana. They also run at Watkins Glen, New Hampshire, GingerMan, Grattan, Road America, Moroso, Homestead, Phoenix, Las Vegas, Willow Springs & Thunderhill.
The problem there is that US schools and the US open wheeler scene's focus is in Indy Lights, CART and to a lesser, but growing extent - IRL. A large part of the reason for this is that the US scene races on very different circuits than Europe - for the most part Superspeedways, Mile Ovals you just don't get in Europe, and Street Circuits are much more numerous in the US. The only street circuits in Europe are Monaco and Pau, but even Pau's future is now in doubt with the F3000 championship being moved exclusively to Formula One support program, while in the East there is Albert Park and Macau.
The last American in F1 was Michael Andretti, and that came about largely through his fame as a CART driver and through connections with his father, 1978 F1 World Champion Mario Andretti. Before that you go back to Eddie Cheever, and he lived in Europe and drove the European Formulae to get to F1. A race driving school is an excellent idea. At least a season in Karts would also be a good idea. If you have your heart set on F1, well the sky is the limit but it will be very damn hard. Good luck!