His first Formula One race and his first World Championship point.
Alain Prost's glittering career started here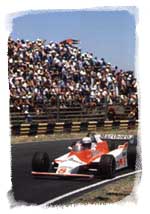 Alain Prost is not thought of as an excitable man. Quite the reverse. As four-time World Champion, winner of a record 51 grand prix races, he was unspectacular, clinically skilled - 'The Professor'.
Yet with mere hours to go before the 1979 Monaco Formula Three classic, the young Prost was beside himself, in police custody, likely to miss the showcase which could demonstrate his talents to a Formula One audience. He'd been arrested for juvenile larking about. However, he says, as the race approached, "I gesticulated so wildly they reckoned it was probably more prudent to get rid of this whirling dervish as soon as possible."
He won the Monaco race in his Martini-Renault, and went on to triumph in both that season's French and European F3 championships. During the same year's Dutch Grand Prix meeting, Francois Guiter of the Elf oil company introduced him to Teddy Mayer, then head of Team McLaren. Mayer offered a possible drive in the United States GP, but the young Frenchman would turn it down: "I didn't want to chance a one-off drive not fully prepared, but I asked Teddy to try me once the season was over." That November, a McLaren test team wheeled out two of its problematic M29 cars at Paul Ricard. Two potential new drivers were to be tried - American Kevin Cogan... and Prost.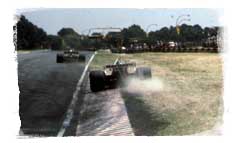 Team number one John Watson set a baseline time of 1 minute 9.0 seconds in a standard M29. Then Prost wriggled down into the cockpit: "I held an F1 steering wheel for the first time. A dream come true," he says. He not only demolished all Cogan's hopes, but ripped around the track 0.3 seconds quicker than Wattie's best.
Mayer says: "I watched him for ten laps, then ran to my car to get out a contract..."
Prost made his F1 debut on 11 January 1980, in practice for the Argentine GP at the Buenos Aires autodrome. It was a roasting hot day: "The cockpit temperatures were unbearable - you could see the asphalt starting to melt - after practice the foundation blocks were showing through," he says.
Both McLaren MP29Bs suffered damper problems in first practice, but Prost - intent upon making a good impression - drove round them. Chief mechanic Phil Sharpe recalls: "We thought this little Frog was pretty full of himself, but he just focused on the job and got it done. While Wattie tended to get bogged down in identifying just exactly what the problem might be, this new bloke simply went for it."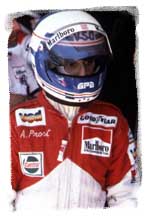 The mechanics nicknamed Prost 'Tadpole' - much to Alain's disgust - but he qualified 12th, completely shading Wattie in 17th.
On raceday, five-times World Champion Juan Fangio's driver briefing astonished the novice: "He inferred we should make a special effort to keep our speed down in the early laps. I was completely stunned, but Fangio had no option, he was acutely embarrassed at the state of the circuit and he had to be diplomatic.
"But that Argentine GP was pure Russian roulette. I knew I had to make my presence felt in my first season. I couldn't compete equally with teams like Williams, Ligier, Renault, Ferrari and Brabham, their drivers were much more experienced. But, on a surface like that, this first race would be full of incident. My plan was to drive as prudently as possible."
Whatever his intention, he completed the opening lap in eighth. Later he had a double spin, but "after many other incidents, many drivers retired. I came sixth out of seven finishers and won my first World Championship point".
Two weeks later, in Brazil, he would finish fifth for two more points towards his record ultimate career total of 798.5 WC points.