The recent announcement by Nigel Mansell that his racing days are over and that he would never return to the track, produced little more from the racing world than a mild yawn, a feeling that they had heard it all before.
It could have been so different. Had he quit after his wonderful 1992 season where he had carried all before him courtesy of the Williams FW14B Renault, his retirement would have seen as the act of a Champion leaving the scene in style, on top with nothing else to prove.
As it is now, the final chapter on the Mansell story will inevitably focus the 18th lap of the 1995 Spanish Grand Prix, as Mansell drove his McLaren MP4/10B in to the pit garage, unbuckled his seat-belts and walked away from Formula One forever. The final official entry on his long and sometimes heroic career stating, reason for retirement: gave up.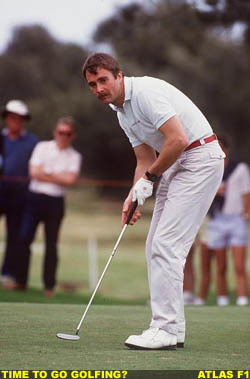 The harsh and cruel fact is that in some ways Nigel Mansell never really gave up on Formula One, but Formula One gave up on him. He managed to alienate just about everyone he worked with throughout his career on a professional level. The hassle and aggravation was worth it because of what he was able to deliver in the cockpit. When the ability to deliver deserted him, so the offers for his services dried up.
The sadness for me in all this is the fact that it has had the effect of devaluing his very real achievements on the track. Such was the bias that developed against him in the specialist press that sometimes he was given less credit for his on track performances than was his due.
The title deciding race for the 1986 Championship in Adelaide being a prime example. The site of Mansell's tyre exploding along with his Championship chances would have to rate as just about the most recalled image of the eighties. He went into the race just needing to finish in 3rd place no matter where his two rivals for the Championship - Nelson Piquet and Alain Prost - finished. He claimed pole position and drove a clever tactical race to be in his all important 3rd position when his left rear tyre exploded on the 64th lap of 82.
Piquet, then leading the race, was quickly brought in for a fresh set of tyres, but he lost the lead and therefore the Championship to Prost and finished 2nd some 4 seconds in arrears. What went almost un-reported was that he had lost much more time than this during a spin earlier in the race and therefore his lost title was much more down to his own error than just the need for an unexpected extra stop. Piquet, though, was a "class" driver and double world Champion. Mansell was just a "worker" driver from Birmingham!
The story of Prost's drive was similarly mis-reported by much of the media. He had made an error whilst lapping the Benetton of Gerhard Berger and the resulting contact caused one of his front tyres to deflate requiring an unscheduled pit stop on lap 32. He was forced to press on to make up for lost time which made his fuel position marginal. Only the tyre related retirements of Rosberg and Mansell, and the subsequent stop by Piquet, promoted him into the lead and secured for him his second title in two years. Prost's title was well deserved and he was dubbed the professor amongst most of the F1 press corps. The fact that these two champion drivers had both made errors under pressure whilst the underrated Mansell had done all that could be expected of him and still not receive the recognition of the F1 establishment, though it did make him the people's hero.
If he was hard done by in '86, then '87 was even worse. He won 6 races to Champions' Piquet's 3 and blew him to the weeds all year. Yet engine related problems cost him a bagful of points and in the Hungarian GP a wheel nut parted company with right rear wheel with just four laps to go and Piquet inherited yet another lucky win.

Just how much different his subsequent career would have turned out had he ended 1987 as a double World Champion is impossible to tell, but different it would almost certainly have been. If he had received the acclaim within the F1 establishment he craved for, it might have eased the paranoia that so gripped him later in his racing life. Yet Mansell on a racing charge was still one of the most exciting sights I have ever seen in F1. His win in the '89 Hungarian GP from 12th position on the grid was very special, as was his overtaking move on Ayrton Senna to take the lead. Other times he was brilliant and unlucky.
At Imola in '90 he was catching Berger's leading McLaren. The Tifosi were going wild with excitement as Mansell closed in. Exiting the Tamburello he pulled out from Berger's slipstream and went for the pass. Berger, unaware of Mansell's position almost alongside, moved over and forced him onto the grass at 180+ MPH. Mansell spun through 360 degrees, collected it up, changed down to fourth and charged after Berger with undiminished vigor. The lap chart revealed nothing more than and additional 3.1 seconds for that lap. No wonder he earned the nickname "Il leone" from his Italian fans. They, like their English counterparts, judged drivers more by their passion and daring than by their human relationship skills.
Perhaps Mansell's biggest mistake was returning to Formula One following the death of Ayrton Senna in early 1994. He had somewhat stunned the racing world by winning the Indycar title in '93 and had nothing more to achieve or prove on F1. Yet in a deal facilitated by Ecclestone and Renault he rejoined the Williams team he had so recently left, amid so much bad feeling and acrimony, on a reported 1 Million US dollars per race salary, together with an option for 1995. Despite taking the pole and a win at the last race of the season in Australia, he was generally outraced by Hill in the four races he contested and Frank Williams declined to renew the relationship for the following year.
Already there were signs that the old magic was gone but Mansell was still trying to prove the establishment wrong. The Mansell name though proved irresistible to Marlboro who bankrolled his last throw of the F1 dice with a reluctant Ron Dennis and McLaren. The car was not a winner and Mansell didn't have the motivation to hang around and make it one.
For any great sportsman who has graced the world stage in any endeavor, the decision on when to walk away can be the hardest of all. How to be a bystander when you have been at center stage. For a man like Mansell the money was never enough by itself, the adulation of the fans reinforced his ego so battered by the critics' sharp words. His recent saloon car outings appeared to be exercises in showing that Mansell mania was still alive and kicking.
Maybe it finally dawned on him that at last he was just making up the numbers...