In recent times, accepted motor racing wisdom had it that Champ Cars (previously known as Indy cars) and Formula One cars were very different from one another technically and in terms of their dynamic behaviour. Malcolm Oastler disagrees and, as the man responsible for a string of winning Reynard Champ Cars and, most recently, the leader of the design team that has produced British American Racing's 1999 Formula One contender, he is in a unique position to comment on the subject.
"Actually, if you compare an Indy car set up for a road course and a current Formula One car, they are fundamentally similar in aerodynamic terms and from the driver's point of view," observes Oastler.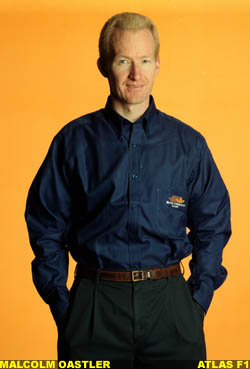 In basic terms, both Champ Car and Formula One car are single-seater racing machines based on a carbonfibre monocoque, or "tub", with the engine and gearbox mounted behind the driver and acting as "stressed" (load-bearing) structures. Both use pushrod-activated, double wishbone suspension systems that are mounted on the monocoque at the front and the gearbox at the rear.
The Formula One car is lighter, shorter, narrower and marginally taller than a Champ Car. Currently all Grand Prix cars are fitted with 3-litre, naturally aspirated (non-turbocharged) V10 engines running on unleaded petrol and capable of producing in excess of 750 horsepower at 16,500 rpm. By comparison, a Champ Car is powered by a methanol-fuelled, 2.65-litre V8 fitted with a single, large-diameter turbocharger. Output is approximately 750 horsepower at 14,000 rpm.
Aerodynamically, the biggest difference between the two cars is in the shape of their respective undersides. Current Formula One technical regulations call for a "flat" floor that has a 60mm "step" down the centre to control the minimum ride height at which a car may run. The underneath of a Champ Car features a pair of aerodynamic tunnels that cause air flowing under the car to speed up, thus creating a low-pressure area that effectively "sucks" the car to the ground as the forward speed of the vehicle increases.
"When Indy cars adopted smaller underbody 'tunnels' a couple of years ago and Formula One cars moved to 'stepped' flat undersides, the two cars became fundamentally much closer in concept than they had been previously," says Oastler. "Pitch sensitivity, for instance, used to be thought of as a much more important issue in the design of a Formula One car than a Champ Car, but now you need similar mechanical set-ups on both to deal with that.
"In truth, the biggest differences between the two these days are the extra weight of the Champ Car compared with the F1 car – about 200 kg with driver on board – and the added complication of packaging the Champ Car's turbocharging system."
From the matter-of-fact way in which Oastler describes the technical issues involved, one gets the impression that the challenge of designing his first Formula One contender did not fill him with trepidation.
"No, it didn't really," he responds. "At the end of the day, you're talking about solving a series of inter-related engineering problems, regardless of the type of racing car you're dealing with. A Formula One car poses some specific technical issues, but these are not insurmountable if you approach them with common sense and an open mind.
"The British American Racing design team has a great combination of experience and young blood. Not everyone has come from a Formula One background, and I think that helped considerably when it came to this project. We were able to bring our collective knowledge to bear on specific problems and were not fettered by thinking, 'well, this is how you do it in Formula One'. I think we've come up with some interesting solutions as a result."
That, as they say, remains to be seen.
CHAMP CAR VS FORMULA ONE CAR AT A GLANCE
| | | |
| --- | --- | --- |
| | Typical Champ Car | Typical Formula One car |
| Weight (with driver) | 770 kg/1700 lb | 600 kg/1323 lb |
| Height | 914 mm/36 in | 950 mm/37.4 in |
| F/R track | 1994 mm/78.5 in | 1800 mm/70.9 in |
| Wheelbase | 3035 mm/119.5 in | 3020 mm/ 118.9 in |
| Engine | V8 turbo, 2.65 litres | V10 non-turbo, 3.0 litres |
| Power | 750 bhp at 14,000 rpm | 750 bhp-plus at 16,500 rpm |