First thing's first - Ralf Schumacher is not Michael Schumacher. It may sound like an obvious statement, but many people assume that because Michael acts in a certain way or has certain opinions, then so does Ralf. While this may be true in some respects, to suggest they are identical would be selling both of them short.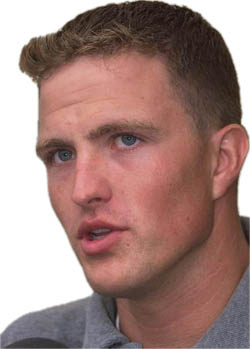 Michael is confident, Ralf is shy; Michael is experienced, Ralf is a comparative rookie; Michael is married with two children, Ralf is single.
But most importantly - a six and a half year gap separates Ralf and Michael.

On the 30th of June 1975, Ralf Schumacher was born, the second son to Rolf and Elisabeth Schumacher. Seeing his older brother in a kart must have made Ralf envious, for he was in a kart before the age of 3, even earlier than Michael had started. With finely honed driving skills in karts, Ralf took the NRW Cup and the Gold Cup in 1991, as well as being crowned champion in the German Junior Kart Championship. In 1992, Ralf moved up to the senior championship, finishing 2nd overall.
Following his success in karts, Ralf continued his rise through the formulae, moving up to the ADAC Junior Formula Championship, again being very successful, finishing 2nd in the championship. Ralf's driving in the Junior Formula championship had been so impressive that he tested a Formula 3 car during the year, even competing in a Formula 3 race.
Obviously this testing and one-off drive had impressed WTS Racing, for in 1994 and 1995 he drove in Formula 3 for them, finishing 3rd and then 2nd in the championship, as well as winning Macau in 1995 with them, just like Michael had won Macau in 1990.
Even with his Macau win, Michael's results throughout his junior formulae career had been slightly more impressive than Ralf's, and yet Michael's entrance into Formula One came due to Bertrand Gachot's imprisonment for allegedly spraying mace in a London cabbie's face. That is, despite his good performances in a variety of categories (including sportscars), Michael's entrance came via a lucky break. So Ralf knew that if he wanted to get into Formula One, he either needed to be lucky, or prove to the team owners he was good enough, that he could win a championship. Ralf chose the second option.
So Willi Weber, who was heavily involved in WTS Racing when not attending to Ralf and Michael's affairs, found Ralf a seat in the Formula Nippon Championship driving for Le Mans Co, alongside the experienced Naoki Hattori. He won that championship. Notably, he was the youngest ever champion of the series, and most impressively, the only rookie to have done so, making his decision to take this route even more remarkable.
A month before winning the Formula Nippon title, however, at the Portuguese Grand Prix, it was announced that Ralf had signed a multiyear deal to drive for Jordan in Formula One. Was this because of his name, or had Jordan seen his performances in Germany and Japan and been impressed by them? Or was it just a way to get better money out of sponsors, saying that he had the two-times World Champion's younger brother driving for them? At the time, many people believed it was the first and/or the last of those reasons.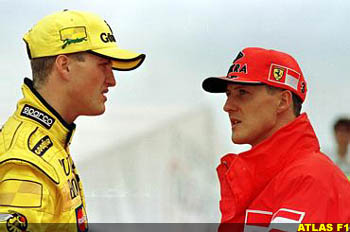 Before his Formula One career had even started, there was controversy as Ralf's teammate was yet to be decided. Martin Brundle wanted to stay at Jordan, and Ralf was anxious for this to happen, as he felt he could learn a lot from him. But it was soon seen that this was unlikely to occur. Next on the list came Nigel Mansell, the 1992 World Champion whose last two attempts had seen moderate success at Williams in 1994, and unmitigated failure at McLaren in 1995. He was contemplating a return to Formula One and tested at Barcelona with Ralf and Jordan. Overall, Ralf finished almost three-quarters of a second clear of Mansell. When asked about Mansell's performance, Ralf said, "I would have been disappointed if Nigel had been faster than me. If he had left me standing still I would have stopped Formula One."
So Ralf began his Formula One career with Giancarlo Fisichella as teammate. Ralf failed to finish his first two races in 1997 due to car problems, but finished a tremendous 3rd in his third-ever Formula One race in Argentina, just over 10 seconds behind the winner Jacques Villeneuve's Williams, as Jordan ran an ambitious one stop strategy which worked brilliantly.
Not so great, however, was the contact between the two Jordan drivers on lap 25 at the hairpin at the end of the back straight. After a first corner multiple car collision (started ironically by brother Michael), Ralf ended up behind Fisichella. However, Ralf was slowly closing in on him, and when Giancarlo ran wide entering the back straight on lap 25, Ralf was right under his rear wing. Heading into the hairpin after the fast right hander Ascari, Ralf dived up the inside of Giancarlo in a move that would only work if Giancarlo had seen Ralf and was willing to concede the place. Unsurprisingly, Giancarlo turned in only to be nerfed out the way by Ralf who had taken partly to the grass in an effort to avoid hitting Giancarlo, who was out of the race after the collision and not happy with Ralf at all!
The next four races again saw no finishes for Ralf, car problems in San Marino, Barcelona and Canada, and driver error (like many others) in a very wet Monaco in which he had outpaced Fisichella and was running in 3rd when he hit the barriers entering Casino Square. Ralf then finished 6th in a dry then wet French Grand Prix that saw him spin on the second last lap, losing two places, having just passed Coulthard for position at the hairpin earlier on in the lap, only to gain a position back on the last lap. Michael had let Ralf unlap himself just before he rounded the last corner to win the race, in case there was an incident on the last lap, which is what happened - Coulthard was taken out by Alesi, and further ahead, Villeneuve almost did the same to Irvine - Ralf picking up a position and scoring a point thanks to his brother's gesture.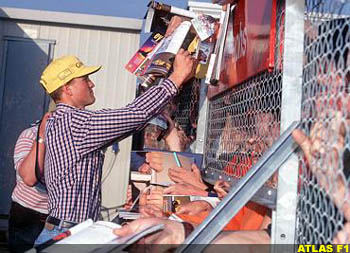 The next three races saw Ralf score a fifth place in each of the races, unfortunately this was spoiled by an off then a spin in a wet then drying Belgium, a 300 kmph plus collision at Monza with Herbert in a misjudged passing move, then a 5th in Austria just ahead of a penalised Michael. Despite this, Villeneuve had during the second half of the year suggested that Ralf was driving for his brother Michael despite little evidence to back this up, and the Austrian race as evidence against it. The next race at the Nurburgring seemed to provide strong evidence it was not the case when Ralf was involved in a collision at the first turn with his teammate AND his brother...
The last two races saw little to be excited about, as the Jordan's performances faded badly. At the end of the year Ralf had scored 13 points, including one podium and five other points finishes, finishing 11th in the championship.
And then came 1998, with one of the most unlikely pairings of drivers, as Damon Hill joined Jordan from Arrows, the former sparring partner of Michael. Despite this however, there was little ill feeling between Damon and Ralf.
The 1998 season got off to an even worse start for Ralf than 1997 - a collision with Magnussen in Australia, followed by an inexcusable first lap spin off in Brazil. Things looked better after qualifying 5th in Argentina, but one of the worst starts in the history of F1 saw Ralf drop to 11th by the first turn, then a spin, a check over in the pits, followed by another spin off when the suspension failed. Ralf finished the next race in San Marino, but engine problems slowed him towards the end. A forgettable race saw Ralf finish 11th in Spain, and an even more forgettable race saw him retire at Monaco after he hit the barrier late in the race at Ste Devote.
Things seemingly couldn't get much worse, but they did. A good qualifying performance disappeared in Canada when Ralf spun out soon after the start, and when another good qualifying performance at Magny-Cours saw Ralf make contact with Wurz, it seemed like it was the last straw. The worst thing for Ralf here was the reputation he had gathered as a loose cannon - he seemed to be driving in a reckless manner with spins and crashes almost every race weekend. Footage not shown on the world feed of the incident showed it was probably Wurz's fault, but as 99% of people watch the world feed, the news that Ralf had been in contact with another car and no accompanying vision saw the blame fall at Ralf's feet. Even fans of Ralf were wondering if he could cut it and if he really was only in there because he was the brother of you-know-who.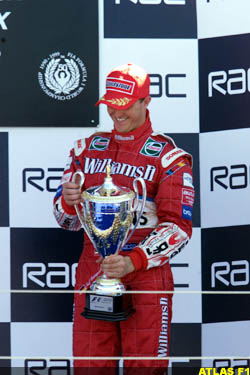 Could things get even worse? What about a good qualifying, only to be sent to the back of the grid for failing to exit the car in time? That's what happened at Silverstone, and even worse was the fact that the race would be held in wet conditions, conditions which Ralf was yet to finish a race in.
But this was the race that turned Ralf's year around, perhaps even his career, the one that saw people start to take him seriously again. After starting 21st, Ralf was 14th by the end of the first lap and had almost caught Hill when Hill spun off on lap 14. By lap 20, Ralf was up to 7th, and by the end of the race had gained the extra place to score Jordan's first point of the year, in what was the drive of the day. In fact, it was a drive reminiscent of Senna or his older brother Michael - maybe there was more to Ralf than just the right surname...
He followed this up with a fighting 5th in Austria, including a multi-lap battle with brother Michael in which neither driver gave an inch, then 6th in Germany after pushing the McLarens when running an ambitious two stop strategy. A disappointing 11th followed in Hungary, while a fighting drive in atrocious conditions at Spa saw Ralf stay on the track while cars spun and crashed out of the race around him, moving up to 3rd and catching Hill, moving up to 2nd when Coulthard and Michael collided, where he remained until the end of the race. In fact he had to stay there, as team orders were issued to make sure both Jordans finished the race...
Another podium for 3rd came Ralf's way at Monza, for the first time sharing it with brother Michael in what was obviously a happy day for the Schumacher family. A car problem ended the last two races of the year for Ralf, both while in contention for points. Ralf finished the year with 14 points, including two podiums and three other points finishes, finishing 10th in the championship.
Things were going so badly around Silverstone time it seemed like Ralf would be lucky to have a seat in any Formula One car in 1999 - even Jordan seemed unlikely to renew his contract. But Ralf's second half performances saw rumours of offers from BAR, Benetton, Jordan, Prost and even Williams! At one stage it seemed Ralf would stay on at Jordan, but eventually Ralf signed a multiple year deal with Williams.
Was Sir Frank delusionary, or had he made a brilliant decision? The 1999 season would probably give us some idea about Sir Frank's mental state! Sure, Ralf had finished the second half of the 1998 season well, but many felt Damon had gone to Jordan for the money, and so Ralf may have been competing against a less-than-committed Damon.
Why would Ralf succeed where Heinz Harald Frentzen had failed? Maybe because Frentzen likes to be supported and cosseted by the team he is driving for, and Williams is renowned for leaving the drivers alone to (hopefully) get on with the business of driving, as well as a nasty habit of playing drivers off against each other. Ralf, however, had spent most of his career not being Michael and so was used to having to be on his own as he proved his real worth.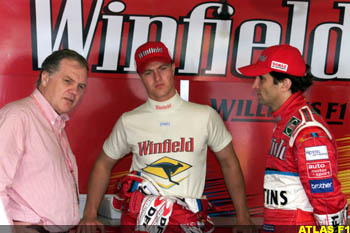 So 1999 began, and Ralf was with the Kangaroo. An unusual Australian race saw both McLarens retire from a dominant position, brother Michael suffer a succession of problems, with Ralf finishing in 3rd within sight of the leader in his first race for Williams. Obviously Ralf had adapted well to his new team. A strong 4th place in Brazil followed, and Ralf was on target for a points finish in San Marino when the engine failed. He had exceeded not only his own expectations, but that of his team - the car was being dragged by Ralf up into places it didn't really deserve to be!
A spin in Monaco followed early contact when Hill made an optimistic move at the harbour chicane, while Barcelona saw yet another points finish with 5th place, followed by 4th place in Canada. A tremendous drive in France saw Ralf finish 4th, having started 16th, after a dry track turned into a swimming pool and then started drying out again, with Ralf passing both Ferraris despite a significant horsepower (and car) disadvantage. In fact, Ralf may have grabbed 3rd from Barrichello given another couple of laps.
At Silverstone, disaster struck when Michael flew off at Stowe and broke his leg. Should Ralf race? Even the Williams team may have understood if he had decided not to, but Ralf knew his job was to drive for Williams, and drive he did. A courageous drive in the circumstances, Ralf pushed his Williams to the limit lap after lap, managing to take 3rd place from Frentzen as his consistent lapping moved him ahead after the first stops. This was the opportunity Ralf had been looking for - a chance to prove himself without being compared to Michael. And in the first race in these circumstances, he had passed with flying colours.
Austria saw Ralf spin off while battling for position, but Hockenheim saw him finish 4th on a track where the Supertec powered Williams had no right to be competitive. Yet he was almost within sight of the leaders! Hungary saw his first race finish for Williams out of the points, but this not for a lack of trying on Ralf's part, just a case of the car not suiting the circuit.
Spa saw a return to competitiveness as a clever one-stop strategy by the Williams team was defeated by Ferrari's 'team tactics'. Irvine was so worried about Ralf's pace (he had been matching his pace early on in the race despite Ralf carrying more fuel) that he used Salo to slow Ralf so Irvine retained his 4th place, leaving him to finish a slightly disappointed 5th, but he had every right to feel he had driven a great race. One in which smart driving by Ralf would've led to a deserved improved result, until 'team tactics' intervened. Ralf was proving to be not only fast but smart - the two attributes that make a great driver.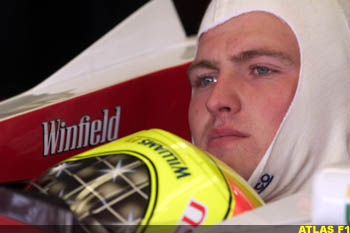 Which moves us onto the race just completed at Monza, where Ralf equalled his highest ever finish, finishing in 2nd, and stepping on to the podium for the third time this year, not forgetting his six other points finishes. A generous decision by teammate Zanardi saw the flying Ralf waved through, who rapidly reduced the gap to 2nd placed but eventual leader and winner Frentzen, hoping to somehow take the win, setting the fastest lap of the race along the way.
Ralf Schumacher is now 6th in the championship, having scored 30 points, just two behind injured brother Michael. Sure, Michael has scored the points in less races, but then the Williams is no Ferrari - yet Ralf beat both Ferraris in France and Italy, and would have beaten both at Spa too without Salo's 'driving'. Gone are the times when Ralf's pace was there one race and gone the next. Gone are the silly errors that characterised Ralf's early F1 career. Instead, we have a driver who makes few errors while consistently running a fast pace - just what every team manager wants, but not something every team manager is lucky enough to have.
Ralf's performance's since the middle of 1998, and particularly this year, have seen even his most vehement critics realise that he not only deserves his place in Formula One, but also that he is one of the quickest and most consistent drivers out there. Even before Michael's accident, Ralf was emerging out of the shadow cast by the great man, and there is no question now that Ralf deserves to be considered as a driver, and a good one at that, in his own right, not just Michael's kid brother. Then again, maybe being Michael Schumacher's baby brother isn't so bad after all... speed does seem to run through their veins!