Leaving the village of Francorchamps in Belgium, Formula One heads to the home of the Italian Grand Prix: Monza. At 5.8 Km, the Autodromo Nationale di Monza is the third longest active Grand Prix circuit and it is the fastest. It is another of the Seven Wonders of the Grand Prix World. Although the original circuit at Monza was less hazardous than Spa-Francorchamps, it was a more lethal circuit.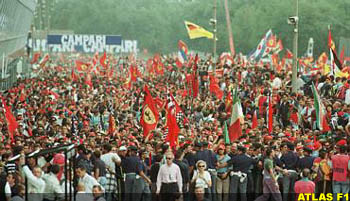 The history of Monza has been series of safety experiments, some successful, some dubious and some lethal. In 1961, Wolfgang von Trips and approximately fourteen spectators were killed at the Parabolica when his shark-nosed Ferrari 156 was launched into the crowd after touching Jim Clark's Lotus 18. In response to this, the Monza owners retired the banked section of the circuit and built a catch fence at the Parabolica, with a single row of Armco barrier in front of it. This was perfect for stopping a touring car but when Jochen Rindt's Lotus 72 went under the Armco in 1970 it literally chewed the Lotus up and spat it out, killing the World Championship leader. Following this, a second, lower, row of Armco was added to the barrier.
After the legendary 1971 Italian Grand Prix, which was completed in only one hour and 18 minutes, three chicanes were added to slow the circuit. In 1972, the Variante Goodyear and the Variante Ascari were added and in the mid 1970's the Curva della Roggia was added. These chicanes were poorly designed, unlike the flowing bus-stop chicane at Spa-Francorchamps. They are basically speed-bumps in the track that have broken the natural flow of the circuit and have made overtaking more difficult.
In 1994, the FIA insisted that further changes were made to increase run-off areas at the Curve Grande and the Curva di Lesmos. In 1996, the Monza officials became so frustrated with drivers riding the kerbs at the Curva della Roggia that they added a pile of loose tyres on the inside of the track - with predictable results. Several drivers hit the tyres, including Jacques Villeneuve who knocked one into the path of David Coulthard.
At this point of the season, only six drivers have a mathematical chance of winning the Formula One drivers' championship. With four races to go and only 40 points left in the drivers' championship, this Grand Prix is not the time for heroics. The atmosphere at Monza encourages drivers to be crowd-pleasers, but the championship contenders need to resist this temptation. This is a circuit where it is wise to pace yourself and preserve the car - a case of "festina lente" (hasten slowly). Winning is about saving the engine, gearbox, tyres, brakes and fuel over the 53 laps. The longer a driver can stay out before pitting, the less fuel he will have to carry in the second half of the race. Smooth, fast exits from the Parabolica and the Curva Grande are essential for a good lap time.
Pat Symonds, Technical Director of Benetton, explains the challenges presented by Monza: "Monza is obviously a very high speed circuit often likened to Hockenheim. It does however have significant differences in that represents the tight stadium section found at Hockenheim. The very long straights are interspersed with some slow chicanes and few challenging corners. The requirements of the car are to have high power, low drag and very efficient brakes as this circuit is the hardest on brakes of any of the current Grand Prix venues.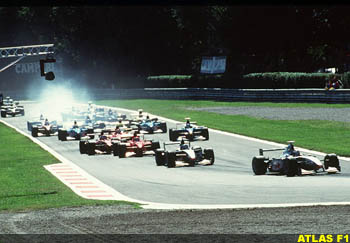 "In addition, particularly at the first chicane, it is essential to have a car that can ride the kerbs well as this is paramount to a good lap time At Monza, the main overtaking opportunity is into the first chicane and this is where much of the action will take place. It is likely, however, that pit-stops and qualifying positions will have a greater outcome on the final result than racing itself."
Pitstop and tyre strategies
Attrition can be moderate to high at Monza so finishing is everything. Fourteen cars finished the 1997 race, thirteen cars were running at the end of the 1998 race, while only ten finished in 1996, 1995 and 1994. In last year's race, most finishers used a one-stop strategy while the Stewart team, Damon Hill and Tora Takagi opted for a two-stop strategy.
On tyre choice, Bridgestone Motorsport's Technical Manager, Yoshihiko Ichikawa, stated, "It is on the basis of our testing at Monza in July that we have decided to offer the teams the choice of our Medium and Hard specification tyres." Ichikawa added "The hard specification has been available to us since the beginning of the season, but this is the first time it has been an option at a race, it was logical to bring it to Monza in view of the fact that we experienced some blistering on several cars at the high-speed Hockenheim circuit, although I believe that the Medium compound will be the more likely choice when it comes to Saturday afternoon."
The Teams
McLaren now leads the constructors' championship by nine points. McLaren have won at Monza seven times and have scored 71 points at Monza during the 1990's. Their horsepower and aerodynamic advantages are, once again, very important at this circuit. After the frightening tyre failures at Hockenheim, we might expect McLaren to opt for the hard compound Bridgestones. Team Owner, Ron Dennis, is optimistic about the Italian Grand Prix. "The recent results in Hungary and Belgium confirm we have a competitive package, and the team will be focused on maximising its potential at Monza this weekend," he said.
The World Championship leader, Mika Hakkinen, has had three podium finishes at Monza, finishing second in 1995, third in 1996 and 1994 for McLaren. After leading last year's race, he struggled home fourth with failing brakes. Hakkinen set fastest lap in 1998 and 1997. At this point in the season, Hakkinen cannot afford another non-finish. The DNFs at Melbourne, Imola, Silverstone and Hockenheim are the main reason why he is only one point ahead in the drivers championship.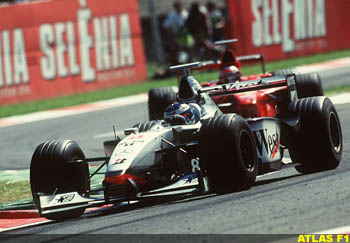 "The Tifosi make Monza one of the great circuits for atmosphere and the track itself is an exciting high-speed challenge," Hakkinen says. "While finding good top speed on the straights won't be a problem for us, it is important our cars are set up to ride the kerbs well in the three chicane complexes and have a good balance in the quick corners to achieve a quick laptime."
Hakkinen could again enhance his position in the Formula One record books on Sunday. A win would make him twelfth equal in Grand Prix victories with Jack Brabham, Emerson Fittipaldi and Graham Hill. He is now fourteenth place in total points, having overtaken Jim Clark and Juan Manuel Fangio (although all these drivers would have had more points if the calculation was made with the current points system). A third place at Monza would allow him to overtake Riccardo Patrese and Emerson Fittipaldi. A pole position will make him eighth equal with Michael Schumacher. Another fastest lap will make him 17th equal with Rene Arnoux.
David Coulthard is now third in the drivers' championship after his victory at Spa-Francorchamps. Coulthard won the Italian Grand Prix in 1997 for McLaren and was classified as sixth in 1994 at his first Italian Grand Prix after his Williams stopped, while he was lying second, on the last lap at the approach to the Parabolica. Coulthard led the 1998 and 1995 races, and set the pole position and fastest lap in 1995. "I obviously have fond memories of my second victory for the team at Monza in 1997," says The Scot. "Monza is a superb circuit but its high-speed, bumpy nature also means it is a significant test for the durability of engines, suspensions and brakes."
Ferrari have slipped to second in the constructors' championship. Ferrari have won the Italian Grand Prix twelve times, the most recent victories were in 1998 and 1996, and have scored 52 points at Monza in the 1990's.
Eddie Irvine has slipped to second in the drivers' championship. Irvine finished second in 1998 and his highest grid position was fifth, also in 1998. Irvine's thoughts on Sunday's race: "Racing in Monza for Ferrari is always a bit special. This year will be even more special because it will be my last time in front of the tifosi for the team and with Michael not taking part in the race, the fans will be looking even stronger for me to bring them a win and keep their hopes alive for the Championship. I was disappointed we were not on the pace of the McLarens or even the Jordan in Spa. I hope this race we are going to be more competitive. I set the fastest time of the test last week, but we won't know what the others can really do until Saturday afternoon."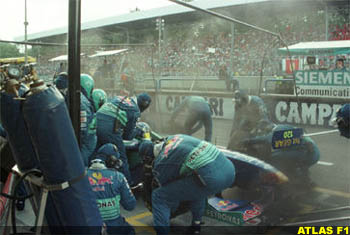 Mika Salo has slipped to tenth in the World drivers' championship. Salo's best finish in Italy was a creditable fifth in 1995 for Tyrrell. Salo stated, "It will be a memorable race for me driving at Monza the first time for Ferrari. The Italian's devotion to Ferrari is like nothing else in racing. To be a Ferrari driver in the Italian Grand Prix is a special experience that I am sure will stay with me for the rest of my life. We had a good test in Monza and I hope things go well in the race. A finish like we had in Hockenheim in front of the legendary Monza 'tifosi' would be a dream come true. In fact, I would be happy with any place on the podium on Sunday afternoon."
Jordan are still a strong third in the constructors' championship. Jordan have scored 16 points at Monza. Once again their reliability may prove to be crucial in Sunday's race and fortunately we have not seen a repeat of Heinz-Harald Frentzen's brake failure at Montreal.
Jordan's Chief Designer, Mike Gascoyne, stated, "Our aim for the coming weekend must be to try and race McLaren rather than just finish behind them. It will be a tough race with McLaren strong and Ferrari given a boost from running in front of their home crowd. But we intend to be in there fighting for points and podium places."
Jordan's Chief Executive, Eddie Jordan, is more cautious. " We have had a excellent season so far and have already scored more points than we did in the whole of the 98 season," he said, "But you must never be complacent and you should never underestimate the opposition. We have given strong team performances in the last two Grands Prix, with both drivers finishing in the points."
Heinz-Harald Frentzen has slipped to fourth equal in the drivers' championship despite his podium finish at the Belgian Grand Prix. Frentzen has had two podium finishes at Monza, third in 1997 for Williams and third in 1995 for Sauber. Frentzen's highest grid position was second in 1997.
Frentzen stated, "In Spa, we were not able to keep up with McLaren, but I hope to be able to fight more with them in Italy. Our testing programme at the Monza circuit, where we concentrated particularly on brakes, went very well. I really enjoy racing in Monza as it is the fastest circuit of the calendar, despite the chicanes, and is therefore very exciting to drive at. Handling the car through the fast corners is a big challenge.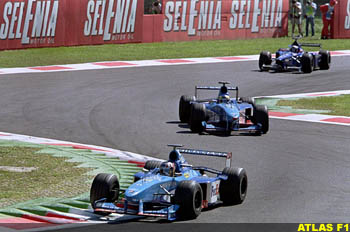 Monza is a low downforce circuit, like Hockenheim where I qualified second and came third in the race. I believe we can produce a similar result this coming weekend. A good grid position is important because overtaking is surprisingly hard, and I feel we can fight for the front row of the grid in qualifying."
Damon Hill is still ninth equal in the drivers' championship. Hill won his third Grand Prix victory at Monza in 1993. He won again in 1994 for Williams and finished sixth in 1998 for Jordan. Hill set fastest lap in 1994 and 1993 and set pole position in 1996. Hill has matched Jackie Stewart's points total, making him eighth equal in total points scored in Formula One.
Williams is still fourth in the constructors' championship. Williams have been a successful team at Monza, winning the Italian Grand Prix five times, but they haven't won since 1994 and have scored a total of 41 points at Monza in the 1990's.
Ralf Schumacher is still sixth in the drivers' championship. Ralf finished third in 1998 at Monza for Jordan and his highest grid position was sixth, also in 1998. Back in his reckless days of 1997, Ralf took Johnny Herbert off at the dangerous Variante Goodyear. Ralf's thoughts on Monza: "Monza is one of the quickest tracks in Formula One so downforce is set very low which means low wing levels - vital for speed but less grip in the chicanes. In order to get a good lap time it's important to find good mechanical grip for these slow corners. Braking is hard at Monza so the brakes are under pressure all weekend and you have to pay attention to them."
Bologna's Alex Zanardi seems to be matching the pace of his German teammate. Zanardi was eliminated by a collision with Gianni Morbidelli on the first lap of his last Italian Grand Prix in 1994. "I like Monza very much," he says. "Not just because it's in Italy but because it is probably one of the few circuits that suits modern Formula One cars. You would probably need more power to really enjoy the straights at Monza, but nevertheless it's a good place. It's a lot of fun and I like the tight chicanes. I don't know exactly what has been done to the kerbs though. Every year they change something and it's a real shame as it took, in the old configuration, a lot of skill to jump over the kerbs without damaging the car. To do it consistently during the race was a very hard game but it could pay off very well. I would love to have a good race there!"
Benetton is still fifth in the constructors' championship. Benetton was making progress in performance over the past few Grands Prix but were off-form again in Belgium. Pat Symonds, Benetton's Technical Director, commented on last week's test at Monza, "The concentration has been on optimising some new aerodynamic parts and working with a modified differential." Benetton have won the Italian Grand Prix once, in 1995, and have scored 37 points at Monza in the 1990s.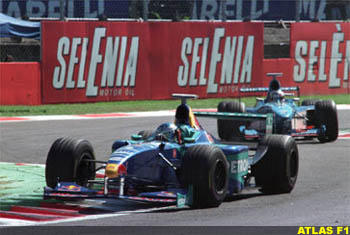 Rome's Giancarlo Fisichella is still seventh in the drivers' championship. Fisichella finished fourth in 1997 and his highest grid position was third also in 1997. Alexander Wurz is now eleventh equal in the drivers' championship. Wurz has yet to finish at Monza, retiring from his first Italian Grand Prix last year.
Stewart is still sixth in the constructors' championship. Team founder, Jackie Stewart, won twice at Monza but the Stewart team has yet to score a point there, their best result was Rubens Barrichello's tenth position in the 1998 Italian Grand Prix. The Stewart team is still struggling to get both pace and reliability.
Rubens Barrichello is still eighth in the drivers' championship. Barrichello finished fourth in 1994 and fifth in 1996 for Jordan. Johnny Herbert is still thirteenth equal in the drivers' championship. Herbert won the Italian Grand Prix for Benetton in 1995, wearing the lucky underpants he had worn, two months earlier, at Silverstone. Herbert's highest grid position was fourth in 1995.
Sauber is seventh in the constructors' championship. Sauber has scored ten points at Monza, their best finishes being third in 1995. Jean Alesi has had three podium finishes in his ten starts at Monza, finishing second in 1997 and 1996 for Benetton, second in 1993 for Ferrari, fifth in 1998 for Sauber and fifth in 1989 for Tyrrell. Alesi set pole position in 1997 and 1994 and led the 1997, 1996, 1995 and 1994 races. His teammate, Pedro Diniz, is eleventh equal in the drivers' championship and finished sixth in 1996 for Ligier.
Prost is eighth in the constructors' championship. Team owner Alain Prost is one of only five drivers who have won three times at Monza but his team has yet to score a point on this circuit. Olivier Panis is thirteenth equal in the drivers' championship. Panis has yet to score a point at Monza, his best finish being tenth for Ligier in 1994. Pescara's Jarno Trulli's best finish was tenth in 1997 for Prost.
BAR grabbed the headlines at Spa-Francorchamps following the spectacular accidents of Jacques Villeneuve and Ricardo Zonta. BAR's Team Manager Robert Synge revealed, "Once we got the cars back to Brackley and had a chance to strip them down and examine everything properly, we discovered there was virtually no damage to either tub and also a number of components on the cars had survived the accidents intact. It was the bodywork, floors and suspension that took the brunt of the impacts. I think it says a great deal for the design philosophy of our Technical Director, Malcolm Oastler, and his team that the cars withstood the accidents so well and protected the drivers effectively." Perhaps Villeneuve and Zonta should send "Thank You Notes" to Oastler and the BAR designer Adrian Reynard.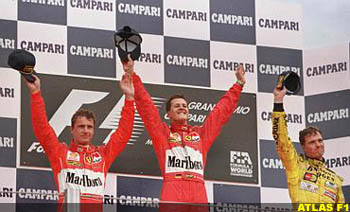 Synge added, "Our aim for Monza will be to qualify both cars in the top 10 and make sure both finish. We feel that's a realistic goal and would be just reward for the huge amount of work that everyone on the team has put in."
Jacques Villeneuve has finally finished a Grand Prix in 1999. Villeneuve has had limited success at Monza in the past, finishing fifth in 1997 for Williams and his highest grid position was second in 1996. Jock Clear, senior race engineer to Jacques Villeneuve, stated "We have made quite a lot of progress on the suspension since Hockenheim and are confident that we will be competitive with Williams and Benetton, the other Supertec-powered teams. Monza is a flowing circuit and Jacques enjoys it. The new aerodynamic package for the cars introduced in Hungary should show benefits at this circuit."
Ricardo Zonta's thoughts on Monza, "I think it is a beautiful circuit with all the overhanging trees and the banking of the old track, which is still there. There is always a great atmosphere there and the Italian fans are so enthusiastic about their racing. I have experience of Monza from Formula One tests I did there with Jordan, McLaren and British American Racing. The tests were all good and I like the circuit because it is fast. In order to set a good time there, though, you always have to ride the kerbs at the chicanes. I am optimistic and looking forward to racing there."
Arrows had a miserable weekend in Belgium with two DNFs. Arrows have not scored a point at Monza since Eddie Cheever finished third in 1988 while Tora Takagi finished ninth for Tyrrell in last year's Italian Grand Prix. A finish in the points for either Pedro de la Rosa or Tora Takagi is again unlikely on Sunday.
Minardi had another reliable race at the Spa-Francorchamps. Minardi have yet to score a point at their home Grand Prix. They will be hoping for both Marc Gene and Luca Badoer to finish on Sunday. Montebelluna's Luca Badoer did not finish in his last outing for Minardi at Monza in 1995, his best finish was tenth in 1993 for Lola.
My Predictions:
Since the teams have had three days of testing at Monza, we can expect few surprises during qualifying. It seldom rains at Monza, but last year's qualifying started under damp conditions. If it is dry, I'm going to pick McLaren, Ferrari, and Jordan as the top three teams for qualifying with Williams and Stewart making up the top five.
Starting grid:
Mika Hakkinen
David Coulthard
Eddie Irvine
Heinz-Harald Frentzen
Mika Salo
Rubens Barrichello
Damon Hill
Jacques Villeneuve
Ralf Schumacher
Johnny Herbert
Jean Alesi
Alex Zanardi
Sunday's race is likely to be eventful. Qualifying is important but pit-stop strategy and reliability are likely to determine the outcome.

The 1999 Italian Grand Prix Preview in a Nutshell:

Monza is a test of reliability and driver restraint.

McLaren-Mercedes should have the advantage at Monza. David Coulthard could have a slight advantage over Mika Hakkinen during the race.

Ferrari will want to bounce back from the disappointments of Hungary and Spa. Can Eddie Irvine or Mika Salo split the McLarens or pull off an upset?

The Best of the Rest: Jordan should have the advantage over Stewart, William and Benetton.

Always in the points at Monza in the 1990's: McLaren.