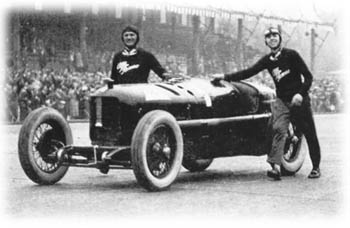 Every year when Monza comes around, Italy makes up for a very special event. The track's long history is closely tied with that of the most prestigious Italian team Ferrari. The team of the prancing horse has always had a little extra power at its home Grand Prix, scoring nearly three times the number of podium finishes as rival McLaren.
Monza has hosted 48 Grands Prix since the first Formula One World Championship season in 1950, only missing the 1980 race, which was held at Imola. In that race Gilles Villeneuve barely escaped a total disaster after his tyre exploded, crashing the Ferrari at high speed. The Fearless Canadian suffered afterwards from only a headache, caused by a flying wheel that hit is helmet.
The Italian Grand Prix has one of the most dramatic histories in all of Formula One. Throughout the years triumph and tragedy have overtaken each other on many occasions. The Grand Prix has hosted some of the most exciting and closest finishes of racing, but on the other hand it took the lives of great drivers.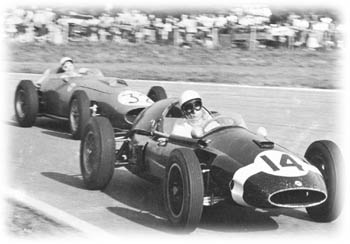 In 1961 Wolfgang von Trips, on his way to become the first German World Champion, lost his life in the famous Parabolica corner, after he touched wheels with Lotus driver Jim Clark. Over ten spectators were killed when von Trips flew off the track in his Ferrari.
Nine years later, the same corner again took the life of a man on his way to the world title. In qualifying, Austrian Jochen Rindt went into the corner, when his car suddenly broke out and headed for the barriers. The front of the car was completely ripped off. The difference between Rindt in 1970 and von Trips in 1961, is that Rindt became World Champion after all. Rindt still is the only driver to be crowned champion posthumously, while von Trips was passed by his teammate Phil Hill, who won the race at Monza.
Eight years after Rindt's death, another talented Lotus driver was killed and again it was a driver on his way to the title. In 1978, Ronnie Peterson was killed at the track where he was at his best. Peterson had won at Monza three times, a feat only accomplished by the truly great drivers.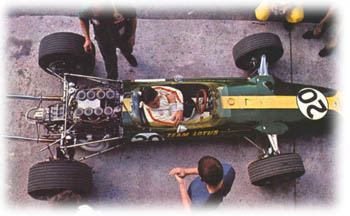 However, as mentioned, Monza isn't only a place of tragedy. It's also a place of close battles, as displayed, for example, by Alberto Ascari, Juan Manuel Fangio and Giuseppe Farina in 1953. Going into the last corner, Ferrari driver Ascari was leading his teammate Farina and Maserati pilot Fangio by a small margin. But Ascari spun and Farina had to take the grass to avoid him. Fangio was the lucky third, coming out of the corner faster than Farina, beating the Ferrari driver to the finish by just over one second to score his only win of the season.
When speaking of close battles, two seasons immediately spring to mind. First - 1969, when Jackie Stewart barely made it over Jochen Rindt (Lotus), his Matra teammate Jean Pierre Beltoise and Bruce McLaren. Just 0.2 seconds were between Stewart and McLaren. The other season is 1971. In this legendary finish, which is still recorded in the history books as the closest gap between numbers one and two, winner Peter Gethin pushed his BRM across the line just 0.01 seconds in front of March driver Ronnie Peterson. After these two, Tyrrell pilot Francois Cevert, Surtees driver Mike Hailwood and Gethin's teammate Howden Ganley also finished within 0.6 seconds.
With an average speed of 242 kmph in 1971, the organisation decided the speed has become too high and modified the track in two places. Before the entrance to the Curva Grande the Rettifilio chicane was built and the Curva Ascari was remodelled to become the Variante Ascari. This gave the track the characteristics it has today.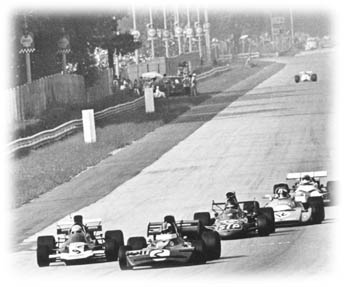 In recent years, we've seen a return to power for Ferrari. After it hadn't won it's home Grand Prix since 1988, Michael Schumacher put the prancing horse back on top with victories in 1996 and 1998. Last year specifically was a special win, since it was achieved in Ferrari's 600th Grand Prix. Helped by David Coulthard's blown up engine and Mika Hakkinen who slid off on his McLaren teammate's oil and later on spun because of a brake failure, Schumacher cruised to victory, making it a one-two for Ferrari.

Italy - Just the Facts
The Italian Grand Prix gets into the record books for many reasons, but the first is that this will be the 50th Italian Grand Prix and only the British Grand Prix can match that record of World Championship events. It means, of course, that there has been an Italian Grand Prix for every year of the FIA's Formula One World Championship.
But unlike its British equal, the Italian Grand Prix has virtually been a single-venue event, run at Monza for every year but one - in 1980 - when it was run at Imola which has gone on to host the San Marino Grand Prix.
There has been one more Grand Prix in Italy - in 1957, at Pescara, birthplace of current Formula One driver Jarno Trulli. It was called the Gran Premio Pescara and was run over a true road circuit of 25.579 kms, which makes it the longest circuit ever used in the World Championship. Stirling Moss( Vanwall) beat Juan-Manuel Fangio's Maserati by three minutes.
The story of the Monza circuit is pretty remarkable in itself. The decision to build Monza as a race circuit and test track for the Italian automobile industry was taken in January 1922 to mark the Milan Automobile Club's 25th anniversary. The first stone was laid by Vincenzo Lancia (of Lancia fame) and Felice Nazzaro in February of that year but work was stopped days later for ecological reasons: 'artistic and monumental value and landscape conservation.'

The original 14 kilometre circuit was shortened to 10 kilometres, planning permission was received at the end of April and work re-started on May 15 with a target completion date three months later of August 15. This was to be achieved with the help of 3500 labourers, 200 wagons, 30 lorries and a five kilometre narrow gauge railway which had 80 trucks and two engines.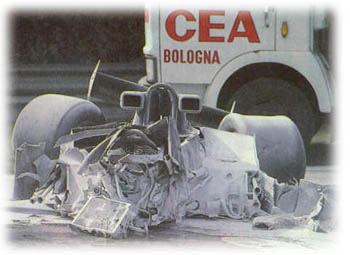 The circuit, complete with one main grandstand holding 3000 spectators, and a further six holding 1000 each, was opened on September 3rd, 1922. A 'voiturette' race was held to mark the opening and five days later, the Grand Prix des Nations for motorcycles was held, won by a Harley-Davidson. And just two days after that, they ran the second Italian Grand Prix for cars, three race meetings in seven days! Since then, there have been a remarkable 13 changes in circuit layout.
One of those changes came in 1972 after Monza took the record for being the venue of the fastest Grand Prix ever, and the closest finish. In 1971, Peter Gethin(BRM) crossed the finishing line after 55 laps, 316.250 kms at an average speed of 242.615 kph. These days, they are averaging 237 kph. He was just a hundredth of a second ahead of Ronnie Peterson (they only timed to hundredths in those days); Francois Cevert and Mike Hailwood completed the top four, covered by just 0.18s and Howden Ganley in fifth place was 0.43s further back, the first five covered by 0.61s.
Monza also boasts the fourth closest finish of all time as well: when Jackie Stewart beat Jochen Rindt by 0.08s two years before in 1969. But then Monza was all about those slipstreaming races in that era; there were 43 recorded lead changes in the 1965 Italian Grand Prix. That was Stewart's first win, leading home BRM team-mate Graham Hill by 3.3s. It is also the venue for the fastest race lap recorded during a Grand Prix: Damon Hill averaged 249.835 kmph in the 1993 Italian Grand Prix.
Nelson Piquet has been the most successful driver in the Italian Grand Prix with four wins (including the Imola race) while Fangio won it three times in succession including a one lap victory over Mike Hawthorn in 1954; Moss, Peterson and Alain Prost also won it three times.
In terms of manufacturers, Ferrari have won the Italian Grand Prix 12 times including that emotional victory by Gerhard Berger ahead of Michele Alboreto in 1988, less than a month after Enzo Ferrari's death. Every other Grand Prix that year was won by McLaren, who have been victorious seven times at Monza, while Williams have won five times. Ferrari have had six one-twos (including last year) but McLaren have never finished one-two at Monza. Williams have done so once.
Ferrari have filled the front row five times, including three cars in 1956, while Williams have done the same three times and McLaren just once. Both Renault and Mercedes have done the same. Incidentally, Philippe Etancelin was the oldest driver ever to score points in the World Championship when he finished fifth in 1950 at an age of 53 years and 248 days. Both Goodyear (1998) and Firestone (1972) bowed out of Grand Prix racing with wins at Monza.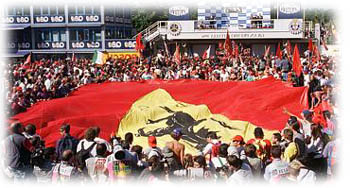 There are three former winners in the field this weekend, all British: David Coulthard ('97), Johnny Herbert ('95) and Damon Hill ('94, '95) so only Irvine hasn't won from Great Britain, but he's only once finished in the points from five visits (second last year). Herbert's win, incidentally, is the only time that he's seen the Monza chequered flag in seven visits. Villeneuve, meanwhile, has qualified in the top four on every occasion he's been to Monza, and Jean Alesi has impressive form, finishing in the points on each of the five occasions that he's finished but retiring five times as well. Twice he has started from pole position.
Of the milestones, Olivier Panis has celebrated his 33rd birthday since the last Grand Prix, and Damon Hill celebrates his 39th five days after the Italian race.