Heinz-Harald Frentzen's splendid victory for Jordan Mugen-Honda at Monza on Sunday, not only turned the title into a four-cornered tussle, but he and his team have brought Honda's decision to provide works engines to the thus-far pointless BAR squad next season, even further into question.

The German now sits but ten points behind joint-championship leaders, Eddie Irvine and Mika Hakkinen, and two ahead of David Coulthard, after a weekend Jordan will always remember, McLaren will want to forget and Ferrari will thank their lucky stars for. Mika Hakkinen erred for a second time this season, failing to capitalise on a strong lead to open up an almost unassailable championship lead.

Had he cruised home to what clearly would have been an easy win, Mika would have been eleven points ahead of Eddie Irvine in the championship right now. Instead, his retirement allowed the recalcitrant Irishman this weekend, into the points to even things up at the top of the title table - and allow Frentzen and Coulthard into the fold.

It seems that as hard as Ferrari try to blow it, McLaren just does that so much better.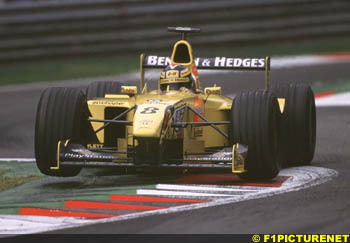 But none of that will ever deter from Frentzen's fine victory. Besides not the best of starts, he drove an excellent race to win from an equally impressive Ralf Schumacher's Williams and Ferrari's saviour, Mika Salo. Rubens Barrichello was the star of the earlier half of the race, driving an excellent stint and passing several cars, but clearly not benefiting from as good a set of tyres in the second half. He fought off a determined, but off-the-pace David Coulthard for fourth.
Unlike his title protagonist's sudden demise, Eddie Irvine's entire weekend was a nightmare, circulating to a fortunate sixth and what may be another vital point by the end of the season. Just out of the points, but worthy of a mention again, was Alex Zanardi, who ran a strong third early on, before his car lost pace due to an undertray problem, and he dropped back.
Jacques Villeneuve brought the BAR home eighth, to finish his second race in thirteen – clearly to the delight of Honda. Maybe its works team for 2000 will score some points sometime soon, while its second-string team for Y2K sharpens its challenge for the 1999 driver's title! It's a pity that Craig Pollock's team's results don't appear to come anywhere near his selling skills; Jordan has earned that deal that BAR seems to have stolen.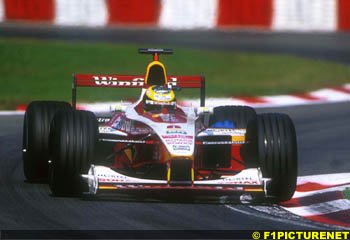 Bringing up the rear of the eleven-finisher field, were Alesi, Hill and Panis - classified, despite his Peugeot expiring on the last lap.
Qualifying
1999's Qualifying World Champions, the Mika Hakkinen McLaren-Mercedes steamroller, flattened Monza's official practice too, their eleventh pole in thirteen races. Had Mika been so effective in the races, he would long have been a double world champion. But the title remains wide open, thanks mainly to a combination of his own doing, the McLaren's reliability, his teammate's over-exuberance and a lack of coherent team tactics that have together conspired to add to 1999's fastest man's plight.
Mika dominated qualifying at Monza, setting the fastest lap of the year there, on his first flying lap. Only he would go faster after that. "I was surprised that I was able to bang out that time! My second run was good, but my third was fantastic," said a delighted Hakkinen later.
Only Frentzen came near Mika, but the German had a less than perfect afternoon. "I never managed any of my three runs without a problem, but I don't know if I could have taken pole. In any case, our qualifying performance is excellent," Heinz mused later.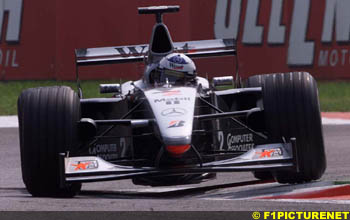 David Coulthard qualified third, also not enjoying an ideal session. "Mika's lap was a pretty special time and even if I had had a clear run, I think it would have been difficult to match it."
Fourth was a man who will continue to confound his vocal critics as he moves up the grid. Alex Zanardi edged his teammate out of a second row slot. "I am happy, of course," Alex said later. Ralf Schumacher was fifth, but confident. "I am fairly optimistic that we will finish in a good position."
But Italy's idols faced an uphill battle. Mika Salo was the quickest Ferrari, only managing fifth for the inside third row slot, but bravely optimistic. "The car is good, if we get a good set-up the race shouldn't be too bad." Ferrari's new signing split his future team's current drivers on the Monza grid, Rubens Barrichello stealing seventh late in the session for Stewart-Ford.
Eddie Irvine faced starting with seven good men between him and his foe, "My best chance in the race is to make a great start. I am aiming to get as many points as possible." The Ulsterman previewed the race well in conclusion though: "The championship is not yet over for us."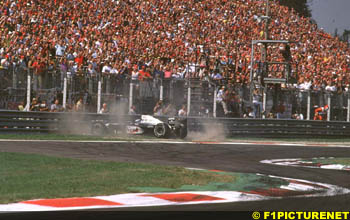 Behind Eddie, Damon Hill and Olivier Panis rounded off the top ten, while Villeneuve, Trulli, Alesi, Wurz, Herbert, Diniz, Fisichella and Zonta shared a second. Bringing up the rear, Minardi appeared to have established supremacy over their traditional backfield rivals, Arrows.
The Race
After a busy start, Hakkinen sped into an easy lead, Frentzen having to fight off an enthusiastic Zanardi, from Schumacher, Salo, a poor-starting Coulthard, Irvine and Barrichello. There was some argy-bargy between the tail-enders, the first of a few incidents among that mob through the afternoon, led to Marc Gene's demise.
Then Fisichella and Diniz individually attended to the first chicane tyre wall at the same time, filling the retirement list quickly on the second lap, with Wurz following his teammate out of Benetton's spiritual home race on lap eleven. Barrichello forced his way past Irvine and set off after Coulthard, while Hakkinen did his usual early-race disappearing trick out front, ahead of a decidedly quiet Monza crowd. There was action throughout the field, as Barrichello made short work of Coulthard and Zanardi let his teammate through, the Italian slowing somewhat.
A disappointing Irvine was watching his title aspirations disappear in an uninspiring eighth, behind an equally lacklustre Coulthard, also out of the points. Zanardi soon came under the attention of Salo and Barrichello, "I could feel something hitting the ground underneath the car early on in the race, around the third lap," said Alex. "It got so bad during the race that it was picking the nose off the ground." Behind him, Barrichello took advantage of the slowing Williams to jump Salo.
But Italy erupted for another reason...
Soon after McLaren obliged its drivers to hurry on, deeming that Mika's six-second lead wasn't enough and David needed to be in the points, Hakkinen knocked his gear selector down once too many at the braking zone at the end of the start straight. The McLaren cried enough, locking up the rear end and sliding to stall in the first chicane. He climbed out of the car, after throwing his steering and all his toys out of his cot in a fit of temper, before collapsing in a rage of tears while on his way back to the pits.
"Naturally I am very disappointed to have made a mistake which ruined the chance for me to extend my lead in the championship. I went into the first chicane, which I had taken all weekend in second gear and I selected first. The rear wheels partially locked up and I spun off with a stalled engine. Of course I am upset with myself but I will make sure this is the last error I make this year," Hakkinen later said.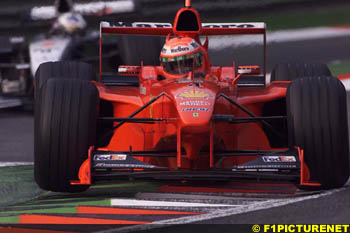 But Mika's title-leading partner, Eddie Irvine has hedged his bets against that not happening: "That's the second mistake Mika's made when he was not under pressure - let's see if he can make it a hat-trick at the next race..."
For the second time this season, the World Champion retired from a commanding lead for no reason but his own. Ironically, it was also in Italy that Mika slammed into the wall at Imola. But he only has himself to blame for twenty of the sixty or so points he and McLaren would easily have scored, but lost for a variety of reasons this year.
Luckily for Mika, Eddie Irvine wasn't in the ideal position to capitalise on his plight. Even after Hakkinen had retired, Eddie remained out of the points.
By the time the pitstops had begun, with most of the field on a one-stop strategy, Frentzen led Schumacher, Barrichello, Zanardi, Salo, under pressure from Coulthard, Irvine, Alesi and Hill. After their respective visits to the pits, the top two remained as they were, but Salo headed Barrichello, from Coulthard, Irvine – in the points at last, and ex-CART champions, Zanardi and Villeneuve. Alesi was dicing Herbert for ninth, from Hill, Trulli, Panis, Zonta and the rest.
Not much changed from there, besides some squabbling and smashing toward the back of the field. Jarno Trulli attacked the armco after a short flight through one of the chicanes, while de la Rosa's Arrows mounted Badoer's Minardi in a fight over last place, eliminating the Minardi.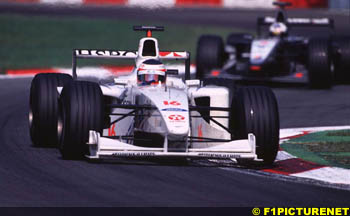 The Arrows eventually succumbed to its driver's antics, while Zonta, Takagi and Herbert retired quietly. Such was the effect of the Arrows' brutal antics, that Minardi is considering withdrawing from F1 after a four-year points drought. Could a certain Champcar team boss' presence at Monza have anything to do with Giancarlo's statement?
So, an emotional Heinz-Harald Frentzen drove his Jordan to his and the marque's third wins – and significantly, Jordan's first in a dry race. "This victory is tremendous for me and the team, and I do not have enough words to express how I feel. The Championship battle is now really close - I cannot believe it. When I saw Mika go off I thought, 'bad luck for him, good luck for me!'" Harry-Heinz said, but more importantly - he halved his deficit on the championship lead, establishing himself as a very real title contender, thanks to a most impressive year all around. "We have used every opportunity this year to score points and today we made use of a fantastic opportunity," he admitted. "McLaren did not use their potential and if this happens in the next races it will give Eddie and me a chance in the Championship."
Frentzen went on, "If at the beginning of the season Eddie Jordan had told me that I would be winning races like this I would have told him he was crazy," before relating the pressure on a race leader. "It's hard to lead a race because you are in control and you are trying to maintain the gap, save the car and you can lose concentration - which is perhaps what happened to Mika. It is a lot easier to push someone from behind. Once in the lead, I was trying to save the brakes, tyres and engine to finish the race without any problems and it's difficult when you are thinking about all these things."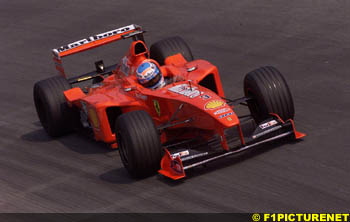 Ralf Schumacher equalled his best ever result on the second step of the podium, finishing behind the man who also beat him last time. "This is my best result this season and I am glad I achieved it here. The first few laps were quite dramatic, as Mika Salo and David Coulthard were trying to overtake me and I was trying to make my car as wide as possible. My teammate made it easy to get by him, which allowed me to drive my race. Without his help I think I wouldn't have finished second today."
The race also confirms that if the new BMW mill is up to it, Williams has the chassis to do the business. Despite the ageing Supertec's clear disadvantage, the team is proving its erstwhile strength as the year grinds on, something Ralf appreciates. "No doubt that the FW21 has sensibly improved, I would say that it looks quite another car from what it was in Hungary."
Now thirty points behind, Ralf is out of the title chase. Even if young Schumacher won all three races to equal Irvine and Hakkinen, Mika would have won more races to secure the title from Irvine, who won the first race. Interestingly, Michael Schumacher still has a mathematical chance of winning the championship...
Mika Salo's third was as good as a win for the hometown heroes. Together with Irvine's sixth, the Ferrari duo clawed three unlikely points back on McLaren at Monza, and the crowd was vocal in its appreciation of its team's tenacious tortoise and hare antics as Ferrari keeps itself right in the title chase on both counts.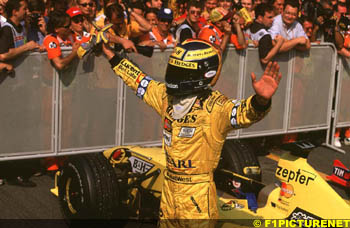 "This is an unbelievable result after two difficult days in practice," Salo said. "At the start Ralf made his car very wide and I could not get by. Then he managed to get away from me when his teammate let him pass. Barrichello passed me because I could not overtake Zanardi, as I was slow on the straight. But then a great pit stop helped me get this result. It was fantastic to be on the podium again and it was particularly emotional here in front of all the Italian fans."
And Rubens Barrichello gave the Tifosi even more to shout about with a fine showing in the Stewart-Ford, although it was an emotional weekend for the Brazilian. "I would like to dedicate this race to Gonzalo Rodriguez who we lost at Laguna Seca yesterday. He was a good friend and a real fighter. I spent a lot of the time before the race thinking about him. But I'm really pleased with today's result."
David Coulthard's fifth was a small consolation for McLaren, "The amount of times I ran off the circuit shows that it was a very troublesome race and I believe that I have to be content with two points." But those two measly points could become vital at the end of the day in the makers' title. David himself, is still in contention for the championship, twelve points behind the tied leaders and perhaps an important point closer to them.
Sixth must be a bittersweet sensation for Eddie Irvine. Yes, he has clawed his way back to an equal title lead with Hakkinen, but the result could have been so much more emphatic if it was a podium finish like his teammate. "I was a bit cautious at the start as I knew it was vital for me to finish the. In the end though, I got one point and my nearest rival got none. Now we are going to circuits, which will suit our car much better. We knew we would struggle here. At least it feels good to be leading the championship again."
Looking at McLaren and Ferrari's respective performances, it appears that neither team really deserves to win this year's championship. McLaren have thrown away too many chances from a position of domination, while Ferrari appears to be relying on fate or a rabbit's foot or something, to win, as their cars, in spite of peerless reliability, continue to slip further and further away from a pace they once set.
If Heinz-Harald Frentzen sneaks off with the world championship in 1999, it would be a most deserved coup. For besides his fine victories at Monza and Magny Cours, the Jordan star has enjoyed a stunning season, finishing in the points continually and building up a very healthy points tally. Even when he's retired, Heinz did that from a strong position, and through no fault of his own.
That makes Heinz the ideal candidate to win a world championship his rivals almost seem to want to lose.
Final Race Results

CLASSIFIED

Pos  Driver        Team                  Time        
 1. Frentzen      Jordan Mugen-Honda     1h 17:02.923
 2. R.Schumacher  Williams Supertec         +   3.200
 3. Salo          Ferrari                   +  11.900
 4. Barrichello   Stewart Ford              +  17.600
 5. Coulthard     McLaren Mercedes          +  18.100
 6. Irvine        Ferrari                   +  27.400
 7. Zanardi       Williams Supertec         +  28.000
 8. Villeneuve    BAR Supertec              +  41.700
 9. Alesi         Sauber Petronas           +  42.100
10. Hill          Jordan Mugen-Honda        +  56.200
11. Panis         Prost Peugeot             +   1 Lap  

Fastest Lap: R. Schumacher, lap 48, 1:25.579 (242,723 kmph)

NOT CLASSIFIED / RETIREMENTS
                                                                
    Herbert      Stewart Ford          40     clutch         
    Takagi       Arrows TWR            35     brakes         
    de la Rosa   Arrows TWR            35     brakes         
    Hakkinen     McLaren Mercedes      29     spun off          
    Trulli       Prost Peugeot         29     gearbox         
    Zonta        BAR Supertec          25     wheel bearing         
    Badoer       Minardi Ford          23     accident          
    Wurz         Benetton Supertec     11     transmission        
    Diniz        Sauber Petronas        1     spun off         
    Fisichella   Benetton Supertec      1     spun off         
    Gene         Minardi Ford           0     collision          


Top Ten Fastest Race Laps

Pos  Driver         Team                Lap  Time              
 1.  R.Schumacher   Williams-Supertec   48   1:25.579  + 0.000s
 2.  Salo           Ferrari             44   1:25.630  + 0.051s
 3.  Barrichello    Stewart-Ford        51   1:25.825  + 0.195s
 4.  Coulthard      McLaren-Mercedes    32   1:25.832  + 0.007s
 5.  Alesi          Sauber-Petronas     52   1:25.911  + 0.079s
 6.  Frentzen       Jordan-Mugen Honda  32   1:25.917  + 0.006s
 7.  Panis          Prost-Peugeot       31   1:25.953  + 0.036s
 8.  Zanardi        Williams-Supertec   51   1:26.047  + 0.094s
 9.  Hakkinen       McLaren-Mercedes    24   1:26.060  + 0.013s
10.  Herbert        Stewart-Ford        18   1:26.253  + 0.193s


Top Ten Pit Stop Times

Pos  Driver         Team                 Time   Lap 
 1.  Irvine         Ferrari              18.90  35  
 2.  Frentzen       Jordan-Mugen Honda   19.20  35  
 3.  Salo           Ferrari              19.30  36  
 4.  Panis          Prost-Peugeot        19.50  16  
 5.  Trulli         Prost-Peugeot        19.50  17  
 6.  Coulthard      McLaren-Mercedes     20.10  36  
 7.  Panis          Prost-Peugeot        20.70  32  
 8.  Alesi          Sauber-Petronas      20.70  33  
 9.  Villeneuve     BAR-Supertec         20.90  35  
10.  R.Schumacher   Williams-Supertec    21.10  33  


The Italian Grand Prix, Lap by Lap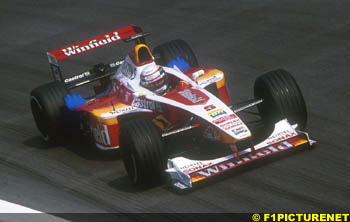 It's sunny with a temperature of 26 degrees and a track temperature of 30 as the countdown to the race begins in front of a 110,000 strong crowd. Irvine comes into the pits at least three times for adjustments before the pit lane closes.
Start: They all get away cleanly with Hakkinen taking the lead initially from Coulthard, but it is Zanardi who makes the best start to come around the Scot and move into second place. Frentzen goes into third ahead of Coulthard and Ralf Schumacher. Frentzen gets second back from Zanardi at the second chicane. Coulthard loses places when he goes off slightly at the third chicane, so Ralf Schumacher moves up to fourth place but Salo and Coulthard are all over him, the German driver making his car very 'wide'. Gene goes off after a collision with compatriot de la Rosa at the first chicane on the first lap
Lap 1: Hakkinen leads by 1.2s from Frentzen who in turn is 1.1s ahead of Zanardi with a similar gap back to Schumacher pushed hard by Salo with a small gap back to Coulthard, Barrichello, Irvine, Hill, Villeneuve, Wurz, Diniz and Alesi
Lap 2: Hakkinen extends his lead to 1.5s over Frentzen who is still 1.1s ahead of Zanardi but Schumacher is on his tail being pushed by Salo, Coulthard and Barrichello before a gap to Irvine and another to Hill followed by the rest, although Diniz retires after a spin and Fisichella also goes out after a spin at the first chicane
Lap 4: Hakkinen's lead is up to 2.2s over Frentzen who in turn is about the same ahead of Zanardi pushed by teammate Ralf Schumacher, closely followed by Salo, Coulthard and Barrichello before a gap of 2.6s to Irvine, then Hill, followed by Villeneuve and then a battle with Wurz leading Alesi and now Trulli having overtaken teammate Panis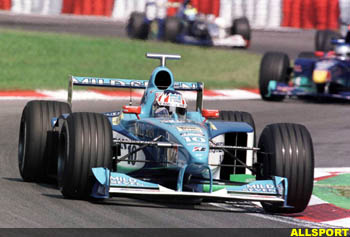 Lap 8: Hakkinen's lead gap is now up to 3.9s over Frentzen who in turn is a relatively stable 2.6s ahead of the Williams pair still pushed by Salo, Coulthard and Barrichello. Further back, Alesi overtakes Wurz for eleventh place as the Austrian is suffering gearbox problems due to the electrics which is causing the rear end to lock up and he goes straight on at a couple of chicanes
Lap 9: The lead gap is rising by over half a second so Hakkinen now leads by 4.5s. Further back, Wurz, having been overtaken by Alesi now loses out to the two Prosts
Lap 10: Wurz gets ahead of Panis again while ahead of him, Barrichello is right on Coulthard's tail
Lap 11: Barrichello overtakes Coulthard for sixth place while Wurz's lively laps come to an end when his gearbox problems means he has no drive and he pulls off
Lap 12: Hakkinen's lead is now 6.2s while the gap from Frentzen to the rest is now over three seconds, but the Williams, Salo, Barrichello and Coulthard are covered by fractions of a second. The gap back to Irvine is 2.5s and Hill isn't far behind
Lap 14: Hakkinen's lead is now 6.7s but the gap back to the Williamses comes down to 3.5s
Lap 15: Zanardi has managed to pull away to be 1.2s ahead of Schumacher, still being pushed by Salo, Barrichello and Coulthard
Lap 16: Schumacher has caught Zanardi again, while further back, Panis pits for 6.4s
Lap 17: Trulli pits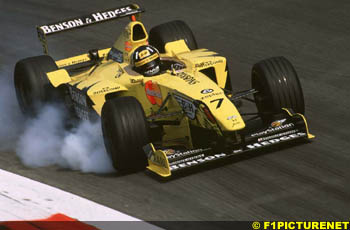 Lap 18: Going down to the first chicane, Zanardi lets Schumacher past, according to an arrangement that they have, and by the end of the lap, Schumacher is 1.6s ahead, quickly caught by Salo and the rest
Lap 19: Salo says that he was slowed by Zanardi, but whatever, Barrichello overtakes him for fifth place
Lap 20: That really breaks up the field a little: Hakkinen's lead growth has slowed, now 7.8s ahead of Frentzen who is 3.9s ahead of Schumacher who has pulled out by 2.7s from Zanardi now being pushed by Barrichello, the pair having left Salo to cope with Coulthard. Irvine is still out of touch, with Hill fairly close behind
Lap 22: Hakkinen's lead drops by a second when he's held up by de la Rosa
Lap 24: Hakkinen's lead over Frentzen is up to 7.6s but Ralf Schumacher is closing on his compatriot and is now 2.7s behind him. Zanardi is being pushed hard by Barrichello, who tries to get past on the next lap and tries again on the lap after that, eventually overtaking and quickly pulling away. Takagi pits for a new nose section after colliding with Badoer, but the Italian cannot rejoin
Lap 25: Zonta pits for some 20s longer than he should, having the brakes checked as they felt spongy
Lap 26: But there's no change to it and Zonta retires
Lap 27: Just after half distance and now the pit stops begin: Herbert pits
Lap 28: Zanardi quickly falls into the clutches of Salo and Coulthard, the Finn swooping past to move into fifth place again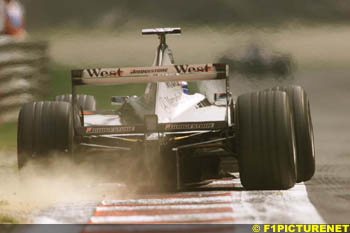 Lap 29: Barrichello pits from fourth place
Lap 30: Hakkinen goes down into the first chicane and selects first gear instead of second gear, locks up the rear end and spins off and stalls the car. He is furious with himself - out of the race. Trulli retires at the same time with high temperatures which affect the gearbox
Lap 31: Zanardi pits from fifth place as does de la Rosa
Lap 32: Panis pits
Lap 33: Ralf Schumacher pits on this lap, as does Alesi
Lap 34: Hill comes in but knocks off the ignition switch and takes some time to restart
Lap 35: Frentzen pits for 7.6s while Irvine comes in for 6.9s and Villeneuve pits, finding himself ahead of Hill when he rejoins.
Lap 36: Both Salo - from the lead - and Coulthard pit, the Finn rejoining after 6.9s and getting going just ahead of the McLaren driver, the pair finding Barrichello between them. De la Rosa retires in the pits with handling problems from his earlier collision. Teammate Takagi spins out of the race
Lap 37: The result of the pit stops is that Frentzen's lead over Ralf Schumacher has gone up to 5.7s from 2.7s while the Williams driver now has Salo as his chief rival but 9.5s behind and the Ferrari is just ahead of Barrichello being pushed hard by Coulthard. Then comes a gap to Irvine who is pulling away from Zanardi, a gap to Villeneuve who does the same to Hill, followed by Alesi and Panis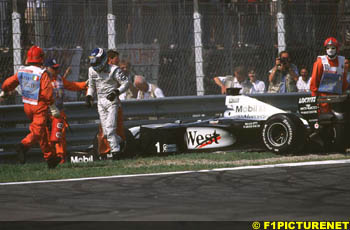 Lap 41: Herbert retires with clutch failure
Lap 44: Salo begins to pull away from Barrichello and Coulthard, and close on Ralf Schumacher with a couple of quick laps
Lap 48: But then Schumacher reacts and begins to close on Frentzen, cutting the gap with fastest lap of the race to 4.1s. Further back, Hill - unable to use the power steering - has been caught by Alesi. And the lead gap is down to 3.8s
Lap 49: Alesi moves up to ninth place
Lap 50: Coulthard outbrakes himself into the first chicane but still stays on Barrichello's tail. Further back, Zanardi is closing on Irvine
Lap 52: The lead gap is down to 3.2s, while Barrichello still holds off Coulthard, and Irvine is less than a second ahead of Zanardi
Lap 53: Chequered flag: Frentzen takes his second victory of the year, while Panis retires on this lap with engine failure.