This week's Grapevine brings you
information fresh from the paddock on:

Virtual Warning Lights
Technical drivers suffer in 1999
Silly Season Update
Picked from the Bunch
Virtual Warning Lights
Following Michael Schumacher's accident at Silverstone, the brake system provider Brembo has developed their service to provide a cockpit warning light intended to alert drivers in the event of a loss in brake fluid pressure.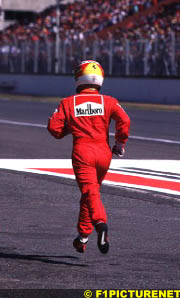 When the FIA announced their intention to trial a new warning system – which would allow them to switch warning lights in the car cockpits on and off to indicate red, yellow and blue flags situations – the Jordan team considered replicating the lights into the driver's helmet. It's not thought they took it beyond the discussion stage, as it is considered potentially distracting for the driver, and probably not worth the cost of developing the system.
Around three months later, Ferrari were reported to be testing a similar idea in Michael Schumacher's helmet, before the FIA's pursuit of the "in car" solution bogged in the technical mire – having discovered that reliable communication with vehicles travelling at upwards of 200mph is a difficult business!
With Schumacher's accident playing large in peoples minds at the moment, the in-helmet mountings are being considered again – the distraction to the driver is nothing compared to them finding out too late that their brakes have failed. This time around, the research appears to be taking two tacks. An immediate solution with simple lamps in the helmet is being tested now, and another using virtual reality technology to project a "heads up display" into the visor is being considered. The technology has been used by the military for some time, and is within the budget limits of the larger teams.
At this point, it's believed that all Brembo's customers (Ferrari, Sauber, Minardi, Jordan, Prost and Benetton) have already installed the cockpit upgrade.
Technical drivers suffer in 1999
The F1 Rumors team has been asked a number of times why some of the drivers who have turned in excellent performances in years gone by are not doing so now, whilst others who appeared to struggle are driving out of their skins.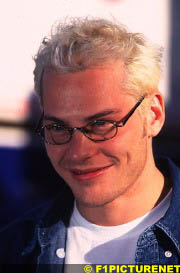 As many have surmised, it is indeed to do with the styles of the drivers... more specifically, to do with type of driver, and the tyre regulations in 1999. BAR's Jacques Villeneuve recently stated in Sport Auto magazine: "Up to 1997, you really had to steel yourself, and it took real guts. When those cars started to drift, it happened suddenly, and you had to react quickly to bring it back, or you spun off. You couldn't drift those cars at all. Now, you can drift them, but they are not precise at all, because you don't get feedback [from the tyres]. That makes it really hard to find a set-up. Changes to set-up are overshadowed by the tyres. Often, you don't feel any change at all, even after a big change to the car, because everything hangs on the tyres."
It should be noted that the tyre complaints are not specifically about the grooves; rather the tyres are now so hard – harder than road tyres – that they just don't afford the grip levels the old, soft slicks (or the results of last year's tyre war for that matter) provided.
The drivers who are generally suffering this year, including Damon Hill, Olivier Panis and Alex Zanardi, are all famed for their technical skills. Their ability is to work out what the cars are doing, then set them up for the best compromise for the circuit they are driving. Having established the compromise, they appear to drive "on rails" all the way round. Zanardi won back-to-back CART championships from that skill, as Hill won the 1996 Formula One Drivers Championship.
The drivers who are doing well this year are all known for their "seat of the pants" style - they are not as fussed over the perfect set-up; if it is close, they'll make the most of it. A teammate of Frentzen from his Japanese racing days is quoted as saying, "the first year Heinz-Harald was with us, I beat him almost every time. The car was a dream, and I took the championship. The next year, the car just wouldn't set up right. It was always close, but a compromise. That year, Frentzen was often quicker than I was. He always made the best of compromises."
The argument that Formula One drivers are supposed to be world's best all-round drivers is often used. They are supposed to be "the elite," so they should have the skills to master both approaches. In fact, they are all exceptionally talented in both regards, but still have a slight tendency to one side or the other - either to technical mastery, or sheer seat of the pants driving ability. The differences are not great, but are clearly enough to disadvantage those whose success is oriented towards their technical ability.
Silly Season Update
Nick Heidfeld is believed to be headed to Prost on a one or two year deal, graduating from McLaren's F3000 program.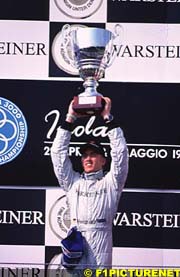 The team wish to place the youngster with Prost with a view to a McLaren drive if he lives up to his F3000 promise.
Mika Hakkinen's new contract guarantees him number one status and is worth $1 million per race according to a German newspaper Berliner Zeitung.
Jarno Trulli is reported to be released from his Benetton contract, freeing him for the move to Jordan. He is expected to sign a two year contract for the team, who are looking for a talented 'young lion' to partner Heinz-Harald Frentzen, but do not want to be seen as a training ground for other teams, ruling out the likes of Nick Heidfeld. Eddie Jordan is known to hold Trulli in high regard.
Ross Brawn has been rumoured to be in negotiations by Ford, to join the 2000 Jaguar badged Stewart-Ford team. Brawn won't comment on this matter, but apparently is not ruling out the option, especially as he enjoys a good relationship with Eddie Irvine - who is also rumoured to move to Jaguar. However, it should be noted that Brawn has a contract with Ferrari for three more years.
Prost have been talking to Honda about the possibilities of a Mugen-Honda customer unit in 2000. A likely condition is that Jos Verstappen is given a seat with the team next year. They are also believed to be negotiating with Supertec, Powertech and Arrows. Rumours that they could swing a Mercedes engine for taking on Heidfeld are thought to be wide of the mark.
The British Daily Mirror ran a story earlier this week, claiming Ford are seriously considering giving Rally driver, Colim McRae, an F1 drive in 2001. The 1995 world rally champion will apparently have a test with Stewart Ford next season. "When the idea of a Colin doing a serious test in the Formula 1 car was first raised it was just a possibility. Now it is definite. Colin is very keen to try out the F1 car and take this forward, and Ford are just as serious about the possibility of him moving over in 2001," said Ford spokesman, Martin Wilford.
The Grapevine will have a regular Silly Season update, along with the Silly Season Page of the F1 Rumors Team.
Picked from the Bunch
Mika Salo's "big chance" came at a price. He was contracted to BAR as their replacement driver for the remainder of the season, should either of their current drivers be injured.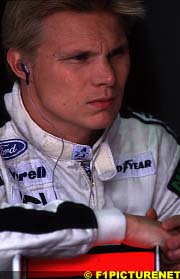 In order to take the Ferrari drive, Salo was required to buy out his BAR contract by repaying all the money he earned as Zonta's substitute... despite the fact his finishes are the reason BAR are currently ranked ahead of Minardi. This ranking qualifies them for travel money next year – which is worth more than $10 million.
The FIA is rumoured to be considering a switch back to slick tyres next season, following pressure from teams, drivers, Bridgestone, and the supremo himself - Bernie Ecclestone. However, the FIA's president, Max Mosley, is dead set against this plot and it remains to be seen who is really running this show - Ecclestone or Mosley
According to an Italian Financial newspaper, Il Sole 24, McLaren has the largest budgest in Formula One, with 520 Million Marks a year (285 Million US Dollars), followed by Ferrari, with 440 Million Marks (240 Million US Dollars).
Rumours have Prost talking to Jean Todt about a potential move to his team – starting a new, all French "dream team" under his direction. Todt is unhappy with Irvine in the Number One role at Ferrari, so it's possible he is disillusioned enough to answer the patriotic call to arms for France...
Michael Schumacher's injury is not a trivial affair. It seems that even if his legs heal as well as everyone hopes, the incidental injury sustained to his heel could affect sensitivity, which would take the edge off his driving skill. Accordingly, a long convalescence, allowing the injury proper time to heal should be expected.

Minardi have claimed their engine supply for 2000 is secure – Supertec have promised a supply in return for some $35 million... with sponsor Telefonica picking up the tab.

Renault are considering a return to Formula One using the Nissan badge, according to paddock gossip. The French manufacturer has been talking to long term partner Benetton, but Arrows are currently thought to have the edge in negotiations.