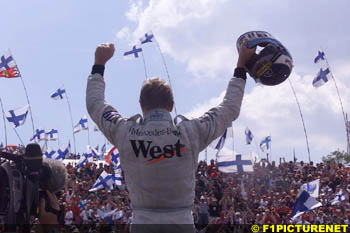 For the first time in several months, a Grand Prix went according to the form of current teams and drivers. Mika Hakkinen and his McLaren-Mercedes teammate, David Coulthard, avenged their canny rivals at Ferrari, who stole the previous two races from under their noses, with a 1-2 whitewash in Budapest.

Eddie Irvine could have been second, if he had not slipped off momentarily fifteen laps from the end. It was a weekend the Italian team will soon want to forget, after the two races before, with the second car scrubbing about with the Arrows and Minardi lot. But Eddie Irvine and Ferrari remain ahead in both drivers and manufacturers championships.


Mika started the week fastest on Friday morning, that after he sat out most of the session waiting for the track to clean up a little. But by the end of the day, he was visible in his concern of Irvine's pace that afternoon. The McLaren returned to the top of the timesheets on Saturday morning, with Irvine apparently taking it easy.

Mika stayed out front in qualifying, although he must have been a little concerned that Eddie lined up beside him on Sunday, the Ferrari running the McLaren very close for once in qualifying. Mika knew what he needed to do. "A good start and the right pit-stop strategy will be key factors in this race," he said after his ninth pole of the year. Irvine also understood his job ahead: "It's not great to be starting on the wrong side of the grid, but technique counts," he said.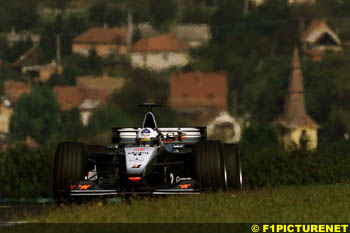 David Coulthard had the advantage of the better half of the second row in third, ahead of a resurgent Giancarlo Fisichella, taking advantage of Hungaroring's twisty nature to overcome the disadvantage of his Benetton's Supertec mill.
The Jordans of Frentzen and Hill made the third row their own, Frentzen in his usual good qualifying form ahead of Damon, while Alex Wurz continued Benetton's better form in seventh, ahead of Rubens Barrichello in the Stewart with its new Mk.IV Ford mill.
Jacques Villeneuve and Johnny Herbert rounded off the top ten, from Jean Alesi, who overcame a big shunt to end up eleventh from his Sauber teammate, Pedro Diniz. Then came the Prosts of Trulli ahead of Panis and the surprisingly slow Williams duo, with a more settled Alex Zanardi edging out Ralf Schumacher for fifteenth. Ricardo Zonta and a poorly performing Mika Salo in the other Ferrari headed off the usual mob of Minardis and Arrows with Badoer leading Takagi, de la Rosa and Gene.

Hakkinen pulled away from the start, with Irvine fighting off a good-starting Fisichella, while Coulthard came into the clutches of Frentzen and Barrichello, who both dealt with him by the end of turn two. "I thought that my reaction to the lights had been quite good," David admitted later, "I was a bit surprised that I was passed."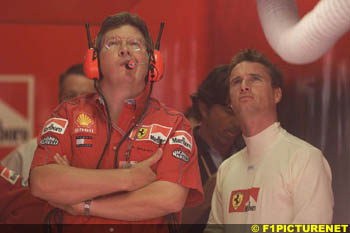 After an incident-free first lap, Mika had already built up a healthy margin over Eddie, who was drawing away from Fisichella, Frentzen, Coulthard, Hill and Wurz.
As is the nature of the Hungaroring and the modern F1 car, the race was a procession, awaiting the first stops before it developed any character. Mika was under instruction to push to open up the gap on the Ferrari, which was dropping back at the rate of half a second per lap in any event. Eddie continued to leave Fisichella in his wake, while Frentzen and Barrichello were under continuous pressure from the number two McLaren.
The second Ferrari, however, in a dice for twentieth position with an Arrows and a Minardi, was about to be lapped by Mika Salo's flying Finnish arch-rival in the leading McLaren. Way off his race-leading pace at Hockenheim a fortnight earlier, Salo wasn't a happy chap. "I am embarrassed by my performance and I feel I have let the team down," he later said.
But all wasn't going exactly to plan for the second-placed Ferrari either. Irvine was slipping too far behind too quickly, allowing the world champion to ease ever further away. "After just two or three laps my tyres went off badly and I was having problems with the front and rear of the car. I think we got a couple of things wrong," the Irishman admitted later.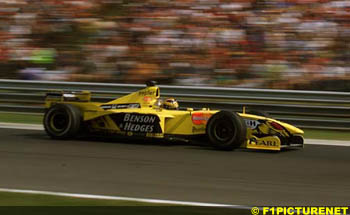 Two-stop strategies started materialising early, Villeneuve pitting first, shortly before Coulthard, who was looking for track advantage over the Jordan and Stewart that were clearly delaying the Scot's progress. Irvine pitted earlier than what many expected, but the Ferrari tactical machine wasn't on the boil as Eddie returned to the tack amid a difficult glut of traffic, which slowed his progress significantly.
McLaren, however, beat Ferrari at their own game for once, getting David Coulthard out of the pits in time to rejoin the action in a gap big enough to reel off enough fast laps to get ahead of Frentzen, when he rejoined after his stop. Barrichello, then second behind Hakkinen, who had already pitted, wasn't a problem for Coulthard; he was on a one-stop strategy and would duly drop back after his longer, single stop a few laps later.
Then Fisichella's Benetton expired, allowing Coulthard into third.
By the time the last of the one-stoppers had pitted (Mika Salo on a marathon 44-lap stint in an effort to pull off a miracle), Hakkinen led Irvine from a quickly closing Coulthard, Frentzen and Barrichello. Coulthard was soon right up behind the Ferrari, with the added factor of an approaching pitstop.
When that came about, the Ferrari and the McLaren came down the pit lane line astern. They stopped at almost the identical instant - after Eddie had to turn sharp around the assembled McLaren crew, and although the McLaren lollipops lifted just before the Ferrari's, Coulthard had to take the long way out - around the Ferrari men.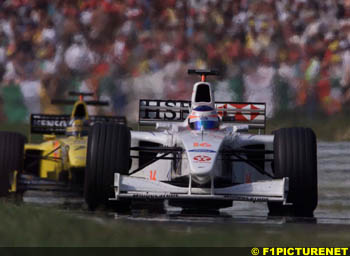 So Irvine led Coulthard out of the pits and for several laps, just ahead of the pressing number 2 McLaren, both once again about 30 seconds behind Hakkinen, who had also pitted by then. Eddie was visibly working hard in an evil-looking car, but still managed to open a small lead.
Just as he was looking as if he was comfortable, Eddie slipped up, losing the rear end and sliding onto the grass as he wrestled with the wheel to regain the circuit. "I didn't want David right up my gearbox in the final laps of the race, so I was pushing as hard as I could to open up a gap. I had a tyre problem causing the car to oversteer badly. That's why I lost the rear end and slid off," he later explained.
David seized the opportunity and was gone, reeling off a series of scintillating fastest laps in celebration of winning this battle against his favourite sparring partner, "I tried to put pressure on Eddie and I was glad to be able to take advantage of his mistake."
Mika eased up, cruising to a welcome and most deserved brilliant victory to end an unhappy midseason drought. Coulthard followed his teammate home from a subdued Irvine.
"The car was perfect and I had to tell myself to slow down and not push so hard and keep pulling further and further ahead," said Hakkinen after. "It's a great feeling to be back on the winners podium once again. With ten laps to go, I thought if anything is going to go wrong it is going to be now so I was almost holding my breath. But it was fine. The team found a great package for both David and myself and to win is a fantastic finish to the weekend."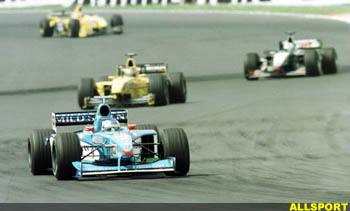 Coulthard was satisfied too, admitting, "I'm pleased to take second place today."
Despite his performance not meeting his own expectations, Irvine contributed to a cheerful podium and post-race routine. "I was surprised we were not more competitive," said the Irishman, " but it's the first time I have scored points here and I am still leading the Championship, so things could have been worse."
Frentzen ended fourth, in the points yet again. "I am very happy to score three more championship points - it's my eighth points finish of the season, so it's very consistent," said the German, while Barrichello took fifth: "I'm relieved to finally get back in the points." Last in the points, but not least, was the second Jordan of Damon - "will he or won't he" - Hill.

As Eddie said, he does, after all, still lead the championship, as does Ferrari, which has capitalised better on its misfortune so far in 1999. While McLaren's woes have more often than not cost them all ten points, Ferrari manages to continue to salvage some dignity with continuous points scoring finishes.
Irvine and Hakkinen, Ferrari and McLaren are all but tied in the title chase. Michael Schumacher is due back at Monza and Mika Salo reckons Spa is his favourite track, so Ferrari should have a full team performing for the remainder of the year. And we needn't even mention McLaren's incredible potential.
All that considered, it appears that 1999's best Formula One action hasn't even started yet.
Final Race Results

CLASSIFIED

Pos  Driver        Team               Time          
 1.  Hakkinen      McLaren Mercedes   1h 46:23.536  
 2.  Coulthard     McLaren Mercedes    +    09.706  
 3.  Irvine        Ferrari             +    27.228  
 4.  Frentzen      Jordan Mugen-Honda  +    31.815  
 5.  Barrichello   Stewart Ford        +    43.808  
 6.  Hill          Jordan Mugen-Honda  +    55.726  
 7.  Wurz          Benetton Playlife   +  1:01.000  
 8.  Trulli        Prost Peugeot       +     1 Lap  
 9.  R.Schumacher  Williams Supertec   +     1 Lap  
10.  Panis         Prost Peugeot       +     1 Lap  
11.  Herbert       Stewart Ford        +     1 Lap  
12.  Salo          Ferrari             +    2 Laps  
13.  Zonta         BAR Supertec        +    2 Laps  
14.  Badoer        Minardi Ford        +    2 Laps  
15.  de la Rosa    Arrows TWR          +    2 Laps  
16.  Alesi         Sauber Petronas     +    3 Laps *
17.  Gene          Minardi Ford        +    3 Laps  

* Retired due to fuel pick-up problems

Fastest Lap: David Coulthard, lap 69, 1:20.699 (177.236 kmph)
                                                                
NOT CLASSIFIED / RETIREMENTS                                    
                                                                
     Villeneuve    BAR Supertec         60     clutch                 
     Fisichella    Benetton Playlife    52     fuel pressure          
     Takagi        Arrows TWR           26     gearbox                
     Diniz         Sauber Petronas      19     spun out               
     Zanardi       Williams Supertec    10     electronic dif.


Top Ten Fastest Race Laps

Pos  Driver        Team                Lap  Time              
 1.  Coulthard     McLaren-Mercedes    69   1:20.699          
 2.  Hakkinen      McLaren-Mercedes    44   1:20.710   + 0.011
 3.  Alesi         Sauber-Petronas     45   1:20.830s  + 0.131
 4.  Frentzen      Jordan-Mugen Honda  71   1:20.991s  + 0.292
 5.  Irvine        Ferrari             62   1:21.010s  + 0.311
 6.  Hill          Jordan-Mugen Honda  31   1:21.180s  + 0.481
 7.  Zonta         BAR-Supertec        32   1:21.343s  + 0.644
 8.  Fisichella    Benetton-Playlife   51   1:21.469s  + 0.770
 9.  Wurz          Benetton-Playlife   71   1:21.539s  + 0.840
10.  Barrichello   Stewart-Ford        38   1:21.707s  + 1.008


Top Ten Pit Stop Times

Pos  Driver         Team                 Time   Lap 
 1.  Coulthard      McLaren-Mercedes     28.50  58  
 2.  Irvine         Ferrari              28.80  58  
 3.  Frentzen       Jordan-Mugen Honda   29.10  30  
 4.  Coulthard      McLaren-Mercedes     29.20  33  
 5.  Trulli         Prost-Peugeot        29.40  29  
 6.  Alesi          Sauber-Petronas      29.80  32  
 7.  R.Schumacher   Williams-Supertec    29.80  51  
 8.  Trulli         Prost-Peugeot        29.90  50  
 9.  Hakkinen       McLaren-Mercedes     30.00  31  
10.  Wurz           Benetton-Playlife    30.10  29  


The Hungarian Grand Prix, Lap by Lap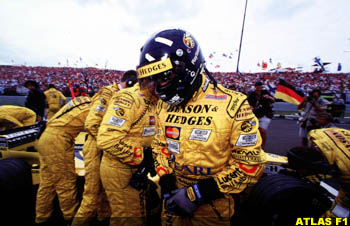 Start: The cars take up their positions on the grid under sunny skies, 24 degrees with a track temperature of 33 degrees. When the lights go out, Hakkinen makes a superb start from Irvine going into second but Coulthard doesn't get away well and slips back behind Fisichella and Frentzen
Lap 1: Hakkinen already has a 1.3s lead from Irvine who has the same margin back to Fisichella in third and then a small gap to Frentzen with Coulthard close behind him and then Hill before a small gap to Barrichello, and another small gap to Wurz then Diniz who has made a good start, Alesi, Trulli, Herbert and Villeneuve who has made a bad start
Lap 4: The first place change is for last place: Gene gets ahead of Takagi who has run wide but rejoins
Lap 6: Hakkinen is gradually easing away, now with a 4.1s lead back to Irvine in second, then there's another widening gap of 5.5s back to Fisichella in third, then 2.6s back to Frentzen being pushed by Coulthard. Hill is 2.8s further back from Barrichello close behind, then Wurz followed by Diniz who has teammate Alesi right with him.
Lap 9: Hakkinen's lead is now six seconds over Irvine while the gap from the Ferrari back to Fisichella is now 7.9s. The Frentzen/Coulthard battle continues over fourth place, while Hill is still in sixth place from Barrichello, then Wurz and then the Saubers. Further back, however, Zanardi goes off the circuit as he finds his car undriveable and is overtaken by teammate Schumacher, the Italian now 17th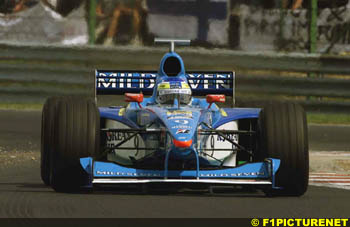 Lap 11: After a pit stop, Zanardi comes back in again but drives straight into the garage to retire with a broken differential for the fourth time this year
Lap 12: Hakkinen sets fastest lap and extends his lead to 7.5s. Meanwhile Irvine lead over Fisichella peaks at 9.0s
Lap 17: Hakkinen's lead over Irvine peaks briefly at 9.2s before coming down over the next couple of laps. The main battles are Coulthard hassling Frentzen for fourth, and further back, the Saubers, lead by Diniz, still battling over ninth place
Lap 19: The leaders are already in among the backmarkers while the gap between Frentzen and Coulthard is more than one second for the first time
Lap 20: Peter Sauber asks Diniz to let Alesi into ninth place but while Diniz is doing this, he loses concentration and spins
Lap 21: Irvine loses more than two seconds on this lap when he slows, apparently adjusting something in the car, so that Hakkinen is now more than 11s in front and the first battle is between Herbert and Villeneuve over eleventh
Lap 23: Irvine loses another two seconds so that Hakkinen's lead is 13s. Villeneuve pits in 8.6s on this lap
Lap 25: Takagi pits in 8.0s on this lap
Lap 27: Takagi retires with a broken driveshaft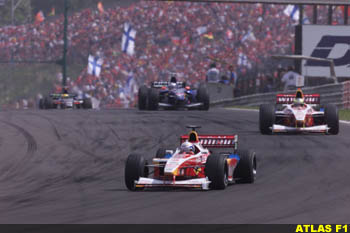 Lap 28: Now the two stoppers begin coming in, starting with Fisichella coming in for 8.8s from third place, while further back, Ralf Schumacher pits in 10s. De la Rosa also pits on this lap
Lap 29: Irvine comes in for 8.3s while Hill's stop is a little over 7.6s. Wurz comes in too as does Trulli and Zonta in 10.1s. Badoer also pits
Lap 30: Frentzen comes in for a 6.4s stop and comes out behind Fisichella
Lap 31: Hakkinen comes in for 7.4s
Lap 32: Alesi comes in for 7.8s while further back, Wurz goes off the track briefly but holds on to ninth place
Lap 33: Coulthard comes in for 7.3s but more importantly, when he comes out of the pits, he is in fourth place having overtaken both Fisichella and Frentzen. Zonta also pits on this lap as does Gene
Lap 34: Hakkinen now has a 20s lead over Irvine - it's risen seven seconds during the pit stop period with Barrichello, who has yet to stop, just 2.3s behind n third, then 3.7s back to Coulthard, and a small gap back to Fisichella pushed by Frentzen. Hill is next, 5.9s further back with a 12s gap to Alesi, then Wurz, Herbert, Panis ahead of Trulli and then Salo - yet to stop - and Villeneuve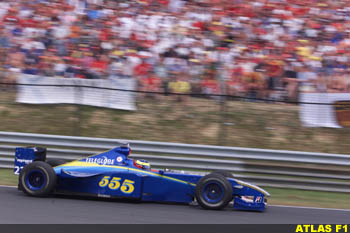 Lap 38: At half distance, Hakkinen's lead has shrunk to 17s over Irvine who has extended his lead over the non-stopping Barrichello to 3.4s with Coulthard still 2.1s further back. Then there's a widening gap to Fisichella who has pulled away from Frentzen and then Hill in seventh place. Alesi is getting closer but is still 9.0s further back while Wurz is next. Herbert is next but pits on this lap as does Panis who is next. When they rejoin, Panis is ahead of Herbert
Lap 40: Barrichello finally comes in for his one and only stop in 11.1s, rejoining in eighth place
Lap 41: Coulthard sets fastest lap of the race, as he continues to cut the gap to Irvine
Lap 44: Salo makes his single stop on this lap
Lap 45: Coulthard is close behind Irvine
Lap 46: Hakkinen has a 24s lead now from Irvine in second who is being shadowed by Coulthard. Then there's 9.1s back to Fisichella who has been caught by both Frentzen and team-mate Hill, followed by Alesi, then Barrichello, Wurz and then Trulli
Lap 48: Now the second stops for the two stoppers are beginning. Hill is the first to come in for 8.1s
Lap 49: He comes out right behind Barrichello and Wurz
Lap 50: Now Frentzen comes in for 8.0s while further back, Trulli comes in for 7.2s and Villeneuve for 9.5s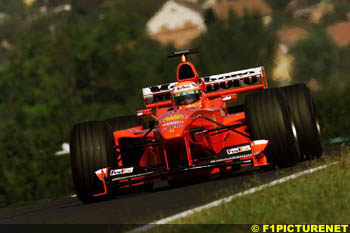 Lap 51: Wurz comes in for 8.3s and the driver who was right behind him, Hill, has a brief off and rejoins while Schumacher also pits as does Badoer
Lap 52: Fisichella comes in but there's a problem and he doesn't rejoin, due to loss of fuel pressure. De la Rosa pits on this lap
Lap 54: Hakkinen has his biggest lead over Irvine and Coulthard, up to 32s while Alesi pits from fourth place
Lap 55: Hakkinen pits from the lead in 7.4s
Lap 58: Both second placed Irvine and his shadow Coulthard pit from second and third. Irvine stops for 6.8s, and just gets going ahead of Coulthard so they stay second and third, 33s behind Hakkinen. Behind them come Frentzen, then Barrichello who is just a second ahead of Hill, then Alesi and Wurz. The rest, lead by Trulli, are lapped
Lap 60: Zonta comes in this time
Lap 61: Villeneuve pits and immediately parks the car with loss of clutch. He comes in so fast, as teammate Zonta is coming in as well that he gets an $8000 fine for speeding in the pit lane
Lap 63: After pressure from Coulthard, Hill runs wide and onto the grass, losing some six seconds which allows Coulthard up to second place, 29s behind teammate Hakkinen. Irvine rejoins in third place, but will only now fall behind the second McLaren. Frentzen is in fourth place, while Barrichello is fifth, pressured hard by sixth placed Hill. Alesi is next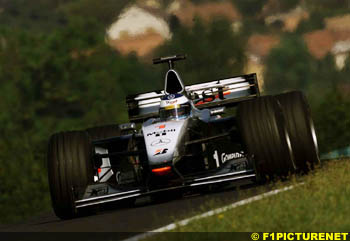 Lap 66: Alesi loses four seconds on this lap, he has fuel pressure problems
Lap 69: Alesi pits to serve a 10s penalty due to speeding in the pit lane
Lap 70: With seven laps to go, there are several battle. Hakkinen's lead is down to 20s as he has eased up. Barrichello is still being pushed by Hill, while behind Wurz and one lap down, Alesi is right up behind Trulli
Lap 72: Hill begins to drop away from Barrichello due to a problem with the air pressure in the engine. Alesi overtakes Trulli for eighth place
Lap 75: Alesi retires when the engine cuts out due to lack of fuel pressure
Lap 77: Hakkinen wins by just 9.7s from Coulthard