Ferrari team boss, Jean Todt, sits down for a Q&A session, after the surprising German Grand Prix 1-2 his team had scored. He has many kind words for Mika Salo, admiration for Mika Hakkinen and he misses Michael. As for Eddie Irvine... Eddie who?...
Q: Jean Todt, how did you feel about Sunday's result?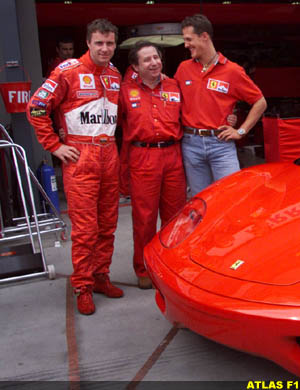 Jean Todt: Well of course, I am a very pleased. It's been a hard fight. When Michael had his accident at Silverstone, it was probably the worst time of the season. Fortunately, it's one leg broken, but the team has to face up to the situation. The race last week in Austria with Eddie was great, and the race today is even greater at various levels.
I'm very happy with Mika Salo because it has given him the opportunity to show that he's a good driver and a good man. The way he handled the situation was not easy but he did it with a very good spirit. I put great importance to human values and I must say that on that score he did very well. So he's a good driver and a good person and that's very important.
Q: Was there ever any discussion that he would be allowed to win the race?
Todt: No, he knew what was going to happen. We're not crazy. We know that at the moment Eddie has the best chance in the Drivers' championship. Mika may have set a better lap time in qualifying, and he made a better start, but then the situation arose that we had to ask him to let Eddie past.
Q: Did you come on the radio and ask him to move over?
Todt: When Eddie was closing the gap to him, we just informed him of the situation by radio.
Q: If Irvine hadn't got ahead of Frentzen at the pit stop, you would have had to let Salo go?
Todt: The team did a good pit stop, so there's no point in saying if... We have enough ifs, but the ifs today were in our favour, which is good.
Q: It must be hard to ask a guy to give up his first Grand Prix win?
Todt: No, not at all. Ferrari has to win - we are professional people. We have to be human, and at the end of the day we all work for Ferrari. This is a big battle for Ferrari; there are commercial interests, this is industry. We don't work for ourselves and each member of the team knows that and has to take that into consideration.
Q: Have you been surprised by the way both drivers have adopted new roles since Michael's accident?
Todt: I wouldn't have said that it's a new role, they've just adapted themselves to the situation. Mika has had a double new role: to act the perfect teammate and then to give his teammate the right opportunity.
Q: Do you think it's been difficult for Mika to come into a big team like Ferrari?
Todt: You know, I was quite impressed with the job he did in Fiorano, while I appreciate that it isn't a very representative circuit, but he did well and his attitude was good. Then I saw the job he did in qualifying in Austria, but then he couldn't avoid Herbert in the mess at the start. It was a shame because he could have done a good job and scored points.
This was his second race and he's done a perfect job. He was under pressure, he was always sensible when Coulthard was behind him, so everything he did was very good. The good thing is that he will drive in Formula One next year. Three weeks ago, he was just planning to get married. Now he's driving for Ferrari for a certain period and he will be driving Formula One next year; what more can you hope for?
Q: Are you suggesting that Ferrari will sign Salo for next season?
Todt: It is too soon to talk about our drivers' line up for next year, but whether Mika will drive for Ferrari or another team - he will be in F1 next year. He now has options.
Q: Were you impressed by his performance at Germany and his commitment on what is very quick circuit?
Todt: Yes, you need a lot of commitment, but I would say that it's not the most difficult driving circuit. You need a good engine, good brakes, a reliable car and on that I'm quite happy with what the team has delivered. And when you have all those things, you also need to have some good drivers, so everything was fine and it went well.
Q: After Silverstone, could you have imagined that things would have gone so well since?
Todt: No, but I thought we were unlucky after Monte Carlo, for four races in a row, very unlucky, so I believe in something, I don't know what, but I believe in something. If you work hard and everyone in the team gives as much as they can, you can't remain unlucky, so let's hope that it continues like this until the end of the championship. But McLaren might finish first and second at the next race, and we might only score one point, if any, which would put them in front again, so we must keep our feet on the ground.
Q: Do you feel that the circuits to come favour you or McLaren?
Todt: I prefer to say that McLaren are still the favourites - so you're not disappointed if they win!
Q: In which area do you feel that they still have a technical advantage?
Todt: They still have a package which is a bit quicker, but that pushes us to work hard and to improve the performance of our car, the engine, the aero package, everything.
Q: But you've made progress on the engine, you were quickest on the straight here at Hockenheim?
Todt: It's not only the engine, it's also the aero package. If you don't have a good aero package but you have a good engine, you don't have top speed, so the job we've done in the wind tunnel has meant that we've made a good step forward.
Q: Can you improve your qualifying performance?
Todt: We've tried, but it's not easy. They're very good in qualifying - Mika Hakkinen is particularly a very good driver. Again, we miss Michael on that.