Leaving the A1 Ring in the foothills of the Styrian Mountains of Southern Austria we circle the Alps to the current home of the German Grand Prix: Hockenheim. At 6.822 Km, Hockenheim is the second longest and the second fastest Grand Prix circuit, which was incidentally built as a test track for Mercedes-Benz. The Formula One fans who attend Hockenheim provide the most enthusiastic and vocal crowd outside Italy. All of the Grand Prix held at Hockenheim over the past six years have been held under dry, sunny conditions.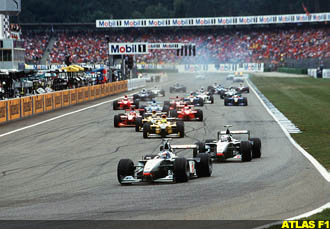 BAR's senior race engineer, Jock Clear, explains the challenges posed by the German track: "Hockenheim is a good combination circuit. The long straights, with their very high top speeds, that lead out of the woods are followed by the twisting stadium section where the cars scrabble for grip with their ultra-low downforce settings. The long straights and slow chicanes make for very heavy braking and also lead to good overtaking opportunities."
Clear went on to explain the "Hockenheim dilemma" facing the engineers: "From the chassis set-up standpoint, Hockenheim is an oddball circuit in that its long straights require very low drag/low downforce aero settings to capitalise on the high top speeds, but this leaves the cars short of grip for the stadium section, so there is a compromise to be struck. Another concern is that the heavy braking required, particularly before the chicanes, may cause 'fade' problems during the race."
Ferrari's Eddie Irvine gave a driver's perspective. "It's all about top speed and braking, so it's very hard on the cars and reliability usually plays an important role in the final result. The engines in particular take lot of punishment as they are on full power most of the time with violent braking at each of the chicanes. The track is also quite bumpy at a couple of the chicanes and that puts a lot of effort on the chassis. The track is not so difficult from a driving standpoint, but it's difficult to find a good compromise between straightline speed and enough grip through the infield section where you can lose a lot of time if the car is not balanced properly. However, if you are going to overtake at Hockenheim, you have to have good straightline speed to get up with the car ahead into the braking areas. It's always a tough race and if a team has a reliability problem, particularly on the engine side, it's Hockenheim which will show it up."
Stewart-Ford's Johnny Herbert added: "The Complex is very important. It comes at the end of the lap when the tyres are hot due to the high speeds that have been generated during the lap. Traction is crucial because you're not carrying much wing and you can't rely on aerodynamic grip to get you in and out of the slow corners quickly. A little mistake at The Complex can make a big difference to your lap time."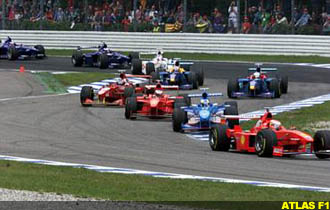 The three chicanes of Hockenheim do not lend themselves to elegant driving, especially during qualifying, when the cars are jarred as they bounce over the kerbs.
Pitstop and tyre strategies
Attrition is a bit unpredictable at Hockenheim. Sixteen cars finished in 1998, twelve were running in 1996, ten finished in 1997 and only eight cars finished in 1995 and 1994. In last year's race, most teams went for a one-stop strategy.
On tyre choice, Bridgestone will again offer the teams a choice of soft or medium compound tyres. "Hockenheim is unique because of the sustained high speeds which can be reached on the long straights," stated Yoshihiko Ichikawa, Technical Manager of Bridgestone Motorsport, "This does not present us with any concerns, although there is the possibility of some tyre degradation taking place in the tight infield section. Again, the teams will make the choice of tyre based on whatever they discover during practice."
The Teams
Ferrari still lead the manufacturers' title by two points from McLaren and continue to be the most reliable team of 1999. Ferrari scored a total of 35 points at Hockenheim in the 1990's but they haven't won at Hockenheim since Gerhard Berger's victory in 1994.
Eddie Irvine is now second in the World Championship. Irvine's victory at the A1 ring showed that he has the potential to lead a Formula One team. His Austrian victory was a first step in silencing his critics, but Irvine has yet to score a point at Hockenheim - his best finish being eighth last year. "At last week's Monza test we made a big step forward in terms of running on high speed tracks, so know I am confident for Hockenheim," said Irvine. "So far we have had excellent reliability this season, so my goal in Hockenheim is to get to the end with another finish in the points. If it turns out to be another win that would be perfect. The gap between us and the McLarens is not so big, so it wouldn't be impossible."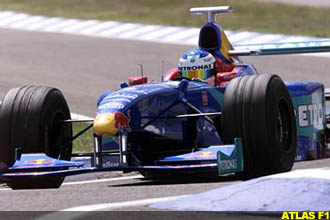 Mika Salo has yet to score a point at Hockenheim. His best finish was ninth in 1996 for Tyrrell. Finally behind the wheel of a competitive car, he could "break his duck" on Sunday. A philosophical Salo stated: "I learned a lot in Austria which should make things a lot better when we get to Hockenheim, a track that should also be a bit less critical when it comes to setting up the car. I know I have to score points for Ferrari in Germany and I think that should be possible."
McLaren have been consistently successful at Hockenheim in the 1990's, winning in 1990 and 1998 and scoring a total of 49 points. Their aerodynamic advantage is very important at this circuit. Team owner, Ron Dennis, stated: "The German Grand Prix is home to many of our partners and we will be focused on achieving the right result in what is always a very significant race for the team."
The World Championship leader, Mika Hakkinen has had his greatest highs and lows at Hockenheim. Hakkinen won last year's race from pole position but was, somewhat harshly, given a one-race ban following a multi-car first-lap accident in the 1994 race that started with a collision with David Coulthard's Williams. Hakkinen's only other points finish was a third in 1997. In last year's race he nursed a sick McLaren MP4/13 home that was leaking fluids profusely.
"It's quite unusual racing at Hockenheim as we spend most of the lap 'hiding' in the trees, before reappearing in front of the big grandstands which surround the Stadium section," says Hakkinen. "It's a fabulous circuit, very challenging, and the crowds always create an amazing atmosphere. I'm looking forward to it."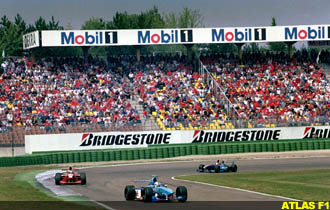 David Coulthard has consolidated his fifth position in the 1999 World Championship after the Austrian Grand Prix. Several drivers, including Stewart's Johnny Herbert, have said that Coulthard needed "To toughen up or forget about winning the World Championship." Herbert then expanded: "He has got to be stronger and assert himself from the first race and show everyone he means business." By forcing the issue at the A1 Ring and unfortunately punting Mika Hakkinen off, Coulthard made a statement that he was no longer willing to follow in Hakkinen's wheel-tracks. However, the outcome of his muscle-up may well have backfired.
During the winter Coulthard stated, "I have invested in Mika and I have invested in the team beyond what would be a normal contractual situation." Given the lop-sidedness of his professional relationship with Hakkinen, it was inevitable that an incident like this would happen. It is unlikely to be repeated in front of Mercedes-Benz senior management on Sunday. None the less, Coulthard has been a fairly consistent points scorer at Hockenheim, finishing second in 1998 and fifth in 1996 for McLaren and second in 1995 for Williams. Coulthard set the fastest lap in 1998 and 1994.
Coulthard's thoughts on Hockenheim: "This is one of the few circuits which allow us to race at speeds in excess of 200mph (320 kmph) and should be ideal for our powerful Mercedes-Benz engine."
Jordan are now a distant third in the manufacturers' championship. Jordan have scored ten points at Hockenheim, finishing fourth in 1998, fifth in 1991 and 1997 and sixth in 1991, 1996 and 1998. Once again, their reliability may prove to be crucial in Sunday's race. They cannot afford to have a repeat of the brake-disc failure that caused Heinz-Harald Frentzen's crash at Montreal.
Monchengladbach's Heinz-Harald Frentzen remains in fourth position in the World Championship after the Austrian Grand Prix. Frentzen has yet to score a point in his home Grand Prix, his best finish being eighth in 1996 for Sauber.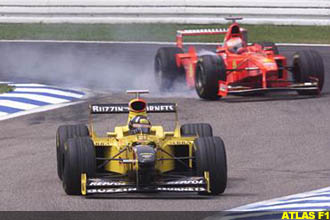 Damon Hill won the German Grand Prix in 1996 for Williams and finished fourth last year for Jordan. Hill was leading the 1993 race until a rear tyre exploded with two laps to go. Hill set pole position in 1995 and 1996 and also set fastest lap in 1996.
Williams is still fourth in the manufacturers' championship despite the set-backs of the Austrian Grand Prix. Williams have been the most successful team at Hockenheim in the 1990's, winning the German Grand Prix in 1991, 1992, 1993 and 1996, scoring a total of 63 points.
Huerth's Ralf Schumacher is still sixth in the World Championship. Ralf finished sixth in 1998 and fifth in 1997 at Hockenheim for Jordan. Ralf stated: "Hockenheim is one of my three home races beside Monaco and the Nurburgring and I have always enjoyed racing there. On no other circuit in the world do you feel the atmosphere from the spectators so strongly as you do in the infield of the Hockenheim track. Quite often it's hard work to find a reasonable set up because you need a lot of mechanical grip in the slow infield and as little downforce as possible on the long straights. You can also improve your time by using the kerbs. To really enjoy the long straights you need a powerful engine, otherwise it's boring and annoying when you are being overtaken by the faster cars at the end of the straights."
Alex Zanardi's CART experience on high-speed oval circuits should help him on Sunday. This will be Zanardi's fourth German Grand Prix. In his last outing at Hockenheim in 1994, Zanardi was eliminated on the first lap. To add insult to injury, he was given a one-race ban for not reporting to the race stewards before leaving the circuit! Zanardi bears no hard feelings, though: "Hockenheim is a circuit that I like. It has a great motordrome for the fans. It's a good track for overtaking but, at the moment, we are not very fast on the straights so it shouldn't be our best race but we'll try very hard anyway."
Benetton is still fifth in the manufacturers' championship. Benetton has been quite successful at Hockenheim in the 1990's, winning the German Grand Prix in 1995 and 1997 and scoring a total of 51 points. Giancarlo Fisichella is still seventh in the driver's championship. Fisichella has yet to score a point at Hockenheim, his best finish being seventh in last year's race. Alexander Wurz is now tenth equal in the driver's championship. Wurz has yet to score a point at Hockenheim, finishing eleventh last year in his first German Grand Prix.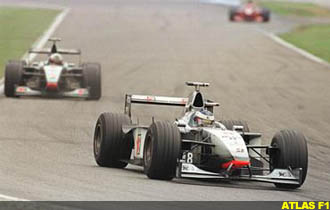 Stewart is still sixth in the championship. Team Founder, Jackie Stewart, did not finish in his only Formula One Grand Prix at Hockenheim in 1970. Likewise, the Stewart team has yet to finish in the German Grand Prix. Although the new Series 3 Ford V10 engine was clearly competitive in Austria, the team is still struggling for reliability.
Martin Whitaker, Director, Ford Racing, Europe announced, "The Series 3 version of the Ford Cosworth V10 CR-1 engine made its debut at last weekend's Austrian Grand Prix and, depending on the outcome of tests on the dyno at Cosworth Racing's Northampton base, we are already looking to introduce the Series 4 for Rubens and Johnny to use in qualifying at the German Grand Prix. With the long straights and the often high ambient temperatures Hockenheim puts a lot of strain on Formula One engines. The Series 4 engine runs to an even higher rev limit and underlines Ford's continuing desire to push the development of its new engine as fast as possible."
Rubens Barrichello is still eighth in the World Championship. Barrichello finish sixth in 1996 for Jordan. Barrichello echoes Whitaker's comments, saying, "Our rate of development has been very good this year. We have improved a different aspect of the car and engine package at every single race. I know we are not far away from the day when everything comes together."
Johnny Herbert is now eleventh equal in the championship. Herbert finished fourth for Benetton in 1995. Herbert's thoughts on Hockenheim: "The G-force loads are not that severe because we are running low downforce even though Senna Kurve for instance is about 3.4g. I find it more mentally demanding. Concentration is crucial because you are travelling in a straight line at full throttle for long periods. You have to guard against your mind wandering off. I always try to visualise the chicanes at the end of the long straights to keep my concentration level up."
Sauber is now seventh in the Manufacturers' championship. Sauber may finally get the chance to cash in on the potential of the Petronas engine at Hockenheim. Sauber previously finished fifth in 1995. Jean Alesi has been a regular points scorer at Hockenheim, finishing second in 1996 and sixth in 1997 for Benetton and third in 1991 and fifth in 1992 for Ferrari. Pedro Diniz is still tenth equal in the championship and has yet to score a point at Hockenheim.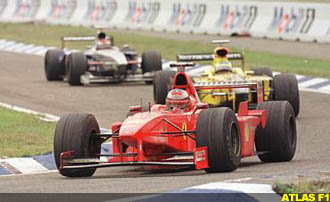 Prost has slipped to eighth in the Manufacturers' championship. Team owner Alain Prost won twice at Hockenheim and his team finished fourth in 1997. Unfortunately the 1999 Prost AP02's, with their fast Peugeot engines, could be mobile chicanes on Sunday. Olivier Panis finished a remarkable second in 1994 for Ligier, in his debut German Grand Prix, but hasn't scored a point at Hockenheim since then. Jarno Trulli had the best finish of his career in 1997 when he finished fourth. Trulli finished twelfth in last year's race.
BAR's unreliability continues to let them down - no points and 16 DNFs. Team Manager, Robert Synge, stated that, "A combination of reliability issues and really bad luck means we just haven't achieved the results we should have up to now. I'm sure it is only going to take one race where we gain points to unlock the situation. Once we've got points, we'll score more and then wonder what the problem was."
Jacques Villeneuve finished third in 1996 and 1998 for Williams. Jock Clear made this enigmatic statement about Villeneuve: "He struggled at Hockenheim the first two years, but last year we found the secret to fast times around the place. He is definitely looking forward to the race."
Ricardo Zonta has competed successfully at Hockenheim in other formulae over the past three years. Zonta won the 1997 Formula 3000 event and finished second in the 1998 FIA GT1 race for Mercedes-Benz. "I think Hockenheim is a fascinating circuit, mainly because of the remarkable contrast between the forest and the stadium," says the Brazilian. "It is a place where I have always been able to run consistently, so I really love to be there. I hope I can get a good result this year, too."
Arrows, racing as the Footwork-Ford team, finished fourth and fifth in the 1994 German Grand Prix. In last year's race, Tora Takagi finished 13th for Tyrrell ahead of Mika Salo's Arrows. A finish in the points for either Pedro de la Rosa or Tora Takagi with the underpowered Arrows-Hart A20 is unlikely on Sunday.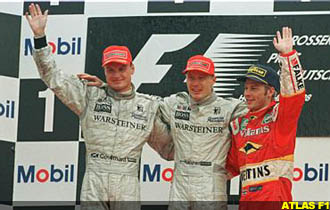 Minardi have a poor record at Hockenheim. They will be hoping for both Marc Gene and Luca Badoer to finish on Sunday. Luca Badoer did not finish in his last outing for Minardi in 1995.
My Predictions:
Assuming it is going to be dry, I'm going to pick McLaren, Ferrari and Jordan as the top three teams for qualifying with Stewart and Williams making up the top five.
Starting grid:
Mika Hakkinen
David Coulthard
Eddie Irvine
Heinz-Harald Frentzen
Mika Salo
Rubens Barrichello
Damon Hill
Johnny Herbert
Ralf Schumacher
Jean Alesi
Jacques Villeneuve
Pedro Diniz
Sunday's race could be very exciting or it could be a procession. Speed and reliability will be everything. It will be interesting to see who comes out of the forest first on lap 45 - it may be a surprise.

The 1999 German Grand Prix Preview in a Nutshell:

Hockenheim is Mercedes' home track. McLaren-Mercedes will want another "Corporate Victory" of pole position, fastest lap and a one-two finish. McLaren should have the advantage on Sunday but their reliability is still a concern. Mika Hakkinen and David Coulthard are again closely matched at this circuit.

Ferrari is alive and kicking without Michael Schumacher. Can Eddie Irvine and Mika Salo score the first Ferrari victory at Hockenheim since 1994?

Who will be the leading German driver - Heinz-Harald Frentzen or Ralf Schumacher?

Always in the points at Hockenheim in the 1990's: Ferrari and Ralf Schumacher.

Dark Horses: The Saubers of Jean Alesi and Pedro Diniz.