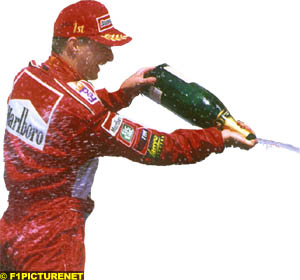 The German Grand Prix will be seen as a significant part of the 1999 Formula One World Championship when we look back at the end of the year.

Not only has it evened out McLaren and Ferrari's luck - both teams lost two races they should have won, and won two races where they were expected to lose - but it has established Eddie Irvine as a definite candidate for the World Championship, despite much insistence that he can't be.

McLaren are currently on the losing end of 1999's seesaw championship, Mika Hakkinen did nothing wrong at Hockenheim, but still left there with nothing. David Coulthard continued his trail of sorry stories, losing his wing against Mika Salo's rear end this time and incurring a 10-second stop-go for shortcutting a chicane while passing Olivier Panis. He couldn't muster more than two points despite proving beyond doubt that he had a car that should have done no less than win.

But the sensation in Hockenheim was Mika Salo, the man who took the winner's trophy home after Eddie Irvine gave it to him in recognition of handing Ferrari's new number one victory. "Mika was the star today and he won the race. He is 'Boy Wonder!' I will give him my trophy," said the new championship leader. Mika has long been in the shadow of his namesake neighbour – and he'll ensure that Ferrari have two top-flight drivers in 2000, whomever they are.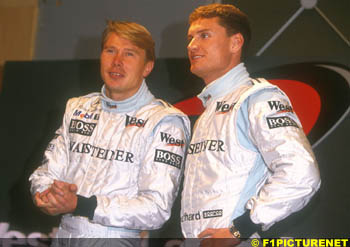 Mika Hakkinen claimed pole at Hockenheim on Saturday afternoon, his seventeenth and McLaren's hundredth, but he was forced to fight for it when Heinz-Harald Frentzen snatched his provisional slot midway through qualifying.
Mika ended five-hundredths of a second ahead of Frentzen, siting traffic and a dirty track as hindrances. "It was a good qualifying session and I enjoyed it," he said. "I'm on pole and that's the important thing."
Eddie Irvine had reason for concern after his traffic woes, his final quick lap ruined and costing him dear. Eddie was satisfied though; "At least it's better to be fifth than fourth, as the outside of the track is a big advantage here. Tomorrow, if I make a good start I can catch the front two very quickly and the rest will depend on strategy."
David Coulthard qualified third from Mika Salo in an excellent fourth. "I'm not surprised as I'm more comfortable with the car now. I hope to do better tomorrow."
Rubens Barrichello, Panis, Damon Hill, Jarno Trulli and Giancarlo Fisichella completed the top ten.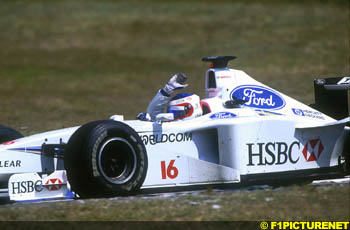 While Hakkinen was on pole, not only did he have to work for it this time, but the Big Macs never topped the timesheets every session as usual, Irvine, Panis and Hill each taking chances in heading the various practice sessions. Eddie Irvine didn't get the start he'd wanted, when the race started following a satellite message from Michael Schumacher on the big TV. Michael hadn't wished either Ferrari drivers luck in his interview, but Eddie got caught up behind Frentzen, who concurred, "I didn't make the best getaway." He was also jumped by Barrichello a lap later.
Both Mikas got away well, Hakkinen leading Salo out into the forest for the first time, with Coulthard harrying the Ferrari, from Frentzen, Barrichello and Irvine. Villeneuve was nerved into Badoer, both exiting into the first curve tyre wall.
The race quickly settled into a groove, with Hakkinen ahead of Salo, who was enjoying the full attention of Coulthard. Barrichello was an early retirement, his promising form coming to nothing with his new series Ford mill suffered an early end.
Meanwhile, Salo was doing well to fend off Coulthard, Hakkinen was maintaining a smallish lead and Frentzen and Irvine were holding station behind, albeit dropping off slightly. Ralf Schumacher was having another fine but lonely race behind them, defining it as :"I had a clear race." Behind Ralf, Panis, Herbert and Wurz were becoming involved in what was going to become race-long duel.
Eddie Irvine's lack of pace was noticeable, but the Irishman was pacing himself. "At the start, I got boxed in and was sixth after one lap. I also had a problem with my oil temperature, so I was changing gear early to use less revs and moving out of the slipstream to keep the engine cool. I decided to look after my tyres and push hard before the pit stop."
Then David Coulthard confirmed his reputation as a backsmasher, coming into contact with Salo, but losing out himself this time with his front wing breaking against the Ferrari. "I did not feel it when Coulthard hit me, but I was glad he was gone, as then I could concentrate on catching another Mika," Salo said afterward. Coulthard commented, "I had no intention of overtaking Salo at the point we collided, but he braked quite early and I went to the inside to avoid hitting him."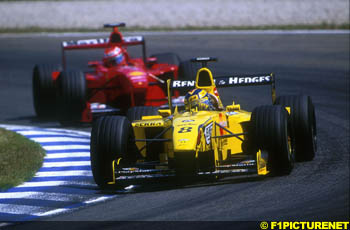 That left Hakkinen in Salo's sight, from Frentzen, Irvine, Schumacher, the Panis/Wurz/Herbert mob and Coulthard.
Frentzen pitted early. "We made an earlier stop than planned, to change tyres," as did the Ferraris, with Hakkinen waiting a few laps to come in. In the process, Irvine got ahead of Frentzen.
Coulthard was into the sixth place duel, but cut the chicane while passing Panis, which was to earn him a stop-go penalty for his effort. "I was trying to overtake Panis and wanted to avoid another incident so I cut across the inside of the chicane. I was surprised to receive a stop and go penalty," Coulthard commented later.
But when Hakkinen came in for his scheduled stop, the wheels started to come off for the number one McLaren as well. Mika's refuelling crew switched the hose they were first using after it jammed, wasting a good deal of time as Mika stood for well over twenty seconds.
He rejoined in fourth, behind the Ferraris and the Jordan, to the tumultuous applause of the huge German crowd. That's something that must concern Mercedes-Benz, as besides Michael Schumacher sitting leg-up several hundred miles south, the only German aspect of the situation was Frentzen, and the crowd certainly wasn't cheering for third...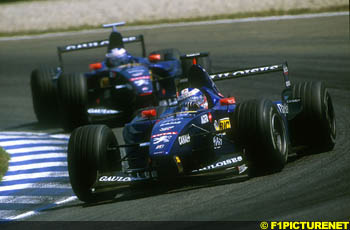 Ferrari were in front, and Hakkinen had to pass Irvine to win, no easy task, a fact echoed by Eddie after the race: "Once I had passed Mika [Salo] I knew I was safe."
But Hakkinen soon used the McLaren Mercedes to full effect, forcing his way past Frentzen again, but after a few attempts this time, before setting off after the Ferraris.
He never came near them; his right-rear tyre exploding as he approached the stadium in full flight. The McLaren spun 360 degrees, before skipping across the kitty litter and into the tyre wall in a crash that was eerie in its similarity to Michael Schumacher's three weeks prior. But Hockenheim's tyre wall was better prepared - allowing Hakkinen to hop out and inspect the damage once the car was craned to safety. "Of course I am very disappointed not to finish this Grand Prix but that's motor racing," admitted the champ.
The crowd erupted, wildly waving their mass of Ferrari flags as the Scuderia's charges drove by with only a yellow Jordan in their wake, Eddie leading Mika after the Finn let his teammate past a lap or two earlier. Was this Germany?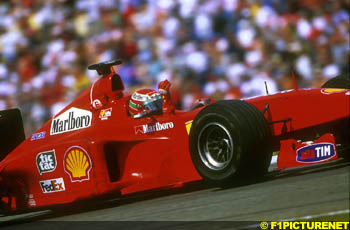 By this stage, Coulthard had served his penalty and charged past the Wurz/Panis/Herbert affair for a second time. He was closing in on Ralf, but he had to pit again for his scheduled stop and re-pass that busy trio again. Herbert's Ford lasted just long enough for the McLaren to fight for that position before expiring, and David passed Alex and Olivier for the third time in one afternoon. A string of fastest laps of the race signalled a vein effort by Coulthard to haul in the fourth placed Williams.
The only other late-race action was a determined effort by Frentzen to catch the Ferraris, closing the top three down to within a second of each other. "I let Eddie pass after the pit stop, but then I asked the team to tell him to speed up a bit as I had Frentzen right behind me," Mika Salo said later.
Ferrari's one-two and Eddie Irvine's second victory on a trot was a most popular victory in Germany. Tactics, in the end, did not come into play, as the Ferrari duo were handed another victory on a plate.
"It has taken me half the season to lead the championship again, but I'm not thinking about winning it because I am a realist," Eddie said after the race, while his teammate was ecstatic: "I am very happy with the best result of my F1 career. When I saw 'P1' on my pit board, I couldn't believe it. My car ran perfectly all day and I had no problems."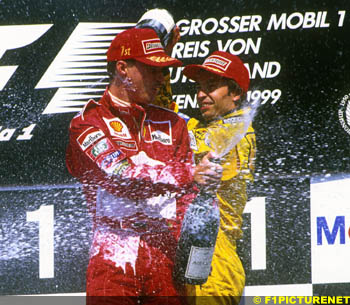 While the Italian team suffered a single, significant blow to their title aspirations in England, they quickly regrouped and have come back and taken the advantage. McLaren, on the other hand, despite continued reassurances from senior management, continue to throw golden opportunities by the wayside. While not exactly reliability related, those driver, team and component failures could prove decisive after Suzuka at the end of the year.
But for his team, teammate, wheelbearing and tyres in the last three races, Mika Hakkinen would be edging towards his second title right now. Instead he has to fight back against a man who's gaining momentum at every turn, as Eddie Irvine starts to see that blurred dream of a world championship becoming an ever-clearer vision.
Final Race Results

CLASSIFIED

 1.  Irvine        Ferrari             1h 21:58.594
 2.  Salo          Ferrari             + 0:01.007  
 3.  Frentzen      Jordan Mugen-Honda  + 0:05.195  
 4.  R.Schumacher  Williams Supertec   + 0:12.809  
 5.  Coulthard     McLaren Mercedes    + 0:16.823  
 6.  Panis         Prost Peugeot       + 0:29.873  
 7.  Wurz          Benetton Playlife   + 0:33.300  
 8.  Alesi         Sauber Petronas     + 1:11.200  
 9.  Gene          Minardi Ford        + 1 Lap     
10.  Badoer        Minardi Ford        + 1 Lap     
11.  Herbert       Stewart Ford        + 5 Laps   *

* Retired on lap 41, due to gearbox failure        

Fastest Lap: David Coulthard, 1:45.270 (233.331 kmph), Lap 43
                                                                
NOT CLASSIFIED / RETIREMENTS                                    
                                                                
     de la Rosa    Arrows TWR          37  crash                
     Hakkinen      McLaren Mercedes    25  tyre failure         
     Zanardi       Williams Supertec   21  differential         
     Zonta         BAR Supertec        20  engine               
     Takagi        Arrows TWR          15  engine               
     Hill          Jordan Mugen-Honda  13  retired              
     Trulli        Prost Peugeot       10  engine               
     Fisichella    Benetton Playlife    7  suspension damage    
     Barrichello   Stewart Ford         6  differential seal    
     Diniz         Sauber Petronas      0  crash with Villeneuve
     Villeneuve    BAR Supertec         0  crash with Diniz     


Top Ten Fastest Race Laps

Pos  Driver        Team               Lap  Time              
 1.  Coulthard     McLaren Mercedes    43  1:45.270         
 2.  Panis         Prost Peugeot       20  1:46.823  + 1.553
 3.  Hakkinen      McLaren Mercedes     6  1:47.433  + 2.163
 4.  Frentzen      Jordan Mugen-Honda  17  1:47.619  + 2.349
 5.  Irvine        Ferrari             17  1:47.687  + 2.417
 6.  Fisichella    Benetton Playlife    5  1:47.785  + 2.515
 7.  Barrichello   Stewart Ford         5  1:47.788  + 2.518
 8.  Salo          Ferrari              4  1:47.945  + 2.675
 9.  R.Schumacher  Williams Supertec   29  1:48.083  + 2.813
10.  Alesi         Sauber Petronas      4  1:48.334  + 3.064


Top Ten Pit Stop Times

Pos  Driver         Team                 Time   Lap
 1.  Coulthard      McLaren Mercedes     25.10  39 
 2.  Alesi          Sauber Petronas      25.70  16 
 3.  Panis          Prost Peugeot        26.00  18 
 4.  Panis          Prost Peugeot        26.50  30 
 5.  Alesi          Sauber Petronas      26.60  28 
 6.  Wurz           Benetton Playlife    27.10  23 
 7.  Irvine         Ferrari              27.30  22 
 8.  R.Schumacher   Williams Supertec    27.70  24 
 9.  Salo           Ferrari              28.00  23 
10.  Coulthard      McLaren Mercedes     28.00  26 


The German Grand Prix, Lap by Lap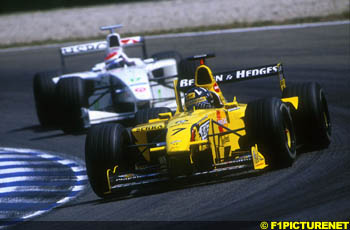 It's sunny with a temperature of 28 degrees and a track temperature of 39 as the cars form up on the grid, with the usual mixture of celebrities, including Boris Becker. There are no dramas as the cars take up their places for the start.
Start: While Hakkinen makes a good start, Salo makes an even better one and comes streaking through from fourth on the grid to follow Hakkinen through in second place with Coulthard in fourth and then Frentzen. Further back, Villeneuve is hit from behind by another car and slides into Diniz and the two crash out of the race at the first corner.
Lap 1: Hakkinen leads by a second from Salo in second place, with Coulthard in third, then Frentzen, Barrichello, Irvine and Ralf Schumacher before a 1.9s gap to Wurz, Fisichella, then Hill, Trulli, Herbert, Panis and Zanardi. Alesi pits after hitting the back of Panis' car and damaging the nose section.
Lap 3: Hakkinen now has a 1.5s lead from Salo in second place closely pushed by Coulthard and then a second gap to Barrichello who has overtaken Frentzen and then Irvine and Schumacher before a 3.8s gap to Wurz who has Hill, Trulli, Herbert and Panis close behind. Missing from this group is Fisichella who had been ninth but goes off at Mobil 1 and changes the nose section.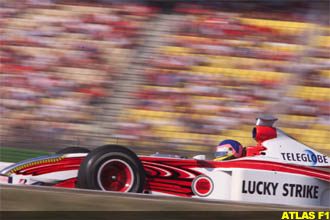 Lap 4: The field is now more settled: Hakkinen 1.6s in the lead from Salo being pushed hard by Coulthard, who tries to overtake on this lap, watched by Barrichello close behind with Frentzen, Irvine and Ralf Schumacher not far behind. Then there's 4.4s back to the battle behind Wurz with Hill, then Trulli, Herbert and Panis and then another gap to Zanardi leading Zonta.
Lap 5: Ralf Schumacher drops back from the gap in front of him, and a moment from Hill means that Wurz has a little bit more of a lead
Lap 6: Hakkinen's lead is 2.5s while Barrichello disappears from fourth place with hydraulic failure
Lap 8: Hakkinen's lead is now 3.3s as Salo continues to be pushed by Coulthard with a similar gap back to Frentzen tailed by Irvine and then Schumacher dropping away. Wurz is still next seven, having eased away slightly from Hill who was overtaken by Herbert at Mobil 1 corner only to go wide at the next corner and let Hill back up to eighth again, Panis also overtaking team-mate Trulli on this lap. Fisichella retires on this lap with broken front suspension, probably as a result of his earlier excursion.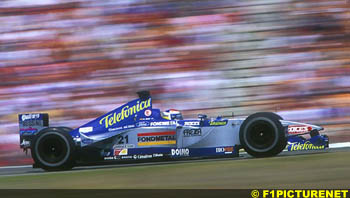 Lap 9: Zonta overtakes Zanardi who has transmission trouble, for 12th place
Lap 10: Coulthard's nose section is damaged when he just touches the rear end of Salo's car at the Ost Kurve, the McLaren driver having to head for the pits for a 14.8s stop to replace the nose and rejoining in tenth place. Coulthard says that he was surprised by Salo braking early.
Lap 11: The lack of pressure from Coulthard allows Salo to cut Hakkinen's lead slightly to 5.4s while he now has a 3.6s lead back to Frentzen still being followed by Irvine. Ralf Schumacher is fifth, 6.6s behind, with a 10s gap back to Wurz, Hill and Panis after Trulli retires with engine failure
Lap 13: Hill goes off at the Ost Kurve and drops back but then heads straight into the pits and into the garage to retire, saying that the brakes were inconsistent, much to the team's frustration.
Lap 14: Hakkinen's lead is down to 4.8s over Salo with a similar gap back to Frentzen and Irvine, then 7.1s back to Schumacher, 12s to Wurz who is now 1.4s ahead of Herbert who has Panis and Coulthard right behind him. Zonta is next.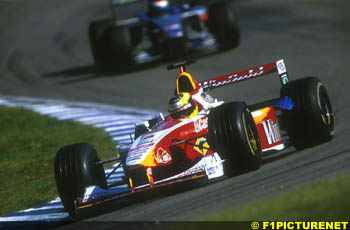 Lap 15: The Wurz, Herbert, Panis and Coulthard battle has reformed. Behind them, Zonta pits with a front end vibration and the team changes the front wing in 23.2s.
Lap 16: Coulthard takes to the grass at the Ost Kurve as he moves ahead of Panis - he will later be penalised for cutting the corner. Alesi pits in 7.7s on this lap. Takagi retires with a smoky engine failure
Lap 18: Panis pits for 6.8s
Lap 19: Wurz goes wide through the first corner and is overtaken by Herbert who moves up to sixth place
Lap 20: Coulthard overtakes Wurz on the run down to the first chicane and moves up to seventh place. Gene pits on this lap
Lap 21: Irvine tries to overtake Coulthard into the Sachs Curve, but he doesn't need to as Frentzen pits on this lap in 10.5s. De la Rosa pits and Zanardi comes in to retire with a failure that affected the drag, the differential and power. Zonta retires out on the circuit with engine failure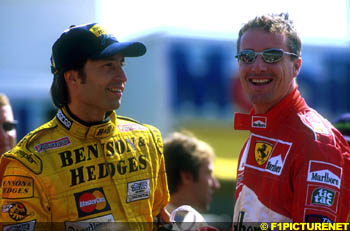 Lap 22: Irvine pits on this lap in 9.4s and emerges ahead of Frentzen. Badoer pits as well.
Lap 23: Salo pits in 10.0s and Herbert comes in for 11.3s. Wurz also pits
Lap 24: Hakkinen pits but there's a problem with the fuel nozzle which won't engage and it takes 15s longer than it should at 24.3s. Schumacher also pits on this lap
Lap 25: Salo leads by 1.3s from Irvine with a 4.1s gap back to Frentzen now with Hakkinen close behind. Then there's 3.8s back to Coulthard, 7.5s to Schumacher, then 5.5s to Panis and 11s to Herbert followed by Wurz and then Alesi and Gene
Lap 26: Drama lap. Salo, under orders from Ferrari, pulls over and lets Irvine into the lead. At McLaren. Having just overtaken Frentzen at the Ost Kurve, and coming into the braking area for Mobil 1, Hakkinen's left rear tyre delaminates which pitches the car into a spin, and in turn, damages the rear wing. The car thumps into the tyre barrier, but fortunately Hakkinen is unhurt and climbs out. Coulthard, meanwhile, pits on this lap
Lap 28: The order is finally settled: Irvine leads Salo by 1.5s and then there is a 3.9s gap back to Frentzen in third followed 9.7s behind by Schumacher, then Panis in fifth place 8.3s ahead of Coulthard. Herbert is next from Wurz, while Alesi pits for 8.5s on this lap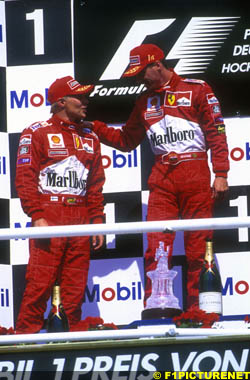 Lap 30: Panis pits from fifth in 7.2s, rejoining behind Wurz in eighth
Lap 35: Irvine's lead is fluctuating between 1.2s and 2.0s as Salo catches him, because Frentzen is threatening behind in third place, just around three seconds behind. Ralf Schumacher is just under eight seconds back in fourth from Coulthard who is gaining rapidly. Herbert is next and being caught by Panis who overtakes Wurz at the first chicane on this lap
Lap 36: Panis quickly catches Herbert and is right behind him
Lap 38: De la Rosa spins out of the race and into the tyre barrier at the first corner
Lap 39: Coulthard has cut the gap between himself and Ralf Schumacher to 4.8s, but then he pits on this lap for a splash and dash in 7.5s.
Lap 40: He rejoins beside Wurz and the pair go down into the first chicane side by side, through that, and down towards the Ost Kurve, where the McLaren finally edges ahead and into seventh place but he's right behind the Herbert and Panis battle
Lap 41: Salo is right behind Irvine, while Frentzen is just 2.7s further back. Herbert retires with an overheating gearbox and Coulthard overtakes Panis, so finds himself fifth. He is 20s behind Ralf Schumacher.
Lap 43: Irvine still leads Salo by around a second while the gap back to Frentzen has stabilised at 3s. Coulthard sets fastest lap, reeling in Schumacher at around four seconds a lap
Lap 45: Coulthard is only four seconds behind Schumacher at the end as Irvine leads home Salo in a historical one-two.