This week's Grapevine brings you
information fresh from the paddock on:

Ecclestone Talks Television
Safety Changes
Silly Season Update
Picked from the Bunch
Germany Tidbits
Ecclestone Talks Television
Bernie Ecclestone took time out at Hockenheim, scene of his fiftieth digital broadcast, to address his plans for television coverage of Formula One.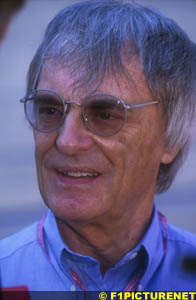 He expressed his views that current free-to-air coverage is a permanent thing – which makes sound economical sense, as the teams' sponsors are interested in being seen by the widest possible audience, not making Ecclestone richer via pay-per-view.
On the subject of getting richer, he intimated that none of the digital broadcasters have turned a profit so far, putting the losses down to poor marketing strategy and packaging by the companies involved. Of course, although he takes a flat fee, meaning their losses are not doing him any harm, for the venture to sell widely it has to work for the broadcasters too. His next deal could sort that little problem out altogether...
Ecclestone revealed he is talking to British broadcasters Sky and On Digital. He believes that Sky in particular are likely to put together a really good package deal, probably mixing the Formula One coverage in with the pay-to-view Football, so viewers looking to catch the Coca-Cola Cup might pay a fraction more in 2000, but gain Formula One coverage to boot. Certainly it would be a coup for Sky, who are cornering the market with most of the quality British sport coverage, at the expense of terrestrial channels.
His plans outside Europe are a little murky however. For example, the States has not implemented the technology for digital coverage, so it's not a possibility even if there were broadcasters interested in the service.
Safety Changes
The FIA's safety committee, under Professor Sid Watkins, has conducted a thorough investigation into airbags for Formula One cars.
The propositions included looking at systems similar to those in road cars today, with the conclusion that, "the short inflation time, and resulting force of the inflation, combined with risk of spontaneous detonation from bumps and curbs and the restricted space of Formula One cockpits" make airbags unsuitable for F1.
Also considered were pre-inflated airbags (which are inflated around the driver when he gets into racing position), and barrier airbags, designed to work alongside tyre barriers. Both were rejected as cumbersome to the point of unusable.
The FIA are now reported to be working on a system involving elasticised straps which embrace the upper torso and head of the driver, with the intention of providing a controlled deceleration for the head from a front impact. A restrictive device of this nature is unlikely to be welcomed by the drivers, however.
Outside the car, there are new barrier technologies coming through. Strategic placement of these deforming barriers around tracks, designed to sit behind or replace tyre walls, and provide a collapsing structure that absorbs the energy of impact, is believed to have real potential, and could significantly improve safety without compromising racing. The downside is the expense of replacing the existing barriers.
Silly Season Update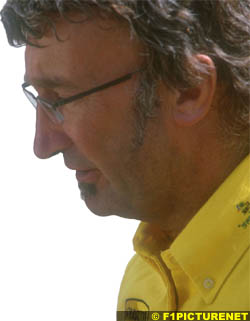 Webber Rejected by Jordan - Eddie Jordan played down chances that he will sign Australian Marc Webber as Damon Hill's fill-in, or even as Jordan's test driver, saying: "I am only really interested in testing people who are free, and [Marc] is contracted to Mercedes."
McLaren and BAR Silly Season over - McLaren's Silly Season came to a close at the German Grand Prix, where the team announced they have resigned Coulthard and Hakkinen for the 2000 season. Similarly, British American Racing have expressed their desire to keep Zonta and Villeneuve. Both drivers performed exceptionally this year in difficult circumstances...
Irvine / Barrichello swap resurfaces - News that Ferrari's Eddie Irvine could be swapping seats with Stewart's Rubens Barrichello in 2000 was the talk of the paddock again in Germany. Irvine's improved standing in the World Championship might affect Ferrari's desire to re-sign him: if the Ulsterman is set to win the title, they are very likely to keep Irvine, so they can carry "number one" on their car next year.
Salo's stock rises - In only his second race in a truly competitive car, Mika Salo finally rid himself of the old "Monaco Master" image, and made his name. The German Grand Prix was his for the taking – bar team orders – which puts him in demand. Suddenly, there's talk of options at Stewart, Ferrari and Jordan. Indeed, there are some now predicting Irvine and Barrichello will both be in Stewart next year, whilst Salo plays second fiddle to Schumacher at Ferrari. Johnny Herbert would then be bought out of the second year of his contract with Stewart.
Arrows only half sure - Tom Walkinshaw is reported to be happy with Pedro de la Rosa's performance to date, and is expected to exercise his option on the Spaniard for 2000. Tora Takagi has not impressed, however, and could be looking for a drive with a Japanese engined team next year – as a test driver.
Heidfeld to Prost - Mercedes are keen to place the current F3000 leader in a Formula One seat for 2000, to get him up to speed for themselves later in the decade. Accordingly, there's a rumour that the young German could be placed at Prost – and if Peugeot pull out, then maybe even running the team as a Junior McLaren, complete with Mercedes engines. Whilst Prost and Denis have an enduring friendship, this is an unlikely scenario!
The Grapevine will have a regular Silly Season update, along with the Silly Season Page of the F1 Rumors Team.
Picked from the Bunch
The hand-throttle story seems to have a relatively solid basis, as it emerges that Gustav Brunner (with Ferrari in 1996) actually designed such a system when telemetry revealed that Eddie Irvine was unable to maintain full throttle on the Hanger Straight due to vibration, though no parts were made. Williams are also believed to have evaluated a similar system.
Ferrari's contract with Marlboro is due to expire in 2003. Phillip Morris is reputed to have informed Luca di Montezemolo and Bernie Ecclestone that it won't be renewed unless more Grand Prix are held in the Far East. It's believed that other Tobacco Giants are expressing similar views. So don't be surprised to see more Far East Grand Prix in the near future!
It's rumoured that John Barnard got the last laugh when Rocco Benetton approached him about rejoining Benetton, after Charlie Whiting, Alan Jenkins and Gary Anderson all turned him down.
Toyota are rumoured to have approached Magnetti Marelli for assistance in designing their Formula One engine management system. The Toyota team are determined to avoid their bad reputation from CART, and see targeting electronics as a key to success.

Germany Tidbits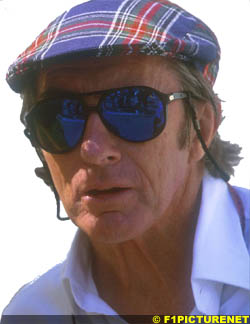 Ford CEO and President Jac Nasser turned up in Hockenheim on Saturday, to lend moral support, fly the flag and generally nose around. His hidden agenda was to see at first hand how the Stewart team is run. Since its announcement at the time of the Canadian GP back in June that Ford had bought the Stewart team, there have been few signs of change in the outfit run by Jackie and Paul Stewart. The Jaguar announcement is likely to come at a major motor show later in the year, speculated as early as the Frankfurt international show next month.
Eddie Irvine's father offered to stay away from the German Grand Prix, on the basis that Eddie's parents – who normally attend all his races – missed the Australian and Austrian Grand Prix, which were promptly won in their absence. In fact, it's not as simple as that, as they were not in Brazil either, but Irvine senior is quoted as saying, "Eddie might make me an offer [to stay away], but I am keen to Ron Denis and Mika Hakkinen to see how much they will pay me to keep turning up!"
Questions about Michael Schumacher at a press conference apparently caused Jean Todt to snap, "this is Scuderia Ferrari, not Team Schumacher, you know. Don't you have any other questions?"
Jean Alesi gulled a journalist at Hockenheim. A German newspaper ran a story that Pedro Diniz spent a day in jail at Hockenheim after an officious policeman objected to him trying to enter the paddock in a car without the proper pass. It transpires the story was fabricated by Alesi, who took a leaf out of Berger's book to play a trick on a persistent journalist. The journalist had consistently pestered Alesi for a "good story," so he made one up. The journalist did get the last laugh by telling Alesi that several TV stations had run with the story, quoting him as the source...