Leaving Ile Notre-Dame in Canada, we cross the Atlantic, to Circuit de Magny-Cours in Nevers, France. Magny-Cours was a club circuit that became President Mitterand's "Field of Dreams". It would have been like investing millions of pounds to hold the British Grand Prix at Charterhall, Jim Clark's home circuit, in the Borders between Scotland and England. This is an unpopular Grand Prix with fans and teams, partly because Nevers is inaccessible, being in the middle of rural France, far from major airports and motorways.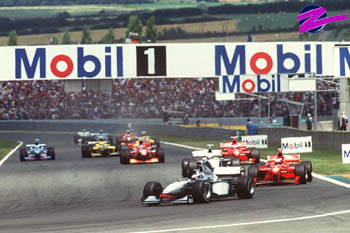 At 4.250 Km, Magny-Cours is average in length and slow in average speed; only Monaco and the Hungaroring are slower. It is an example of 1990's circuit design in its worst form. To its credit, Circuit de Nevers has excellent facilities and is safe, with large run-off areas and, thankfully, it does not have concrete walls only feet away from the racing line.
The circuit is flat and lacks a natural driving "rhythm". It consists of short straights, long sweeping bends, chicanes and hairpin bends that make overtaking difficult. Only the Adelaide hairpin provides a reasonable overtaking opportunity. Races tend to be processions unless it rains.
Weather at Nevers can be both extreme and changeable. Rain is always a possibility at Magny-Cours as happened at the end of the 1997 race and the circuit tends to turn into a skating rink in the rain.
Robert Synge, BAR's team manager, had this to say about it: "The track characteristics require high levels of downforce, while the smooth surface means you can run very low ride heights without a problem. Unfortunately, the surface itself doesn't provide much mechanical grip so it's not easy to develop a really effective chassis set-up for the cars. Magny-Cours also has an unusual characteristic in that the circuit is particularly sensitive to changes in ambient temperature. It seems to be related to the nature of the material with which they've surfaced the track."
A select number of teams have been successful at Magny-Cours. Qualifying is very important, as overtaking is difficult. To succeed at Magny-Cours a good start is essential which requires avoiding wheelspin on the smooth surface when the red lights go out.
Pitstop and tyre strategies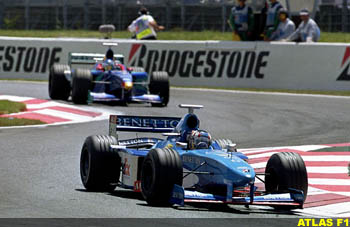 Attrition is fairly low at this circuit, more than half the field tend to finish. Fifteen cars finished at Magny-Cours in 1998, twelve finished in 1997, thirteen in 1996 and sixteen cars were running at the end of the 1995 race. This race can be won or lost during pit-stops as happened in 1994 and 1995. In last year's race most teams opted for a two-stop strategy, Benetton and Jordan went for a three-stop strategy while Arrows tried a radical one-stop strategy.
On tyre choice, Bridgestone will again offer the teams a choice of soft or medium compound tyres. Mr. Yoshihiko Ichikawa, Technical Manager of Bridgestone Motorsport stated, "Magny-Cours will not be as kind to tyres as Montreal." Ferrari's Eddie Irvine added that, "Choosing the right tyre for qualifying and then having to race on it could be a difficult choice to make if the weather is variable."
The Teams Following the unexpected result of the Canadian Grand Prix, the driver's and the manufacturer's championship are both wide open.
Ferrari still leads the manufacturer's title and has been the most reliable team of 1999. Ferrari has won at Magny-Cours in 1997 and 1998 and have scored a total of 43 points at this circuit.
Michael Schumacher has slipped to second in the World Championship. He is the most successful and consistent driver at Magny-Cours. Schumacher has competed in seven French Grand Prix and has won this event four times, twice for Benetton in 1994 and 1995 and twice for Ferrari in 1997 and 1998. He has held pole position twice, in 1996 and 1997, and set fastest lap in 1995 and 1997. Schumacher also finished third in 1993.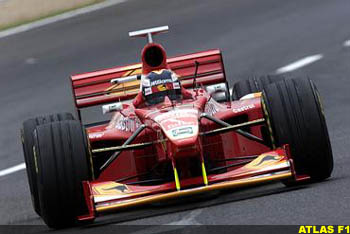 Michael Schumacher's thoughts on Sunday's race: "I was delighted to see that we were on the pace of the McLarens in Canada, which is a good sign for this race for [Magny-Cours] is a circuit with a bit of everything in it and the car has to be good in all aspects."
Eddie Irvine is third in the World Championship. He has had two podium finishes in France, finishing second in 1998 and third in 1997 for Ferrari. Irvine was fastest in last week's tests at Magny-Cours and is confident about Sunday's race. "Of course you never really know how quick you are going to be against the rest until qualifying, but certainly we had a good test and I would expect us to be on the pace for the race," said the Ulsterman.
McLaren have never won at Magny-Cours - even Ayrton Senna could do no better than third - and they have only scored 18 points at this circuit. Their aerodynamic advantage is not as important at this track. McLaren have closed the gap with Ferrari to just nine points and they will need both cars to finish in the points on Sunday. In last year's race, McLaren's organisation fell apart, resulting in David Coulthard having to make four pit-stops.
The World Championship leader, Mika Hakkinen, has had mixed fortunes at Magny Cours. He has started in six French Grand Prix and has finished in the points on three occasions, third last year, an amazing fourth place for Lotus in the rain of 1992, and fifth in 1996. He had pole position once, in 1998.
Hakkinen's thoughts on Sunday's race: "Magny-Cours presents a number of chances to overtake if you are decisive. Our test session at the track last week went well which is encouraging for the weekend ahead, but I expect another tough battle with David and the two Ferraris."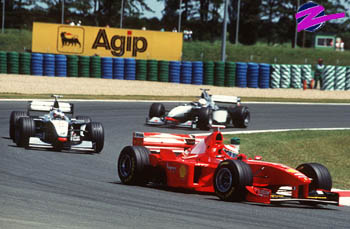 David Coulthard has now slipped to sixth equal in the 1999 World Championship. Coulthard has competed in four French Grand Prix. His best finish was in his French debut when he finished third in 1995. Coulthard set the fastest lap last year and finished sixth in 1996 and 1998 and was punted off while lying sixth in the rain of 1997.
"I am only 20 points behind the leaders in the championship and there's still 100 points to play for," assessed Coulthard. "The car is working well and, as Mika and myself finished the last two races, it shows that reliability is also good. It was disappointing not to score points in Canada, but, as ever, I will be determined to win this weekend."
Jordan is still third in the manufacturer's championship despite their disastrous outing at Canada. They have picked up a few points at Magny-Cours, finishing sixth in 1991, 1995 and 1997 but were out-classed last year. Jordan need both cars to finish on Sunday to keep up its manufacturer's title challenge.
Heinz-Harald Frentzen has slipped to fourth equal in the World Championship. Frentzen has had some good results at Magny-Cours, his best finish was second in 1997 for Williams and he finished fourth for Sauber in his French debut of 1994. His injuries at Montreal are a set-back, as he missed last week's tests. Let's hope he has had a full and speedy recovery.
Damon Hill is ninth in the World Championship. Hill won in 1996, finished second in 1994 and third in 1993 for Williams. Hill's intention to retire could have a positive or negative impact on his performance on Sunday: he could either relax and improve or tighten up.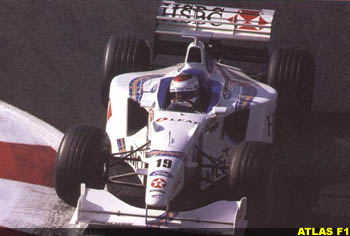 Benetton has moved up to fourth in the manufacturer's championship. Benetton has been a consistent and successful team at Magny-Cours with a total of 39 points. The team won the French Grand Prix in 1994 and 1995 and finishing in the points in every race apart from 1991. Giancarlo Fisichella is now fourth equal in the driver's championship. Fisichella has never scored a point at Magny Cours. Alexander Wurz finished fifth in his French Grand Prix debut in last year's race but he had no luck in Canada.
Williams has slipped to fifth in the manufacturer's championship. They won the French Grand Prix in 1991,1992,1993 and 1996, and have always finished in the points at Magny Cours. They have scored a staggering 89 points in the 8 Magny-Cours races.
Ralf Schumacher, now sixth equal in the World Championship, scored a single point at Magny-Cours. He put in another solid, points-paying, performance in Canada. Ralf, in contrast to his competitors, confessed that, "I like Magny-Cours, especially the fast left/right combination after the start and the two chicanes give me a lot of fun."
Alex Zanardi's miserable season drags on. He would probably like to forget this season and also the fiery end to his last French Grand Prix in 1994. "What I hate about Magny Cours is that it's so difficult to get to, but once I'm there I really like some of the exciting turns, especially the chicanes that are very fast and very difficult to get into. It's a track where I was never lucky in the past therefore I hope this year I will go against the odds and have better fortune. I am confident I will have a good race, thanks to the testing we had here this week," said Zanardi.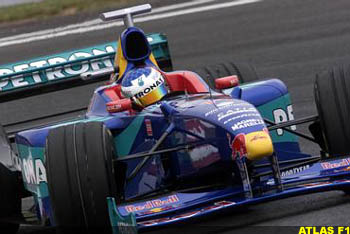 Stewart is still sixth in the Manufacturer's championship. Stewart's reliability seems to be improving and their pace seems to be picking up again in last week's tests.
Rubens Barrichello is still eighth in the World Championship. Barrichello finished sixth for Jordan in 1995 and fifth for Stewart in 1998 and was competitive in last week's tests. Barrichello could have another points finish on Sunday. "I'm hoping for a longer race in Francs than I had in Montreal," says Barrichello. "My aim is to keep up my average or better in qualifying. Obviously we have proven that we are competitive but we haven't come away half as many points as we should have done. I'm keen to mix it with the Ferraris and McLarens again in the race. I don't see any reason why we shouldn't be challenging for the podium if we run a reliable race."
Johnny Herbert is now tenth in the championship, having finally finished a race in 1999. Herbert has competed in all eight French Grand Prix at Magny Cours, his best finish was a creditable sixth for Lotus in 1994. "I've only had one point in seven races there so I'm desperate to put that right," said Herbert. "The results have never worked in my favour so I have I real desire to beat it and beat it I will."
Les Miserables I: Prost is seventh in the Manufacturer's championship. Team owner Alain Prost won at Magny-Cours in 1993, but his team has had an embarrassing lack of success, having never scored a point at their home track. For Ligier, Martin Brundle finished fourth in 1994 and fifth in 1993 while Eric Comas finished fifth in 1992. Olivier Panis and Jarno Trulli have yet to score a point at Magny-Cours and were off-the-pace in last week's tests.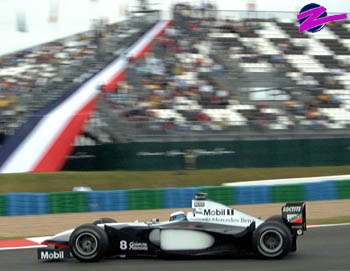 Sauber's development is encouraging as the season progresses but they were not competitive in last week's tests. Jean Alesi, like Johnny Herbert, has competed in all eight French Grands Prix at Magny-Cours and he has been a regular points scorer. He has had one podium finish: third in 1996 for Benetton. He also finished fifth for Benetton in 1997, fourth in 1991 and fifth in 1995 for Ferrari. Pedro Diniz scored this first point of the season in Canada but he has yet to score a point in France.
Les Miserables II: BAR's fortunes took a turn for the worse in Canada with both cars crashing early in the race. Jacques Villeneuve has competed in three French Grands Prix and has finished in the points on all three occasions, taking second in the 1996, after setting fastest lap, and finished fourth in 1997 and 1998. Jock Clear, senior race engineer to Villeneuve stated that, "Like most drivers, Jacques doesn't particularly like the Nevers circuit, but interestingly, he has had some good results here."
Ricardo Zonta's return in Canada was a set-back, despite his heroic performances during practice, as he didn't get the chance to put in a lot of laps. Zonta's thoughts on Circuit Nevers: "To turn a fast lap here, you need to get a quick exit out of the Estoril corner on to the back straight and that, in turn, requires you to carry as much speed as possible through the preceding left and right-hand corners. It is quite a technical circuit."
Arrows and Minardi were both absent from this week's tests which will put them both at a disadvantage. Arrows have never scored a point at Magny-Cours but both of their cars finished last year's race. With relatively low attrition, a finish in the points for either Pedro de la Rosa or Tora Takagi on Sunday is unlikely.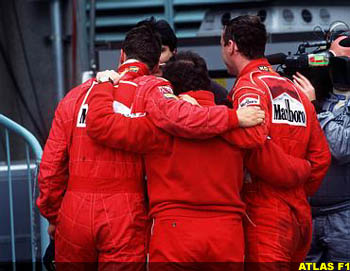 Minardi's best result at Magny-Cours was in 1994 when Pierluigi Martini, the winner of this year's Le Mans 24 hour race, finished fifth. Unfortunately they have never scored a point again in France. Luca Badoer finished thirteenth in his last outing with Minardi at Magny-Cours in 1995. Marc Gene should look at this as an opportunity to complete another Grand Prix.
My Predictions:
In the event of rain at Magny-Cours, anything can happen but the finishing order might be:
Michael Schumacher
Mika Hakkinen
Eddie Irvine
Ralf Schumacher
David Coulthard
Rubens Barrichello
If it is dry, Iím going to pick Ferrari, McLaren, and Stewart as the top three teams with Jordan and Williams making up the top five.
Starting grid:

Michael Schumacher
Mika Hakkinen
Eddie Irvine
David Coulthard
Rubens Barrichello
Ralf Schumacher
Johnny Herbert
Heinz-Harald Frentzen
Damon Hill
Giancarlo Fisichella
Jacques Villeneuve
Jean Alesi
On Sunday, victory may be in the hands of the pit crews.
The 1999 French Grand Prix Preview in a Nutshell: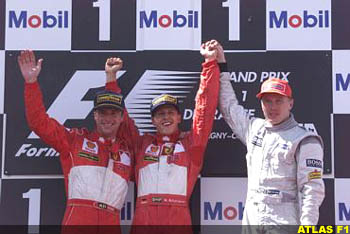 This Grand Prix is likely to be a procession. A select few teams have been successful at Magny-Cours. Victory is all about qualifying and pit-stop strategy.
Can Ferrari get a one-two finish again? Michael Schumacher is the most successful driver on this circuit. This should be Michael Schumacher's race to win or lose, rain or shine.
McLaren has never won at Magny-Cours. They need both cars to finish in the points to keep up their championship challenge.
The Best of the Rest: Jordan, Stewart or Williams? Can any of these teams get both of their cars to the chequered flag? Can Heinz-Harald Frentzen, Ralf Schumacher and Rubens Barrichello keep up the championship challenge?
Always in the points at Magny-Cours: Jacques Villeneuve, Williams.
Can BAR finally get their first points?
Dark Horses: Jean Alesi, Giancarlo Fisichella and Jacques Villeneuve.