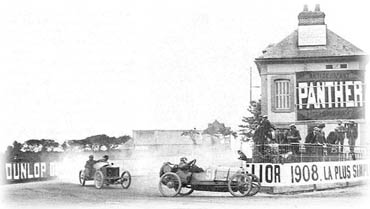 This weekend, the Formula One circus will return to Europe after an eventful Canadian Grand Prix. The teams will come together in what is generally known as the middle of nowhere: Magny Cours. The track is already the seventh one to host a French Grand Prix, since the first one at Reims in 1950.
In 1953 Reims was the stage for one of the most breathtaking battles ever seen in Formula One. At First Argentinean Maserati driver Jose Froilan Gonzalez pulled away from the pack quickly, starting with only half a tank of fuel. Behind him a raging battle developed between two Maseratis, driven by Juan Manual Fangio and Onofre Marimon, and four Ferraris, driven by Alberto Ascari, Luigi Villoresi, Giuseppe Farina and Mike Hawthorn. The six lapped as if on a string, changing places back and forth time and time again, while Gonzalez built a steady lead. After 29 laps Gonzalez made his refuelling stop, falling back in the midst of the battle.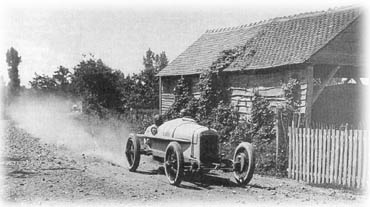 Then the crop of the class separated themselves from the rest of the group. Fangio and Hawthorne drove away, exchanging the lead numerous times in a furious battle. While Fangio was the more experienced driver of the two, he had a very difficult time fending off the young Briton. What Hawthorn didn't know, was that Fangio missed his first gear, which was essential on this track constructed of three straights, two fast corners and a hairpin.
In the final corner, the hairpin, Fangio entered in the lead. While Hawthorn passed under heavy braking, the master was beaten, since he had to wait until his revs built up in second gear, while the young Englishman accelerated away out of first gear. Hawthorn's victory was the first one by a British driver.
The 1954 ACF Grand Prix, as the French Grand Prix was known in those days, marked the dawn of an era. The race presented the comeback of Mercedes to motorsports, with Juan Manual Fangio and Karl Kling taking an easy one-two, while Hans Hermann broke the lap record before retiring with a broken engine.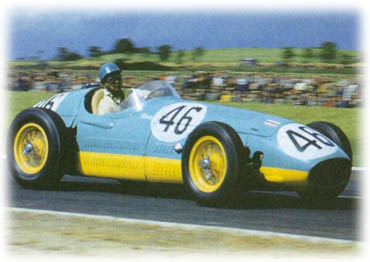 Two years later, another legendary make made its appearance in Formula One at Reims. In a much less successful attempt than Mercedes, Bugatti made its one and only Formula One appearance. After just 18 laps, driver Maurice Trintignant was forced to retire. This marked the beginning of the end of the once famous Bugatti.
The 1958 ACF Grand Prix at Reims marked yet another significant moment in Formula One. After 51 starts, 24 wins, 29 poles and 5 championships, Juan Manual Fangio decided to retire after coming fourth in France in a Maserati.
Three years later, in 1961, a new talent made his impact on the scene at Reims. In an exciting battle Ferrari driver Giancarlo Baghetti slipstreamed past Porsche's Dan Gurney, after the two had switched places several times during the last part of the race. The most amazing fact of Baghetti's win was that it was his first ever Grand Prix, a feat not repeated to this day. However, things changed in the future; Baghetti never won another race and Gurney returned to Reims a year later to take his win and give Porsche its only Formula One win.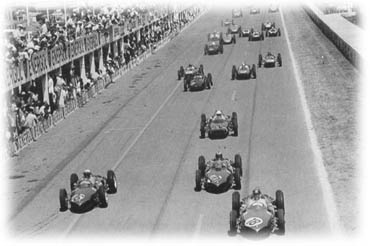 The following years marked an era in which the French Grand Prix changed places almost every year. In 1965, the event was held in Clermont-Ferrand around the Puy de Charade mountain. On the eight kilometres long twisty mountain track, counting 51 corners, Jim Clark showed his sublime steermanship by driving his Lotus to a win, almost thirty seconds before BRM driver Jackie Stewart.
In a one-off event, the 1967 ACF Grand Prix was held at Le Mans. The track, called the Bugatti Circuit, was built on the parking area behind the pits of the 24-hour track, including two straight sections of that famous track. Both the drivers and the spectators weren't very happy with the track, hence its quick disappearance after the 1967 race which was won by Jack Brabham, ahead of his Brabham teammate Denis Hulme.
In 1971 the French Grand Prix moved to yet another location. This time the brand new Paul Ricard track was the venue. Considered as the safest circuit possible in those days, the driver were quick to say the track lacked challenge, a word heard by many of today's drivers about today's safe circuits.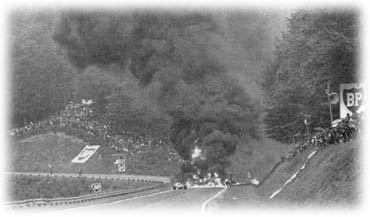 After years of relatively eventless races, the French Grand Prix - as it was officially known since 1968 - got another moment of historic importance. In 1979, at the Dijon circuit, Jean-Pierre Jabouille steering his Renault to victory, scored the first win for a turbo charged car. However, it wasn't only this fact that was memorable, as the happenings behind him were the real eye catcher of the day. In an unbelievable battle, the second Renault of Rene Arnoux battled for second with Gilles Villeneuve's Ferrari. The two fiercely drove around the plunging and diving track of Dijon, passing each other several times during the final laps, while both nearly driving off the track in order to fend off the other. In the end Villeneuve secured second in one of his most memorable races.
Two years later another great talent won his first home Grand Prix. Renault driver Alain Prost won the rain-interupted race at Dijon. The year after, Renault made it even better by scoring a one-two by Arnoux and Prost at Paul Ricard. This win meant the end of Arnoux at the French team. Team order were that Prost had to win, because his position in the championship was much better than Arnoux'.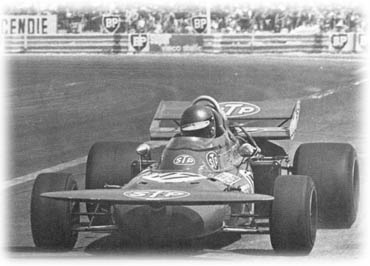 However, Arnoux didn't feel like giving away his win, so he ignored the orders and effectively caused his contract at Renault to be terminated after the season.
In 1986, Paul Ricard headlined the news, but not on a Grand Prix day. During a test session on May 13th, Italian Brabham driver Elio de Angelis was launched into the air after a part of his car broke off. The wreck caught fire, but the rescue marshals weren't on the scene in time to save de Angelis' life. After the accident, the track was shortened by 2 kilometres, taking out the place of the accident and shortening the long Mirage straight.
From this year on until 1993, two drivers dominated at the French Grand Prix. In the eight year period, only Nigel Mansell and Alain Prost came to victory. After that era of domination, another one emerged. Since 1994, German Michael Schumacher won four out of five races. Only 1996 proved to be a disastrous race for Schumacher and Ferrari teammate Eddie Irvine.
Both drivers started the parade lap in serious trouble. Irvine didn't make it off the grid in time, putting him back on the last row and Schumacher didn't make it back to the grid after his engine blew up during the parade lap.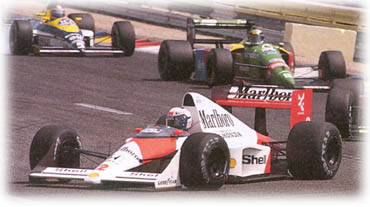 As if Ferrari wasn't yet troubled enough, Irvine's gearbox failed after just five laps, giving Williams' drivers Damon Hill and Jacques Villeneuve an easy ride, with the Briton taking the win before his teammate.

France - Just the Facts
This will be the 85th French Grand Prix although some of the earlier versions were called the ACF Grand Prix; ACF stood for Automobile Club de France. Indeed, it was they who organised the very first Grand Prix which was held at Le Mans in 1906, a two day marathon run over 1236 kms. The ACF organised the French Grand Prix until 1967.
That first Grand Prix was won by Renault; it was 73 years and three days until they won again, at Dijon in 1979, when Jean-Pierre Jabouille recorded the first win for a turbocharged car. It was in the same race that Rene Arnoux in the second Renault and Ferrari's Gilles Villeneuve fought their heroic duel for second place.
Turbocharging isn't the only innovation to have found success in France: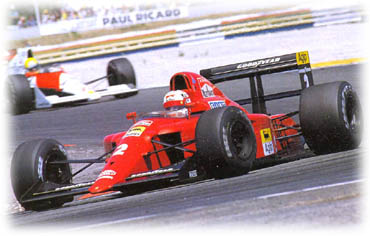 Peugeot introduced twin overhead camshafts and won in 1912; Jimmy Murphy's Duesenberg had hydraulic brakes which helped him to success in 1921; Fiat introduced supercharging in 1923 and set fastest lap before retirement; and Jacky Ickx's Ferrari had a small rear wing which helped it to victory in 1968.
in 1926, the smallest ever field contested a Grand Prix - just three Bugattis, after all the other constructors boycotted the race at Miramas. The winning margin of 15 laps was a record too.
Since the World Championship began in 1950, France has organised 48 Grands Prix out of a potential 49; they missed just one in 1955 after the Le Mans tragedy. However, it might be said that they made up for that by hosting the Swiss Grand Prix at Dijon in 1982.
The French Grand Prix has visited seven different circuits in its history. Only the American Grand Prix has been to more. The French started off at Reims, then went to Rouen for the first time two years later. Clermont-Ferrand hosted its first race in 1965; the race returned to Le Mans in 1967 for a single event; then it went to Le Castellet or Circuit Paul Ricard as it's also known in 1971; to Dijon in 1974 and finally went to Magny Cours for the first time in 1991.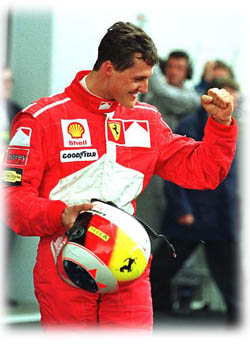 Ferrari have won the French Grand Prix no less than eleven times while Lotus and Williams have won seven times. McLaren, meanwhile, have won just four times, and the last was in 1989.
The star in France is really Alain Prost: no less than six wins, including three in succession. In 1989 he led from start to finish; in 1988 he lead home Ayrton Senna in a McLaren one-two. Juan-Manuel Fangio, Nigel Mansell and Michael Schumacher have won the race four times.
While Alain Prost is obviously one of the French Grand Prix heroes, so too is Fangio although he needed Luigi Fagioli's help to win in 1951. The Italian thus became the oldest ever winner of a Grand Prix, at 53 years and 22 days. Fangio then lead home Karl Kling by just 0.1s at Reims on Mercedes' World Championship debut in 1954; they'd started from pole too. Rather more hard-fought, however, was Giancarlo Baghetti's brilliant Grand Prix debut for Ferrari when he won by a similar margin over Dan Gurney at the same circuit in 1961.
Although Ferrari were the last to score a one-two with Schumacher and Irvine in 1998, Williams had a similar result with Hill and Villeneuve in '96, Prost and Hill in '93 and Mansell and Patrese in '92. McLaren's last one-two was that one in 1988 while Cooper did rather better by occupying the first four places in 1960. Williams occupied the front row from '92-'94 while McLaren had it in '88 and '89. Ferrari's last all-front row was back in 1961 - with three cars.
As for the current drivers, Ralf Schumacher will be driving in his 40th Grand Prix this weekend.