Testing since the lottery Grand Prix of Canada has proven an interesting trend that's been prominent in recent Grands Prix and may just prove to bring an unexpected, but nonetheless welcome twist to this year's world Formula One championship.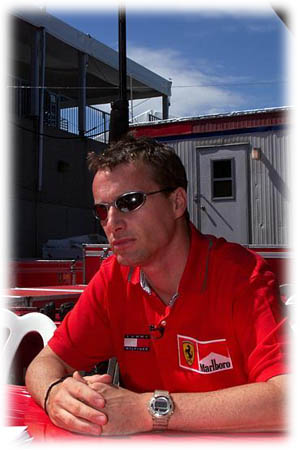 Eddie Irvine has been a significant factor in recent Grands Prix, especially during early testing, where he's proven to be the man to beat during Friday testing. He's been right there in qualifying too - had it not been for bad luck with traffic in both the most recent Grands Prix qualifying sessions, the Irishman may just have started from pole, rather than the second and third positions he did.
He drove a blinder of a race in Canada, following that overtaking scene, and was the man of the meeting in many a book.
Now Eddie's done something he hasn't done before – dominated a major test session. He arrived at Magny Cours on the second day, but that didn't deter him from stealing the quickest time of the day, in spite of missing a whole day's running – and the vital set-up advantages such holds.
Then on Friday's last day of testing, he promptly circulated in the high 1 minute and 15 seconds zone, when no one else even broke the 1:17's. That's significant, almost a second and a half quicker than his teammate, and about the same ahead of the McLaren of Coulthard in second.
OK, neither of the top two in the championship right now - World Champion, Mika Hakkinen in the McLaren, nor Eddie's Ferrari teammate, Michael Schumacher - would have wanted to show their cards in an open session. But they must be rather conscious of the No. 2 Ferrari, particularly when he's so close behind in the title chase.
Eddie's actual race performances may not have been up to either Michael or Mika in the recent past, but then, he was never really one to chase for best times in testing. Eddie's sudden, continued pace may just soon translate into what's needed to match the top men mentioned, in race trim.
Could we be in for a serious championship challenge from Edie Irvine? If so, that would add a truly exciting twist to the world championship...
Behind Eddie, David Coulthard's testing pace has shown some promise, which too would breathe welcome change into the two-horse race of modern Formula One, if he were to succeed. And both those horses, as mentioned, showed nothing last week, with an average third and fourth, Michael third and Mika fourth, completing yet another act of Ferrari/McLaren domination.
Ralf Schumacher showed there's promise in Magny Cours, even if you're saddled with a Supertec mill, which so clearly showed its power deficiency on the drag strip section of the Montreal circuit, with a handy fifth and best of the rest. Alex Wurz was just off Ralf in his similarly-powered Benetton, his time too good enough to see off even the Stewarts, whose Ford plants were clearly faster in that Montreal straight line. Johnny Herbert again edged out Rubens Barrichello in another in-team shift of pace.
Giancarlo Fisichella's Benetton and Jacques Villeneuve in the BAR topped off the top ten, from Damon Hill, Jarno Trulli and Alex Zanardi, all the last five with times slower than 1:18.
So, if there's to be a break with tradition in France, it appears that such change is likely to come from the title chasers' teammates, rather than from another team.
And Eddie Irvine seems to be intent in doing just that to keep the 1999 world F1 championship wide open...

Test Times Summary
Magny Cours F1 Testing June 1999

Pos  Driver          Best       16        17        18 June
 1.  Irvine          1:15.981    -        1:17.23   1:15.98
 2.  Coulthard       1:17.171   1:18.24   1:17.32   1:17.17
 3.  M. Schumacher   1:17.243   1:18.64   1:17.83   1:17.24
 4.  Hakkinen        1:17.245   1:18.69   1:17.24   1:17.93
 5.  R. Schumacher   1:17.493   1:18.75   1:17.49   1:17.70
 6.  Wurz            1:17.524   1:19.48   1:17.52   1:18.33
 7.  Herbert         1:17.665   1:19.68    -        1:17.66
 8.  Barrichello     1:17.970   1:18.31   1:17.97    -     
 9.  Fisichella      1:18.066   1:19.57   1:18.39   1:18.06
10.  Villeneuve      1:18.058    -        1:18.75   1:18.06
11.  Hill            1:18.270    -        1:19.09   1:18.27
12.  Trulli          1:18.306   1:20.02   1:19.96   1:18.30
13.  Zanardi         1:18.518   1:19.65   1:18.52   1:18.82
14.  Alesi           1:18.588    -        1:18.59   1:18.77
15.  Diniz           1:18.595   1:19.89   1:18.59   1:18.99
16.  Panis           1:18.630   1:19.99   1:18.74   1:18.63
17.  Zonta           1:19.019   1:20.33   1:19.02   1:19.31
18.  Redon           1:20.221   1:20.22    -          -    
19.  Lemarie         1:24.604   1:24.60    -          -    

circuit length: 4.250 km                                   
pole 1998: Mika Hakkinen (McLaren) 1:14.929                

For previous test times set this year, visit Atlas F1's 1999 Testing section