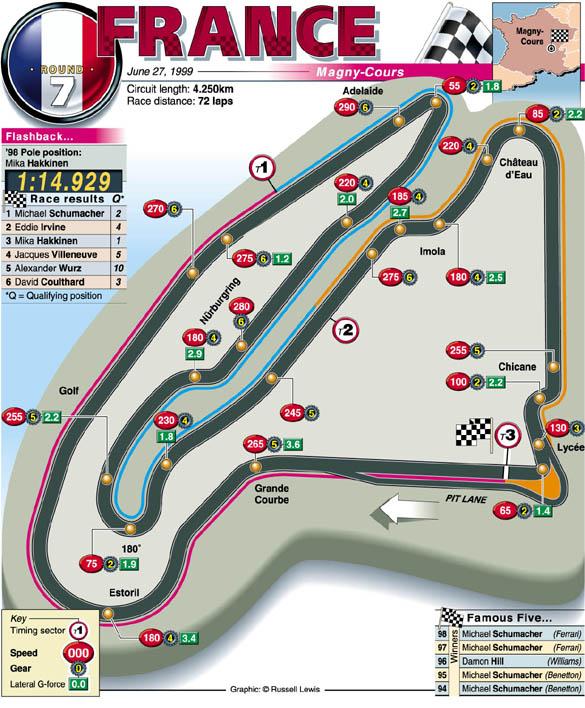 The pits are superb, the circuit is smooth and the run off areas are immense. Even the weather is invariably hot, so why don't the drivers like Magny-Cours?
It all comes down to the shape of the circuit itself. There are some good medium-to-fast corners, but there are also a couple of tight hairpins that have no place on a modern race track. So what's a fast lap like then?
As the cars cross the start/finish line, the drivers check their pit boards before screaming into the flat out left-hander, Grande Courbe. The course then eases right into a long, fast hairpin, usually taken in fourth, known as the Estoril Bend. The drivers then speed down the main straight and pass through the flat out Golf Course kink before slamming on the brakes for the slowest hairpin on the course, Adelaide.
The entry to this corner offers one of the few overtaking manoeuvres, but the actual hairpin can only really be taken in single file. It's flat out down the next straight, however, and the drivers chase each other through the fast Nurburgring bend before attempting to outbrake each other into the next slow hairpin.
The cars then accelerate off again and head towards the fast Imola Bend - a superbly challenging corner that dips down, right, then up and left again. There is no respite for the drivers, though, as they have to slam on the brakes once more to negotiate the long right hander, Chateau d'Eau. The cars pass through another chicane, before negotiating the tight Lycee hairpin and begin another lap.