This week's Grapevine brings you
information fresh from the paddock on:

V12 in the 2000 BAR
Damon's departure
Picked from the Bunch (including Silly Season Update)
V12 in the 2000 BAR
With Ferrari announcing they have commissioned a V12 engine for trials, the latest "news" in the paddock tells that Honda have had a V12 on the dyno - some rumours say in a car - already this year.
BAR have been working with Honda since they signed contracts and the first fruits of their combined efforts should be around shortly - the transmission used in the Dallara built test chassis has been modified to fit the BAR.
Being built to withstand the more powerful Mugen-Honda V10 engine, it's expected to be more reliable than the existing unit. As an additional benefit, it is rumoured to be slightly lighter, yet at least as efficient. A first outing in France is unlikely, but it could be seen for the British Grand Prix.
On a different track, Honda are working flat out to integrate the best ideas from the BAR chassis into a completely new car. They have commissioned a chassis to run with the existing V10 engine, which Jos Verstappen is expected to run behind closed doors at the Honda circuit in Japan. As soon as that chassis is completed, another - built for the V12 unit - will be built; testing the two cars back to back is expected to decide if Honda will provide BAR with V10 or V12 power for 2000.
Whichever route the BAR / Honda relationship takes, Jordan is expected to run a V10 next year. Honda is believed to be putting its full resources into research and sharing the developments with Mugen-Honda, who will then build the Jordan units.
Damon's departure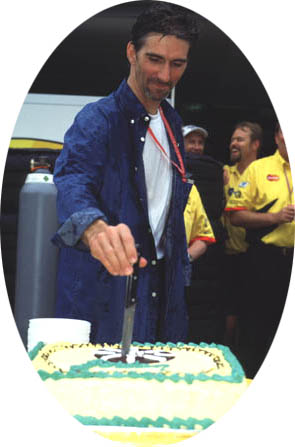 Damon Hill, the 1996 World Champion has announced his retirement at the end of the season. His Jordan seat is without doubt a valuable prize - just looking at the results Heinz-Harald is getting this year confirms the team is going places. The politics of the position are also interesting, with the title sponsors, Benson's and Hedges, requiring a British driver, whilst Mugen-Honda would prefer a Japanese driver.
The obvious British candidates are Eddie Irvine, currently with Ferrari, and David Coulthard from McLaren. Both are currently with "top" teams and both might need to move to the "next best" in 2000, if things go wrong. Johnny Herbert is not believed to be in the running.
Irvine has confirmed that he is not going to Jordan next year, but that was before Hill announced his retirement. Allegedly, Coulthard's position at McLaren "is secure," but when even he recently said that "even a signed contract is no certainty," and with Nick Heidfeld looking for a step up from the McLaren F3000 program, it's a possibility.
With Jordan rumoured to be in talks with McDonalds, the need to satisfy Benson and Hedges wishes for a British driver could be a red herring. The fast food giant could replace the tobacco sponsor altogether, which would open a number of doors.
Less likely, Heidfeld could make the Formula One transition by joining Jordan, in the same fashion as Zonta joined BAR. Team owner Eddie Jordan is unlikely to go for that after previous experiences with sub contracted drivers had them whipped out of his team as soon as they showed any promise!
Another candidate, though few mention him, is Mark Webber. The young Australian is popular at home, talented, and now with financial backing of his own. It is known that Bernie Ecclestone has been working the ropes for him, so don't be surprised if he lands a test drive in the next couple of months.
Other names that come and go include Mika Salo - who just finished a stint with BAR - and (believe it) Jan Magnussen, currently racing tin-tops, and looking for a return to Formula One in preference to racing in CART. Jos Verstappen has confirmed his tie to Honda, committed to a testing role with BAR for 2000.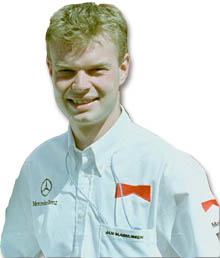 Lastly, Honda's preference for Japanese drivers cannot be overlooked. Honda is rumoured to be talking to Tora Takagi concerning his plans next year.Also, whilst Shinji Nakano's testing contract with the team is confirmed for the 2000 season, as part of the Mugen-Honda V10 engine deal, if he pulls himself together over the next couple of months, anything is possible. His outright speed is not currently enough to warrant a full time drive, but the experience gained over the coming year could place him well for 2001.
Picked from the Bunch
Silly Season Update: The Silly Season is in full swing early, thanks to Damon's announced departure following so closely on Eddie Irvine's recent comments. The shake-up for 2000 is unlikely so see much change in most of the top teams, but that is never going to change the rumours and speculation - particularly when there is so much talent looking go break into Formula One from F3000 and CART.
The Grapevine will have a regular Silly Season update, along with the new Silly Season Page of the F1 Rumors Team.
Prost are pinning their hopes for their home Grand Prix on a new chassis, rumoured to have substantially more potential than the original AP02. The new chassis requires development time to establish how to get the best from it, but could see the team perform on a level with Jordan and Stewart by the end of the year.
Sauber believe they have finally fixed the software glitches in their gearbox. The team has been frustrated by the cars lack of reliability this season and slow downshift in race trim. It's hoped that changes to the underlying software will finally give the team a real chance to compete.
Williams have introduced a new rear suspension, but it makes the car nervous to drive, with the tail prone to stepping out under braking and in corners. It is thought the improved traction is not worth the lack of driver confidence, so the work could be scrapped if development ahead of Silverstone cannot settle the behaviour.