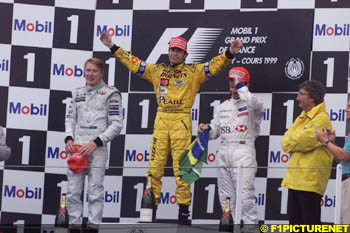 The French Grand Prix was a fascinating affair. Extreme conditions conspired to add some different names to the Formula One history books for once, while the main players made do with the lesser positions to continue their war. It's a Grand Prix that will be remembered for the rain, Rubens Barrichello's second pole, Heinz-Harald Frentzen's second victory and one hell of a race and qualifying session.

But the saga started ten days before the race, with almost the entire field arriving at Magny Cours for a three-day test. Eddie Irvine put the cat among the pigeons there, missing the first day but dominating the second two, while David Coulthard too continued the week of the second men with second quickest. Michael and Mika were inconspicuous in third and fourth respectively.

Free Practice

Ferrari were so confident with progress at that test, that they didn't bother to go out in the first official French Grand Prix practice session on Friday morning. Why, they only know, but events later in the weekend would see Ferrari suffer unduly from shambolic conditions, which showed that they may just have become a little complacent after their early season successes.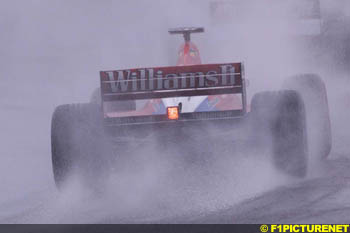 The ever-dilligent McLarens led the first session timesheets, Mika ahead of David. Showing form in third was Alex Zanardi in the Williams, from Frentzen, Jean Alesi and Barrichello.
"The track is very slippery compared with last week," discovered Michael Schumacher, slotting the Ferrari onto the top of Friday's overall timesheets, from Irvine and the rest of the field, in much the same order as the morning - only each slipping two positions down, courtesy of the Ferrari duo's arrival. No one else really managed anything special in Friday afternoon's hot, difficult conditions.
But the weather Gods weren't smiling on Saturday morning, heralding a surprise top order. Rubens Barrichello practised a little good timing to put the Stewart-Ford onto the top of the pile. "I'm hoping the weather will remain the same this afternoon," he said after ending five-hundredths of a second in front of David Coulthard, who was continuing his previous week's form in the McLaren, a tenth in front of Hakkinen. Ralf Schumacher put his Williams ahead of the Ferraris, Eddie ahead of Michael, from Frentzen, a momentarily happy Damon Hill, Zanardi and Ricardo Zonta.
But it started raining during that session.
Qualifying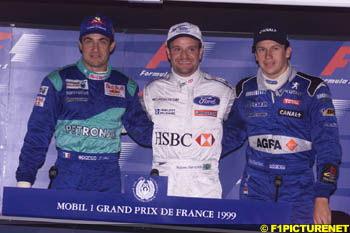 Did Rubens mean he wanted it to keep raining when he asked for similar conditions? Had the Ferraris blown it by sitting out that first session, or were they just biding their time? We'll never know, as the rain never stopped...
Qualifying started in wet, rainy conditions, and only Barrichello, Alesi and the Prosts of Trulli and Panis ventured out early, risking the extreme conditions to set a time.
So after half an hour, Barrichello led Alesi, Panis and Trulli. But Jean Alesi was initially quickest, and Rubens, acting on a tip-off, took a chance on a flyer. "The weather man came and told me it was going to rain after 15 minutes. I saw Jean was faster and I know he is really good in the wet, so I went for a quick lap. It was tricky but I managed a fast time."
Frentzen "it was a mistake not to go out sooner," was the first of the rest to try a run. But his time would eventually stand him good for fifth. Zanardi, Hakkinen, Michael Schumacher and Eddie Irvine all spun and after three-quarters of an hour, the top of the order remained as it was after the early minutes. And the reigning world champion was outside the 107% qualifying rule! Together with Zonta, Hill, Takagi, Irvine, Gene, Wurz, Badoer, Herbert, de la Rosa and Fisichella. The tough going was taking its toll...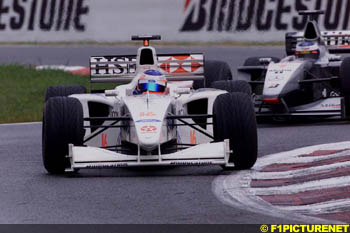 Coulthard put it into the gravel, but only after a terrific lap to secure fourth on a treacherous track. "Given the conditions I'm happy with my times," he said. Michael Schumacher drove around the stranded McLaren after he also went off, while Irvine too had another big spin. Michael's efforts earned him sixth though. "We chose to go out late, because, usually, other cars improve the conditions on the racing line. Today this did not happen," said the German.
So Rubens Barrichello sat on pole – his second, and Stewart-Ford's first ever, costing Jackie a Rolex for an old bet... "Jackie reminded me about the watch right after qualifying. That's a good thing for a Scotsman to do," joked an ecstatic Rubens. "This was just like Spa in '94 and it feels great."
"I feel extremely happy," admitted Jean Alesi, celebrating ten years in Formula One with the other front row slot. "It is the biggest present I can get, I'm confident for tomorrow." Olivier Panis was also delighted, "We had a good meteorologist who predicted the rain would get worse so we started early with a full wet set-up on the car." Five drivers qualified outside 107%, including Damon Hill, but the stewards considered their earlier, dry performances good enough to waive the rule this time.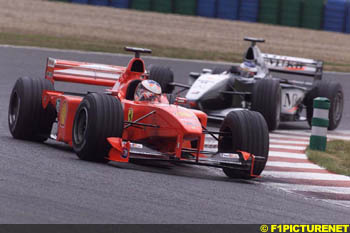 Michael Schumacher was cautious. "If the conditions are the same for the race it will be very dangerous indeed, I almost lost it on the straight, so I hope it will be dry and everyone can have a normal race."
Qualifying was a disaster for some. The world champion ended fourteenth, Eddie Irvine sixteenth. "Well, it is impossible to make excuses," Mika reminisced. "It just felt as though the yellow flags were worse for me! I wasn't confident in the car and that's why I have qualified in fourteenth position. After all the race is when you score the points." Eddie Irvine, way down after that stunning test session last week, was forthright too. "It was a major tactical error not to go out early, but my grid position will make for a very exciting race!"
The Race
Sunday dawned under the threat of Saturday's climatic pedigree manifesting itself in race trim. After several bouts of pessimism as to the dangers of racing in conditions as treacherous as those in qualifying, the grid assembled and set off under threat of stormy weather.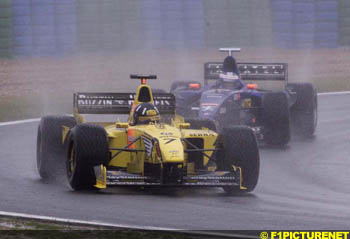 Rubens made a fine start and got away ahead of Alesi, while David Coulthard had to initially dispose of Heinz-Harald Frentzen to claim an early third, with Michael Schumacher in a rather non-dramatic fifth. It didn't take David too long to snatch second from Alesi, while Hakkinen was making significant progress and was up to ninth by the end of lap 2. Irvine's start was less dramatic, "I was in neutral," he later explained.
Coulthard was taking a second a lap out of the leading Stewart and was soon under its rear wing. Hakkinen was making up a position per lap, and was soon closing in on his title rival, who may well have been on different tactics, while Jean Alesi was dropping off the lead.
After three laps of pressurising him, Coulthard finally out-braked Barrichello, but had to use all of the McLaren-Mercedes to overcome the Stewart-Ford. Rubens fought back hard, but David was quickly on his way. The focus soon shifted to the fifth place battle between F1's biggest stars, as Michael Schumacher and Mika Hakkinen diced wheel to wheel for the first time in a while, albeit for the two-point position. Mika eventually fought his way past what seemed to be a rather lacklustre Michael, just as the leading McLaren coasted to a stop, David Coulthard sadly retiring yet again.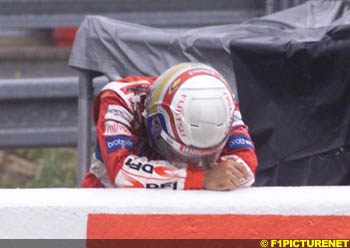 So Rubens Barrichello found himself in the lead again, from Alesi and Frentzen, who was coming under attack from Hakkinen, and Michael Schumacher. On lap 14 Mika disposed of Frentzen and set about Alesi, while Schumacher's Ferrari held station behind the Jordan. Elsewhere, Ralf Schumacher battled Giancarlo Fisichella in a Supertec duel behind the two Prosts - running just out of the points, with Eddie Irvine closing in on the Benetton and Williams after that slow start from 17th.
But the impending gloom was clearly ushering in conditions most of the field were dreading, just as Hakkinen started attacking Alesi for second. Mika made it stick in an exciting move, once again at the hairpin, with both sliding wide after totally exploiting their brakes' limits.
Mika had executed a stunning race, climbing from fourteenth to second in nineteen laps, and was closing in quickly on the leading Barrichello. Michael Schumacher, on the other hand, was driving a different race, no fireworks, no big effort to attack.
Then the skies opened, catching Fisichella out, but Eddie Irvine, approaching the pitlane as it started coming down, shot in, looking for an advantage from that lucky circumstance. But the team let him down – they weren't expecting anyone, and even though the signs of imminent rain were growing clearer and clearer, Ferrari never had wets ready!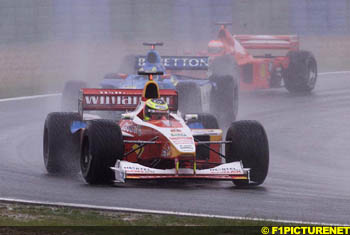 Another sign of the complacency that appears to have beset the Scuderia... "When the rain came, I radioed the team saying 'pits, pits.' I thought they might not be 100% ready, but we had agreed I should come in anyway. It was a bad stop," said Irvine.
Most of the grid filed in next lap, but in the confusion, one, better organised team was on top of things. Jordan filled their cars to the brim. "My pit stop took a long time," Frentzen later recalled, "and I was getting nervous until I realised the strategy had changed so that we could have a long second stint." Sadly, Damon hill touched an Arrows in the shambles of the full pitlane, and had to run a full, slow lap on a puncture.
Despite them all stopping for wets, the order out front remained the same, albeit much closer to each other. Then Jean Alesi was caught out by standing water as the puddles filled, sliding into a gravel trap and out of the race. The safety car came out immediately as a disgruntled Jean started his long walk home.
By the time the field had assembled behind the safety car, Alex Wurz, Jacques Villeneuve, Alex Zanardi and Mark Gene all joined Alesi in retirement as a result of falling off. The safety car stayed out for eleven laps, allowing the worst of that treacherous latent water to be dissipated. During that time, Damon Hill ended his race, and possibly his career, if his comments were anything to go by.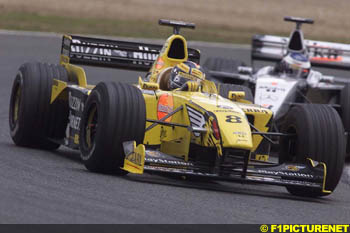 Eventually, at the end of lap 36, the safety car finally pulled in at a time, which was appreciated by most drivers. "The Safety Car came out at just the right moment and stayed out for the right amount of time," Michael Schumacher agreed. Hakkinen immediately set about Barrichello, passing him into the hairpin on lap 38, but spinning on the power on the way out. "Things got tricky and I made a mistake," he admitted. So Rubens survived to lead another lap and Mika dropped out of the points again.
Meanwhile, Michael Schumacher finally came alive, disposing of Frentzen first, in a determined move, and closing in quickly on Barrichello. Michael couldn't beat Barrichello on power, but destroyed him on the brakes, coming from over 50 metres back on his first attempt to pass the Brazilian, but lost out, fumbling on the ensuing drag race. It took another couple of laps for Michael to pass the Stewart, but when he did, he buggered off into the distance.
Eddie Irvine had moved up to sixth by that stage, ahead of Hakkinen and chasing Ralf Schumacher, who was trailing Panis, who in turn was busy with Frentzen behind Barrichello.
Schumacher led by over seven seconds when the next pitstops started, led by Eddie Irvine, who took on more wets, just after he had passed Ralf.Then Michael Schumacher appeared with the rest right behind him, his transmission playing up as a result of steering paddle trouble. But he quickly opened up the gap again, as the team readied a set of fresh wets and a new steering wheel. Ralf had a quick stop, he too opting for wets, two laps before his brother arrived for a somewhat recalcitrant stop.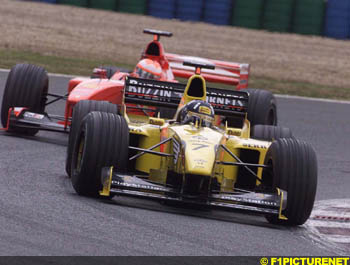 By now, Mika Hakkinen had appeared behind Frentzen in second and was involved in an entertaining duel with the German, culminating in a fine outbraking move, while Heinz-Harald outbraked himself a little. Mika then set off after Rubens, making no mistake to pass him this time and lead the race. Frentzen, after experiencing a one-off gear selection problem, set off after Barrichello. But both Barrichello and Hakkinen needed fuel and stopped, Mika wasting some time in getting going, rejoined behind Frentzen, who had enough fuel to run through, thanks to that long, earlier stop. He led Hakkinen, Barrichello, an uncharacteristically retarded Michael Schumacher from his brother, and his teammate embroiled in a private battle.
Frentzen opened up the gap to record a famous second victory for both himself and Jordan, from a happy Hakkinen and an ecstatic Barrichello. Ralf Schumacher passed his big brother to pinch fourth, but team orders kept Irvine behind the elder Schumacher. "I could overtake my brother Michael: I have always a lot of pleasure whenever I'm fighting him," Said Ralf, while Michael enjoyed that too, "I had a fun fight with my brother Ralf, like in our old karting days."
"I am delighted and very happy with the job my team did today," said Heinz-Harald. "It will take time to sink in, but I am going to celebrate tonight – I'm not sure how yet. The strategy worked very well and the team was able to keep me informed about the fuel and the weather. This victory was nicer than my one in Imola, perhaps because no one expected it."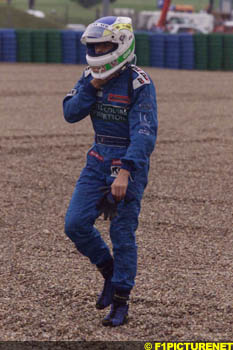 Mika Hakkinen had good reason to be smiling. He beat the man who was supposed to win the last two races and came away leading the championship race by an extended margin. "It was great fun, so much happened and I really enjoyed myself," said the Finn. Barrichello was also sentimental: "I enjoyed the race tremendously. In a strange way, I have a tinge of disappointment because with a little luck with the fuel I could have been on the top step today. But I had some really good, clean battles out there with Mika and Michael."
Ferrari failed to capitalise on two races they had no reason to lose. "Basically, we made too many mistakes, which is not normally the case," admitted Irvine. "Our car was quicker than our main competitors and we missed an opportunity." They were too good to go out in Friday's opening practice, but still didn't bother to plan for the eventualities of a changing race. Schumacher's car never worked on its last set of tyres, and the team couldn't figure out why, Michael admitting, "we were clearly not quick enough in the dry."
Mclaren, on the other hand, never played with fate, running according to the rituals set out by a team that knows what's needed and doesn't let success soften its attitude.
It's not all lost, but if Ferrari want to win their first world drivers championship in twenty years with Michael Schumacher, they have to get their act together. If not, the writing's on the wall...
But the 1999 French Grand Prix won't be remembered as a Ferrari failure, but rather as a Jordan success. Heinz-Harald Frentzen and his team pulled off a stunning and so deserved victory that will long be remembered.
And for Formula One, it was a great weekend.
Final Race Results


CLASSIFIED

 1.  Frentzen      Jordan Mugen-Honda  1h58:24.343   
 2.  Hakkinen      Mclaren Mercedes    +    5.000    
 3.  Barrichello   Stewart Ford        +   34.500    
 4.  R.Schumacher  Williams Supertec   +   40.700    
 5.  M.Schumacher  Ferrari             +   42.000    
 6.  Irvine        Ferrari             +   42.500    
 7.  Trulli        Prost Peugeot       +   52.700    
 8.  Panis         Prost Peugeot       +   55.000    
 9.  Zonta         BAR Supertec        + 1:03.800    
10.  Badoer        Minardi Ford        +    1 Lap    
11.  de la Rosa    Arrows TWR          +    1 Lap    
                                                                    
Fastest Lap: David Coulthard, 1:19.227, (193.115 kmph), lap 8
                                                                    
NOT CLASSIFIED / RETIREMENTS                                        
                                                                    
     Fisichella    Benetton Playlife    42      spun off    
     Hill          Jordan Mugen-Honda   31      retired     
     Zanardi       Williams Supertec    26      spun off    
     Villeneuve    Bar Supertec         25      spun off    
     Wurz          Benetton Playlife    25      spun off.   
     Gene          Minardi Ford         25      spun off    
     Alesi         Sauber Petronas      24      spun off    
     Coulthard     Mclaren Mercedes      9      electrical  
     Diniz         Sauber Petronas       6      transmission
     Herbert       Stewart Ford          4      gearbox     
     Takagi        Arrows TWR            -      Disqualified


The French Grand Prix, Lap by Lap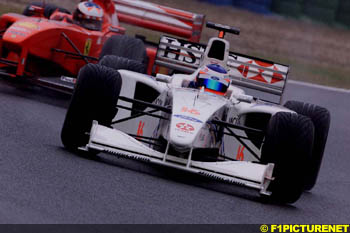 The Start: Barrichello makes an excellent start from Alesi but Coulthard goes ahead of Panis who makes a poor start and is also overtaken by Frentzen and Michael Schumacher. Trulli, however, gets ahead of Fisichella while Hakkinen, on the run down to Adelaide, picks off the backmarkers with ease
Lap 1: Barrichello leads by 1.1s from Alesi with Coulthard next followed by Frentzen, Panis, Trulli, Fisichella, then Hakkinen who is up to ninth already followed by Wurz, then Herbert about to drop back, Diniz and Villeneuve
Lap 2: Coulthard moves up to second place, ahead of Alesi, while further back Hakkinen goes up to eighth ahead of Fisichella
Lap 3: Coulthard is right on Barrichello's tail and there's a 2.2s gap back to Alesi who has Frentzen and Michael Schumacher right behind him. Then there's another small gap to Panis now with Hakkinen behind him having overtaken Trulli
Lap 5: While Coulthard is still pushing Barrichello hard, the next three have spaced out a little while Hakkinen is next up having overtaken Panis and then comes Trulli. Herbert has been progressively losing gears and retires
Lap 6: Coulthard comes down the inside of Barrichello at the Adelaide hairpin and moves into the lead
Lap 7: Coulthard quickly pulls away, now with a 3.5s lead. Further back, Hakkinen is right behind Michael Schumacher. Further back, Ralf Schumacher inherits 11th place when Diniz retires with no drive
Lap 9: Ralf Schumacher moves up to tenth place when he overtakes Wurz
Lap 10: Coulthard pulls out of the lead with an electrical problem, leaving Barrichello in the lead again with a 3.7s advantage over Alesi still pushed by Frentzen while Hakkinen overtakes Michael Schumacher to move into fourth. Behind the Ferrari, the Prosts are still close together, Panis ahead of Trulli and then comes Fisichella from Ralf Schumacher, then Wurz, Villeneuve and then Zanardi ahead of Irvine who is on the move up through the field
Lap 11: It's come up towards 2.30pm and the first rain drops are beginning to fall. Hakkinen is pressuring Frentzen for third place, Irvine has overtaken Zanardi for 12th
Lap 13: Irvine overtakes Villeneuve for 11th
Lap 15: Barrichello still leads by 4.6s from Alesi but behind, Hakkinen overtakes Frentzen, leaving the German to be pushed by Michael Schumacher. Then there's a gap to the two Prosts, and another to Fisichella being pushed by Ralf Schumacher. Wurz is next, under pressure from Irvine
Lap 16: Hakkinen is now pushing Alesi
Lap 17: There are more drops of rain, but it's not quite 2.30pm yet. Ralf Schumacher overtakes Fisichella for eighth place
Lap 18: Alesi, under pressure from Hakkinen, locks up at the hairpin, and the Finn comes down the inside, but then he slides wide and Alesi is able to hang on to second place
Lap 19: But not on this lap when Hakkinen gets it right and moves into second place, 4.7s behind Barrichello, leaving Alesi to be challenged by Frentzen. Further back, Irvine is on Fisichella's tail
Lap 20: Irvine takes Fisichella for ninth place when the Italian has a spin
Lap 21: It's 2.30 pm and down comes the rain. Barrichello, Hakkinen, Alesi, Frentzen and Michael Schumacher have all gone past the pits, but Panis, Irvine(who is badly delayed when he's given slick tyres!), Fisichella, Wurz(both Benettons at the same time!) and Villeneuve all pit while Hill also pits but then collides with de la Rosa on rejoining and picks up a puncture, then having a spin and then another spin before limping back to the pits for another tyre change. As well as de la Rosa, teammate Takagi also pits on this lap as does Gene
Lap 22: Barrichello, Hakkinen, Alesi, Frentzen, Michael Schumacher, Ralf Schumacher, Trulli, Zonta and Zanardi all pit on this lap as well as Badoer and the returning Hill
Lap 23: In fact there haven't been too many places changes: Barrichello still leads just from Hakkinen and Alesi, then there's a 4.3s gap to Frentzen just ahead of Michael Schumacher, then the two Prost followed by Ralf Schumacher and then Fisichella after Irvine's delay, followed by Villeneuve, the delayed Irvine and Zonta
Lap 25: With the rain still falling hard, the safety car comes out and soon picks up all the leaders although Villeneuve pits on this lap and will later spin off and out of the race. Alesi spins off just before the pace car comes out
Lap 26: Gene spins off and out of the race. Wurz and Villeneuve also spin off
Lap 27: Zanardi loses grip and gets sideways in a puddle and water gets in the airbox and the engine stops
Lap 28: The cars are still circulating under the safety car although the rain has now stopped. Takagi pits again for a new nose due to suffering from understeer.
Lap 33: Hill pits and retires with a misfire
Lap 35: Still behind the safety car, Irvine has a spin and loses four places and is now last! At the end of this lap, the safety car comes in
Lap 36: Barrichello is being pushed hard by Hakkinen already opening up a gap to Frentzen followed by Michael Schumacher and Olivier Panis before a small gap to Trulli and then another gap to Ralf Schumacher and Fisichella. Zonta is next, with Irvine having already overtaken both Arrows and Badoer
Lap 37: Panis begins to drop back a little from Frentzen and Michael Schumacher
Lap 38: Hakkinen has a spin at Adelaide, and drops back to seventh place, right in the middle of the big bunch forming with Trulli ahead of Ralf Schumacher, Hakkinen, Fisichella and Irvine about to join them having overtaken Zonta
Lap 39: Barrichello still leads but now Michael Schumacher overtakes Frentzen at Adelaide to move into second
Lap 40: Michael Schumacher is now right on Barrichello's tail. Further back Irvine has overtaken Fisichella to move into eighth
Lap 42: Michael Schumacher dives down the inside of Barrichello at Adelaide, but then slides wide and Barrichello just puts down the power better and holds onto his lead although Frentzen is right with them. Further back, Irvine overtakes Hakkinen for seventh place
Lap 43: Michael Schumacher is still right behind Barrichello while further back, Irvine now overtakes Trulli. Fisichella spins off after aquaplaning and is out of the race
Lap 44: Michael Schumacher tries to overtake Barrichello again, and this time succeeds.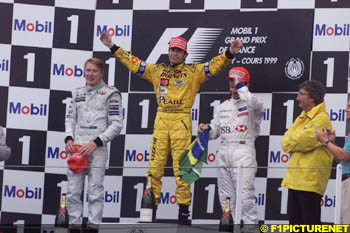 Lap 45: The Ferrari driver now has a 4.3s lead over Barrichello who now has Frentzen, Panis, Ralf Schumacher and Irvine right up behind him, while Hakkinen has overtaken Trulli and is gaining on the bunch ahead
Lap 47: As Hakkinen latches onto the back of the bunch, so it splits up with Barrichello and Frentzen easing away from Panis holding up the rest
Lap 50: Ralf Schumacher overtakes Panis for fifth place. Irvine pits on this lap for fuel and tyres in seven seconds, staying on wets
Lap 51: Michael Schumacher loses eight seconds due to an electrical problem in the steering wheel which only gives him first and second gears, so that he's caught by Barrichello and Frentzen but then the problem cures itself. Hakkinen overtakes Panis for fifth
Lap 52: Ralf Schumacher pits for 7.8s, coming out just ahead of Irvine
Lap 53: Now Hakkinen is on Frentzen's tail
Lap 54: Michael Schumacher pits for 13s as the steering wheel is also changed to cure his problems. Barrichello retakes the lead from Frentzen and Hakkinen, then the two Prost Peugeots from Ralf Schumacher and then Zonta, with Irvine dropping a place due to going off
Lap 57: Hakkinen overtakes Frentzen under braking for Adelaide while Panis pits for 6.0s
Lap 58: Hakkinen is on Barrichello's tail and tries to overtake at Adelaide but fails
Lap 59: Trulli pits
Lap 60: Hakkinen overtakes Barrichello at Adelaide to take the lead. De la Rosa pits with a puncture and a new front wing is fitted following his earlier incident with Hill.
Lap 61: Zonta pits and goes onto grooved tyres rather than wets and will now lap substantially quicker than everyone else
Lap 62: Irvine overtakes Panis for sixth
Lap 64: Now Irvine is on Ralf Schumacher's tail
Lap 65: Hakkinen pits for 7.7s and Barrichello for 7.2s
Lap 67: Frentzen still hasn't pitted and leads from Hakkinen in second and then a big gap to Barrichello in third. Michael Schumacher is fourth, but is being caught by brother Ralf being pushed by Irvine. The Prosts and Zonta complete those on the same lap. There are a few drops of rain again. Badoer pits on this lap.
Lap 69: The rain starts to fall heavily again, while there's a great mix-up among the Schumachers and Irvine with Eddie getting ahead of Ralf, only for Ralf to pull one over on both of the Ferraris on lap 70, to move up to fourth leaving the Ferraris behind him
Lap 72: Frentzen wins from Hakkinen and then Barrichello, while Ralf Schumacher goes straight on at the final chicane but finish fourth ahead of his brother and Irvine. After the race, Takagi is excluded for having used one of de la Rosa's sets of tyres.