This week's Grapevine brings you
information fresh from the paddock on:

Ferrari wants Rubinho
BAR's Scapegoat
Silly Season update
Picked from the Bunch
France Tidbits
Ferrari wants Rubinho
Brazilian Rubens Barrichello has confirmed earlier this week that he has received a "generous offer" from Ferrari. Barrichello would not disclose whether he will take the Italian team up on that offer, but the paddock at Magny Cours last weekend was already on a roar of speculations. The talk of the day at every luncheon was that in fact, Eddie Irvine and Rubens Barrichello are set to change places for 2000. Suspend your disbelief - there are a number of reasons why this might be so.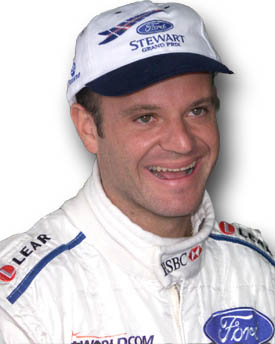 Michael Schumacher is believed to be intent on retiring from driving after 2002, at the end of his current contract, and is prepared to groom his successor. Obvious candidates to fill his mantle include Rubens Barrichello - who, at 27, could afford a couple of years in Schumacher's shadow - and the suddenly very mature Ralf Schumacher. However, Michael's younger brother is tied to Williams in 2000, and pretty certain to take up his option to remain with the team through 2002 if the BMW engine proves to worthwhile. Moreover, Ralf has said on more than one occasion that he does not want to be remembered as Michael's younger brother and would like to succeed on his own - all the more a reason not to drive in Ferrari with Big Bro.
Speculation has Rubens Barrichello fully aware that there is a great opportunity here. Stewart-Ford is a team that is really going places, but it still does not have the great resources, dedication or know-how of Ferrari, or a double World Champion to learn from. Accordingly, he is prepared to accept a year effectively in the number two role as he learns his way around the car and team, before successive years where whoever is going best in the Championship is supported by the other.
Schumacher's attitude is markedly different this year. Since the birth of his second child, his attitude seems to have changed and sources at Ferrari say he is very at ease. Schumacher went on the record saying that if his teammate is more successful than he is, whether by better fortune, or simply out-racing him, then he will support him though the Championship. That is only partially true: Schumacher demands that he be Number One in Ferrari as long as he has to fight for the Championship. He has agreed, however, that once he gains that goal, there will not be a need for a contractual number two driver, and that leaves Barrichello every reason to hope that once Michael gets his much wanted third championship in Ferrari, Rubens will not need to make way for the senior German driver.
Eddie Irvine is thought to have blown it with Ferrari after one too many revelations of the contents of his contract in the press; recent drives have been put down as "expected, driving the best car in the field." Moreover, sources at Ferrari were recently heard saying that as a Number Two driver, Eddie was "not that much of a bargain," pointing to his results in 1997 and 1998 as one of the factors than prevented Ferrari from winning the Championship. "Eddie is a great driver, but he shouldn't let his ego fool him as to his real abilities," a Ferrari senior said this week.
So now it all comes down to what Rubens wants. Sources say the young Brazilian is considering the offer and is taking his time, knowing his price can only go higher.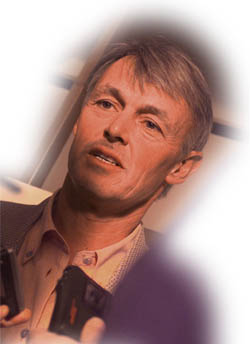 BAR's Scapegoat
Since climbing into bed with Honda, BAR have become aware of just how seriously their car has been under-performing. The Honda pilot project has generally produced better results in testing than BAR's race car, leading many to speculate that the team should have entered in their own right this year.
A number of issues relating to BAR chassis have been compared to the Honda equivalents. The results of the analysis indicate that the car's performance in a number of key areas is below par, and speculation is that it provides grounds for a BAR to issue a writ against partner and designer, Adrian Reynard.
Recently, Jacques Villeneuve has been heard stating Reynard's failure to appear at tests and races is part of the problem. He believes that a "hands on designer, like Patrick Head," who attends all major events, is what the team needs, to get to grips with the issues as they occur and deal with them first hand. He has been quoted stating Reynard's approach "just isn't good enough."
Whilst there are certainly problems with the BAR car, comments at the start of the season were favourable, and the team believed the chassis held promise. Although the tie up with Honda is promising, with the Japanese manufacturer integrating the best parts of both designs for a hybrid chassis to test later this year, the team have to justify the revised approach and looking for a scapegoat for their poor results so far.
Silly Season Update
German magazine "Kicker" reports this week that Ford has offered Mika Hakkinen a very lucrative contract for his services, as of next year. according to the magazine, Hakkinen is in serious talks with Ford, who are expected to enter the Stewart team next year under the Jaguar name tag. Ford would like a leading figure to be driving the car, and who better then Mika Hakkinen, a world champion and one of the best and experienced current drivers in formula One? In return, they are willing to offer Hakkinen a multimillion dollar contract, only second to that of Michael Schumacher. Hakkinen, who is most certainly the most poorly paid WC in the last ten years, is said to be "tempted".
Eddie Irvine is rumoured to already have a price tag for his services next year - the Irishman wants five million dollars, plus win bonuses. Stewart, currently, is the only team considering the offer.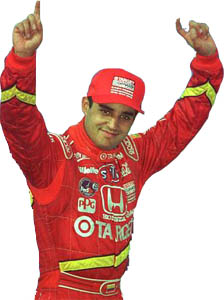 CART's Greg Moore has been quoted expressing interest in the Formula One drive, and sources indicate Mercedes could try to arrange a drive for McLaren later this year.
Max Biaggi was tied to another test drive at Ferrari, with the potential for a full time drive next year, before the Barrichello/Irvine swap rumour became popular. Meanwhile, runaway CART leader Juan Montoya has a contract which is rumoured to have an clause allowing him to move to Formula One if he wins the FedEx Championship in his first year.
The Grapevine will have a regular Silly Season update, along with the Silly Season Page of the F1 Rumors Team.
Picked from the Bunch
McLaren designer Adrian Newey was in Maranello after his 1939 Jaguar broke down a few miles away en route to Florence. He called in to the Ferrari factory on the off-chance they could help, resulting in Ferrari president Luca di Montezemolo setting his mechanics to repairing the car, whilst the McLaren aerodynamicist had a very cheerful lunch with di Motezemolo and team chief Jean Todt. He was later quoted saying "It's absolutely crazy that Ferrari helped me! I must get even with them one day." Di Montezemolo, smiling, responded to that, saying "time will tell."
Jordan are looking forward to the Silverstone Grand Prix, where they have a new car to play with: the new chassis has revised aerodynamics, particularly the rear wing, whilst a lightweight gearbox is expected to improve rear stability, and the latest Mugen-Honda engine should be fit to run the whole race distance.

Spain Tidbits
Eddie Jordan revelled in the playing of the Irish National Anthem when Jordan won the race - the first time it's been played on a Formula One podium. The British anthem was played when Hill won at Spa last year, so Jordan took steps to ensure future occasions saw the Irish anthem being played. However, at France Eddie had to sang out loud for the crowd, as no-one knew the words...
British broadcasters ITV found themselves locked out of the circuit, after deciding they wanted to show tape delayed coverage of qualifying, rather than pay for live access, then changing their minds. They failed to resolve details of the contract ahead of the event, and ended up unable to show the session at all. The FIA and ITV are now trying to resolve their differences ahead of the British Grand Prix in two weeks.