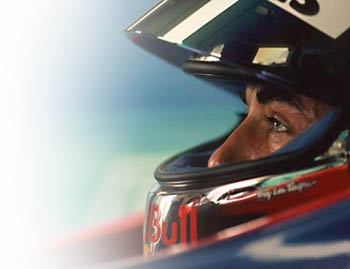 As he flew down the long street under the unusually overcast skies of Phoenix, he decided it was time to make his move, having held back in the belief that the man ahead would have to make a pit-stop. He did not, and now he knew that if he wanted to win he would have to go for it. He waited patiently, then out braked him as they turned to move right into a right right-angle corner. There was no need to close the door as the parallel part of the track was dirty and he could not envisage the other man causing him any problems beyond what he had considered earlier, that this man would be hard to overtake but overtaken him he had and now it was time to drive on towards the certain victory that awaited him.
However, something unexpected happened. The young racer would not yield and instead powered onto the dirty side of the track and darted left into the next corner. That was not meant to be! The crowd roared, the commentators looked on in a mixture of stunned awe and giddy excitement, and the world looked on amazed. Sensssaaaaaational as one commentator might have described it. For this young pretender from France by way of Sicily, had just outmanoeuvred the great Ayrton Senna!
Few could, or indeed would dare such a feat. Yet this fiery young racer had just done it and made it stick! He came at him again the next lap and this time at the same corner took him yet again. This time making sure he closed the door but the Sicilian refused to take no for an answer and carried on trying to race him, side by side and wheel to wheel and into the next corner. Finally Senna got the upper hand and locked himself into the first position. He won the race, but only by eight seconds. Quite an achievement for the second placed man in the modest but agile Tyrrell who had stuck with and held his own to what many considered the greatest driver of all time, driving in the best chassis and with the most powerful engine of them all.
Phoenix 1990 - this was, in explosive fashion, the final confirmation of the arrival of Jean Alesi.
Sadly though, after ten years in Formula One, Jean stands with only one win to his name. The Sicilian has never stopped trying, never stopped pushing and never ever stopped being fast. Sure he has overdriven on a fair few occasions, and sure he has suffered a brain fade on a couple of occasions (the most embarrassing of these being when he let himself run out of fuel needlessly at Melbourne in 1997), but then he has made up for these with awe inspiring performances that only true great drivers could do.
Throughout his Formula One career there have been the highs. The titanic battle at Phoenix, the stunning display at Monaco in 1990, and then there were the moments in the sun at Ferrari during a period dominated by the clouds. The daring display of car control in the woefully uncompetitive F92a on slicks at a rain soaked Magny Cours track in 1992 where, until the magic ended and he spun and had to pit, he was only a second slower a lap in the wet on slicks than the leaders on full wets. Only Alesi could produce such a performance of car control and outright speed in such terrible conditions.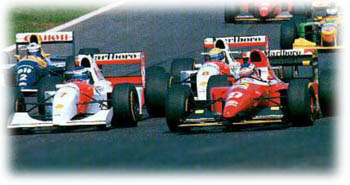 Not even Senna could match these performances sometimes. Indeed, a couple of races earlier at Barcelona in another wet race Alesi had gone on a charge after spinning early on. With the rain beating down Alesi went after Senna's McLaren and in the space of two laps had taken 14 seconds out of the Brazilian. Senna then aquaplaned and Alesi took third place with only Schumacher and Mansell in second and first places respectively.
Then there were the other moments such as Estoril in 1993. Alesi made a storming start from the grid and took Hakkinen going into the first corner and led for nearly 20 laps. A novelty for a Ferrari in those days.
And there was the win in Canada in 1995. Fortuitous though the final result may have been, Alesi had got himself into second position in the early part of the race on his own merit. With superb moves on teammate Gerhard Berger and Williams' Damon Hill, he set himself up perfectly for the opportunity when Schumacher's Benetton failed. As he stormed towards the end of the race inside the cockpit he fought back the tears of joy and emotion. He couldn't believe it was really happening after so much pain with the Italian marque. Every time he braked, the tears would fly forward and steam up his visor. He regained his composure and went on to the win. The Quebec crowd broke rank in jubilation and stormed the track, nearly causing accidents for other drivers. For them the true spirit of Gilles Villeneuve, Ferrari No. 27, had come home and he had come home in style.
Sometimes victory would be cruelly robbed from Alesi. Such was the case at Monza in 1994 when he was the class of the field. He had been fastest all weekend and set pole in style with his teammate Berger behind him. In the race he ran away from the rest at nearly a second a lap. But the unreliability would strike and when he made his first of two pitstops on lap 15 the gearbox failed. In disbelief he paused momentarily. Then anger, four years of bottled up anger erupted. He slammed the steering wheel and got out of the car. He hurled his helmet away and stormed off out of the garage to his awaiting car. Ignoring his executive jet waiting at the Milan airport he flew off down the highway at nearly 260 kmph. He got back from Monza in Italy to his home in Avignon in just thirty minutes.
It wasn't until 1995 that the Maranello cars would finally start to come good. Such was the progression of the team. Since the arrival of Luca di Montezemolo, Jean Todt and Niki Lauda throughout 1993 the organisation of the team had steadily been improving. By 1995 it was at a stage where, with few problems in the offices and production plants within Maranello, the cars could finally start to develop to a high standard. With this setting, Jean set out for what would be one of his best years.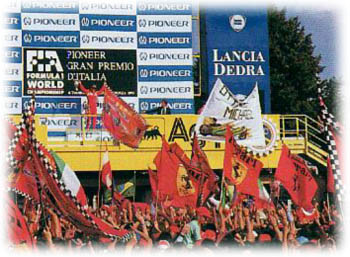 With a more reliable Ferrari V12 that was also getting more drivable, Alesi could start to challenge - and occasionally beat - the top runners in the likes of Damon Hill, David Coulthard and Michael Schumacher, and Ferrari could lead the constructors championship after coming away from Montreal with a win. Alesi took full advantage of the improved Ferrari and scored numerous podiums, including that win, including two of his best career performances at the Nurburgring and Suzuka before the season end.
Nurburgring was a magical classic Alesi wet weather performance. On a wet rack and in only slicks he drove the race of his life. Not even Hill, who was desperate to win to keep his championship hopes alive, could get the better of Alesi. He tried, but committed an unforced-error and drove off onto the grass trying to take Alesi.
Alesi looked set for another win. But having only pitted once, his tyres were badly worn and Schumacher on fresh rubber was charging him down at around three seconds a lap. To make matters worse, the thirsty V12 was running very low on fuel and Alesi had to deliberately slow down to make sure he got to the end of the race. In the dying laps Schumacher caught him. Alesi defended vigorously and looked like being able to keep the German behind him until the chequered flag. It was impossible though. By now the tyres were so worn that they could give no more. With three laps left to go Alesi could find no grip going into the Veedol chicane and cut across the grass. Schumacher scampered through and after briefly dicing with Alesi, who gallantly fought on to defend his position, he was away.
Alesi almost got his revenge at Suzuka though. Much like many of the races in 1995, Suzuka was a wet one, partially at least. From the start Alesi slotted into second behind Schumacher. Alesi had jumped the start though and on lap five had to come in for a ten second stop-go penalty. This he duly took and came back out. Then two laps later he was back in. What was this? It turned out that Alesi was gambling and going for slicks. He came back out down in 15th but instantly started to charge. His rise was meteoric and with other drivers realising that now the track was drying and pitstoping to take on slicks, he shot back up to third and started his famous charge. Compared to what he was about to do his rise from fifteenth to second was modest and, having recovered from a 360 degree spin now it was time for the notorious Alesi attacco pieno - full attack.
He caught and forced his away ahead of Hill's Williams, then set off after Schumacher. By lap nineteen he was just a second behind the German and looking to have the momentum. But disaster struck. On lap twenty-five he cruised to a stop on the track itself, the gearbox having again failed.
There were, of course, the lows as well during that season of 1995. The Italian Grand Prix at Monza turned into a huge disappointment. Ferrari looked set for a one-two at the end. But the side mounted camera of Alesi's Ferrari up ahead came away and fell backwards into the Ferrari No. 28 of Berger. It impacted into the Austrian's suspension at nearly 290 kmph. Then, nine laps before the end smoke started to appear from one of Alesi's wheels. Several laps later, with only five left to go, Alesi finally pulled off; a wheel bearing had failed and all Alesi could do was reflect on yet another cruelly timed failure and what could have been.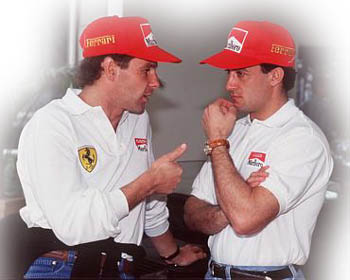 The final insult came at Adelaide that year. With a real chance of finishing third in the driver's championship, ahead of Herbert and Coulthard, Alesi had to hold off the attentions of a very eager Schumacher. The German eventually tried to make his move at the end of the long Brabham straight, but Alesi refused to concede his position. They crunched into the side of each other and the damage was done. Alesi headed for the pits. Having parked the car and stepped out of it the Sicilian calmly walked away and closed the door on one of the most emotionally demanding periods of life. But if Alesi walked out of the Ferrari thinking the troubles were over, he was wrong; they were just about to start all over again at Benetton...
In many ways Jean Alesi's actions have always seem to contradict each other. On one hand he is a fiery and highly charged passionate racer whose emotions can get the better of him sometimes. Yet, as many of those at Jordan who worked with him in F3000 will testify, when it required calm intelligent driving in order to win races and the eventual championship outright, Alesi could do these without needing to be prompted. Indeed, in the race where he only needed one point to clinch the European F3000 championship he did just enough and no more, giving a driver who wanted to overtake him so much room to pass that there would be no risk of a collision. So it was somewhat apt that he would show both sides of these in his time at Benetton.
In his first season at the Italian-British team, Alesi finished on the podium eight times, but also failed to finish at all five times. His second season was opened with his infamous 'brain fade', where he ignored the need to pit and ran out of fuel. However, from that race on, he started to settle down a little more despite relations with team manager, Flavio Briatore, hitting an all time low. Alesi became the most consistent driver of the field in 1997. Scoring several podium finishes and almost winning at Monza, where he was only beaten by the slicker pit-work of the McLaren boys for Coulthard. Alesi would eventually finish fourth in the world championship with the same points tally as David Coulthard (both were promoted to third after Michael Schumacher's standing was disqualified).
Yet perhaps it was the German who caused Alesi some of the greatest problems at Benetton. For they were still besotted with him, and had difficulty coming to terms with his departure. Certainly, the close relationship that the German had taken several years to develop between Brawn and Byrne was no longer there. The director of operations at Benetton, Joan Villadelprat, would later comment to Autosport that "...when [Alesi] came to us in '96, it didn't really work very well. It was probably the wrong time for both of us. He was expecting a world championship-winning team and we disappointed a bit. By the same token, we had just split with the best driver in the world, so our expectations of him were greater than he could deliver."
Alesi left for Sauber at the end of 1997. What many expected to be his pension drive was anything but. He was often sidelined by a lack of reliability but when the car remained good he showed he still had it with performances such as his scintillating drive in the wet at Spa or the challenge for pole position in Austria. Even at Monza he held pole for a short while before a wet track dried out and the faster McLarens and Ferraris took over.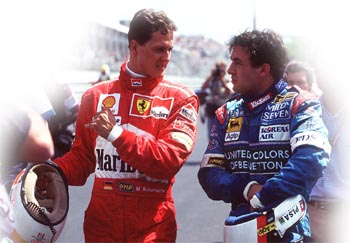 Expectations were high for the 1999 season with the addition of a vastly improved Ferrari V10 engine. Putting out nearly 800bhp some believed it would be the third most powerful engine on the grid. But the good looks disguised the lacklustre chassis of a car that was to continually suffer from problems with the gearbox.
Ten years passed since his manager in F3000, Eddie Jordan, told Ken Tyrrell, who was looking for a last-minute replacement for Michele Alboreto, that he should give Jean a try. Ten years of highs and lows and a great promise that never had the proper equipment to allow it to be delivered. "I have no regrets," Alesi said last week, when he was asked to reflect on the passing decade. "I have enjoyed it all and I have some beautiful memories. I raced hard with great champions like Alain, who was my friend. And with Ayrton and Nigel and Michael, of course. We had some great races together and I was always proud to race them."
Ten years on, Alesi's best days seem gone. Or have they? At the time of the French Grand Prix Eddie Jordan was to announce that the replacement of the retiring Damon Hill would come as a surprise and that it would be a man who may not be a top driver right now, but could get on well in the Jordan family atmosphere. There is only one driver who would fit that description and would do it justice.
Could Alesi be heading back to his roots?