Need help with buying tickets to a Grand Prix? Always wondered where are the best racing schools? Have a question about F1 statistics or history? Well you're not the only one. And it's about time someone came up with the answers to Formula One's most Frequently Asked Questions. Send us your questions, to faq@atlasf1.com - we may not know everything, but we will sure make the effort to find out
"I have a question that has been bugging me for a long time regarding the numbering on F1 cars. I know that the reigning F1 champion gets the #1, his team mate gets the #2, and the rest are handed out according to the teams' standings in the constructors championship. But I noticed that Ferrari, for the longest time, had #27 and #28, and Minardi has had #23 and #24. I have a hard time believing that Minardi bested Ferrari for those years. Are those traditional numbers and the rule recently changed? Please enlighten me. Wayne O."
Tradition has seen the world champion wear #1 in F1, although it wasn't until the late 60's that a consistent numbering system for other teams appeared at all. In fact, it wasn't until most of the 'privateer' teams had disappeared in the 70's that the system we are familiar with came into effect, in which a driver used the same number for a full season and each team had two, usually consecutive numbers. Tyrrell wore the numbers 3 and 4 from 1974 to 1995 regardless of how well they did. Amongst the major teams, from the mid 70's to 1995, the rarely changed numbers except where there was a reorganization of numbers after the changing of world champions.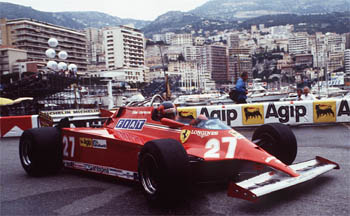 Ferrari wore #27 and #28 from 1981 to 1995 except in 1990 when reigning world champ Alain Prost was at the team. Ferrari inherited the #27 & #28 from Williams when Alan Jones took the world title from Jody Scheckter. Minardi took up #23 and #24 for their first year as a two car team after RAM folded, leaving the numbers vacant. In 1996 the FIA re-allocated the car's numbers according to teams results from the previous season, leaving a gap for #13. The exception to that thus far was when Damon Hill took #1 to Arrows in 1997. So for 1999 McLaren have 1-2, Ferrari 3-4, Williams 5-6, Jordan 7-8, Benetton 9-10, Sauber 11-12, Arrows 14-15, Stewart 16-17, Prost 18-19, Minardi 20-21 and BAR 22-23.
"Hi, quick question : If the drivers all have helmet-mounted radios to get information from the pits, why do they need pitboards (other than as a backup in case the radio fails)? Bill S."
Backup is the major reason of course. Some drivers these days don't look at the pitboards at all, even - in the case of Jean Alesi at Albert Park in 1996 - when his radio failed and he ran out of fuel after not reading his pit boards, with large letters calling him "IN". Some drivers are also more talkative in the car, and some find radio chatter distracting. Ayrton Senna, for example, was a talker and liked a constant flow of information. The pit board is however largely constant in the information it displays: race position, last lap time, and identity and gaps of the next car up the road, or closing behind. The driver can then inspect that information each time, thus reducing potentially distracting radio chatter.
"Could you please tell me if Rothmans currently sponsor any F1 activity? Thank you, Sebastian B"
Rothmans is a label long associated with dominant motorsport teams. They were emblazoned on the side of Porsche 956's & 962's at the height of the factory Porsche sports car team's powers during the 80's and Rothmans Porsches won Le Mans as well. Later in the 80's and 90's the were also seen on the panels of Honda's world championship winning motorcycles. Eddie Lawson, Wayne Gardner, Sito Pons and Mick Doohan all won world titles on the at times unstoppable Rothmans Honda NSR's in 500 and 250cc trim.
At the end of 1993 Rothmans pulled out of motorcycle racing to re-allocate their funds towards supporting the Williams-Renault Formula 1 team - the team which enjoyed higher motorsport coverage than any other in motorsport, apart from possibly Ferrari. A Williams that had just signed the world's greatest driver at that time, Ayrton Senna. Of course we all know the story of Williams 1994 and what happened a bare three races into the season, but Rothmans displayed corporate faith in their new team. While momentum in Formula 1 swung towards Benetton and Michael Schumacher, Williams always threatened to come back, and they did, winning dominantly in 1996 with Damon Hill and continued the flow of wins into 1997 with Jacques Villeneuve.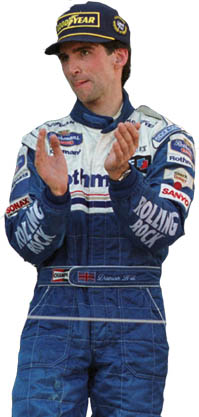 For 1998 Rothmans decided that marketing to the 'tiger' economies in Asia was a better idea than furthering the image in Europe, but Rothmans isn't their biggest brand of tobacco in Asian region so their promotion would instead hinge around one of Rothmans' other tobacco blends, Winfield. This would also allow them to increase Winfield's exposure in Europe. Winfield had been seen occasionally on the side of the factory Mitsubishi Lancer world rally cars in the past, and also had a strong sports sponsorship association in Australia, sponsoring the Australian Rugby League competition and the then top Australian touring car team Gibson Motor Sport (1992 factory Nissan GT-R, 1993-5 semi-factory Holden Commodores), and also the sponsorship of Top Fuel drag racer Jim Read, a sponsorship which is listed in the Guiness Book of Records as the longest continuous sport sponsorship. So the 1998 Williams appeared in the red livery of Winfield complete with an Australian kangaroo.
The Rothmans tobacco empire however has been recently bought out by British American Tobacco, part-owners of British American Racing. With BAT promoting their Lucky Strike and 555 brands through BAR it's thought that promoting a third brand is excessive so it looks likely that Williams will loose their Winfield sponsorship at the end of this season. That will bring an end to long and presumably fruitful association with motor sports for Rothmans, an association which included 3 of the best motor racing teams the world has seen.
"Could you please tell me if Ferrari ever attempted to build an Indy Car? I believe they were close to switching to the US series when things in F1 weren't going very good for them. Sam C."
Ferrari have largely ignored the other great open wheeler race over in the US, and never seriously looked at the American series, which even today doesn't get enough world wide exposure for them to justify the money spent. However in the 50's the rules for Formula 1 and the Indy series were loose enough for cars to cross from one championship to the other, at least in theory. The biggest conflict is the month of May, qualifying for the Indy 500, with 1 or 2 F1 races always falling within weekends of the Indy month. However, in 1952 Alberto Ascari missed the Swiss Grand Prix so Ferrari could mount an attack on the Indy 500. Ascari's Ferrari failed early in the event however. Ironically the Indy 500 and the Swiss Grand Prix were to be the only 2 races Ascari didn't win in the 1952 world championship.
"As a recent fan of F1, having followed the past three seasons (in large measure due to J.Villeneuve's entry into the sport) I do not understand the FIA's decisions on speed restriction. If the FIA wishes to slow down the cars why not lower the displacement of the engines instead of messing with the grip? It seems to me that by lowering the grip of the cars the result will be more danger for the drivers and less overtaking. Why not keep the grip, and therefore restore good handling, while reducing the power the engines produce?"
Two simple reasons for this. Firstly cost. To change the engine displacement, each of the manufacturers - Ilmor Engineering, Ferrari, Mecachrome, Honda, Arrows, Cosworth and Peugeot - would each have to develop a totally new engine from scratch - a very costly undertaking. The last time this was done was back in 1995. The FIA got together with the manufacturers and they agreed that the cars were too quick so between them they agreed to reduce the engines from 3.5 to 3.0 litres capacity for the 1996 season. That spelt the end of the V12 as 3 litres wasn't practical for that many cylinders.
The second reason is that reducing the capacity didn't really work. Within a year the cars were breaking lap records again. Also to further reduce the capacity would see F1 running smaller engines than Formula 3000, Formula 1's primary feeder class. It would affect Formula 1's prestige to have a support class running bigger engines. Running grooved tyres was the FIA's attempt to find a different way of approaching the problem, although the decision did appear to claim a victim when Goodyear pulled out claiming that the grooved rubber no longer had any real world applications and pulled out of F1. The theory on grooved tyres was that it would help the talented drivers, being supposedly better able to handle the less stable cars. Whether that worked or not is open to conjecture.
"I have attended the Montreal Grand Prix during the last two years. In 1997 I was able to hear drivers communicating with mechanics during Friday and Saturday sessions. In 1998 I could not. Question: are radio communications now scrambled by all teams? If so, when did this happen? Thanks in advance, Sergio F."
Yes, indeed, pit to car radios are now scrambled. The reason? Well that was one of the side-effects of the Villeneuve/Schumacher clash at Jerez in 1997. After the race, when it looked like Michael Schumacher might be brought up on some sort of charges by the FIA for poor driver conduct, Ferrari produced tapes of the pit to car radio conversation between Williams engineer Jock Clear and Jacques Villeneuve which in Ferrari's opinion implied a collusion between Williams and McLaren. Not surprisingly Williams took umbrage at Ferrari for (among other things) scanning their radio frequencies. The technology for scrambling radio conversation is not new or expensive so the teams scrambled communications for the 1998 season.
"Why don't the small teams associate their Research and Development programs? Adding their scarce financial and technological resources; enabling Prost, Minardi, Sauber , Arrows and Stewart , for example, to co-operate on the development of their gearboxes, aerodynamics, suspensions, electronics, etc. And share their achievements. In my opinion, it would be the only way of the midgets the tackle the big dogs with multimillionaire budgets, with some perspective of success. Is there some prohibition from FIA?"
The only prohibition from the FIA in that regard is to do with chassis design, which must be done by each team, although outsourcing is allowed, like Scuderia Italia using Dallara built chassis and more recently BAR using a Reynard built car. As for as the teams co-operating on R & D? Well they'd actually have to agree first. Bernie Ecclestone spent years trying to get the teams to agree on the concorde agreement. No team in pit lane wants to give up their advantages to any other team. And they all seem to spy on each other too.
Suspension design by definition has to be unique to each car as each car loads in different ways. Same with gearboxes, as they must be different for each engine, and for the different circuits. Electronics are largely handled in each team by sponsors, most are sponsored in some way by an electronic firm of some kind for some of the engine management systems while others develop their own. Besides, not even Arrows is all that budget stricken. Sauber and Prost are rather well funded, as is Stewart - although that might be conditional. Minardi of course could always use more dollars.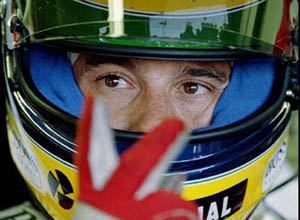 "Has anybody done a statistical study of present and past Grand Prix drivers in an attempt to determine the best? How about number of wins as a percent of the number of starts? Or number of podiums per number of starts? Or number of points scored per number of starts? Something like this may just settle who was really best."
There is no way to ever settle the argument of who was the best driver ever, but statistical comparisons are constantly being made. As far as wins per starts ratio? Then the best was - Lee Wallard who scored 1 win from 2 starts. But that counts the 11 Indy 500's that counted for the World Championship in the 1950's. Removing those 11 races next is Juan Manuel Fangio with 23 wins from 51 starts (45%), then Alberto Ascari on 13 from 32 (41%). The rest of that top ten is Jim Clark (35%), Michael Schumacher (28%), Jackie Stewart (27%), Alain Prost (26%), Ayrton Senna (25%), Stirling Moss (24%), Jacques Villeneuve (22%) and Damon Hill (22%). If you then look at podiums per start, it's Dorino Serafini who was second in his only start at Monza in 1950. If we again remove the Indy drivers and this one-off italian the top ten is - Luigi Fagioli (86%), Juan Manuel Fangio (65%), Froilan Gonzalez (58%), Nino Farina (58%), Alberto Ascari (56%), Michael Schumacher (55%), Alain Prost (53%), Ayrton Senna (50%), Jim Clark (44%) and Jacques Villeneuve (42%).
Not really a valid statistic is it? It's dominated by drivers from the early 50's, when seasons were much shorter than now. In fact, all that last 'stat' points out is which drivers were in race winning cars for most of their career. It omits triple world champions Brabham, Lauda, Fittipaldi and Piquet for spending a few years in teams that weren't performing. It also favours drivers in eras where the competition for race wins isn't all that thick. Points per race is considered a slightly fairer system - but only slightly, and is subject to the same biases. That top ten would be Fangio (5.4), Fagioli (4.6), Schumacher (4.5), Ascari (4.4), Prost (4.0), Farina (3.9), Senna (3.8), Clark (3.8), Stewart (3.7) and Villeneuve (3.7).
Editorial Remark:

We receive quite a few questions from you all, and it is absolutely impossible for us to research and respond to each of you, be it here or privately. Please, don't feel discouraged if your question was not replied to; it might come up in the next column. And don't forget - you can always look for answers at the Atlas F1 Bulletin Board.