The location was Craig Pollock's house in Indianapolis. The date was after Jacques Villenueve's win at either Elkhart Lake in '94 or Indianapolis in '95, no one can quite remember. Also present were Adrian Reynard and Rick Gorne of Reynard. If you had been the proverbial fly on the wall you would have heard these four men discussing an idea to set up a Formula One team to take on the world.
The rest, as they say, may not exactly be history yet, but no team could have created quite such a stir among the F1 establishment before their car has even graced a Formula One grid with its presence, let alone won a race or championship.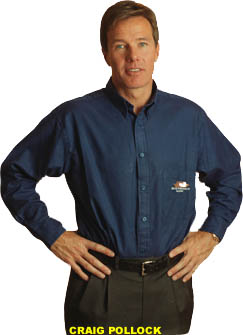 Firstly, Pollock beat many more established teams to the huge pile of British American Tobacco's (BAT) money, rumoured to be in the vicinity of US$250 million over a five year period. Then the team angered the FIA by launching their cars in dual liveries, prior to the result of the agreed arbitration procedure to settle the issue, which eventually found in the FIA's favour. In addition they also appealed to the European Commission over the head of the FIA concerning these rules.
The FIA has responded by ordering the team to appear before a World Council meeting just days after the team's debut race in Melbourne on March 7th. The team faces a ban from several races and/or a substantial fine. Life at BAR must feel pretty tough right now and the racing hasn't even started.
Even the team's "in your face" advertising approach has ruffled feathers. Just where exactly did the team acquire the "tradition" of which they aclaim, in their "A Tradition of Excellence" advertising tag line?
If the off track politics were not enough, the on track performance of their car have been very mixed. The team deliberately launched their car early to maximize the time available to iron out the expected new car glitches. The newly introduced testing restrictions imposed by F1's sole tyre supplier Bridgestone, has severely hampered the car's initial progress. After a delayed first test the car showed some early promise but has since been dogged by a series of problems that has seriously curtailed running time. As is always the case in Formula One, there is never enough time and the first race will take place on schedule whether you are ready or not.
So just what are the chances for Craig Pollock and his team to upset F1's established order? They have in Reynard one of the most respected racing car manufacturers as a key partner. Reynard have succeeded in every single seater category they have contested and have acquired the habit of winning on debut as well. But the competition in F3, F3000 and Champ cars - though formidable - is several rungs below the level to be found in F1.
The Supertec engine, is also a mixed blessing. Though perhaps an ideal unit to power a team in their initial year with more modest ambitions, it is unlikely to win in any car in '99. The attraction to BAR in using this power plant, apart from its very availability, is the chance to link up with Renault themselves, if and when, they make their expected return.

So just what can be expected of the BAR team in Melbourne and beyond? Judging by the performances of the last three teams in their first season - Jordan, Stewart and Arrows - not a lot.
Jordan made their debut way back in 1991 at Phoenix. One car failed to pre-qualify, the other, driven by Bertrand Gachot, qualified 14th and ran through 75 of 81 laps before its engine expired. Jordan finished the year in 5th place with 13 points.
Stewart Grand Prix's first race was at Melbourne in 1997. They managed to get both cars onto the grid, Rubens Barrichello in a respectable 11th position, Jan Magnussen in 19th. Both cars retired during the race and Stewart finished the year 9th in the constructor's table, with the 6 points earned from a 2nd place finish at Monaco.
Arrows perhaps can be most closely compared to BAR, as Tom Walkinshaw took over an existing team and attempted to rebuild it. Arrows also made their debut in '97 at Melbourne and had an ex-world champion leading their team. Their two cars qualified 20th and 22nd. Damon Hill's car broke down on the parade lap and he never even made the race. Diniz lasted until lap 54 of 58. They finished the year in 8th place in the constructor's table with 9 points.
On the face of it, then, Adrian Reynard's claim that the team will win their first race looks more than slightly ridiculous. The team's main spokesman, managing director Craig Pollock, has been quoted as hedging his bets and with good reason. Optimism and a positive approach is one thing, blind faith built on hype is quite another. It has had the effect that even a quite reasonable result based on the yardstick of previous performances on debut, will be judged as a failure.
On the driver front there is no lack of talent in either cockpit. Villeneuve has an impressive track record over the past five years, although he struggled somewhat with the '98 Williams. The motivation and leadership provided by the team's number one driver can play a key role when things get difficult as they undoubtedly will. Villeneuve also brought with him Jock Clear, his race engineer for the past three years at Williams. BAR have even hired his race engineer from his earlier USA racing days in Atlantic and Champ cars, Tony Cicale. Layer upon layer of comfort provided!
Despite all this, the move still represents something of a risk for Villeneuve, given his current standing in the driver's pecking order and BAR's fledgeling status. For Ricardo Zonta though, the move makes a lot of sense. Even the most talented drivers prefer to drive for a mid-field team during their first year where expectations are limited. Provided the team's resources can stretch to providing him with a reasonably reliable car, he will get enough opportunities to measure himself against his more illustrious team mate.
So when the Australian Grand Prix has been run and won, BAR's contribution will be in the record books for all to see. Just getting there will be some achievement. But Craig Pollock has set his team's sights higher than mere participation. For a few brief moments the politics will be on hold, blown away by the drama and excitement that is Grand Prix racing. Pollock should savour them - in '99 they are likely to be in short supply.