This week's Grapevine brings you
information fresh from the paddock on:

The surprise Arrows lineup for Melbourne;
Secret components on the MP4/14;
Optimism at BAR, but not enough time;
South African Grand Prix news.
Surprise Arrows lineup for Melbourne?
The Melbourne listings that show Pedro de la Rosa and Tora Takagi as the Arrows driver lineup for the Melbourne Grand Prix, started speculations concerning the role Mika Salo is to play in Arrows future, if any. These listings are provided by the FIA, not the teams, so it is possible that someone was acting on a 'best guess' rather than instruction; but Mika Salo is not in the program either, and it is too late to reprint!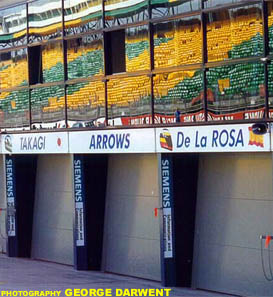 Officially, Arrows would make no comment concerning 'this unsubstantiated rumour', but sources in the team have revealed that there is concern about Salo's motivation for the coming season.
At the end of last year, Pedro Diniz made it clear he felt the team was not going places without a better engine, moving to Sauber when the promised Supertec deal failed to happen; at the time, speculation was rife about the future of Salo: he is a recognised talent, and he signed a test contract with Honda. Indeed, he was expected to drive for them had they entered for the 1999 season. Mika believes himself as fast as any current driver, and is certainly unhappy with the platform he currently has to show his talents.
But, with both 'test' drivers consistently outperforming Salo to date (although he was unwell for some of the tests), and considering the substantial financial gains available from running another pay driver, some pundits predict Arrows having a three driver lineup for the season ahead, changing their entries for each event to suit themselves, depending on the form of their drivers.
As far as Melbourne is concerned, we cannot know for sure who Arrows will enter (unless they deign to comment) until the 4th March.
Secret Components on the MP4/14
The McLaren team have been working on a number of technical solutions for the 1999 car - some which sail very close to the wind concerning 'legality', leaving the team needing FIA approval for their new car.
Last year, they introduced the independant braking system in similar circumstances, complete with FIA approval, only to see it banned in Brazil by race stewards. this year, the devices are being kept secret - hoping to avoid Ferrari protests - but the approval process must be undertaken or they risk being disqualified from the event at scrutineering.
This year, there have been numberous 'secret' developments including:
a clever braking system that could be termed anti lock (not quite the same as the FTT used by Benetton, as it concerns all four wheels);
a new approach to engine mapping, which is the single mapping required by the letter of the law, but it is adaptive (it learns for itself) - effectively providing multiple mappings which was not the intent;
an aerodynamic undertaking that might (or might not) contradict the dimension requirements on the car - depending how the FIA classify the component.
It is not known which of these developments waits for FIA approval (or others that we have not been able to get at), but if it is not forthcoming, McLaren could find the MP4/13 is quicker (and more reliable) than the MP4/14 with its revolutionary device(s) disabled - at least until new setups have been developed. This is at the root of rumours that McLaren could be running last years MP4/13 for the first Grand Prix in Melbourne.

Optimism at BAR, but not enough time

Following the South Africa test, the BAR personnel are really up against it to implement solutions to the problems discovered in Kyalami.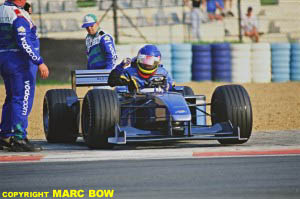 The team has literally only got a week left to iron out all the issues and before the cars have to be shipped to the circuit - it's so tight that some sources believe they will be working on parts right up to Thursday 4th March, then taking them out themselves... to have them available for Saturday warmup and qualifying!
South African Grand Prix news
With the AA Kyalami head man Selwyn Nathan heading to Europe for a meeting with Bernie Ecclestone next week, there have been a lot of rumours concerning the possibilies of a South African Grand Prix this year.
Officialdome has refused to comment on the odds, but sources indicate that Bernie Ecclestone may have a deal to put on the table: in return for acting as standby this year - there are still Grands Prix in doubt - and hosting the excellent test attended by BAR, Williams and 70,000 South African spectators, there may be a place on next year's calendar for Kyalami.
The source speculated that Kyalami is the goto replacement, should any other Grand Prix be threatened with cancellation this year, but refused to comment on which might do so.