Need help with buying tickets to a Grand Prix? Always wondered where are the best racing schools? Have a question about F1 statistics or history? Well you're not the only one. And it's about time someone came up with the answers to Formula One's most Frequently Asked Questions. Send us your questions, to comments@atlasf1.com - we may not know everything, but we will sure make the effort to find out
"In 1999 we will have all the champion drivers of the last 5 years driving against each other. Can you tell me when was the last time this happened? Thanks Gary"
The retirement of Alain Prost (and his enforced year off racing), the defection of Nigel Mansell to CART and the death of Ayrton Senna has meant that the last time this quirk of statistics occurred was back in 1991. The champion of 1990 and 1988, Ayrton Senna, was in the McLaren all set to add the his two world title. His great rival Alain Prost (1989 & 1986) was in his second year as lead driver for Ferrari, while the veteran Nelson Piquet (1987) was on a hat trick at Benetton, having won the previous two races in 1990. But that was only three men. If you change the question to insist on 4 world champions, like this year will be, then you have to go back to 1985 (Lauda, Piquet, Rosberg & Jones) but it doesn't really count because Alan Jones and his Lola-Hart (or Hart Attack as Jones used to call it) didn't appear until late in the year. So we then have to go back to 1979 to find a year in which the champions of the previous 5 seasons (and there being 4 of them) started the season. Mario Andretti had the reigning champs #1 on his Lotus. Niki Lauda (1977 & 1975) was looking forward to some exciting aerodynamic breakthroughs at Brabham. James Hunt (1976) was starting what would be his last season with Wolf and Emmerson Fittipaldi (1974) must have been wondering why each time he sat in the Fittipaldi.
"ref. Honda's recent test at Jerez: Any idea what the track record is? Jim F"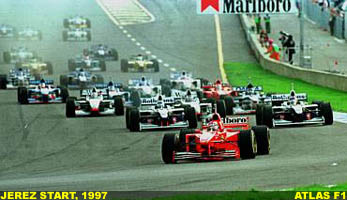 The official lap record for a circuit can only be recorded during a race and Jerez was last used by Formula One in 1997. The lap record is 1:23.135, set by Heinz-Harald Frentzen in the Williams-Renault FW18, which compares well with Jos Verstappen's 1:25.176 in the mule Dallara-Honda RA99, considering that in 1997 Frentzen had wider tyres with no grooves.
"Up until recently the maximum number of cars taking place in an F1 race was 26 (13 teams). Any more than that required pre-qualifying. Now the number of teams has been limited. How many teams are allowed and why is the number limited? Is the number of cars still 26, meaning 3 car teams are possible? Thanks, John B"
Actually, quite a few people asked us about the rule governing the number of teams. And yes, the FIA have set the maximum allowable numbers to 12 two-car teams. No three car teams, or one car teams either. The reasons for this are mainly to prevent what happened in the mid 80's to early 90's when a team would appear, make lots of noise about how good they were going to be, race 2 or 3 seasons, then collapse into debt of 7 figures to be resolved, and leaving Formula One looking a little silly. This happened a lot. The list of F1 teams that died between 1985 and 1995 is long and tragically distinguished. Alfa Romeo, Andrea Moda, AGS, ATS, Brabham, Coloni, Eurobrun, Forti Corse, Larrousse, Life Racing Engines, Lola, Lola-Haas, Lotus, March, Modena-Lambo, Osella, Onyx, Pacific, RAM, Renault, Rial, Scuderia Italia, Simtek, Spirit & Zakspeed.
With F1 ever increasing in size and becoming a larger commercial identity, sponsors and investors are demanding security for their not inconsiderable investment. The 12-team rule helps give the present teams a certain security of their place on the grid. It also means that anyone who wants to join the grid will be very cashed up - and that in itself will aid in the new teams security. Put simply, the restriction puts an end to fly-by-night, flash-in-the-pan teams which littered the 80's and 90's. There are presently 11 teams and the 12th spot is being reserved for Honda who will join next year.
However, this will make it interesting for Toyota, which announced plans to start a Formula One team in 2003, to be run through the workshops of Toyota Team Europe in Cologne, Germany. To get a spot on the grid they'll have to buy an existing team, or convince Bernie Ecclestone or his successors to relax the 12 team rule.
"The official FIA website contains the technical and sporting guidelines updated only as of 01 Jan 98. Where can I get the guidelines for 1999? Thanks, Subba"
The FIA use guidelines? I thought they made it up as they went along. Seriously though: the FIA are about to complete the moving of their headquarters from Paris to Geneva. So as soon as their computer network is online in Geneva, the new guidelines should be posted at the website. Failing that, contact the FIA direct and try to obtain a copy through the post. The address is:-
FEDERATION INTERNATIONALE DE L'AUTOMOBILE
2, chemin de Blandonnet
Case postale 296
CH 1215 Genève 15 Aéroport - Suisse
Phone : 41 22 544 44 00
Fax : 41 22 544 44 50

"Does any team have a worse record of world champions winning Grand Prixs than Williams? They have won a huge number of World Championships but how many races have they won with a Number One on their car? All I know is that Alan Jones was probably the only one to have ever won a race for Frankie - SIR Frankie - as a world champion. Thanks, An ardent fan (Couldn't make the off season without you)"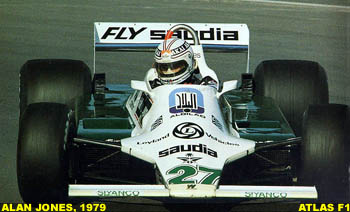 Well Ardent, Jody Scheckter only scoring 1 point for Ferrari in 1980 springs to mind for unimpressive 'year-afters'. But Williams do seem to have a rough time keeping their World Champions in the car. Mansell and Prost both retired. Piquet followed the smell of Honda to Lotus. Hill decided Arrows could be a good thing. Jacques Villeneuve did fail to win a race this year. Keke Rosberg however did win the Monaco Grand Prix in 1983. That and Alan Jones' 1981 wins in Long Beach and Las Vegas are the only three times a Williams with #1 has won a race.
"I am an American living in Florida and when I was growing up there were a number of independent nonworks teams running in Formula One. Most of them were running at least one year old Lotus, March or Brabham chassis but that list is by no means exclusive. To my mind the best of the private entrants and certainly one of racing's finest gentlemen was Rob Walker. Con you give me any idea of where I can find a list of his drivers and cars run in Formula One? Any help would be appreciated."
Formula One these days is unique in that in every other category in the world there are independents or privateers a few rows back on the grid, running older cars, engines with less horsepower, running less talented drivers, or drivers which own the team. World Rallying, GT Cars, Touring Cars, Superbikes, Formula 3, Formula Ford even 500cc Grand Prix Motorcycles are not an exception. In other categories, most notably Touring Cars, these independents are encouraged, sometimes they even have separate prizes and championship status. Once upon a time Formula One was like that too. The grid in the 60's was littered with Brabhams, Coopers, Lotuses, BRMs and Ferraris running variations of Climax and BRM engines. In the 50's the grid was full of Ferraris, Maseratis & Lago-Talbots that had not seen their factories in years. There was even once a Cooper-Ferrari!
Rob Walker was a feature in Formula One from the late 50's to the early 70's. The first appearance of the Rob Walker Racing Team was at the 1953 British Grand Prix where Tony Rolt drove a Lea Francis powered Connaught. The team appeared once a year at the British Grand Prix for a few seasons with a Connaught-Alta then a Cooper-Climax in 1957 for Jack Brabham before visiting a few foreign Grand Prix in 1958. Stirling Moss won the 1958 Argentinean Grand Prix in a Cooper-Climax. In 1960 the team switched to a Lotus-Climax. In 1963 they went back to using Cooper-Climax's. For 1964-5 they had a Brabham-Climax and a Brabham-BRM. 1966 Cooper-Maserati. In 1967 he formed a partnership with Jack Durlacher and in 1968 ran the third Lotus-Cosworth for Jo Siffert. In 1970 Brooke Bond and Rob Walker ran Graham Hill's Lotus-Cosworth. In 1971 Walker joined forces wth John Surtees to form the Surtees team and by 1973 Walker's name was gone from Formula 1's entry lists. His cars won 8 races from 1959 to 1961 with 6 for Stirling Moss and 2 for Maurice Trintignant. A 9th win came for Jo Siffert in 1968.
Most statistical lists of Formula One in print and on the web list cars as a Cooper-Climax rather than Rob Walker Racing Team. One book however which supplies the name of the team in addition to 'chassis-engine' is "The Complete Encyclopaedia of Formula One" by Bruce Jones of Autosport fame, a gargantuan tome that in some countries comes with a wheelbarrow to get it home.
"Is there anything connected to the helmet concerning the engine speed such as a vacuum line to warn the driver that the engine is revving to high?"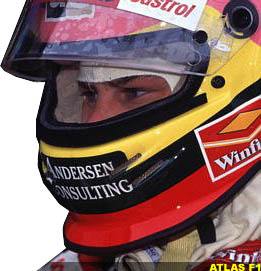 Yes, indeed there is, although not a vacuum line. The driver's visual scanners- commonly referred to as 'eyes' - are in semi-regular visual contact with the dashboard and steering wheel displays, which includes a rev counter, speedometer, and the gear change warning lights.J
"No relation to THE Alan Jones are you?"
Fortunately or unfortunately (depending on who it is) I am not related to any of the following famous Jones' - Alan (1980 F1 WC), Christian (Alan's son), Brad, Bob, Kim & Barry (Australian touring car identities), Dean (cricketer), Alan (international rugby union coach), Barry (politician), Terry (movie director, comic and Monty Python), Michele (triathlete), Michael (All Black Rugby Union), Tom (entertainer), Griff Rhys (British comic), Ernest (psychoanalyst), John Paul (American Naval hero), Inigo (long range weather forecaster), Indiana (fictional archaeologist) or Paula (is 'known' to Bill Clinton). But hey! - My father was a state rowing champion...