Imagine the scene. It is Suzuka '99. Schumacher has a one point advantage going into this final round of the season. He is leading the race when, with just two laps left to the flag, his engine lets go in an explosion of smoke and oil. Mika Hakkinen sweeps past to win the race and his second Championship in succession.
As one group of media surrounds the overjoyed McLaren team, another, like sharks scenting blood, make for the Ferrari compound. There, a grim faced Jean Todt explains that the Championship was not lost here, but earlier in the season when points were thrown away. He says no more but he doesn't need to. The assembled media all know that he is referring to Monza, where Schumacher, already holding a 30 second lead clips a back marker whilst in the process of lapping him and ends his race in a gravel trap.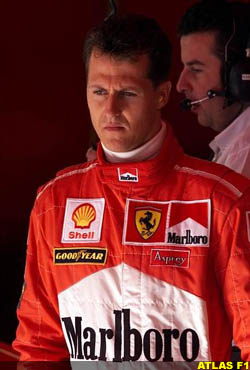 All pure fiction of course, but who would dare say it is an impossible end to another year of Formula One drama come the last day of October 1999. Just where would it leave the relationship between the highest profile team in the pit lane and F1's leading driver?
The recent suggestion by the three-time Champion Nicki Lauda, that Schumacher would quit Ferrari if he lost the title this year for technical reasons produced a flurry of denials from sources close to the team. Lauda may well have his own agenda for making these somewhat wild claims against Ferrari in general and Jean Todt in particular, but he voiced a fairly commonly held view.
"I don't care how many titles I win," Schumacher is reported to have said recently. "It is more important how I win them. With the best car, you have a situation where you can only lose the Championship, not really win it. If I win the title for Ferrari, it will be very special for me."
This is an interesting quote for several reasons, not least of which is that it pretty much pre-proposes that Ferrari will always produce a car inferior to its main opposition. By definition then, if the title is secured, it is all down to the ability of Michael Schumacher and naturally that sits well with him. It also, of course, lets him off the hook should they fail.
A pretty powerful case can be made for at least partly blaming Schumacher for the fact that Ferrari has failed to win the Driver's title in the past two seasons. Sure it was his driving genius that enabled him get so close on those two occasions in the first place, but especially last year, there were signs that the mantle of perfection had slipped a little.
Ross Brawn made an interesting observation last year, that Schumacher is at his best when he is the hunter rather than the hunted. Certainly there is evidence to suggest that he is more likely to make mistakes when in front and under pressure than when he is chasing down someone else, especially in pivotal races. This rather re-enforces the view that he would rather be a hero that gives all and loses valiantly against superior odds, than a mere mortal that uses equal equipment to win from the front.
The stakes here are high though for all concerned. Ferrari needs a title to justify the massive amount of money they spend each year chasing success in Formula One. It was clearly stated back when Schumacher was first signed, that the team would only have themselves to blame if they failed to win when they clearly had the best driver in their cockpit.

Just what would happen to Ferrari, if president Luca di Montezemolo is left empty handed once again at the season's end, lamenting once again on a Championship lost, is hard to say. The world-wide car industry is currently experiencing huge over capacity which is leading to a rash of mergers and take-overs. Should Fiat, who pay Ferrari's bills be taken over, or be forced to merge, then other less sympathetic hands might be signing the cheques.
A new, more dispassionate owner, might well question the value of continuing with a team that by its own admission has continually failed. It would be highly ironical if Schumacher, who was bought in to save Ferrari, ended up being the rod that was used to shaft the entire Ferrari management team. Their only defence would be to blame Schumacher for the team's failure and to thereby to save Ferrari and themselves!
The solution to all this is for Ferrari to build a car which is on the pace from Melbourne onwards and for Schumacher to win with it. A world title won this way may not fit Schumacher's definition of "special" but it would take the pressure off the team and more than likely secure its future.
All this puts the spotlight even more brightly on Ferrari designer Rory Byrne. Byrne escaped most of the public criticism surrounding the team's performance last year, especially its lack of early season pace. Generally Ross Brawn and Goodyear took most of the credit for returning the team to their mid-season race winning form. With only marginal changes to the regulations for this season and with the Bridgestone tyre monopoly, the Ferrari design team will have no place to hide if they are off the pace in the early season races.
For Schumacher, the options outside Ferrari are more limited than one might think. The only two teams that would currently give him a realistic opportunity of winning again on a regular basis, Williams and McLaren, would be unlikely to agree to his demands to build the entire team around him as is currently the case at Ferrari. Just quite why Schumacher insists that his teammate should never be a top-line driver with anything like equality in terms of the team's resources remains an enduring mystery and does nothing to enhance his reputation.
Somehow the statement that this will be a critical year for Ferrari lacks credibility because it has been stated so often. Yet despite this, one senses that this year Ferrari and Schumacher must get the job done if the music is not going to stop for this partnership, now entering its fourth year. For partnerships in Formula One are forged by mutual need, not by mutual love. In the end all racing drivers need cars that can give them wins and Championships.