The story of McLaren's first winning World Championship-qualifying Grand Prix, told by the heros of that time

During 1967 the new Ford-backed Cosworth DFV V8 racing engine had set entirely new performance standards in Formula 1. It had been introduced to Grand Prix racing by Team Lotus, under an exclusive deal with Ford. Into 1968 the decision was taken to make the engine available upon a customer basis to other acceptable clients, and those who took up the offer were Bruce McLaren, and Ken Tyrrell's new Equipe Matra International for Jackie Stewart.

The BRM V12 engine which had propelled the promising works McLaren M5A late in the '67 season had probably no more than 340-horsepower to its name. In contrast the new 'Ford'-lettered V8 thumped out a believable 405 ... Denny Hulme had been signed up as Bruce's team-mate in Formula 1 as well as CanAm sports car racing, and he opened that 1968 season with fifth in South Africa in the M5A-BRM. Back home the deceptively simple new McLaren-Ford M7A F1 car was being finalised.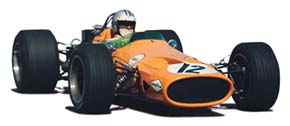 Two were ready for their debut in the Race of Champions at Brands Hatch - one of the series of non-Championship qualifying F1 races still run in those enlightened times. During practice both Bruce and Denny wore long faces. Their glittering new V8-engined cars were hard to handle and control all round the rain-damped circuit. As Bruce recalled "All the Ford's power seemed to come in at once at around 6,500 rpm - quite an embarrassment ...".
But raceday saw Stewart's Tyrrell-Matra in trouble and Bruce found himself leading, perhaps too comfortably: "I started being fairly cautious instead of standing on it, for fear of spinning or over-revving through trying too hard. This is something you should never do because you slow down and lose concentration. I started thinking how to put the power on the road better, how to stop the rear end bouncing ... and once you've done that it takes a while to get up to pace again. Then I saw a signal that Pedro Rodriguez in the BRM was closing and I went to work again. I found I could open up a gap and keep it at about 20 seconds. Oil had gone down, and I had a couple of laps with the tyres shiny all over with oil. It was just like driving on ice - nasty. And then I'd won!
"Denny finished third, and I was delighted to finish two cars. But we weren't kidding ourselves, we were well aware that Jim Clark, Rindt, Gurney, Brabham and Surtees weren't there ...".
Even so this had been Bruce's first Formula 1 victory in a car bearing his own name. The International Trophy race at Silverstone, followed, where Denny's car ran narrower rear suspension than Bruce's and on race-eve Bruce broke one of his rules and had his car changed to Denny's spec, "... changing something between practice and the race, without the chance to try it again, was normally a no-no ...".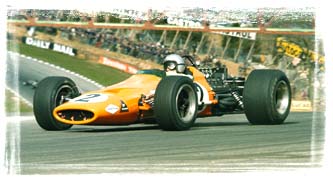 Denny's recollection of this race is told on page 14. Suffice to say he won, bringing Team McLaren its second consecutive - and second ever - F1 win second time out with the new cars. Interestingly, BBC TV refused to transmit coverage of this event on race morning due to advertising logos appearing on the cars. Times really do change. Bruce actually led before waving Denny ahead. They finished 1-2 and after this stunning preamble to Team McLaren's Championship season, the Spanish GP at Jarama saw Denny beaten into second place by Graham Hill's Lotus while Bruce retired. At Monaco Denny was a distant fifth - and last - while Bruce had uncharacteristically spun on the first lap and tagged the barrier.
So to Spa for the 1968 Belgian Grand Prix. The McLarens proved twitchy in practice. For the race Bruce fitted ..."wider front rims and lower-geared steering and on full tanks the car felt a lot better. After my first lap at Monaco I decided to be ultra-cautious for the first half of the race. Yet I vividly remember having all four wheels on the grass at the start and I must have been nearly last up the hill into the forest.
"Graham Hill had won the last two GPs but didn't seem very happy - I followed him until he waved me by, so I set off after a bunch in the distance. My pit signals said 'HULME FIRST' with a thumbs up, and I was shooting at third. I had to pass two BRMs, Piers Courage and Pedro Rodriguez, but every time I tried to open a gap we came upon a slower car. One lap it was Denny, limping back with only one drive-shaft, and now the pit signals were telling me I was second. Piers' engine had blown, but twice Rodriguez got by me - it was quite a race. For the last six laps I tried as hard as I could - the car was getting twitchy with the fuel load gone - but the BRM got smaller in my mirrors and I stopped worrying about a last-lap Mexican coup.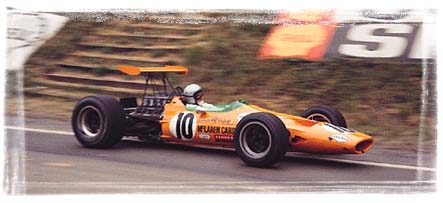 "I crossed the finish line, braked hard, pulled in behind the pits and tried to drive back up to our transporter in the paddock. Second place in the Belgian GP wasn't too bad. Our crew had seemed pleased too, jumping up and down as I crossed the line. But there were so many people milling around I had to stop the car and climb out.
"Then Cyril Atkins, the BRM chief mechanic, ran up talking excitedly about Jackie Stewart's late pit-stop, and how he had signalled to Pedro, and saying 'What a finish!'. I was puzzled. 'You crossed the line number one' he said. My car was number five - then he shouted 'You've won! Didn't you know?'. I didn't. It's about the nicest thing I've ever been told. Jackie had stopped at the pits for more fuel starting the last lap and I hadn't seen him as I went by. And I had won without realising it ...".
Team McLaren had indeed just won its first-ever World Championship-qualifying Grand Prix ...