Leaving Monza in Italy, Formula One heads to the Eiffel Mountains of Germany to the host of the European Grand Prix: the Nurburgring. High on a hill, the medieval castle of Schloss Nurburg looks down on the ancient and modern Nurburgring. At 4.556 Km, the modern Nurburgring is average in length and speed. This circuit should not be confused with the historic Nordschleife (North Loop) circuit that was one of the Seven Wonders of the Grand Prix World. Many Formula One drivers and enthusiasts get misty-eyed over the Nordschleife circuit. The words "awesome" and "incredible" are overused in motor racing but both apply to this Gothic Monstrosity that was built in 1927 to provide Germany with a showpiece Grand Prix circuit and to stimulate an economically depressed area. At 22.6 km in length the Nordschleife had 172 corners.
The Nurburgring is a circuit where it is easy to see differences in driving style as drivers have a choice of lines through many of the corners. First corner accidents at the Castrol-S have happened before, including 1984 and 1997, while the 2nd gear Veedol schikane provides one of the few overtaking opportunities. The Nurburgring is not too far from Spa-Francorchamps and like Spa, weather is a major concern. Conditions varying from frost, mist and rain through to warm sunshine have been experienced over the past four years. Like Spa, once wet, the Nurburgring takes a long time to dry out.
BAR's Team Manager, Robert Synge explains the challenges presented by the Nurburgring: "The Nurburgring as it is now configured is a fairly high downforce circuit. The big issue of the weekend is likely to be understeer - those teams that can 'dial out' the understeer from their chassis effectively are likely to be quick. It's not a high-speed circuit, so the Nurburgring is light on brakes, especially in comparison with Monza. Nor is there likely to be any particular problem with tyre wear. What is required for this track are all the normal things you need to get a competitive lap time from a Formula One car - good traction, particularly out of hairpins, good chassis balance and stability under braking, and the best possible compromise between downforce and straight-line speed."
Williams' Ralf Schumacher adds a driver's perspective: "The circuit is a challenge for both the driver and the car. You can simply overdrive the car in some corners and lose a lot of time. To be in front, a good performance from the engine is also important, not only because of the long straights but also because of the aerodynamical downforce you need."
Pitstop and tyre strategies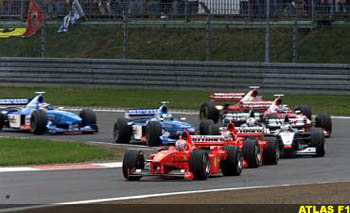 Attrition is fairly low at the Nurburgring and there is limited opportunity for overtaking so qualifying is very important. Sixteen cars finished the 1998 race, fifteen cars were running at the end of the 1997 race, thirteen finished in 1996 while only ten finished the wet race of 1995. In last year's race, most finishers used a two-stop strategy while Rubens Barrichello (Stewart) and Shinji Nakano (Minardi) opted for a one-stop strategy which kept them out of the top ten finishers. Ferrari's Eddie Irvine commented, "At the Nurburgring, soft tyres and two stops or even a one stop race could work. It's one of those races you can never be sure how you are doing until the last third of the race. If it rains, as it often does at the 'Ring, then it's anybody's guess."
On tyre choice, Bridgestone will be offering teams a choice of the Soft or Extra Soft compound tyres with most teams expected to opt for the Soft compound. Bridgestone Motorsport's Technical Manager, Yoshihiko Ichikawa, stated, "Bearing in mind the advantage in qualifying to be gained on the Extra Soft compound, the teams will be tempted to use it in order to gain positions on the grid. However, they will also have to set up their cars very carefully to minimise understeering and the possibility of aggravating wear on the front tyres."
Ichikawa added, "The Extra Soft, when still new and properly used, can be expected to be faster in the first few laps, but consecutive laps are likely to be slower as the probability of understeering increases at each lap. The Soft compound, however, can be expected to offer more stability and provide more consistent lap times." Bridgestone also revealed that "The one and half day of unpredictably wet conditions at Magny-Cours helped the Bridgestone engineers to approve the suitability of the Heavy Wet tyre, which will be offered at the Nurburgring. Under the cool temperatures expected for this race, and on a surface which tends to retain water, this tyre is expected to be a good choice even in light rain."
The Teams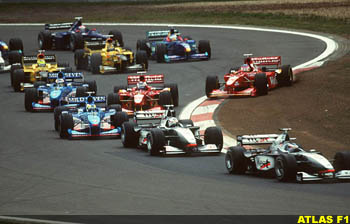 With three races to go and only 30 points left in the drivers championship this Grand Prix is critical for the outcome of the World Championship. Remarkably, each of the four leading drivers in the championship still have a realistic chance of winning the title. With 48 points left in the constructors' championship, the title is now a straight fight between McLaren and Ferrari with Jordan and Williams battling it out for third.
McLaren now leads the constructors' championship by six points. McLaren have won twice at the modern Nurburgring, in 1984 and 1998, and have scored 18 points at the Nurburgring during the 1990's. Their horsepower and aerodynamic advantages are not as important at this circuit. Last year, they struggled all weekend with handling problems that were only solved on Hakkinen's car just before the race.
The joint World Championship leader, Mika Hakkinen, won the Luxembourg Grand Prix in 1998 for McLaren in a very convincing way and set the fastest lap. Hakkinen set his first career pole position here in 1997 but his Mercedes engine expired while he was comfortably leading this race. A medium-speed circuit like the Nurburgring is where Hakkinen excels. If he can put the disappointments of Spa and Monza behind him, he should not need team orders to win on Sunday. Hakkinen is cautiously optimistic, "I had a really exciting race at this circuit last year and if I can repeat that performance this weekend I would hope to achieve another good result. The Nurburgring is very different in style to Monza, but despite its more compact layout it is deceptively quick."
David Coulthard has slipped back to fourth in the driver's championship after the Italian Grand Prix but has closed the gap to the championship leaders. Coulthard has had three podium finishes at the Nurburgring, third in 1998 and 1996 for McLaren and third in 1995 for Williams. Coulthard set the pole position and led the 1995 race but his Mercedes engine also expired while he was lying second. Coulthard led the pack during the Magny-Cours tests, can he do this at the Nurburgring? "Understeer is a common problem at the Nurburgring, so we will be working hard on perfecting our cars' handling in the two Friday practice sessions to put us in good shape for qualifying and the race," says the Scot. "The circuit sits in a very picturesque setting, but you get little time to admire the scenery when you're racing at speeds of up to 175mph!"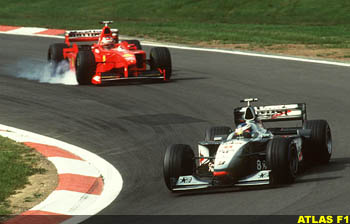 Ferrari has closed the gap in the constructors' championship. Ferrari have scored 21 points at the Nurburgring in the 1990's but have not won at the Nurburgring since Michele Alboreto's victory in the 1985 German Grand Prix. Last year, Ferrari got everything right during qualifying but faded during the race.
The other joint World Championship leader, Eddie Irvine, finished fourth in 1998 for Ferrari, after leading on the first lap, and also finished sixth in 1995 for Jordan. His highest grid position was second in 1998. Irvine's thoughts on Sunday's race, "We have been struggling on the low downforce, high-speed, tracks like Spa and Monza. We have tried some new aerodynamic modifications in Fiorano since the last race and the car feels better than it has all year. Just by being able to run more downforce as we will at the Nurburgring will already be an improvement over the previous races. We should be more competitive in the final three races than we have been recently."
Mika Salo has now jumped to ninth in the World Championship. Salo best finish at the Nurburgring was tenth in 1995 for Tyrrell and his highest grid position was 14th in 1996 for Tyrrell. Salo stated, "It was an incredible experience to finish third for Ferrari in the Italian GP. Obviously I am racing not only for the team but also to help Eddie's title chances, but the way things worked out in Italy I could go for third place as he was too far behind for me to do anything to help."
Jordan are still a strong third in the constructors' championship. Jordan have scored 7 points at the Nurburgring. Once again their reliability may prove to be crucial in Sunday's race. Jordan Grand Prix's Chief Designer, Mike Gascoyne stated, "Nurburgring is a high downforce circuit unlike Spa and Monza where we were very competitive, so it will be a good measure of our progress. It will be more difficult and, being realistic, we will not be challenging for pole as we were in Monza. But we must look to qualify on the second row behind the McLarens and push them as hard as we can in the race. Heinz-Harald will have higher expectations of himself after his win in Italy which I think will give him an added push.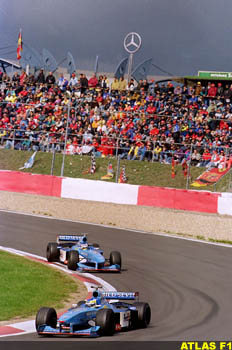 "Up until Silverstone we had a lot of new parts on the car, but since then we have been developing the car around those up-dates, getting more and more out of the developments. Our record has been good on the last three race tracks which were very high downforce (Hungaroring), medium downforce (Spa) and very low downforce (Monza). Whilst we were weaker on the highest downforce circuit, Heinz still finished fourth and over the last three races we have scored 19 points and been on the podium twice. So our strong performance must be based on more than simply being strong on low downforce circuits. A better understanding of how to maximise the performance of the car and very strong team work have certainly been key to our success." "Rain on Sunday could play into our hands," added Gascoyne, "Both Damon and Heinz-Harald drive well in the wet - in fact they have won the last two wet races!"
Monchengladbach's Heinz-Harald Frentzen has jumped to third in the driver's championship after his victory at the Italian Grand Prix. Frentzen finished third in 1997 and fifth in 1998 for Williams. Frentzen set fastest lap in 1997 and his highest grid position was third also in 1997.
Damon Hill has slipped to tenth in the driver's championship. Hill has had little luck at the Nurburgring, finished fourth for Williams in the 1996 European Grand Prix despite setting pole position and fastest lap.
Williams consolidated their fourth position in the constructors' championship at Monza. It appears that technical director, Patrick Head, is close to producing a Williams that is capable of winning. Williams have been the most successful team at the Nurburgring, winning in 1996 and 1997 and have scored a total of 33 points at the Nurburgring in the 1990's.
Huerth's Ralf Schumacher is still sixth in the driver's championship. Ralf has yet to finish a race at the Nurburgring but his highest grid position was sixth in 1998. Ralf stated, "The Nurburgring is one of my favourite tracks and has been since I began racing. I got good results there in the ADAC Junior Class as well as in Formula 3 and Formula One."
Alex Zanardi finally showed his potential at his home Grand Prix and must now be looking for his first finish in the points. Zanardi has never raced at the Nurburgring but these are his thoughts on Sunday's race, "It's quite difficult for me to make a detailed comment about the Nurburgring circuit as I never saw it apart from on the television. So, I can only judge it by the characteristics I think I saw through the TV screen. I hope that the last improvement we made to our car will help us to perform well. The Nurburgring is theoretically a harsher circuit for us, as we will have to use more downforce, whereas our car seems to prefer and to perform the best way in low downforce conditions. We are going to Nurburgring in good spirits and we hope the weather will be fine because in this period of the year, it's fairly easy to come back from there... wet!"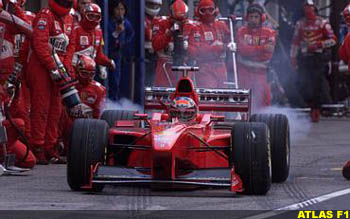 Stewart has moved up to fifth in the constructors' championship. Can the Stewart team find consistency as the 1999 season closes? Team founder, Jackie Stewart won three times on the Nordschleife but he said of the old circuit, "Any driver who says he loved the 'Ring was either lying, or not driving quickly enough." The Stewart team has yet to score a point at the Nurburgring, their best result was Rubens Barrichello's 11th position in the 1998 Luxembourg Grand Prix. Rubens Barrichello has moved up to seventh in the driver's championship. Barrichello finished fourth in 1995 and fifth in 1996 for Jordan and his highest grid position was fifth in 1996. Johnny Herbert is still thirteenth equal in the driver's championship. Herbert finished fifth in 1995 for Benetton and his highest grid position was seventh in 1995.
Benetton have slipped to sixth in the constructors' championship after a miserable weekend at Monza. Benetton won the European Grand Prix in 1995 and have scored 22 points at the Nurburgring in the 1990's. Giancarlo Fisichella has slipped to eighth in the driver's championship. Fisichella finished sixth at last year's Luxembourg Grand Prix and his highest grid positions were fourth in 1997 and 1998. Alexander Wurz is still eleventh equal in the driver's championship. Wurz finished seventh at last year's Luxembourg Grand Prix after starting from eight on the grid.
Sauber is still seventh in the constructors' championship and they have just missed scoring points at the Nurburgring, their best finish being Johnny Herbert's seventh positions in 1996 and 1997. Jean Alesi has had two podium finishes at the Nurburgring, finishing second in 1997 for Benetton and second in 1995 for Ferrari. Alesi led the wet 1995 race, losing the lead on the 65th lap. His highest grid position was fourth in 1996. Pedro Diniz is eleventh equal in the driver's championship and finished fifth in 1997 for Arrows.
Prost is still eighth in the constructors' championship. Team owner, Alain Prost won the first Grand Prix held at the modern Nurburgring in 1984 and his team has scored a single point at this circuit. Olivier Panis is thirteenth equal in the driver's championship. Panis finished sixth in 1997 for Prost. Jarno Trulli did not finish in last year's Luxembourg Grand Prix.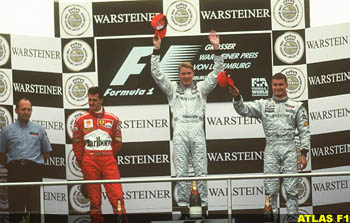 BAR finally look like they are capable of finishing in the points. They must be looking for both drivers to go the distance on this low attrition circuit. Jacques Villeneuve is the king of the modern Nurburgring, winning in his first career Grand Prix at the European Grand Prix of 1996 and winning again at the Luxembourg Grand Prix of 1997. Villeneuve's highest grid positions were second in 1996 and 1997.
Villeneuve commented, "I have great memories of the Nurburgring. It was there that I had my first victory in Formula One, in April 1996. This place has a great past because of the old track, but unfortunately we're not running on it, which is sad. It is hard to get a good feel for the current circuit. The grandstands are quite far from the track and you never have the feeling of going fast. There are a number of long corners and normally you get quite a lot of understeer. Basically, it is not one of my favourite circuits, but it does have good memories for me."
Ricardo Zonta has had success at the Nurburgring in F3000, winning the 1997 race on this circuit which secured his FIA International Formula 3000 Championship. Zonta stated "I have very good memories of that win and I'm sure I'll be able to do a good job at the Nurburgring. I know the circuit and I love racing there because of the surface, which is very smooth, and because most of the corners are medium speed, which I like. I think this track will suit our car."
Arrows had another miserable weekend in Italy with two DNFs after starting from the back of the grid. Sadly, the Arrows teams looks more desperate as this season progresses, which must be a thorn in Tom Walkinshaw's side. Arrows scored two points at the Nurburgring in 1997. In last year's Luxembourg Grand Prix, Mika Salo finished 14th for Arrows while Tora Takagi finished 16th for Tyrrell. A finish in the points for either Pedro de la Rosa or Tora Takagi is again unlikely on Sunday.
Minardi had a terrible race at Monza with both of their cars being forced off the track. Minardi have yet to score a point at the Nurburgring. In last year's race, Shinji Nakano finished 15th while Luca Badoer finished 11th in his last outing for Minardi at the Nurburgring in 1995. They will be hoping for both Marc Gene and Luca Badoer to qualify on the tenth row of the grid and to finish on Sunday.
My Predictions:
If it is dry, I'm going to pick McLaren, Ferrari, and Jordan as the top three teams for qualifying with Williams and Stewart making up the top five.
Starting grid:
Mika Hakkinen
David Coulthard
Eddie Irvine
Heinz-Harald Frentzen
Ralf Schumacher
Mika Salo
Rubens Barrichello
Jacques Villeneuve
Alex Zanardi
Damon Hill
Johnny Herbert
Jean Alesi
The 1999 European Grand Prix Preview in a Nutshell:
The revised Nurburgring is a safe, modern, circuit that has hosted some good Grands Prix.
McLaren-Mercedes should have a slight advantage at the Nurburgring. Mika Hakkinen should have an advantage over David Coulthard.
Ferrari will be hoping to get back to the front during qualifying. Can Eddie Irvine or Mika Salo split the McLarens?
The Best of the Rest contest is heating up with Jordan, Williams and Stewart snapping at each others heels. Jordan may still have the edge.
Always in the points at the Nurburgring in the 1990's: Williams.