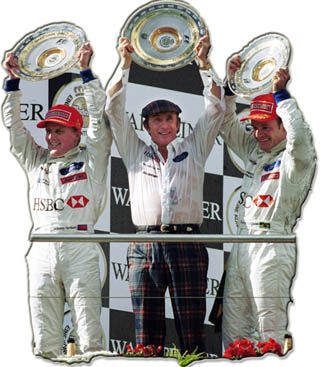 The European Grand Prix will vie with the French race as the most exciting in 1999. The fact that climatic conditions had more to do with the circumstances of the result and the action leading up to it, sums up the fact that F1 races need extenuating, outside influences to become overly exciting.

Thank heaven for the title chase being so close - to ensure that the bigger picture remains a riveting experience as the World Championship heads towards its thrilling end.

But that doesn't take anything away from Johnny Herbert's third surprise F1 victory and Stewart-Ford's first. The Englishman has surely now made up for what had been a truly horrid year or two for him. Nor does it reflect badly at all on Jarno Trulli's fine, fighting second for Prost, from Barrichello's second Stewart.

But fourth for Ralf Schumacher must be small consolation for the German, who drove the race of his life to lead his home GP before being robbed of victory by a puncture. At least he finished. Others left the lead with nothing. Heinz-Harald Frentzen dominated, before the Jordan stopped, while David Coulthard and Giancarlo Fisichella both crashed out of the lead.

Ferrari and McLaren had a disastrous time of trying to outsmart the weather, Ferrari fumbling a pitstop like an amateur team would, and McLaren calling the first rainstorm completely wrong. Mika Hakkinen appeared to fall asleep after that, touring around way off the pace. But Mika's race poses the puzzling question as to exactly what he was doing allowing Minardis and Arrows past his perfectly good McLaren.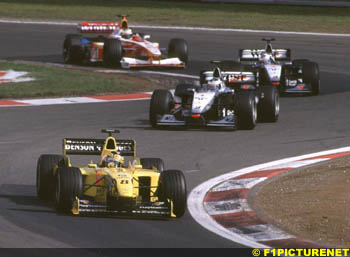 Especially when it later miraculously picked up the pace on the scent of points he never thought he'd score.
Minardi came good to score a point through Marc Gene, although Luca Badoer lost three when an engine blew just before the finish. There was drama aplenty, all the way from qualifying.
Qualifying
Frentzen scored an emphatic and well-planned pole position, despite car trouble keeping him in his pit during practice and an in-team debate raging on exactly when to go out in qualifying. Heinz-Harald was ecstatic. "It feels fantastic to be on pole in Germany," he admitted. "We had a difficult practice, then we had an argument in the pit lane about when to go out. It seems funny now, but it was pretty tense at the time." Heinz came good in the end.
A race speed pit stop set him up for the last possible lap. "We took the decision to change the tyres in the pit lane - that was the key decision." That after he was bounced off an earlier pole spot by Ralf Schumacher, Mika Hakkinen and David Coulthard in rapid succession.
The McLaren pair and the Williams man lined up in the reverse order of their losing the last three of many provisional poles, behind Harry-Heinz.
"It was a good session to watch on television," said second-place man, Coulthard. "But it all became a lottery. My engineers insisted on a dry set-up for the car and it worked in my favour." Hakkinen was relieved. "I don't think I could have done much better, but third's always disappointing - although we should be happy about the result."
Ralf Schumacher was delighted. "It was a gamble, but I ended up where I hoped to be."
Row three made Prost and Benetton ecstatic, Olivier Panis edging out Giancarlo Fisichella for fifth, while Damon Hill pushed fellow ex-world champion, Jacques Villeneuve, to the less popular side of row 4. "At one point I was at the sharp end, which felt great, but I'm pretty happy with today's session. Being just outside the top six isn't bad," said Damon, who was on pole early on.
Eddie Irvine had to be satisfied with the fifth row of the grid. "I had traffic on my first quick lap," he said, "and then on my second I slid through the gravel trap. Our qualifying strategy never worked out, but I'm confident we'll be much stronger in the race."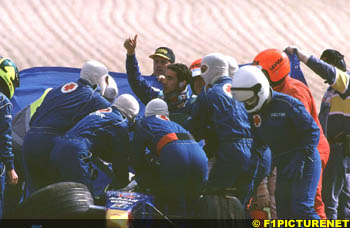 The Ulsterman had the worst luck of the four title protagonists in Nurburgring's lottery called qualifying. He started alongside Prost's Jarno Trulli.
Next came Wurz and Salo - Mika also headed the timesheets at one stage - as did Hill, Panis, Fisichella and Irvine during the course of the session. Behind Salo came Diniz, Herbert, Barrichello, Alesi, Zonta and Zanardi, from the Minardis and Arrows.
The Race
The race never started at the first attempt - the lights staying on in a confusing moment after Marc Gene stalled. Then it went on behind the pace car after a frightful accident on the first corners that saw a lucky Pedro Diniz trapped under a roll hoop-less, capsized Sauber.
Hill had slowed suddenly, midway through the esses complex, forcing Alexander Wurz to swerve around the Jordan. He made contact with Diniz, who was flipped over, landing upside down on the loamy surface. The Sauber's roll hoop was smashed off in the incident, making it a torrid couple of seconds for the Brazilian, as he slid along on his head.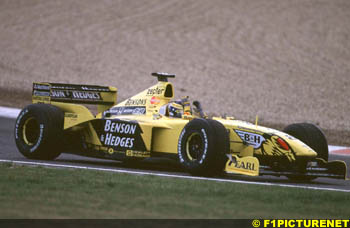 He was quickly rescued, but the FIA will have to look at making the roll hoop an integral part of the car's chassis structure to prevent the disastrous side-effects possible in the event of a similar incident.
When the race finally got under way after the safety car disappeared, a four-car group comprising Frentzen leading Hakkinen, Coulthard and Ralf soon opened on the second bunch of Fisichella, Panis and Irvine. It never took long for Irvine to overcome Panis, but Fisichella, a one-time Ferrari hopeful for Eddie's vacated seat, wasn't an easy target for the Irishman.
Schumacher was making his presence felt behind the McLarens in another impressive drive in the apparently under-powered Williams, running up alongside Coulthard twice in warning, before taking third in a somewhat chancy move. It could have ended in tears, if Ralf had locked up under that heavy braking - as he ended very close to the back of Hakkinen's car by the end of his move. Irvine had used similar pressure to force an error out of Fisichella, who locked up and slid wide into the chicane, allowing Eddie to race off after his three title rivals and Ralf.
But the rain came down over the second half of the circuit, causing quite some action.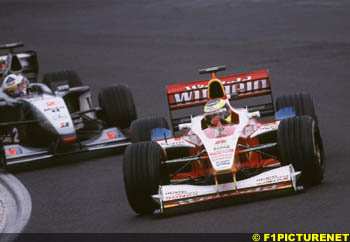 Most drivers stayed out, but Fisichella had a spin, which prompted Ron Dennis to call Mika Hakkinen in. This was to be the start of a series of laps the Finn will never be allowed to forget...
What followed was something the Ferrari team will never live down either. While the rest continued and times were starting to drop, Irvine entered the pit lane. "We should have been attacking instead of covering Hakkinen," Irvine concluded. The mechanics swarmed around the car as usual, but as it came time to let the Ferrari down and race off, it became apparent that the tyre provider man at the right rear was not present.
He was looking for his new tyre, lost in the rush of Salo's stop a few seconds before. Eventually the man found one from somewhere and the deed was done. Eddie's pit stop was not only mistimed, but it was a disaster in its operation.
"The pit crew was ready for me," said Eddie, "but Salo came in first and so the mechanics got rid of my tyres to put his tyres on. Then when I came in they could not find one of my tyres. They eventually found it and I lost a lot of time. It is difficult when you have one group of mechanics serving two cars."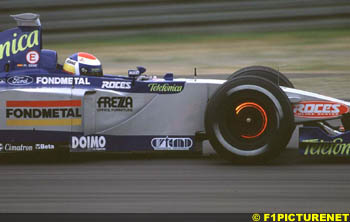 So Frentzen led, "Our strategy worked well and I was able to hold back the McLarens which felt really good," from Coulthard and an energetic Ralf Schumacher and a big gap back to a regrouped Fisichella. Irvine was 13th, Hakkinen 15th, the latter having stopped again to return to grooved rubber after his miss-timed switches to wets.
The pace up front remained brisk, when Ralf came in for his tyre stop early. That left Frentzen in his position of dominance, albeit from a hard-charging Coulthard and Ralf now way back. The leading duo was approaching one-stop territory when they pitted together. They rejoined in the same order, still ahead of Ralf, but Frentzen's car coasted to a halt in the same place Damon's Jordan also had, that too, from a standing start...
"Today was a huge disappointment," Heinz concluded. "It feels awful to drop out of the race when you're leading. Everything had gone so well for the first half of the race and the team did a fantastic job in the pits to get me out ahead of David but as I came out I seemed to have an electrical problem. But these things happen in motor racing and a lot of drivers did not finish the race today or were outside the points.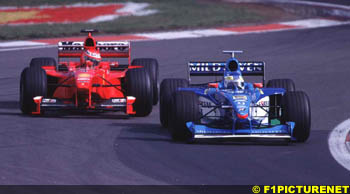 Now Coulthard led from Ralf and Fisichella, and the skies opened again.
David was pushing hard in the lead, getting a little out of shape once or twice before doing it properly and skating over the sand trap to a stop, out of the race. "I am very disappointed to have gone off in these conditions. I had a good lead. It's not acceptable to go off whilst you are leading," he later admitted.
That put Ralf into a strong lead, from Fisichella, Herbert, Trulli and Badoer in the Minardi, once things had settled again after the rain.
Just as it seemed to be settled and Germany appeared to be set for a maiden hometown win, one of Ralf's tyres gave up the ghost, and despite a trip across the beach, he collected it all and circulated slowly back to his awaiting pit. "I couldn't make it into the pit lane, so I had to drive a whole lap with the flat."
At that point, Fisichella led, from Herbert, Trulli, Barrichello and Badoer, putting in a fine drive for Minardi.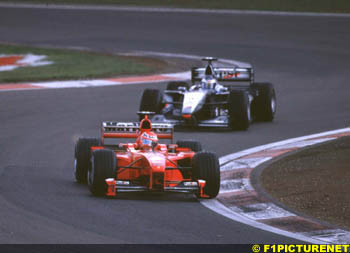 Was Fisichella going to win his first race? Sadly not. In a move he'd practised at the same spot earlier in the race, Giancarlo went off again, but he did it properly this time to retire too. As is becoming customary in F1 these days, he appeared to shed a tear in frustration on crashing out of the lead...
That allowed Johnny Herbert into the lead, comfortably from Trulli and a charging Barrichello, the leading Stewart-Ford man nursing his car home. "When I was in the lead, I was just hoping and praying that everything would hold together. I was able to relax a little since I had quite a gap down to Trulli. I was able to change the gears and brake earlier and just concentrate on not putting too much strain on the car."
Behind the leading trio, came Badoer, Ralf and Villeneuve in the BAR, in the points. Just outside the points, the second Minardi led Irvine and a now-very hard charging Hakkinen... Sadly for Badoer and Minardi, the Ford mill cried enough, but that allowed Gene into the points with the other Minardi.
An interesting situation indeed, as co-championship leader Hakkinen was now right up with the other co-leader, Irvine, both chasing a Minardi for that last point!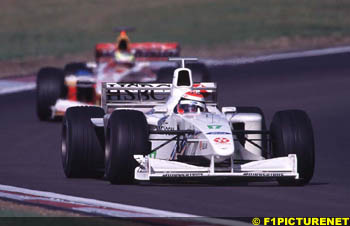 It was a classic dice, Irvine, clearly in a lesser car, was doing a sterling job fending off the champion, albeit for no points at that stage. Mika finally succeeded when Eddie locked up the brakes in the same place Fisichella had done the same to let Irvine through to fifth so much earlier. Mika was gone, Eddie never had the equipment to retaliate in the day, once the McLaren was past.
Then Villeneuve retired the BAR yet again and Mika was in the points - and a prospective championship lead. He was flying, catching Gene lap after lap in a quest for another vital point.
Meanwhile, up front, Herbert was leading comfortably, but the focus of attention had turned from the seventh place championship battle, to that for second, an equally gripping affair between Trulli and Barrichello that raged all the way to the line, but the Brazilian couldn't get the better of the Italian.
"Knowing the circuit well," Jarno said, "I knew where to take a dry line and I had no intention of letting Rubens take my second place." Barrichello was cautious on the damp track though, "I saw what happened to Alesi and Irvine at the chicane, my only opportunity to pass, and I didn't want to do the same as them..."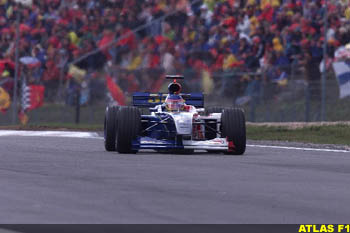 Strange as it may seem, the battle for fifth was far more significant, even though Gene surrendered the place to the now-flying Finn when the McLaren challenged. Would Irvine make it into the points? Despite a brave effort in the evil-looking Ferrari, he just didn't make it. "I was unable to keep on the pace as the balance of my car was not right." Although Eddie missed out on a vital point, few will complain that the ever-resilient Minardi scored their first point in nearly four seasons at the championship-challenging Ferrari's behest.
"I am very happy for the team," said Marc Gene, "because this is the result of a whole year's work. The car was very good."
There was delight in the Stewart camp, winning a race in its third and last year. And Johnny was ecstatic too. "I'm absolutely over the moon. It's particularly pleasing for Jackie and a fantastic result for Ford Motor Company who want to win the World Championship with Jaguar Racing. A big credit also to Gary Anderson and my engineers - they did a great job After what was not a very good qualifying I never expected to top the podium today. There is always an element of luck in a race and today was our day."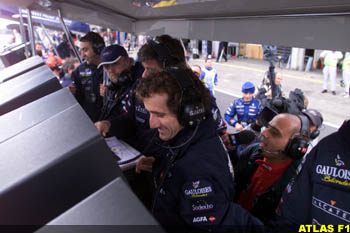 Now a triple winner, no matter how he won them, not many people can put their names to three grand prix victories. (Irvine and Frentzen are also triple winners...) Prost too were delighted with a surprise second, although they were strong all weekend, Trulli beaming on his first podium. "I'm very happy. This is my best result in Formula One."
A bittersweet Barrichello harassed the Italian all the way to the last podium step. "From the bottom of my heart I'm really happy for Johnny because he's had such a difficult time this season. However, to be honest, I have two hearts because it would have been nice to have been the one to bring the Stewart-Ford team its first victory. But I can't take anything away from Johnny - he drove a really good race."
Ralf can't be happy with fourth, it could so easily have been a most deserved first win for him, but he'll take the points happily. "I feel that I narrowly missed a great opportunity today. My car was really good, even in the wet conditions it was very quick. But I was unlucky with the puncture when I was leading the race. Of course it is good to have three more points, even if I can't stop thinking that it could have been ten!"
Mika Hakkinen was at least relieved to be fifth. "Today I scored two points," is all he could muster, before pinning his hopes on the next race. "We will now focus on the next race in Malaysia."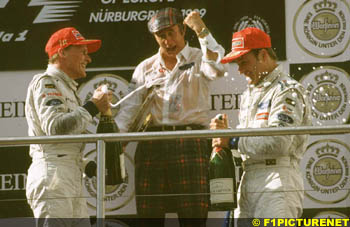 Mistakes happen, Ferrari confirmed that in grand style. "Our strategy was wrong," Eddie Irvine admitted. "It was yet another great opportunity missed, but even so, we got off lightly. I'm still only two points behind the championship leader."
The overriding feeling one continues to have about the 1999 word championship is that no one seems to want to win it. Just this race shows that. Ferrari sabotaged itself in that embarrassing pit stop, while McLaren and its drivers yet again made bad - and costly - judgement calls.
So, at the end of the day, whoever loses the title has more than enough excuses to justify it!
But among all the dreams of last weekend, those shattered will be forgotten soon. The dream that survived, however, will be the one that the history books will reflect forever. Jackie Stewart and his team will move on, becoming Jaguar next year, leaving the Stewart marque with at least this one victory to its credit.
Final Race Results

CLASSIFIED

Pos  Driver        Team                  Time        
 1.  Herbert       Stewart Ford          1h 41.54:314
 2.  Trulli        Prost Peugeot         +     22:618
 3.  Barrichello   Stewart Ford          +     22:865
 4.  R.Schumacher  Williams Supertec     +     39:507
 5.  Hakkinen      McLaren Mercedes      +   1.02:950
 6.  Gene          Minardi Ford          +   1.05:154
 7.  Irvine        Ferrari               +   1.06:683
 8.  Zonta         BAR Supertec          +   1 Lap   
 9.  Panis         Prost Peugeot         +   1 Lap   
10.  Villeneuve    BAR Supertec          +   5 Laps  

Fastest Lap: M. Hakkinen, lap 64, 1.21:282 (202.786 kmph)

NOT CLASSIFIED / RETIREMENTS
                                                                
     Badoer       Minardi Ford          53     engine    
     de la Rosa   Arrows TWR            52     gearbox   
     Fisichella   Benetton Supertec     48     spun off  
     Salo         Ferrari               44     brakes    
     Takagi       Arrows TWR            42     spun off  
     Coulthard    McLaren Mercedes      37     spun off  
     Alesi        Sauber Petronas       35     driveshaft
     Frentzen     Jordan Mugen-Honda    32     electrical
     Zanardi      Williams Supertec     10     accident  
     Hill         Jordan Mugen-Honda     0     electrical
     Wurz         Benetton Supertec      0     accident  
     Diniz        Sauber Petronas        0     accident  


Top Ten Fastest Race Laps

Pos  Driver         Team               Lap  Time              
 1   Hakkinen       McLaren-Mercedes    64   1:21.282  + 0.000
 2   Coulthard      McLaren-Mercedes    29   1:21.835  + 0.553
 3   Frentzen       Jordan-Mugen Honda  29   1:22.082  + 0.247
 4   R.Schumacher   Williams-Supertec   64   1:22.237  + 0.155
 5   Fisichella     Benetton-Playlife   31   1:22.244  + 0.007
 6   Irvine         Ferrari             65   1:22.332  + 0.088
 7   Villeneuve     BAR-Supertec        32   1:22.564  + 0.232
 8   Barrichello    Stewart-Ford        32   1:22.960  + 0.396
 9   Herbert        Stewart-Ford        32   1:23.010  + 0.050
10   Zonta          BAR-Supertec        64   1:23.067  + 0.057


Top Ten Pit Stop Times

Pos  Driver         Team                 Time   Lap 
 1.  Irvine         Ferrari              25.70  49  
 2.  Fisichella     Benetton-Playlife    25.90  32  
 3.  Frentzen       Jordan-Mugen Honda   26.00  32  
 4.  Takagi         Arrows-TWR           26.40  22  
 5.  R.Schumacher   Williams-Supertec    26.50  27  
 6.  Trulli         Prost-Peugeot        26.60  48  
 7.  Zonta          BAR-Supertec         26.80  24  
 8.  Coulthard      McLaren-Mercedes     26.80  32  
 9.  Herbert        Stewart-Ford         26.90  47  
10.  Trulli         Prost-Peugeot        27.00  28  


The European Grand Prix, Lap by Lap
It's partly sunny with an ambient temperature of 14 degrees and a track temperature of 17 as the cars form up on the grid.
Start 1: Just as the lights are about to go off, Gene signals that he has stalled his car, and the start is aborted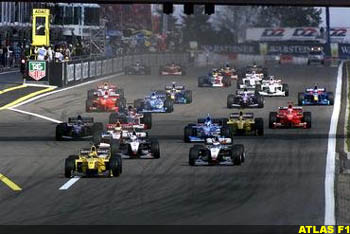 Start 2: With Gene at the back of the field, they get away this time. Frentzen doesn't make a fantastic start from pole, but gets into the lead from Hakkinen, then Coulthard and Schumacher. Further back, however, Hill slows in the first corner, the Castrol S, due to an electrical problem. Alesi goes inside of him on the grass, but Wurz hits the back of the Jordan and swerves right, hitting Diniz' Sauber which flips over and rolls across and onto the grass. With the car upside down, the pace car is quickly sent out. Zanardi goes wide and rejoins last
Lap 1: Frentzen leads behind the pace car with Hakkinen second, from Coulthard, then Schumacher, Fisichella ahead of Panis, Irvine up two places to seventh, then Villeneuve, Salo up three places, then Alesi, Barrichello, Trulli and Herbert in 14th!
Lap 6: Diniz is removed to hospital in Bonn but he is suffering only bruising to his shoulder. The pace car goes in on this lap. Incidentally, the track temperature is now up to 21 degrees
Lap 7: Already the first four have got away from the rest: Frentzen leading Hakkinen, Coulthard and Schumacher, then a small gap to Fisichella and another one to Irvine, now ahead of Panis whom he overtook at the chicane. Then there's another small gap to Villeneuve tailed by Salo, Alesi, Barrichello, then Trulli and Herbert
Lap 8: Irvine has now caught by Fisichella, but he proves harder to pass
Lap 10: The first four are really getting away, the gap back to Fisichella now 6.1s while Fisichella and Irvine had now briefly been joined by Panis before another gap to Villeneuve from Salo with Alesi, the Stewarts and Trulli
Lap 11: Alesi has a moment at the chicane and drops back to 15th, while further back Zanardi hits de la Rosa at the final corner and both spin. Zanardi's gearbox breaks and he's unable to rejoin. Although he continues, de la Rosa's rear suspension is damaged. He pits on the next lap
Lap 13: Irvine gets alongside Fisichella at the chicane but has to drop back. Behind Panis, Villeneuve is being pushed by Salo, and then there's a small gap now to Barrichello pushed by Trulli then come Herbert and Zonta
Lap 15: The first four are still very close, before a 7.3s gap back to Fisichella still pushed by Irvine, then 1.9s to Panis, just over a second back to Villeneuve and Salo, then 1.6s back to Barrichello just ahead of Trulli before Herbert, then Zonta and the recovering Alesi
Lap 17: Fisichella runs wide at the RTL Curve, and Irvine quickly overtakes, moving up to fifth
Lap 18: There are spots of rain, and Ralf Schumacher is pushing Coulthard very hard, pulling alongside him as they go through the first corner. Fisichella has had another brief off-circuit moment, which means Irvine is 2.0s ahead of him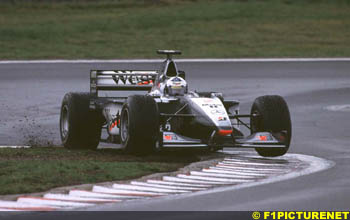 Lap 19: It's wet now, allowing Frentzen to pull away by 2.0s on this lap from Hakkinen. Ralf Schumacher is again side by side with Coulthard at the end of the lap, going ahead into the Castrol S. Panis pits from seventh on this lap, Zonta from 14th and Takagi as well, all three going onto wets
Lap 20: Schumacher has moved up to what is second to Frentzen, as Hakkinen pits in 8.1s, going onto wets while Salo also stops for wets but it's a very slow one(nearly half a minute) as he needs a new nose section and he rejoins 17th
Lap 21: Frentzen has a 3.5s lead over Schumacher still pushed by Coulthard, while Irvine comes in on this lap(they had been expecting him when Salo came in) and they can't find one of his tyres as he's decided to stay on dries, a late decision! The stop takes 28.2s.
Lap 22: It's really stabilised now a little as the rain has eased. Frentzen is still just under three seconds ahead of Ralf Schumacher who is relieved of pressure from Coulthard when he goes straight on at the chicane. Nine seconds behind the McLaren, Fisichella is now fourth before a similar gap to Barrichello, 1.3s back to Trulli, then a little more back to Herbert being pushed by Alesi. Villeneuve is next, then Hakkinen and the Minardis. Takagi comes back in to go onto dry tyres
Lap 23: Panis and Salo both stop to go onto dry tyres, while further back, Herbert and Alesi have caught Trulli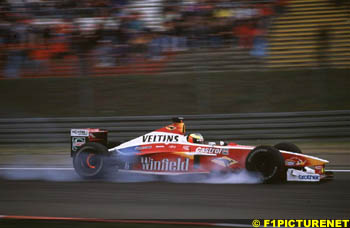 Lap 24: Frentzen now has Schumacher and Coulthard right up behind him with a 9.9s gap back to Fisichella, then 14s to Barrichello, 3.2s back to Trulli who has pulled away from Alesi battling with Herbert. Hakkinen stops for dry tyres on this lap in 6.4s and Zonta comes in too
Lap 25: Alesi overtakes Herbert for seventh place
Lap 27: Schumacher pits for 7.0s for dry tyres
Lap 28: Frentzen sets fastest time but Coulthard in second goes quicker. Trulli and Alesi both pit on this lap
Lap 30: Frentzen goes up the escape road at the chicane, but stays in the lead - just. Fisichella is 16s back in third from the rejoined Schumacher, then Barrichello, now followed by Herbert, then Villeneuve, Trulli, Badoer, the rejoined Alesi just ahead of Gene and Irvine who soon overtakes the Minardi
Lap 32: Just before half distance, and Frentzen pits, as does Coulthard in 7.4s, the pair rejoining in their original order, but almost immediately, Frentzen slows and is out of the race with a similar electrical problem to that of team-mate Hill. Fisichella also pits from third.
Lap 33: Coulthard has a 6.4s lead over Schumacher, then there's 7.3s back to Barrichello. Villeneuve pits
Lap 34: It's beginning to rain again. Gene pits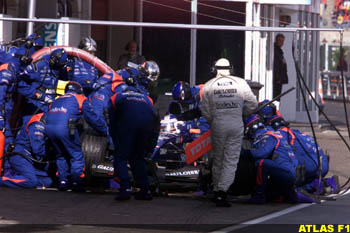 Lap 35: Behind Coulthard, Ralf Schumacher is dropping away in second place with Barrichello dropping back in third but Fisichella is gaining in fourth place. Herbert pits for 12.7s on this lap, changing to wets, while Trulli, Badoer and Alesi all pits as well. As Alesi rejoins, his transmission breaks
Lap 37: It's beginning to dry again and Barrichello pits from third place for dry tyres
Lap 38: Coulthard spins off at the first corner and hits the tyre barrier, out of the race. Schumacher leads now by 19s from Fisichella in second, 20s ahead of Herbert who is 14s ahead of the rejoining Barrichello, just ahead of Trulli. Villeneuve is sixth, just ahead of Irvine before Gene who is lapped, then Badoer, Hakkinen and Panis
Lap 39: Barrichello is struggling, and Trulli moves up to fourth
Lap 40: Leader Schumacher has a moment off the circuit, while Irvine stops for tyres in 7.9s
Lap 42: Fisichella goes off at the chicane and suddenly Schumacher's lead is 25s from the Italian in second but Herbert is now just 3.4s behind him in third place, ahead of Trulli, these two lapping particularly quickly. Then come Barrichello and Villeneuve.
Lap 43: Takagi crashes out of the race.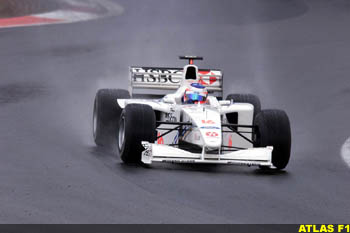 Lap 44: Schumacher had a 24s and comes in for 7.9s on this lap, dropping to third place, just behind Herbert. Zonta also pits on this lap and so does Panis.
Lap 45: Fisichella is pulling away easily in front as Herbert struggles to keep Schumacher behind him. Salo retires with a problem with the brakes binding on.
Lap 46: De la Rosa pits for some 40s on this lap
Lap 47: Herbert comes in to change to dry tyres in 6.2s
Lap 48: Trulli stops for dry tyres and drops to third
Lap 49: Fisichella spins at the Veedol chicane again, and this time it's terminal, so that Ralf Schumacher leads again, by 18s from Herbert, then a gap of 13s back to Trulli, who is 8.9s ahead of Barrichello. Badoer is next from Villeneuve after Irvine pits for the third time on this lap
Lap 50: Schumacher suffers a puncture from a metal object, according to Bridgestone, and has to crawl around to the pits, for an 8.4s, rejoining in fifth place. Herbert now leads by 16s from Trulli with Barrichello 9.2s behind in third place ahead of Badoer
Lap 53: De la Rosa retires with gearbox trouble
Lap 54: Badoer crawls into the pits with a broken gearbox casing, retiring heartbroken from fourth place. Schumacher inherits the place from Villeneuve, Gene and then Irvine's out of balance Ferrari being caught by Hakkinen
Lap 57: Barrichello is now 2.2s behind second placed Trulli, while Hakkinen tries to pass Irvine at the Veedol chicane but it doesn't come off.
Lap 60: Barrichello is now right behind Trulli, while Hakkinen is still right behind Irvine, the pair 8.7s behind sixth placed Gene
Lap 61: Barrichello gets beside Trulli into the Veedol chicane, but has to drop back
Lap 62: Villeneuve, heading for fifth place and BAR's first points, retires when his clutch fails, while further back, Hakkinen gets past Irvine when the Ferrari goes wide onto the dirt, the McLaren 5.7s behind fifth placed Gene
Lap 64: Barrichello gets alongside Trulli again, but again, cannot get past. Further back, Hakkinen is right behind Gene
Lap 65: Hakkinen overtakes the Minardi to move into fifth
Lap 66: Herbert wins from Trulli just ahead of Barrichello. Schumacher is in fourth with Hakkinen fifth and Gene scoring Minardi's first points in sixth, 1.5s ahead of Irvine seventh