This week's Grapevine brings you
information fresh from the paddock on:

Ferrari in Turmoil
Verstappen looking to Arrows
Picked from the Bunch
European Tidbits
Ferrari in Turmoil
With another poor performance under the Ferrari belt - this time with pit-stop mayhem costing a podium place, and potentially a win - the Italian media is having a field day, and are targeting Jean Todt's head.
The papers are unanimous, saying "Todt must go," because "he is responsible for what happened at the Nurburgring, and the breach which has developed in the team since Schumacher's accident." A number of them drew conclusions about the team's loss of direction without the charismatic leadership of the Double World Champion... and hinted that Todt's dislike of Irvine is influencing the team's performance.
Ferrari president, Luca di Montezemolo, held a harsh meeting with the team principals, Ross Brawn and Jean Todt among them, the day after the European Grand Prix. It was, in the words of an insider, "the most intense meeting those people ever had." Di Montezemolo demanded answers. He wanted to know exactly how his team could mock up so badly. The group recounted the events for him almost second by second. What transpired was the following:
Mika Salo came in the pits unexpectedly for a tyres and nose-cone change having touched Irvine's car earlier in the race (on lap one, when the collision with Wurz-Hill-Diniz occurred, going into the corner). In fact, Salo's front tyre was just about to explode, and with the radio between the car and pits not quite working properly at that stage (the weather changes caused interruptions) the Finn simply drove in to the pits unexpected. Furthermore, it was Irvine they were expecting, which meant they had to swiftly move aside Irvine's tyres to fit Salo's instead.

Normally, the team would need at least a lap - or a minute - to compose itself and get ready for the next driver to come in the pits. However, in the case of Irvine on Sunday, he just came in as planned - again, radio transmission failing the team - regardless of the fact that this was under half a minute after Salo left the pits. Now remember, when Salo was in, the mechanics jettisoned Irvine's tyres to service Salo, but now they couldn't locate them when the Ulsterman screamed in immediately behind. The right rear tyre was finally located by a reporter from Italian TV station Tele+ which then caused another hesitation, as the mechanics were waiting for confirmation that this is indeed Irvine's tyre! (Had they mixed up the sets, Irvine would have been disqualified.)

If that was not all, as Irvine entered the pits he yelled to Brawn in the radio, 'stay with dry, it's drying' and in a split second the team decided to fit Irvine with dry weather tyres, rather than wets. The irony of it is, that had the pitstop not been messed up, Brawn and Irvine would have been hailed for being flexible and wise enough to realise what a mistake it would have been to switch to wet weather tyres - a mistake that McLaren and Hakkinen experienced just before.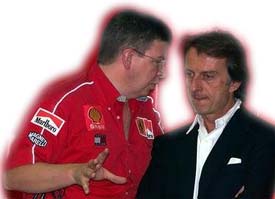 Ross Brawn immediately took the responsibility for the mishap, whereas it should be clear that Todt's involvement in pit-stops is limited to calling the drivers in, (though it's not stopping the press from blaming the Frenchman for Eddie Irvine's disastrous stop. But, Luca di Montezemolo actually doesn't blame Todt, but he is holding him responsible for ensuring It does not happen again. He is adamant that if Ferrari's amateur performance recurs in either of the last two races of the season, heads will roll, and stated "We've had a good talk and everyone knows we will never have this happen again. Ferrari's fans are rightfully very upset and we cannot tolerate it again."
It should be noted, however, that the Ferrari president has not quite exonerated Irvine altogether from the overall downfall of Ferrari in the last few races, saying that Irvine is not quite up to par with what is expected of him. "We are not a complete Schumacher team but without him in these conditions, Eddie had lost an important point of reference," di Montezemolo said. "Mika Salo is a very fine driver but when the weather is as erratic and extreme as that, Michael is the best man to have in your team. We did not cover ourselves in any glory and we know we made a mess of the race. Ferrari's fans are rightfully very upset and we cannot tolerate it again."
And Irvine? Quite oddly, the man whose mouth is his trademark kept rather mellow about the European Grand Prix, sufficing in saying, "We still have a chance in the championship. Two points are nothing. But, we cannot commit any more errors. We really made a mistake with the tyres this weekend and we should make sure it does not happen again."
Verstappen looking to Arrows
Speculation that Formula One could be returning to the Netherlands has started a spate of interest in the country. One company that seems to be considering a change of policy is Phillips, who are thought to be considering a significant investment in F1 over the next few year.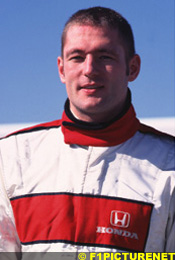 The Dutch electronics giant sponsored Verstappen up to 1999, before ending it's motorsport sponsorship, when the product it was used to promote - car audio systems - went out of production. Dutch interest in Formula One runs high, and with the Zandvoort circuit angling for an event, it's growing higher. The circuit is unlikely to host an event ahead of 2001, but viewing figures are picking up, so Phillips looking to get back on the scene.
With Phillips angling to become separate divisions, the combined marketing department is considering the potential of the "t-minus" branding offered by Arrows. It allows them to market all their products with appeal to F1 viewers, without the inconvenience of placing each item individually.
Tom Coronel has been in talks with Arrows concerning a test drive next year, and this could be a factor. However, understanding that Tora Takagi's main sponsor, PIAA, is intending to all but pulled out, this places Verstappen, the premier Dutch driver, as the most likely to benefit, particularly in light of his previous connection with the company.
Picked from the Bunch
Damon Hill's future at Jordan is still up in the air, with rumours that he will only retire early if he is still paid for his remaining races - worth some half a million pounds. Speculation that Trulli and Heidfeld would start their new jobs early resurfaced when Prost didn't rule it out in interviews, and grew stronger again when Trulli held of Barrichello's determined challenge at the end of the race.
BMW are planning for the future - their V10 unit for 2000 might not be a world beater, but they have already started working on V12 alternative for 2001 if it all goes wrong.
The British American Racing team has confirmed that it will be testing next season's Honda engine in early December. Currently running on Supertec power, BAR will prepare a prototype of next year's chassis to accept the new engine.
French tyre giant Michelin could be back in F1 in 2001. If this is to happen the company must apply to the FIA before the end of this year. Another possibility is that Goodyear, who own the Dunlop name could return to the sport, which they dominated for so long until the arrival of Bridgestone, under the Dunlop banner.
Craig Pollock's position in BAR may be under jeopardy. British American Tobacco are not quite impressed with the team's lacklustre performance this season and are rumoured to be wanting Pollock's head. Pollock himself has denied these rumours, saying: "I am not aware of any tensions within the team. The atmosphere is getting better and better. This is talk within the paddock, not within the team. If I did not make the business work, and turn the performance around, then I could understand why people would say I should resign. If things are not working, the first guy to offer his resignation should be the man at the top. But things are a lot better than people say. We'll get there."

European Tidbits
Johnny Herbert's change of fortune could be down to mystic forces. Formula One's unluckiest driver received two
stones from his Jamaican race mechanic, one inscribed "Jamaica," the other "Lucky." He got his mechanics together ahead of the race to all rub the stones...
Rumours have it that Heinz Harald Frentzen's retirement, as well as his teammate Damon Hill, did not occur due to an electrical failure, but rather due to the fact that the two pushed a wrong button... In fact, according to sources at Jordan, both Hill and Frentzen accidentally shut down their Mugen Honda engines, although the official team line is that it was an electrical failure than saw both men retire at the exact same point.
Ralf Schumacher may have missed out on a maiden win at Nurburgring but did not go unrewarded. The Williams team is said to be in negotiations with the promising German to improve his contract financially for next season. Such faith from the Williams executives is rather rare, as are the praises he is getting from Frank Williams and Patrick Head. After the Nurburgring race, for example, Head said: "Ralf drove a brilliant race, and didn't put a foot wrong. We just have to keep at it and I'm sure we will give Ralf his first Grand Prix win."
The Prost team has benefited from a late season surge from Peugeot. The French engine supplier has produced two new evolutions for the Nurburgring, one to be used in qualifying and another for the race. The results certainly showed...
Apologies filled the air after the race, with Fisichella and Coulthard sorry for throwing their cars off the track while leading, Ron Dennis apologised for pulling Hakkinen for his first stop, possibly costing a race win. Jordan apologised to Frentzen, who was philosophical about his car's failure, and Ford were sorry for Badoer's engine failure.
With Villeneuve retiring in the points, BAR are now setting their sights on scoring points, not just finishing races. Their development program is being assisted by Honda in an attempt to boost performance before the season ends.