Have a question about Formula One statistics or history? Well you're not the only one, and it's about time someone came up with the answers to Formula One's most Frequently Asked Questions. Send us your questions, to faq@atlasf1.com - we may not know everything, but we will sure make the effort to find out
"What is the difference between the fuel used by CART and the one used in F1 cars? Carlos C."
There is substantial difference in the philosophies of fuel between the two major open wheel championships.
Formula One has always been powered by Petrol, or variations and blends of petrols. In the early 90's the various fuel companies had supply contracts with Formula One teams and each of them created various exotic and toxic blends in the search for horsepower. It got to the extent where mechanics could only refuel the cars while wearing suits that wouldn't look astray in a NATO Air Force Base during a nuclear attack drill. The FIA then instituted a rule insisting on pump unleaded petrol for both Formula One and World Rallying. While with rallying it proved initially harder to police, forcing avgas to be adopted at some events, the Formula One teams soon stepped into line and now use a pump fuel which is tested regularly against a control sample submitted at the start of the year.
With CART, however, different dangers with fuels took them down a different path entirely. Indianapolis Motor Speedway has always been the heart of American racing. And as the name of the major infield road - Gasoline Alley - suggests, the cars there once used gasoline (more commonly known as petrol). However, after a spate of fires, including one where on race morning at the Indy 500 half of Gasoline Alley burnt down, a less flammable alternative was sought. Champ cars these days burn Methanol, an alcohol derived fuel which is less volatile, but that has its own dangers. Methanol is not necessarily better for the environment, as the exhaust by-products, while different, are still hazardous, and also methanol burning engines are generally thirstier than their petrol burning cousins. While no fuel is completely inflammable (by its definition it has to burn), methanol burns without a visible flame, so at times until someone yells out you can't tell they're on fire.
"Dear Sir, I'd like to know what was the criteria that presided numbers distribution before the 70's. I ask this question, because it's usual to see cars from the 60's bearing different numbers in different Grands Prix. Moreover, not only wasn't always the number 1 displayed on the World Champion's car, but also cars from the same team had numbers that weren't followed (5 and 18, for instance). Also, I'd like to know when was the Lotus 79 introduced.I know it ran most of the 1978 season, but I also know that Andretti and Peterson used the 78 model during that season. Thanking you in advance, J. A. Portugal"
The first part of the question I deferred to Don Capps, and he was able to tell me that the numbering system prior to the 70's was pretty much at the discretion of the individual race organisers, who basically handed out the numbers as they saw fit. There was an attempt to regulate the numbers in 1964, but that fell away after time as people got lazy, or disinterested or found it too hard...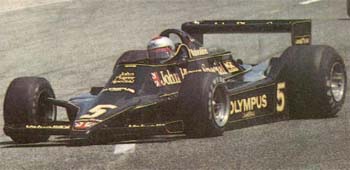 The Lotus 79, the definitive ground effects Grand Prix racer and the key to Lotus 1978 Drivers' and Constructors' title, was first used for a race during the sixth race of the 1978 season, the Belgian Grand Prix at Zolder. Its effect as a car was proven instantly as Mario Andretti would put the car on Pole Position, then win the race, with Ronnie Peterson coming in second in the older Lotus 78. Peterson got his hands on a 79 for the next race at Jarama in Spain, and the team promptly wrapped up another 1-2. The whole 1978 season would fall to Lotus. They continued with the 79 into 1979 but innovations elsewhere on the car caused a lack of reliability making them much less effective, and allowing the opposition to catch up with them and subsequently pass.
"In 1999, Hakkinen was 1 and DC was 2. Schumacher was 3 and Irvine was 4. Since Ferrari won constructors this year does that mean that Schumacher will be 1 and Barichello will be 2? Or will Hakkinen and DC be 1/2 again because of the driver's championship? What exactly are the rules? Thanks, Joseph H"
The numbering for drivers is that the reigning world champion always wears Number 1 regardless of which team he's driving for. The other teams then follow in constructors championship order with the teams deciding which driver gets which number within the team. So for 2000 the numbers will probably look like this: Hakkinen 1, Coulthard 2; M.Schumacher 3, Barrichello 4; Frentzen 5, Trulli 6;, Irvine 7, Herbert 8; R.Schumacher 9, Zanardi 10; Fisichella 11, Wurz 12; Salo 14, Diniz 15; Alesi 16, Heidfeld 17; de la Rosa 18, Arrows #2 19; Marc Gene 20, Minardi #2 21; Villeneuve 22 and Zonta 23.
"Sir, My 18 years old son is interested in career in motorsport as a technician, engineer. Could you advise him as to what are the best colleges/universities that would be dealing with not only motor engineering but in the more up to date aspect of research and development in this field of the motor industry? Any advise or suggestions will be welcome. Thank you, Claude C."
Unfortunately, being from far flung Australia it's difficult for me to recommend tertiary learning institutions in another country. As for courses, the best place to start for example on a course to become a race engineer would be a Bachelor in Mechanical Engineering, which is the start point for most budding race engineers and technical directors. The are many subjects within the degree which will allow you to specialise towards a career in race engineering.
I do know a few British Universities of courses in motorsport management, which appears to be a combination of engineering and business style subjects to point towards such roles as team manager.
PR is still PR in motorsport and public relations course or a degree in journalism is the best step towards that career path in motorsport. Motorsport officials tend to come from a wide variety of backgrounds, and there is no clear career path in that direction.
Formula One mechanics are generally just that. Mechanics who've served an apprenticeship and worked their way up through lesser categories, much in the same way drivers do, although there does seem to be a bias towards antipodean mechanics. This would appear to be a statement more of the motor industry in that part of the world, as they have the oldest car fleets in the industrialised world, and that seems to have bred a more ingenious kind of mechanic. One other avenue for mechanics and engineers is to become attached to the motor sport departments of vehicle manufacturers. Other careers such as fitter and turners, fabricators and drafters are drawn from the trades associated although mechanical drafting is at least college level education if not university.
Finally, the rarest of the F1 breed - the mysterious aerodynamicists - start life generally as aeronautical engineers, where they learn their black art.
"I would appreciate it of someone could explain the engine contracts of BAR and Jordan. I understand BAR have a contract with Honda and Jordan have a contract with Mugen-Honda. When reading a press-release from BAR you get the impression that Honda are joining F1 for the first time since 1992. But Jordan have had a Honda engine all season! Clive H, UK"
You've explained it pretty well in your question. The engine used by Jordan is the Mugen developed Honda engine which evolved from the V10 Honda as was first used by McLaren in 1989, and since then by Tyrrell, Footwork (Arrows), Ligier (Prost), and now by Jordan. The work on the engine has been done by Mugen with some assistance by Honda. This relationship will continue next year.
The engine that will be used by BAR is an all new engine from the ground up developed by Honda with no assistance from Mugen. As for the wording of the press releases? That's the work of BAR's spin doctors who of course would like everyone to see that Honda's association with Jordan be downplayed, especially after Jordan's outstanding 1999 form and any questions as to what the justification is for treating BAR comparably better than the much better performed Jordan.
"Why is the Playlife sponsorship upside down on the side of the Benetton race-cars? Does that get them by the cigarette sponsorship rules at tracks where cigarette sponsorship is banned? Thanks, Noel J"
Playlife isn't a brand of cigarettes. Playlife is one of Benetton's many fashion labels and Playlife's logo just happens to be upside down. Whether that means people who wear Playlife or drive Playlife sponsored cars are more likely to be seen upside down I'm not quite sure, but if true it doesn't display a lot of faith in Giancarlo Fisichella and Alexander Wurz!
"Jacques Villenueve did not score a single point in 1999. When was the last time a former world champion achieved this dubious honour? Peter D, UK"
It hasn't been a good year to be a former world champion, has it? Villeneuve had a nightmare season with BAR, Schumacher broke his legs and Hill had a season which could be best described as lethargic. In the past, Jody Scheckter had a shocking title defence in 1980 as Ferrari seemed to get it all wrong. Jack Brabham had a few quiet seasons while trying to establish his own team. Juan Manuel Fangio missed an entire season through injury. BRM's lack of consistency from year to year caused Graham Hill to suffer on occasions. Alberto Ascari had to struggle for decent machinery once he left Ferrari, as did John Surtees a decade later. Alan Jones never had the equipment to succeed when he made his mid-80's comeback with the Beatrice team. Mario Andretti suffered from Colin Chapman's habit of experimentation and thus did not have the most reliable cars during his title defence.
Emmerson Fittipaldi had several poor seasons racing for brother Wilson's team effort. Nelson Piquet occasionally battled unreliability, poor cars and seemingly personal lethargy. James Hunt's final season at Wolf was characterised by a poor car and increasing disinterest from Hunt. Alain Prost spent a year in contract-enforced retirement. Keke Rosberg battled for many years at Williams during the years lost persisting with Cosworths while other teams ventured down the turbo path.
The most parallels to Villeneuve's situation, however, can be drawn to Phil Hill in the year of his title defence. Hill won his title for Ferrari in 1961 in dramatic circumstances at Monza after a tragic accident claimed the lives of teammate and rival Wolfgang Von Trips and several spectators. A year later a split formed within Ferrari, and Hill and several team personnel left to establish the first of two teams to be known as ATS. ATS became a disaster - unreliable, underpowered, underfinanced, it sucked Hill's career down a black hole that he barely escaped years later after joining Cooper the following season.
Many parallels can be drawn between ATS and BAR, mostly the huge sense of disappointment considering what could have been. While Villeneuve is probably better able to survive than Hill did, if an influx of great drivers appear like in the early 60's with Jim Clark, Graham Hill, Dan Gurney, Bruce McLaren, Denny Hulme, John Surtees, Pedro Rodriguez, Jochen Rindt and Jackie Stewart, then Villeneuve could be forced to look for other categories.
The last time a world champion failed to score points in a season was in 1985 when Alan Jones did half a season with new team Lola-Haas. But as the team didn't appear until well into the season, it's probably not the answer you want. Jones again in 1983 did a solitary race with Arrows. Before that we have James Hunt's final season in 1979. But Hunt retired mid-season. Back to 1975 for Graham Hill's last year however another partial season as Hill died in a plane crash mid-season. Back another two years for Graham Hill again in 1973. No mitigating circumstances this time, just a miserable year in the Shadow-Cosworth. The only other time a former world champion had failed to score points was Phil Hill's nightmare year with ATS in 1963.

Editorial Remark:

Some of the questions we receive have already been replied to in previous F1 FAQ columns. Therefore, before sending in a question, we suggest you have a look at the back issues, by searching the FAQ database. Not that we mind getting so much mail, just that we feel bad for those who feel they are left unanswered...

We receive quite a few questions from you all, and it is absolutely impossible for us to research and respond to each of you, be it here or privately. Please, don't feel discouraged if your question was not replied to; it might come up in the next column. And don't forget - you can always look for answers at the Atlas F1 Bulletin Board.