Rubens Barrichello, 27, started work at the beginning of the month as Scuderia Ferrari Marlboro's latest racing driver. He becomes only the second Brazilian ever to drive for the Ferrari Formula One team (Chico Landi was the first in 1951) and replaces Eddie Irvine to team up with Michael Schumacher, who starts his fifth year with the team.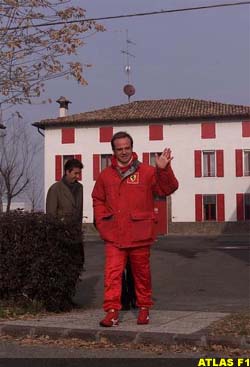 "It's the toughest challenge of my life," says the man from Sao Paulo of his latest drive and the prospect of beating his teammate. "To win against the best driver in the world (Michael Schumacher) I will have to keep learning continually. I never thought of going to Ferrari and saying 'I want to be number one.' We are not talking about any driver. We are talking about Michael Schumacher and Ferrari. They have been trying for three years now to be World Champions. If poor old Rubens Barrichello goes there and wants to be number one, that's asking a bit much. I will do the best I can and just work to carve a niche for myself."
He joins Ferrari in a slightly stronger position than that of the man he replaces. Irvine was required to move over for Schumacher if he was ahead of him, whereas Barrichello is allowed to beat Schumacher if he is faster. "If I'm in front of Michael," says Rubens, "and driving better than him, I'm absolutely certain that the team will let me win. It's on my shoulders to go as fast as possible - then I will deserve to win. I want to win on merit, not retirements."
Rubens joins Ferrari after seven years in teams that were establishing themselves. It's a new situation for him - and one that he relishes, a dream come true. "When I was eight, I used to watch the red cars at Interlagos in Brazil and think 'Jesus, I'd like to drive that one day.' But I've joined the team for their competitiveness - for me to have a chance of driving in a top team and to prove what I can do."
Like most drivers, Rubens began his career karting, with the full backing of his father, a competitor racer himself. He was just nine years old when he made his debut, back in Sao Paulo. He came second in the Sao Paulo City Junior Championships in 1981, 1982 and 1984 and was runner-up in the Brazilian Junior kart championship in 1984. The following year, he was fourth in the national championship, then winner of category A in 1986.
Still karting in 1987, he won both the Brazilian and Sao Paulo City championships in 1987 and 1988, also winning the South American 125cc title in 1987 and finishing ninth in the World Championship that year. Clearly, it was time to move up. Aged just 17, he moved into Formula Ford, racing in the Brazilian championship in 1989 where he finished fourth.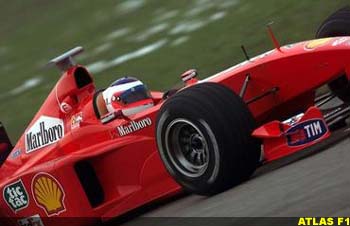 Now came the big move to Europe in 1990, going straight into the GM Lotus Euroseries with Draco Racing and winning six races out of 11 races which gave him the title. He also had seven pole positions and seven fastest laps. From there, he went straight into Formula Three with West Surrey Racing (the same team that ran Ayrton Senna eight years before) and, like his compatriot, he won the title, with four wins, nine pole positions and three fastest laps. The obvious progression was the FIA Formula 3000 championship with Il Barone Rampante with whom he finished third. Ironically, Luca Badoer, Ferrari's test driver, won the series that year.
While his future team boss, Paul Stewart remained in the formula, Rubens was a man on the move and promptly joined Jordan for what was the team's third year in Formula One. The two points that he scored that year hid more merit-worthy performances, particularly at Donington and the European Grand Prix which everyone remembers for compatriot Senna's drive. Rubens, however, in only his third Grand Prix, was heading for a place on the rostrum when he ran out of fuel with just a few laps to go.
He'd been only 20 when he made his Formula One debut, and was not quite 22 when he and motor racing suffered the calamitous weekend at Imola which robbed him of a friend and mentor, and placed a massive load on his shoulders. Rubens, in fact, crashed heavily on the Friday and was sidelined for the weekend; Senna was one of the first to visit him in the medical centre. Later that weekend, the Brazilian ace was killed, and suddenly the hopes and dreams of all Brazil centred on Rubens.
Initially, he fulfilled his promise. That year, he scored his first podium in only the second race, the Pacific Grand Prix at Aida, and later his first pole position at Spa, when he judged the changing weather conditions perfectly. At the end of the year, he had scored 19 points, a total only topped this year.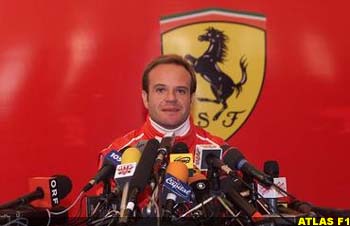 He stayed with Jordan another two years, seasons that were difficult as he bore the pressure of an entire nation. He himself would admit that it took him a couple of years to get over the death of his friend and to acknowledge and adjust to the pressure on him. Interestingly, he would lead his teammate every year in the championship, including Irvine in 1994 and 1995, and Brundle in 1996. Incidentally, he and Irvine scored Jordan's best ever race result at Montreal in 1995 with second and third - beaten only in 1998.
But it was time to move on. The love affair with Jordan had gone stale, and Rubens moved into the family atmosphere of Stewart where he thrived. Although he scored only six points - already not bad for a team's first year - they were from a single second place at Monaco - and he qualified third in Canada. Staying with the team in 1998, he scored fewer points with two fifth places, but 1999 - with a new engine - would be a different story.
It's recent history, of course, but this year Rubens led in Brazil, was on pole in Magny-Cours where he lead again, and was on the rostrum at Imola, in France and the Nurburgring. He had scored 21 points - but by then the lure of Ferrari had already signalled that this would be his last season with Stewart.
Rubens lives in Monaco with his wife Silvana, although he has had a base in Britain which he shared with many of the young and up-and-coming Brazilian drivers. However, they will have to do without their mentor now, as he tramps the well-trodden road from Monaco to Maranello, and a new phase in his career.