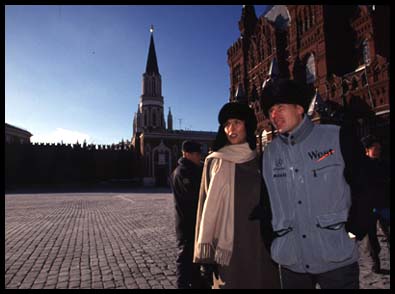 Formula One World Champion Mika Hakkinen made his first public appearances since winning his second consecutive world title in Japan on 31st October, when he visited the Czech Republic, Slovenia and Russia in mid-November.

Mika and his wife Erja flew in to the beautiful city of Prague for the first venue of a three-day media tour. Landing at the airport by private jet, the cold winds, rain, and threat of snow were not exactly weloming: "I suppose everyone wanted to make me feel at home, but there was no need to provide Finnish weather," joked Mika.

Mika was rushed straight from the airport to the studios of Nova TV, where he appeared in the middle of the Saturday evening news bulletin which always attracts the biggest audience of the week. Mika and Erja were staying in a private villa, rather than a hotel, which had been designed by the father of the current president and was built back in the 1930s. "After spending so much of my life in hotels, even if they are very nice ones, it made a great change to stay in a normal house for a change," admitted Mika. A relaxing massage and sauna for the Hakkinen couple was followed by a dinner in a restaurant which afforded fabulous views of the historic city of Prague and the Vltava river.




There was a very healthy turnout of 200 worldwide media representatives for Mika's first press conference since the Japanese Grand Prix, which was also being beamed to around 80 countries. Mika had previously visited the Czech Republic but said he was particularly happy to be here this week. Erja Hakkinen is no stranger to Prague, as he she has hosted a television programme from here in the past and she had her own programme during the day. Mika had a busy schedule, but managed to fit in a meeting with the Finnish Ambassador before rushing back to the airport and an evening flight to Ljubljana in Slovenia where he was due to hold another press conference.

After Prague, the next stop on Mika Hakkinen's tour of Eastern Europe was Ljubljana in Slovenia. The Mayoress turned out to greet the West McLaren Mercedes driver and gave him a guided tour of this beautiful city.

Of course there was the obligatory press conference, where a writer from the country's leading financial newspaper quizzed the world champion about his earnings. Mika managed to raise a laugh as usual, this time when he had to count on his fingers to work out how he had invested his earnings! He was also asked what other members of his family did for a living, by what turned out to be a very inquisitive press group. Mika decided to answer the question in full and started by talking about his great, great grandfather! The answer was a long one!




Mika also visited a tobacco museum and factory where, despite the cold weather, an outdoor music festival was taking place. A long flight to Moscow followed, with Mika touching down around midnight. He stayed in the National Hotel, a beautiful and typically Russian building with fantastic views of the Kremlin. The highlight of the trip was a visit to the training centre of Russia's top ice hockey team, CSKA-Moscow. Mika surprised everyone with his skill at the game, taking his shots with the best of them, during a short training match. Given the great ice hockey rivalry between Finland and Russia, this was a major news story in both countries.

Naturally, the West McLaren Mercedes driver was asked how he felt about the possibility of a grand prix being held in Russia. Looking around at the freezing cold weather, Mika said he was in favour of the idea, but reckoned there would only be about two months of the year when the tyres would stay hot enough to race on. The cold weather also provided the perfect disguise for Mika and Erja when the pair went sightseeing in temperatures of minus 10 degrees celsius. The couple were kitted out in traditional Russian hats and blended in perfectly with the locals.