This week's Grapevine brings you
information fresh from the paddock on:

Zanardi's curtain call
Mosley. Frustrated Racer
Picked from the Bunch
Zanardi's curtain call
The seven year engine deal between BMW and Williams is the opening of a new era for the team. Never before have they allowed themselves to be so committed to, or dependant on, their engine supplier, and some things are changing as a result.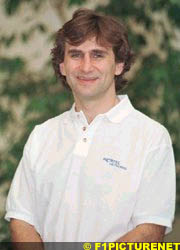 Williams have always looked for a top class driver line-up and are forthright in expressing opinions on drivers who have not made the mark. There is a ruthless streak should a driver fail to meet the mark: for example, it's commonly believed that Damon Hill and David Coulthard were released for failing to clinch the 1995 Constructors' Championship. For all that, no driver has yet been released ahead of their contract's expected conclusion.
The deal with BMW places the engine manufacturer into the spotlight against its biggest market rival, Mercedes. Even though the BMW engine is in its infancy, the mark it compares to is the Ilmor-Mercedes double championship winner. Accordingly, the company feels very strongly that a one horse team is not going to be adequate.
Looking back over the 1999 season, few would argue that Ralf Schumacher performed superbly in an under-powered Williams, clawing the team to fifth in the Constructors' championship. A puncture robbed him of his first win at the European Grand Prix, and no one doubts his future is bright. Ralf's '99 season was reminiscent of his elder brother's complete domination of his teammates from 1993 to 1995 at Benetton: Michael was usually in the order of a second per lap quicker than his teammate - whoever they were.
Zanardi is a double CART champion, but after spending the best part of the season a second slower than his teammate, he is facing a tough position. From his own point of view, there's nothing to be gained from a repeat of last year. Either he gets to grips with the car, and soon, or he changes direction. From Williams and BMW's perspective, there's nothing to be gained from a driver who can't score points: his technical feedback might be excellent, but the team needs two drivers getting the best from the package if they are to maintain any sort of standing against some very tough opposition.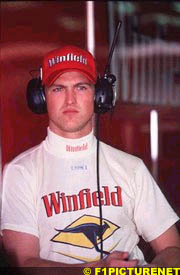 With Zanardi now rumoured to more than likely make his departure from Formula One, Williams are looking at their options to replace him. Juan Montoya is a popular first choice. the rookie who dominated CART last year already has experience with the team as their test driver. However, the Columbian is keen to defend his championship; furthermore, team boss Chip Ganassi does not have to release him - indeed, it's thought his deal for Toyota engines was based on Montoya's presence in the team.
Second choice is a Formula One unknown, the Dane Tom Kristensen, 1991 German F3 champion. He has spent years in Japanese F3000, F3 and touring cars, which was also the breeding ground for Ralf Schumacher. Kristensen's existing links with BMW (he is currently their test driver) make him an acceptable short term solution with them at least, so it's thought he'll be offered a one year contract, with options for further years only if he performs to a par with Ralf Schumacher.
A third option is Olivier Panis. His announcement of the test seat at McLaren has caused many to write off his chances, but the contract does not preclude him joining another team for a full time ride - and it may well come to that. Kristensen is a complete unknown to Formula One: if he gets a chance to test and it goes badly, then he won't get the ride. Williams are not going to replace Zanardi with another driver who believes "they'll crack it in time." Olivier Panis has already shown that, whilst he might not be the best driver on the grid, he is solid, reliable, and capable of excellent results.
Maybe there is a downside, however. Eddie Irvine joined Ferrari with Michael Schumacher; and like his previous teammates, sat a second or so off the pace. Three years on, and he's challenging for a World Championship. He did not come as highly rated as Zanardi, has not won back-to-back CART championships, and has always admitted his number one was a more complete driver. None of Schumacher's previous teammates could handle him, but Ferrari's faith was repaid this year in the Constructors' Championship - and for Williams at least, that is what it's all at.
Mosley. Frustrated Racer
FIA President Max Mosley revealed his 'frustrated racer' side, after taking Colin McRae's Ford Focus rally car out for a spin during his visit to Ford's new Rally Headquarters in Dovenby Hall.
Three laps of the Lowther Forest stage, eight kilometers of mud, gravel and trees, and Mosley was waxing lyrical over the skills of top rally drivers: "you soon realise that they are in another league to ordinary people. Colin is going a lot quicker on loose gravel than you or I would think of going on dry asphalt in a very fast road car. It's just incredible."
Having discovered how the expert did it, the pair swapped seats, and McRae talked Mosley through five laps of his own. Afterwards, Mosley said: "There were one or two tight bends where I backed off and Colin said 'full power' but I kept thinking of Martin's or Malcolm's face if I damaged their car. You need to have confidence to power round the corners rather than just steer. Going onto full throttle as you enter a bend is against all instincts and by the time you realise that's what you should have done with a four-wheel drive rally car like this, you've already backed off the power and it's too late to really attack the corner.
"It was a sensational drive and the amount of grip the car has on gravel has to be experienced first hand to be fully appreciated. It was an extraordinary car to drive. I didn't really use the brakes hard because I didn't have the confidence to go deep into the corners. When Colin was braking I was amazed by their power. I suppose that all the top rally cars are something similar, but it was certainly a whole new world for me.
"It was very brave of Colin to come along as coach, and driving on gravel in the forest it certainly felt like real rallying to me. I'd love to have time to do that all day long."
And Mosley's verdict? "I couldn't believe how controllable it was. The way the car seems to float along over the rough surface and you can still feel what it is doing. Undoubtedly this was one of the best days of my year. I haven't had so much fun in ages."
Picked from the Bunch
The 4th of December will see the annual "Cart-Explosion" karting event in Cologne, Germany, featuring many of the world's premier drivers. Included are Formula One stars Michael and Ralf Schumacher, Rubens Barrichello, Giancarlo Fisichella, Jean Alesi, Alex Wurz, Luca Badoer, Ricardo Zonta and Mika Salo. Champ Car racers Paul Tracy, Christian Fittipaldi, Cristiano da Matta, Tony Kanaan and Jan Magnussen will also be present.
Heinz-Harald Frentzen has decided to part with the Werner Heinz PR Agency. Apparently, the resurging German star wants a more agressive image built up for him for the 2000 season, which would go with the attack on the drivers' championship title.
Preparing to test has been the focus for most teams, heading into December. Many are struggling to finalise component details and get them ready for the tests. Jordan and Ferrari are focusing on getting new drivers Trulli and Barrichello up to speed in the '99 model; meanwhile Prost are checking out a new chassis, required to take their new engine.
"12th Team" rumours are rife in the off season. Speculation on the return of March and Lotus, ex-driver teams from Hill or Mansell, and speculation Prodrive or an F3000 team might make the jump have been all the rage. Toyota are still the only team officially in the running for the spot, however.
Arrows are rumoured to have made impressive progress with their aerodynamic package. It's not expected to put them to the front of the grid, but team members are optimistic of surprising people in 2000.
Panis is confirmed officially as McLaren's test driver in 2000. The contract is thought to allow him to race for another team, should the opportunity arise.
Sauber's public launch of their 2000 challenger on the 2nd of February is intended to be a celebration of Peter Sauber's 30 years in motor racing. The gala affair will include a presentation on the design and build processes of the new C19.